Sully in Cuba -- Is This The Next Seminal Moment for Cuba Travel?
Posted by Tony Randgaard on Thursday, May 4, 2017 at 12:00 AM
By Tony Randgaard / May 4, 2017
Comment

Not a bad deal — Key West-Havana for only $100 one way? The brochure beckoning you to "Travel The Comfortable Way." And then Vic Chenea, the airline representative, crowing about the wide wicker seats, sweeping glass windows and even free bags -- before plying you with rum on the airline's tab. Who wouldn't jump on that type of personal service? You're in and a convenient return time from Havana at 3:55 p.m. to boot. What could go wrong? Well it started with the rain and low visibility out of Havana. And then wondering by 5:00 p.m. -- isn't the flight supposed to be one hour? By 5:15 p.m. the pilot and mechanic are using binoculars to look for Florida and then asking if you can help find the Sand Key Lighthouse and its beacon? Minutes later, flying at low altitude, the pilot spots a tanker ship below. The co-pilot is writing out a message on stationary. OMG, message in a bottle? Instead, he affixes it to a large metal lever, wraps it in a cloth sack and then drops it out the window. You've got a good view from the seat behind him and watch incredulously as the package falls into the ocean and sinks. What the hell type of procedure is this? With sweat now rolling off your cheeks you say a prayer and listen to the mechanic frantically transmitting over the radio: "Visibility is poor, no sign of Key West." And then 5 minutes later: "Visibility is poor, no sign of Key West." The pilot makes another sweeping turn to approach the tanker ship and the left engine sputters and then quits. When he levels the aircraft, the engine miraculously restarts. At 1500 feet, there are rolling waves through pillowy grey clouds. The passenger across the aisle (think his name was Ageton?) is writing furiously and weeping. One more banked turn and an ominous silence envelopes the cabin. Both engines are out now! The wings level again and now the Fokker is gliding downward like a drunken bird, wings teetering up and down, to and fro. The tanker ship is in full view now and crewmen are lined up on the stern railing, gawking. The sea getting closer and the waves getting larger. Pulling as hard as you can to tighten your seat belt. Then one last glance at the swells out the window before grabbing your knees with all your might. At the last moment the pilot pulls the nose upward and then a tremendous collision, metal squealing and suddenly, you are cartwheeling forward like a rag doll, along with suitcases, seats and debris. Something very large blasts into your shoulder on the way. You can feel the cabin breaking apart and then a wall of water is crashing down from the escape hatch above, flipping you upside down.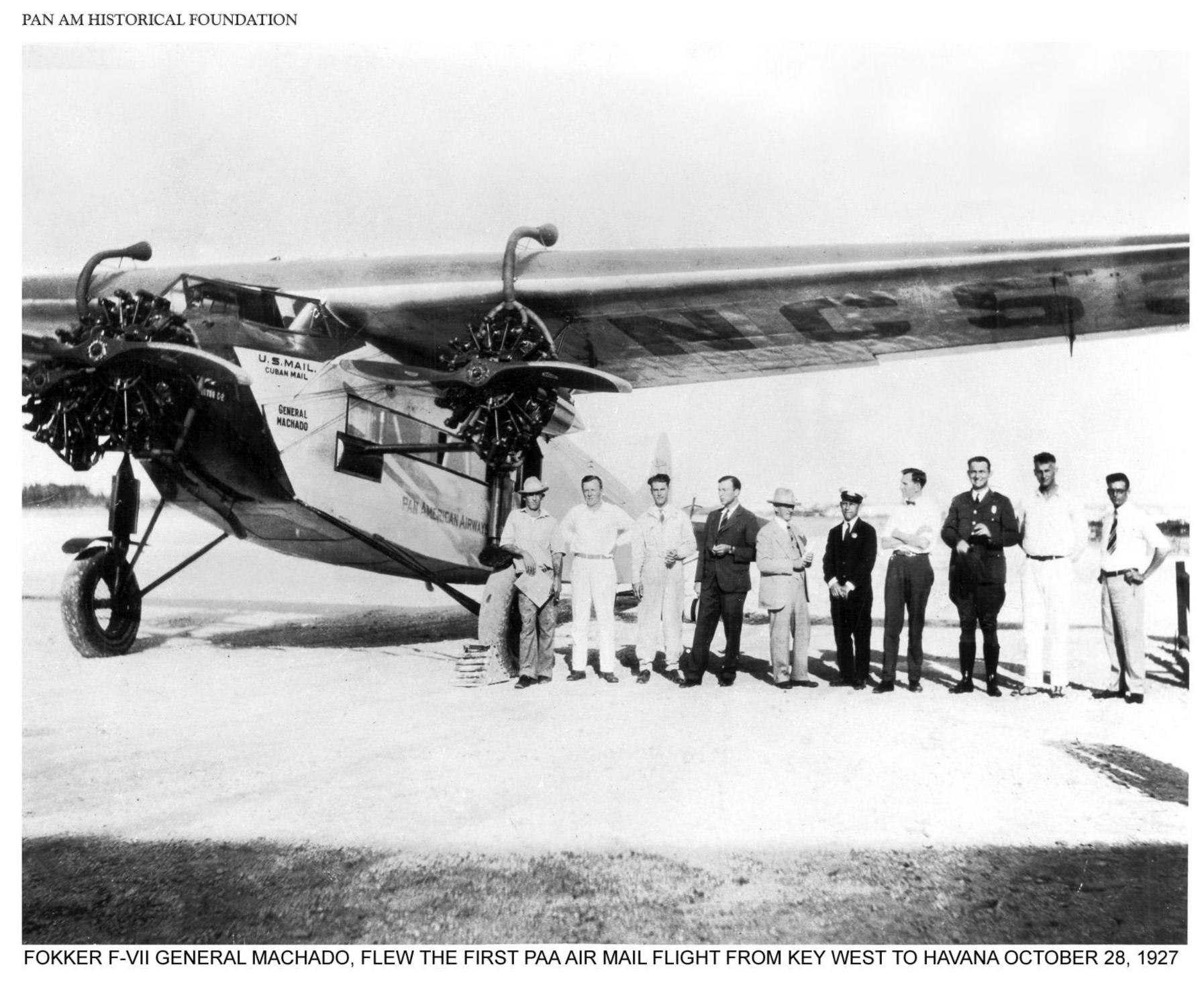 Underwater now, looking frantically for the light and then kicking furiously upward. Your head bumps into someone's leg and you grab it like a life preserver. Swallowing sea water, you are in luck. The leg is moving and someone reaches down with a strong grip and pulls you to the surface onto one of the wings of the plane. This could be Sully and US Airways Flight 1549 because the plane is bobbing, floating safely near the bow of the large ship. Instead, the date is August 15, 1928 and you have just survived one of the first fixed wing water landings in history. According to the accident details from An American Saga: Juan Trippe and His Pan Am Empire, by Robert Daley, your fellow passenger Ageton was never found. This was the calamitous launch of Cuban aviation and seminal moment for Pan Am World Airways. Pan Am would build on this harrowing moment to develop the world's first radio-controlled air travel system, facilitating an empire from Cuba, through Central America and dominating South America.
Storm Clouds Today
Fast forward to today. A second American invasion, this time welcomed, began last fall with eight new U.S. carriers blocking out the sun with more than 100 new flights a week to ten Cuban cities. Carriers scrambled over one another to claim a foothold in the next Cuban revolution, and at times were downright giddy. American spokeswoman Martha Pantin boasted:
"There is no other airline in the world that will have as many flights to Cuba."
While Frontier Airlines senior vice president Daniel Shurz said:
"We've been anticipating our new service to Cuba for a long time. Our service gives travelers the most affordable and convenient options to visit Cuba because of our low fares."
And then Mark Kopczak, Spirits' Vice President of Network Planning marked the momentous occasion of their first flight:
"We are excited to be a part of history with the addition of Havana to our growing network. We thank the Department of Transportation for recognizing the need for ultra-low fares to Cuba. As South Florida's Hometown Airline, we know this new service opens a new chapter for many Cuban-Americans, an important part of our community, and others looking for a lower cost way to travel to Cuba."
And now a few months later, the reawakening of tourism to Cuba has fizzled like a wet bottle rocket. Frontier, Spirit and Silver Airlines recently announced the end of their service to Cuba while American cut three daily flights to resort areas during the same week that their first Havana flights began.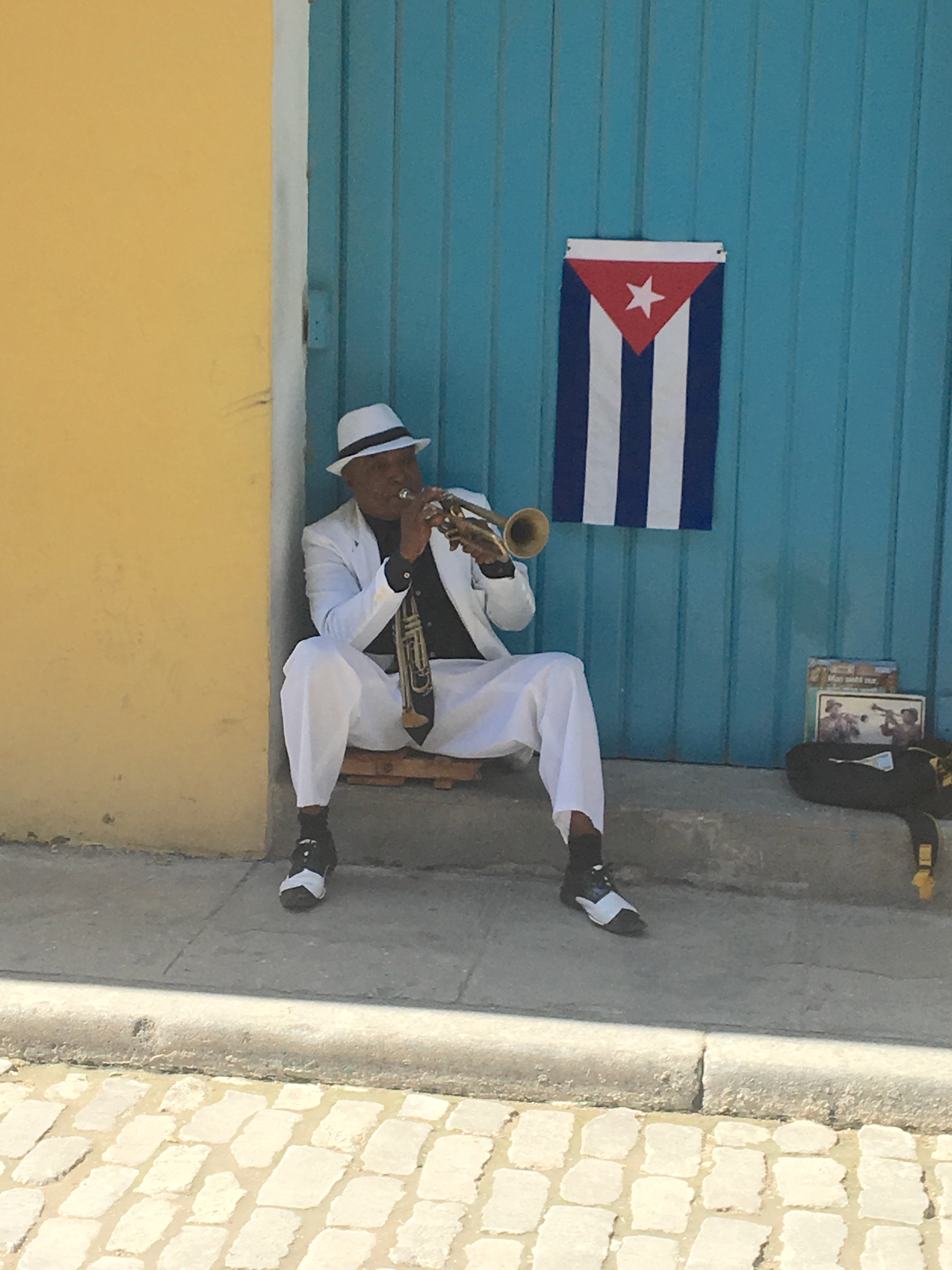 Hometown carrier Sun Country never got off the ground at all — filing for multiple delays in hopes of flying this winter. One early warning sign of trouble occurred when I flew back from the beach resort of Varadero, Cuba in February. Presumably peak season, there were only 11 passengers on my Southwest Airlines flight with a capacity over 140 seats (see photo). When Spirit announced their exit from the market last week, their spokesman Paul Berry acknowledged that:
"Loads were not very heavy."
So what went wrong? Really, a combo platter of American travelers' hesitation to maneuver through confusing visa rules and the over enthusiasm of a 300 percent increase in capacity to the country. There are many Minnesota travelers that hold Cuba near the top of their bucket list. Many have told me they want to visit Cuba before it becomes westernized and loses its retro charm. The sputtering start by the U.S. carriers will certainly stunt investment and provide a longer window to take in Cuba's "frozen-in-time" atmosphere. Then the second question tends to burst out as: "It's still not legal to vacation in Cuba is it?" The answer is that it depends on your acceptable level of risk and your pocketbook. Since President Obama relaxed the Treasury rules for travel to Cuba, the market has morphed into a two tier proposition. Package tours that follow the letter of the law and are 'licensed' by the Treasury Department gouge U.S. citizens with prices ranging from $3000-7000 per person. On the other hand, intrepid travelers building their own itineraries, can meet the travel specifications -- and pay much less. In the wake of the recent carrier exits, let's take a look at the air fare market and maneuver through the confusion of the travel rules. It may well be that the depressed flight loads and scarce American tourist numbers may unlock tremendous value and help make your dream trip to Cuba become a reality?
Navigating Cuba Travel Licenses: Driving 72 in 60 MPH Zone
In the past, travelers needed to justify a specific license, authorized in advance by the Treasury Department, to explore Cuba. Under the new rules, travelers can qualify for one of 12 general licenses (abbreviated below) maintain documentation and travel legally as long as the purpose meets the requirements of these categories:Educational activities in Cuba for schools, including people-to-people exchanges open to everyone. Projects that support the Cuban people.Professional research and professional meetings in Cuba.Public performances, clinics, workshops, athletic and other competitions, and exhibitions in Cuba. Religious or humanitarian projects in Cuba. Journalistic activities in Cuba. Family visits to close relatives in Cuba. Activities in Cuba organized by private foundations, or research or educational institutes. Official business of the U.S. government. Import or export activities of technology, agricultural or medical products.
The primary obstacle for U.S. visitors that do not have access to an organized church, sport or business mission, is that the rules require a documented, full time itinerary of activities while in Cuba. Purely touristic travel such as kicking back at an all-inclusive beach resort or independent leisure travel is prohibited. This brings us to the traveler's conundrum. If you are a person that is comfortable racing along at 72 MPH in a 60 MPH zone, risk-taking may well unlock great rewards in Cuba. Let's take a look at a very good value tour operator,
Cuban Adventures
. The company has been in business since 2005, delivering guided tours for small groups up to 16 people. They promote itineraries with no middlemen and use private guesthouses or 'casa particulars' for the best rates. [caption id="attachment_1313016" align="aligncenter" width="400"]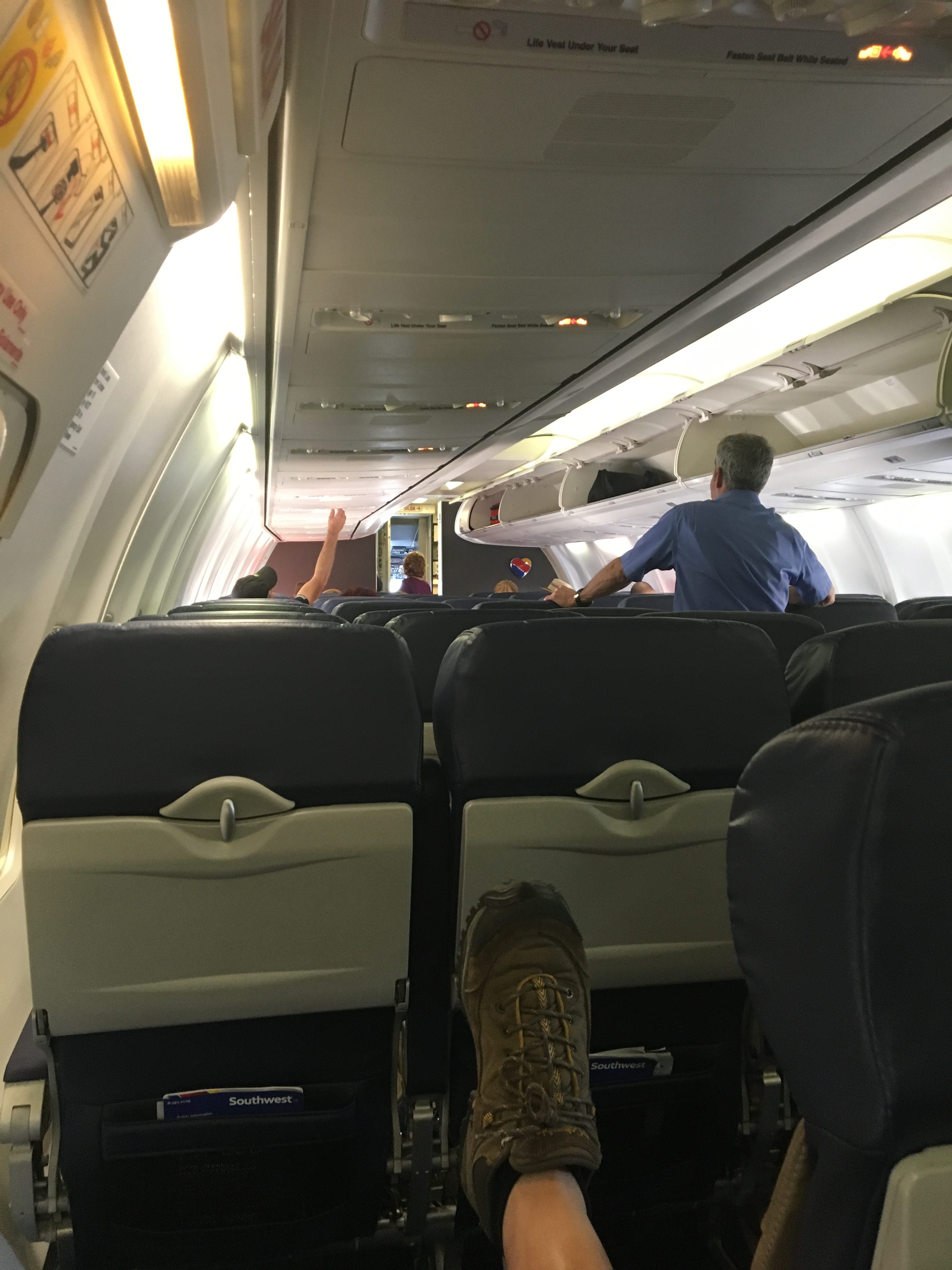 Tony enjoying the not-so-filled flight to Cuba.[/caption] Cuban Adventures promises people to people exchanges and an intimate look at Cuban culture. It is eye-opening to look at the difference in tours that claim to be certified for the requirements of the U.S. people-to-people license — and those that promote the same features but are not licensed. The company offers a guided eight day original tour of Havana, Vinales, the Bay of Pigs, Trinidad and Santa Clara for approximately $699 per person. The rate includes airport transfer, guest house accommodations, breakfasts and guided tour." On the other hand, Cuban Adventure's U.S. subsidiary is touting a licensed people-to-people nine day tour with similar features to the same cities for a whopping $1600 per person (or $2041 for single)! And that does not include airfare, mandatory medical insurance, airport transfers or your Cuban tourist card. A visit to the United Vacations website yielded seven night packages ranging from $3425 to $6462 per person for an all-inclusive people-people tour from the Midwest. On an amusing note, while reading an August 2016 New York Times article advising Americans how to travel to Cuba, their site flashes a package from their travel division, The New York Times Journeys selling an eight day all inclusive tour "from $6695." Talk about sticker shock! The relaxed Treasury rules do allow independent travelers to develop their own people-people itineraries that involve meaningful exchanges with the Cuban people, encompass a full time schedule and are documented. For those folks that are comfortable in the fast lane, the most economical route would be to book separate airfare and sign up for a people-people tour like the Cuban Adventures Original at $699 per person — and then save receipts and record your daily activities. Collin Laverty is the founder of Cuba Educational Travel and he assessed the regulation of such tours by saying:
"No one is really watching."
If that uncertainty makes you nervous, then look no further than another major carrier, Delta Airlines. In contrast to some of these expensive offerings, their approved people-people all inclusives look downright affordable and most importantly include airfare. Their five day tour in May is $2602 per person double occupancy ($3177 single). To extend your stay to seven days only tacks on another $300 or so. Delta delivers slick connections to and from Havana (via Atlanta or JFK). Further, their packages are fully guided; include two meals a day, transfers, above average hotels and of course airfare. To make things easy, Delta includes the required Cuban medical insurance in the airfare and documented on your boarding pass. Another requirement of Cuban travel is your tourist card which is basically the same as a visa. Delta facilitates your tourist card for only $50 which can be mailed to you or picked up at the gate.
Standalone Cuban Airfares Are Cheap Too
If one of the general licenses is a fit for you and you can opt to buy your airfare separately, the good news is that the complexity of the U.S travel rules is depressing flight loads and airfares too. Consider that round trip airfare from MSP to Havana in May is running between $418 and $550, while New York area fares are only $315 round trip. [caption id="attachment_1313017" align="aligncenter" width="570"]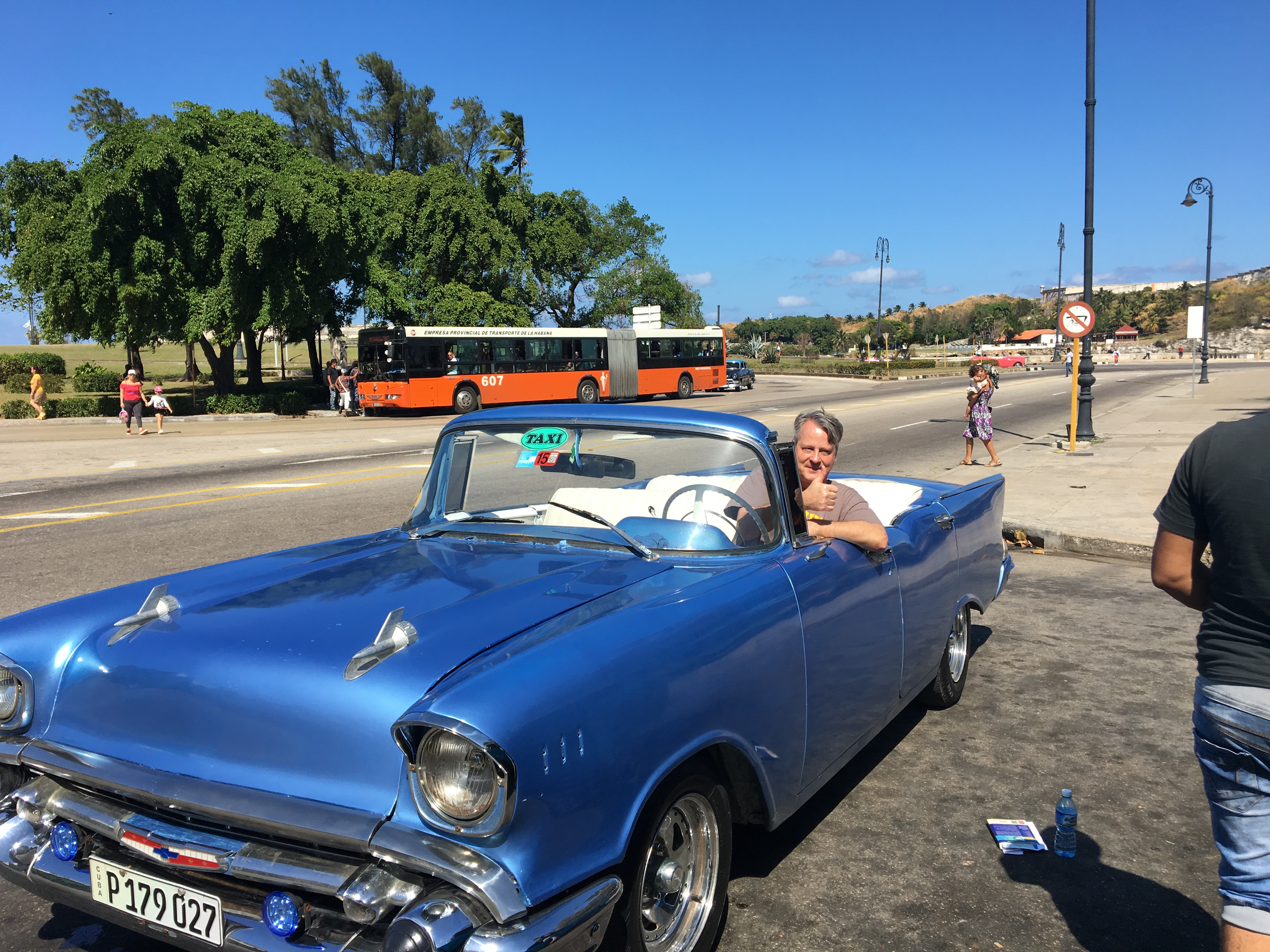 Tony riding in a Cuban staple - classic American cars.[/caption] Those are great fares. Believe it or not, you may be able to cut the cost even lower if you do a stopover or connection in Orlando or Fort Lauderdale. (This routing becomes even more relevant when low fare carrier Spirit ends service June 1.) The Florida fares are less than Pan Am's rates from that fateful 1928 trip. On both of my trips, I broke the trip in Florida: snagging a Southwest $59 one way fare Fort Lauderdale- Havana the first time; then Jet Blue $92 each way Orlando-Havana-Orlando the second time. Both Fort Lauderdale and Orlando are hot beds of low cost carrier fare activity so it is relatively easy to find a great fare, placing you smack dab in one of the key Cuban gateways. Of course, some of the normal caveats apply. The most convenient way to break the trip is by traveling light with only carry-on luggage and you need to be careful to allow plenty of time to clear customs on the return connection.
Bucket List Waiting
While the Cuban airline exodus looks ominous, don't forget the lessons of Pan Am legend Juan Trippe. He was undeterred by the Sully accident. Pan Am rebounded by innovating radio-controlled flying, helping build the Boeing 314 Clipper and using Cuba as a springboard to become the largest international airline in the world -- the "Chosen Instrument" of American aviation. Similarly, there may well be hidden lemonade in the lemons of the soft Cuba flight loads and travel license confusion. Feel free to use this playbook to find your way to an enchanting country, waiting with open arms still frozen in place and time. Photos courtesy of: Tony Randgaard -- Pan Am Historical Foundation