Sun Country: Savory Recipe for a Good Old Fashioned Airline Strike?
Posted by Tony Randgaard on Monday, May 25, 2015 at 12:00 AM
By Tony Randgaard / May 25, 2015
Comment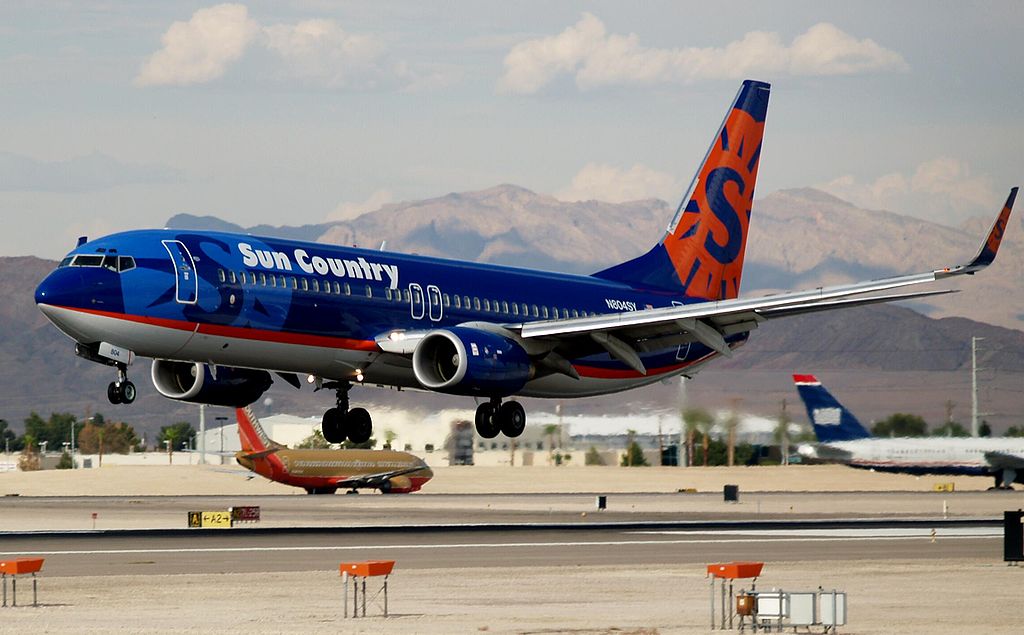 Sun Country Airlines, the hometown airline of Minneapolis-St. Paul, serves 37 destinations in the U.S., Mexico and Caribbean. Negotiations with their pilots look eerily similar to the last U.S. airline strike. Ten years ago this August, news outlets were reporting that striking mechanics were slashing tires, blocking busses and harassing employee vehicles. I was the enemy. I was a Northwest Airlines manager reporting to work during one of the last major airline strikes in the U.S. Airline mechanics were lined up along Airline Way in front of Northwest Building C in Bloomington, Minnesota. Unfortunately, the only way in was a narrow driveway through a mass of picketers carrying signs and leading chants with bullhorns. Looking like Pee Wee Herman, I puttered up the frontage road on my classic 1977 Schwinn ten speed bike clad in a button down dress shirt. Nerves on edge, I veered left and coasted slowly through a gap in the picketers. Thankfully the protesters were gracious and accommodating and no one laid a hand on me. Indeed the strikers were cordial to me and my Schwinn over the next ten days. But their plight would last much longer. A number of them would hold their same positions on the picket line for another 444 days. A strike that began with conviction and excitement would fade into despair over interminable weeks and months. Northwest flew right through the strike and unseated AMFA (American Mechanics Fraternal Association) with replacement workers. Fast forward to summer 2015 . For a veteran Northwest Airlines employee who endured four strikes, very familiar storm clouds are building on the horizon. Sun Country Airlines, the new Twin Cities "hometown airline" has been mired in contract talks with its pilots for more than 5 years. The pilots, represented by ALPA (Air Line Pilots Association), are the lowest paid Boeing 737 crews in the U.S.1 At the same time, Sun Country is a modest player with 21 Boeing 737s, reporting modest profits (and a 2014 loss) at a time when competing carriers are in boom times. There are signs of a stalemate and more ominously an erosion of trust. The Pioneer Press reported that Chairman Marty Davis sent a confidential "last and final offer" to the pilots -- that was promptly leaked to the public. In the memo, Davis warned that the carrier would shut down operations if the offer was not accepted. That is an unusual maneuver considering that Sun Country is still in federal mediation with the pilots. A potential strike could be months down the road. Keep in mind that the National Mediation Board must first declare an impasse in negotiations and then offer binding arbitration to the parties. If that fails, then a 30 day cooling off period is initiated. No labor action such as a strike or lockout can occur until the cooling off period ends. It doesn't exude optimism for a resolution when management is already talking about a shutdown?
Spirit Airlines Déjà Vu
Downtrodden Minnesota sports fans know the feeling: facing the Chicago Blackhawks in the playoffs or watching Aaron Rodgers carve up the Vikings in the fourth quarter of a football game. It's a sinking feeling in the pit of your stomach that something bad is going to happen. That a loss is somehow preordained. For Sun Country executives their "Aaron Rodgers" is ALPA and that negative déjà vu script played out during the last U.S. pilot strike at Spirit Airlines in June 2010. There are a number of similarities between the Sun Country and Spirit scenarios that portend a strike:
1. Spirit pilots were also among the lowest paid in the industry. 2. Both carrier negotiations were stalled with the National Mediation Board for more than 3 years 3. Both carriers are small enough that the Obama administration would not step in and halt the strike (as previous administrations did with American Airlines' pilots) 4. ALPA represents both pilot groups
It's easy to imagine that ALPA leadership feels that they are in the catbird's seat. Sun Country leases its 21 jets and mandatory payments would make a shutdown exceedingly expensive. Spirit was a much bigger and more profitable corporation at the time of their strike. Spirit revenues are almost five times as large as Sun Country while Spirit's 2014 profit of $225 million soars above a Sun Country loss of $676,000 in 2014 and small profit of $2.4 million the prior year.2 In spite of their deep pockets Spirit could withstand only a five day strike in 2010. The strike brought Spirit to its knees and forced the airline to cancel all of its flights. The situation played out perfectly for ALPA as its negotiators wrung out a deal that increased average captain's hourly pay by 10 percent and first officer pay by a robust 18 percent. When the National Mediation Board declared an impasse at Spirit, ALPA quickly rejected the offer of arbitration -- to escalate a strike countdown. Why wouldn't they do the same here? Sun Country pilots have already voted unanimously to authorize a strike when the time comes. After the vote, ALPA spokesman Jake Yockers said:
"We hope this sends a message that we are serious about getting a new contract."
Strike Planning

When the Spirit strike hit, customers had little notice.
"We got online this morning and there was nothing posted. We called and they said all flights were on schedule," lamented Ralph Aversa at the Atlantic City Airport. When Spirit cancelled their entire schedule, thousands of customers like Aversa were stranded across the nation. "It's a pain in the butt, said fellow passenger Dominique Maucert. "I'm trying to book another AirTran flight, but they're trying to charge us more than double. I'm going to have to pay for a hotel room, if not sleep in the airport."
How worried should Sun Country customers be about a potential strike? The good news is that the company and pilots are still in federal mediation (with next meeting planned for May 27) and as noted, that ensures a minimum 30 day cooling off buffer for the public. Near term travel is not at risk. On the other hand, customers should be vigilant about longer term trip planning. After more than 3 years in mediation, an impasse could be declared this summer. The National Mediation Board had no qualms about releasing Spirit during the busy summer travel timeframe and may not blink about doing that again.
Worth Watching
In the weeks ahead, all eyes should be watching the National Mediation Board while keeping a steady gaze through the rearview mirror -- on Sun Country's schedule. If the Board throws up its arms and declares an impasse, the strike clock starts ticking. On the other hand, we'll be monitoring Sun Country's scheduling news. The carrier has an innovative "lease swap" program with Dutch-based Transavia Airlines. The carrier is a low cost leisure and charter carrier to more than 100 destinations. In a typical summer Sun Country transfers aircraft to Transavia.
"Transavia been working closely together with Sun Country Airlines (SCA) on fleet capacity for over a decade… During the summer season of 2015 Transavia will not be using Sun Country aircraft," stated Transavia spokesperson Jacqueline Beerendonk.
While that option to reduce flying appears empty, we'll be watching to see if Sun Country attempts to turn in leased aircraft or find other means to cut its schedule and ratchet up pressure on the pilots. If they do, we are dealing with a toxic situation and the traveling public better buckle their seat belts for some unexpected strike-related turbulence! It would signal "Buyer Beware" for travel planners looking beyond the 30 day cooling down period. The good news is that my trusty Schwinn is retired now and we will be sitting out the white knuckle countdown to a pilot's deal this time.
1 According to Airline Pilot Central 2 BTS Department of Transportation Form 41 data
• Retired after 31 years in marketing and operations with United and Northwest Airlines, Tony has been published by MinnPost, Minnesota Connected, Air Cargo News, The Forward, CNS Air Cargo Focus, TC Daily Planet and the Rake. He has won a Silver Addy award in Advertising and launched United Cargo's Friendly Skies ad campaign in 2014. Photos courtesy of:
Bryan
-- Sun Country Airlines