Take a Look at Vikings Free Agency
Posted by Travis Bridell on Saturday, April 18, 2015 at 12:00 AM
By Travis Bridell / April 18, 2015
Comment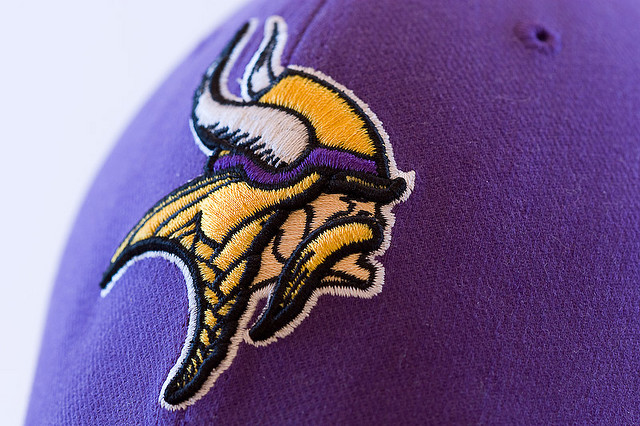 Now that we've passed a point between the NFL draft and free agency, the NFL is still in charge of capturing the sports fans' attention with the 
craziest
 opening to the free agency period that we've ever seen. The Vikings mostly remained out of the headline-making deals (except for
Adrian Peterson
rumors), until March 13 when they acquired receiver Mike Wallace from Miami. The move still paled in comparison to what front offices in Buffalo, New York, Miami and Philadelphia have done, but I've still got 23 players going in and out of Minnesota. So let's see what Vikings General Manager Rick Spielman and the rest of the front office have done so far in the first wave of free agency (before the NFL Draft April 30).
Re-Signings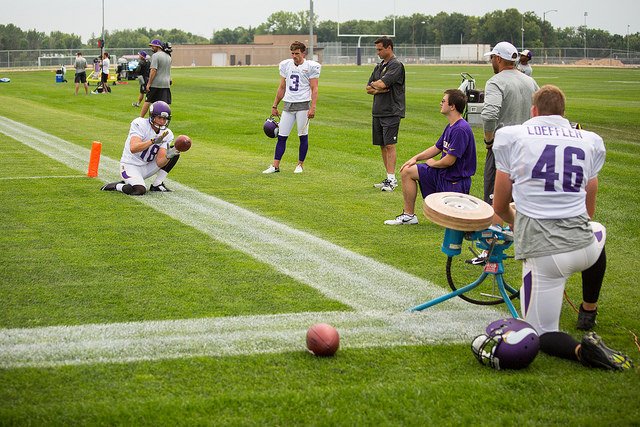 The Vikings didn't have too many key free agents (like Everson Griffen last year), but the team kept a good number of their players from last year's 7-9 team. Again, nothing extraordinary, but mostly reliable players sticking with the team.
RB Matt Asiata (27)
Asiata is a solid backup power back. All he does is score touchdowns -- only one game in his career has he ran for one touchdown and not scored another. Asiata is unspectacular, but gets the job done (now about those pesky drops...). He signed a 1 year, $800k deal.
OG Joe Berger (32)
Berger has been a Viking since 2011, starting 18 games over that time. Last year he had to fill in for Brandon Fusco who only played three games due to a shoulder injury. He provides decent protection from injuries at the guard spots and has had his fair share of time in the league. A 2-year, $2.11 million deal is pretty reasonable.
OT Mike Harris (26)
A younger lineman than Berger, he may be able to fill in the spot that Charlie Johnson occupied at left guard the past few years and provide protection for injuries at the tackle position after five starts last year. He signed a 1 year, $1.5M deal.
DT Tom Johnson (30)
Johnson just posted the best year of his career with 6.5 sacks and a forced fumble with two starts. He will be sticking around on a 3-year, $7 million deal that is reasonable enough, but pushes him into the possible downside of his career. Fortunately, he doesn't have too much wear and tear, so we'll see how it plays out.
LS Cullen Loeffler (34)
What can you say about a long snapper? Loeffler has been a consistent player and deserves to stick around as long as he can perform. His 1 year, $1.05M deal seems like a bargain.
New Arrivals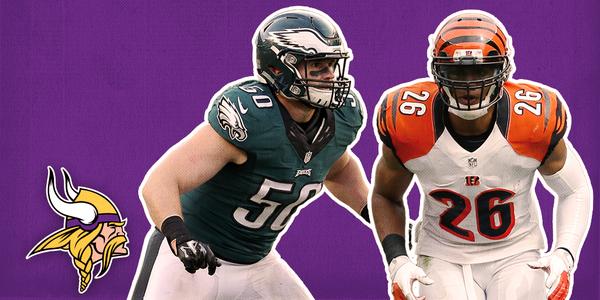 As previously mentioned, there weren't too many additions that would be mentioned in the same way as last offseason's Captain Munnerlyn and Linval Joseph, but some of the players will fill an integral role for Head Coach Mike Zimmer.
LB Casey Matthews (26)
The former Oregon Duck didn't stay in Philly with his former college and pro head coach Chip Kelly. Instead, he joins a Vikings squad thin at linebacker as well as his brother Clay in the NFC North. He may be the front-runner in the middle after starting 11 games last year. He signed a 1 year deal for $825k.
S Taylor Mays (27)
Mays is a player familiar with Mike Zimmer during his time in Cincinnati. Mays is more of a special teams player as he has started only 10 games in his five-year career after being drafted in the second-round in 2010. He should be able to back up Harrison Smith and Robert Blanton capably. He came aboard on a 1 year deal worth $795k.
WR Mike Wallace (29)
Wallace was the Vikings big splash this offseason, arriving in a trade from Miami. People are feeling some excitement over the trade for Wallace, the one-time Pro-Bowler and two-time 1,000-yard receiver. Getting a seventh-rounder and Wallace for a fifth-round pick is tremendous after his moderately successful two-year tenure as a Dolphin. Considering the Cassel trade, Minnesota got the 4.3-speed Wallace for next to nothing other than his nearly $10 million salary, most of which was cleared by cutting ties with Greg Jennings.
RB DuJuan Harris (26)
In 2012, Harris had 100 total yards and a touchdown against the Vikings in the Wild Card game versus the Packers. That's more production than he had all of last season. Maybe he can latch on as a backup for the team. His modest 1 year deal worth $660k is a low risk investment.
TE Brandon Bostick (25)
Bostick will live in (Packers/Vikings) infamy as the man who couldn't handle the onside kick in the playoffs against the Seahawks. He has only 18 targets in 24 career games. His 1 year, $585k deal seems more like a poke at sour Packers fans.
OT Babatunde Aiyegbusi (26)
Babatunde (bah-BUH-tune-day) Aiyegbusi (ah-YEG-boo-see) RT "@blt5163: @Vikings how do you pronounce his name" — Minnesota Vikings (@Vikings) March 26, 2015
Aiyegbusi is a behemoth (6-foot-9, 351 pounds) of a man, no doubt about it. He comes from the Polish league, the second Polish, non-kicker to sign a contract in the NFL. His 3 year, $1.6M deal makes this a low risk investment with a potential very high reward.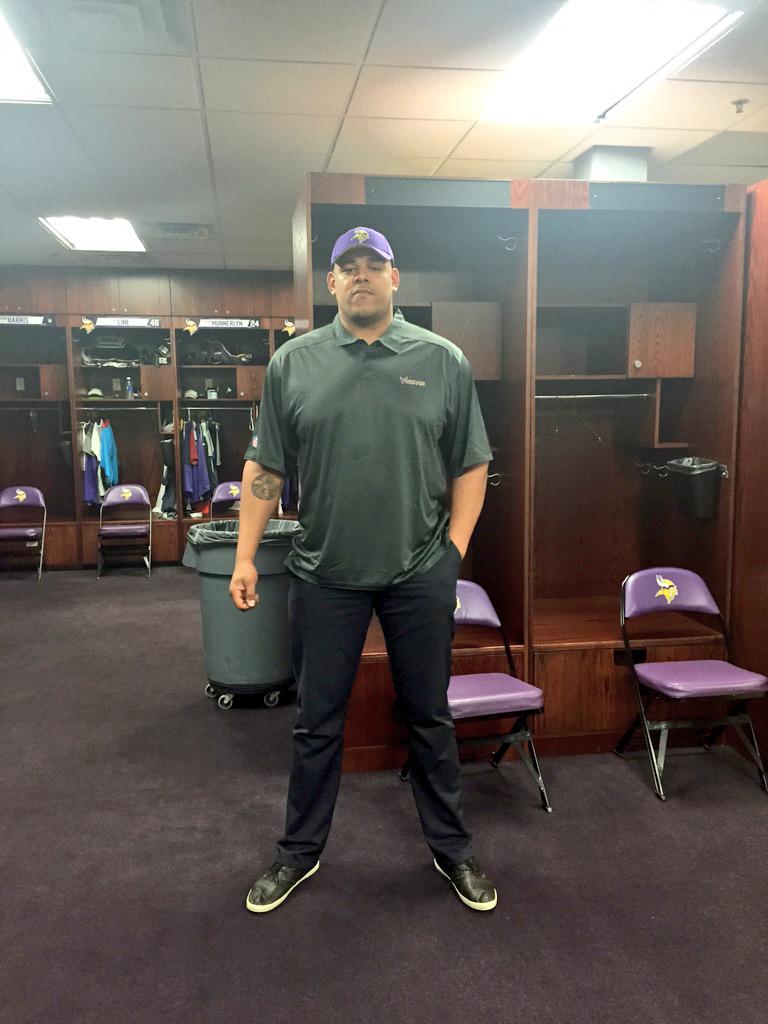 QB Shaun Hill (35)
Another player returns! Hill only had one appearance for the Vikings as a rookie in 2005. He is here to provide solid backup play with the departure of the other veterans behind Teddy Bridgewater. He started eight games (8 TDs/7 Int) last year for the Rams after Sam Bradford went down with injury. He signed a 2 year, $6.5M deal.
CB Terence Newman (36)
Newman also comes from Cincinnati where Zimmer was defensive coordinator. He has had five interceptions in the last three years. His first nine seasons were spent in Dallas where he was a two-time Pro-Bowler. He will compete for time across from Xavier Rhodes, pushing Captain Munnerlyn into the slot corner role. Newman came to Minnesota on a 1 year, $2.25M deal.
QB Mike Kafka (27)
Kafka and the next man down, Rayford, were both a part of the first-ever Veterans' Combine in late March. Kafka is another veteran quarterback to compete with Hill and a potential young player. He is 11 of 16 for 107 yards and two interceptions in his two-year career. The Vikings signed the vet with a 1 year $660k deal.
DE Caesar Rayford (29)
Rayford played in seven games as a rookie for Dallas last year, recording two tackles. He will add depth to the defensive line and has played previously in the Canadian Football League. Rayford signed a modest 1 year deal worth $500k.
LS Kevin McDermott (25)
McDermott will fight Loeffler for his long-held long snapper position. He spent played seven games for the Ravens in 2014 before being placed on injured reserve. He attended UCLA where he was teammates with punter Jeff Locke, the holder for the Vikings.
Departures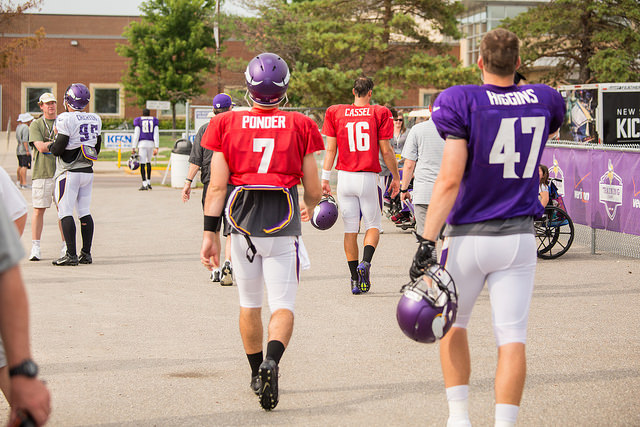 LB Jasper Brinkley (29)
Although he provided a starter at middle linebacker in his second stint with the Vikings, Brinkley is a liability in pass coverage and will have his spot taken by Matthews, Audie Cole, or others the team may still bring in. (Cowboys)
QB Christian Ponder (27)
Ahhh, that first-round pick didn't work out. Will anyone miss him besides Sid Hartman? Ponder, nor any of the first-round quarterbacks other than Cam Newton selected in the 2011 NFL Draft really made an impact in the league, although later picks Andy Dalton and Colin Kaepernick are currently starters on their respective teams. In fact, Jake Locker retired at only 26 this offseason, one of several early retirements. (Raiders)
OG Vladimir DuCasse (27)
DuCasse was never much of a factor for the Vikings. He started six games last season, in his previous four seasons in the NFL, with the Jets, he had only started five. (Bears)
QB Matt Cassel (32)
Getting a small move up in the draft and an extra pick for Cassel isn't a bad move considering it takes off his $4.75 million salary with it. Teddy is the starting quarterback and Hill will serve as a usable backup, but I wish Cassel all the luck in the world after missing out on his starting opportunity here due to his foot injury.
(Trade: Cassel and 2015 sixth rounder for Bills 2015 fifth and 2016 seventh rounders)
FB Jerome Felton (28)
Felton paved the way for Peterson's 2000-yard season in 2012, when both were Pro-Bowlers. Norv Turner's offense moved away from the fullback as Felton saw a lot less action on the field last year. With Zach Line and others ready to take the snaps there, he wasn't as important to keep around. (Bills)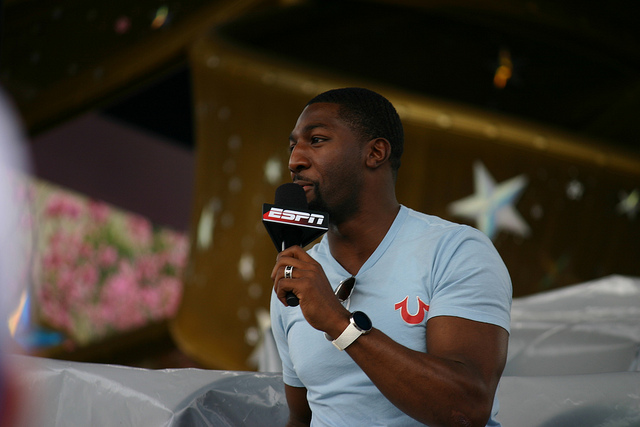 WR Greg Jennings (31)
After trading for Mike Wallace, the front office decided to move on from their original wide receiver free-agent signing of 2013. Jennings tallied over 1,500 yards total in his two seasons in Minnesota. He will find a new home as a possession wide receiver in the NFL, but he wasn't worth nearly $9 million that he would have earned in 2015. Jennings is well-liked and plans on sticking around the area after his eventual retirement. (Free Agent)
DT Corey Wootton (27)
Wootton was signed last offseason from the Bears after four years with the organization. He tallied 11 tackles and a sack in 2014, but if he isn't re-signed, it could open time for 2014 seventh-rounder Shamar Stephen. (Free Agent)
OG Charlie Johnson (30)
Another guard who couldn't block too well. He is off of the Vikings after four seasons and will likely find a new team after starting 61 games for Minnesota. (Free Agent)
I'm not too inclined to grade the moves that the Vikings have made so far this offseason, but so far the team has made smart decisions that haven't been splashy but feel like good changes to shoring up positions that need help as the team brings along its own younger players. Fans will have to wait for the draft and the second wave of free agency to get a real feel on what Spielman and coach Zimmer can do with this team. Photos via: 
DJ Lein
 -- 
Matthew Deery
 -- 
NFL
 -- Minnesota Vikings -- 
Jeff Kern