Thalmic Labs Could Give You The Power Of 'The Force' With Their New Device
Posted by Andy Ellis on Tuesday, July 29, 2014 at 12:00 AM
By Andy Ellis / July 29, 2014
Comment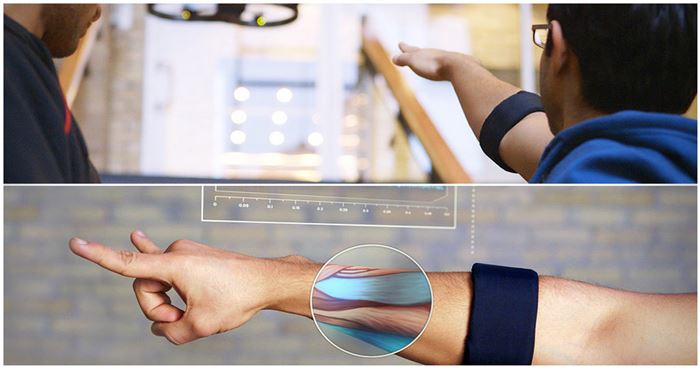 We still have a ways to go until we see JJ Abrams bring us back to the world of Star Wars (hopefully lens flare free, though unlikely). We do, however, have something to satisfy our sci-fi thirst: the power of 'The Force.' Okay, before you jump for joy and risk colliding with a low ceiling, or ceiling fan, let's take a step back. It's not the actual 'Force' so, no, you are not going to be able to go all Darth Vader on your boss because he won't let you take vacation time. This 'Force' comes in the
form of an armband device
 developed by Thalmic Labs, according to Diply.com. Usually when a device like this comes along it has one specific use, such as a new controller for a certain gaming console -- but this is different. While it does allow you to use your bare hand as a gaming controller, it also allows you to navigate to certain part of a video you're watching without touching anything. The video below has even more examples of its real world awesomeness. Now even though Luke Skywalker used his mind to summon 'The Force', the team at Thalmic Labs 
tapped into a technology
 known as electromyography (EMG), according to Business Insider, which is used by scientists and doctors to "record electrical activity from muscles." Stephen Lake and Matt Bailey, two of Thalmic Labs' co-founders, have been working with the technology since their days as undergrads at University of Waterloo in Ontario, Canada, when they were trying to build a "wearable device that could help blind people navigate using sensors." Lake talked to Business Insider about why utilizing EMG technology made sense for the product they were trying to create:
"It was clear that our hands and fingers were the key, as voice commands, eye tracking, etc. don't work well in broad applications, so we wanted a way to plug our hands into the digital world. Cameras don't work well to accomplish this in mobile scenarios (which is the most common approach to gesture recognition). Eventually we ended up with a hypothesis that we may be able to use EMG to accomplish this. A few months later we had an early prototype that proved our hypothesis."
The way the armband works is simple: it measures the electrical signals in your arm's muscles, and is able to detect what gesture you are going to make before your hand is able to perform the action. The first batch of the company's Myo armbands were shipped to developers last December, but the public launch was delayed so the team could make "significant improvements to the industrial design," according to Business Insider. Stephen Lake, co-founder and CEO of Thalmic Labs went into more detail about the improvements during an interview with Business Insider:
"We started last fall, around October, redesigning the industrial design. We wanted to make it more durable, thinner, and reduce the complexity that made it something more manufacturable. One of the big challenges is making a one-size-fits-all that will also be slim. We didn't want to make multiple sizes, but to meet that constraint the original product had a complex mechanism that made it bulky. We decided that wasn't the quality we wanted to release."
When the final design was released on their website back in June it seems as though they achieved what they set out to do with updated Myo. The difference in the two models is very distinct with the newer version thinner and weighing 25% less than the original design. You can see for yourself below.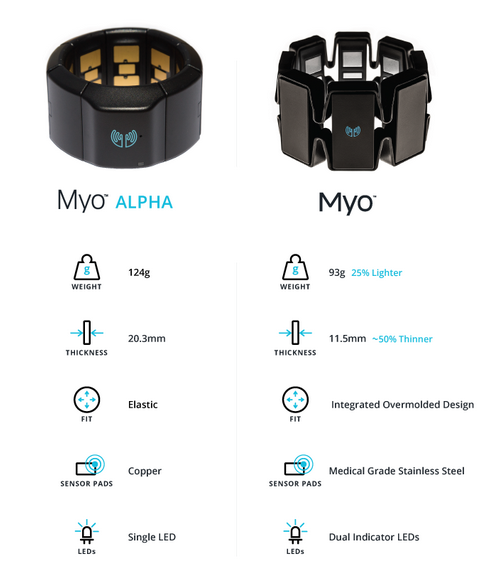 As they gear up for the public launch in a few months, they're focusing a lot of time on the device's software and applications. The goal is for everything to be straightforward in terms of development, but still give more experienced developers the freedom to do what they want. It's actually because of those developers that Lake isn't exactly worried about the future of the Myo: the company has received over 10,000 applications requesting to join the Myo developer program, according to Business Insider. Even though he knows it's useful to be able to use the Myo to interact when it comes to gaming and other products of that nature, not to mention really cool, Lake pointed out to Business Insider that they're also looking into home automation.
"Internally, we think about applications in categories for consumers, so we're thinking about gaming and these sort of small and interactive devices around us. But we're always trying to think about connecting to these devices and letting us control them in real-time."
While there is no telling what kinds of issues may come up after the public launch, there is no doubt that the future is here. There's just one question you need to answer: Are you ready to harness the power of 'The Force'? Images via: Myo