The 2014 'Minnesota Renaissance Festival' Almost a Month Away
Posted by Kendra Ackerman on Thursday, July 3, 2014 at 12:00 AM
By Kendra Ackerman / July 3, 2014
Comment

The season of summer in Minnesota is a few short months when people like to spend their time outside before the season goes cold once again. Summer also brings festivals that entertain with anything from music to food to themed get-togethers. Speaking of themed get- togethers, that leads me to announce the 44th Annual Renaissance Festival. Held at the Shakopee fairgrounds, this on-going attraction has gathered crowds as large as 300,000 in the past years and is considered the largest Renaissance Festival in the United States.
The Renaissance Festival is open from August 16th to September 28th including Labor Day weekend. Each weekend has a theme which includes titles such as: Shamrocks and Shenanigans (revolving around Irish traditions), Passport to Adventure which includes a spaghetti eating contest and a bocce ball contest to an Oktoberfest theme which includes traditional German dancing and music and polka lessons. Each theme has its own personalized activities that is sure to entertain just about anyone. Another main attraction that draws a large crowd is the on-going Royal Joust in the middle of the festival grounds. The matches put the crowd back into time as if they are witnessing an actual jousting tournament.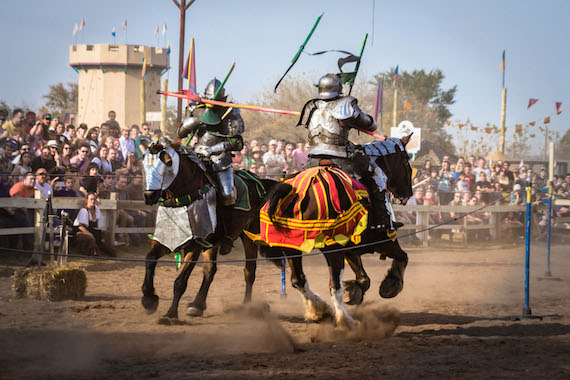 Other highlights of the Renaissance Festival are the 250 artisan booths, great for shopping for a loved one's birthday or a trinket for yourself as a souvenir. From hand-crafted clothing to leather beer mugs, the possibilities are endless in finding something to bring home.
Other than shopping and people watching, the food and drink is what keeps me coming back to the annual affair. From the sweetly flavored wine to the popular turkey leg to the chocolate covered bananas, there is a large variety of food for even the pickiest eater. Not to limit the food choices to one type, the festival offers Mediterranean, Italian, Mexican and seafood favorites.
Throughout the day, there are family-friendly (and not so family-friendly) shows going on throughout the festival. A favorite of mine is always the Puke and Snot show which attracts large crowds and is full of crude jokes and laughter. Dressed in Renaissance attire and keeping their humor related to the Shakespearean Wit and Verse, Puke and Snot have been around for a long time. That proves the show is one to keep in mind when visiting the fairgrounds.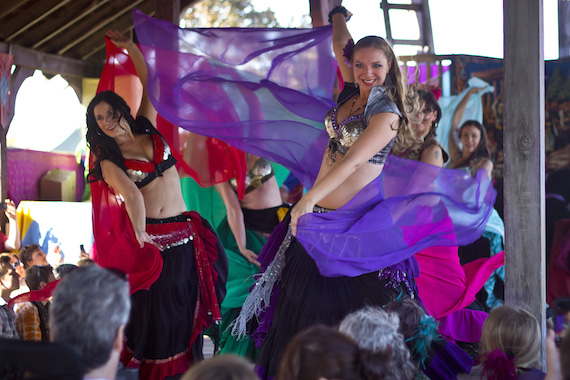 Other shows include juggling acts and themed dance routines that involve the young and the old. For the younger crowd, there are plenty of games and rides that can entertain them for the day as well.
Every year the Renaissance Festival attracts thousands of people to provides them a chance to travel back in time to the men-in-tights era and enjoy a slice of what it was like to live many years ago. From the food to the drinks to the live entertainment, the Renaissance Festival is a great event to attend, one worth forging a yearly tradition of visiting with family and friends.
Images via: Renaissance Festival -- Jennifer Arocha -- Matt Culbertson