The Best Place Eat Calamari in the Twin Cities -- 'Sea Salt Eatery' Restaurant Review
Posted by Dena Hodnett on Friday, September 13, 2013 at 12:00 AM
By Dena Hodnett / September 13, 2013
Comment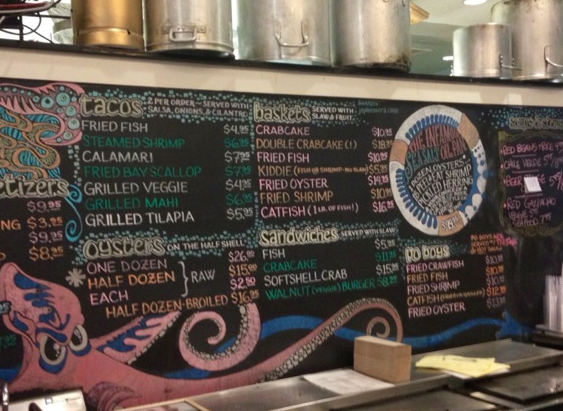 Sea Salt Eatery by Minnehaha Falls is a hidden gem for a tasty seafood lunch or dinner. It's been a favorite lunch spot of mine for awhile, but I recently tried out the dinner experience on a, (gasp), Monday night. I say gasp because according to the famous chef/TV personality Anthony Bourdain's best seller Kitchen Confidential, you should never order seafood at a restaurant on Monday and I have this imprinted in my brain. That being said, Sea Salt has never disappointed me with it's fresh delicious food and this night was no exception. My main challenge with Sea Salt is finding available parking and the long lines. Parking is a bit challenging when it's really busy. There is a pay lot nearby the restaurant (about 75 cents per hour), and metered spaces around the park or free spots on the side streets. Be prepared to walk a bit, although there are paths, so definitely still wheelchair accessible.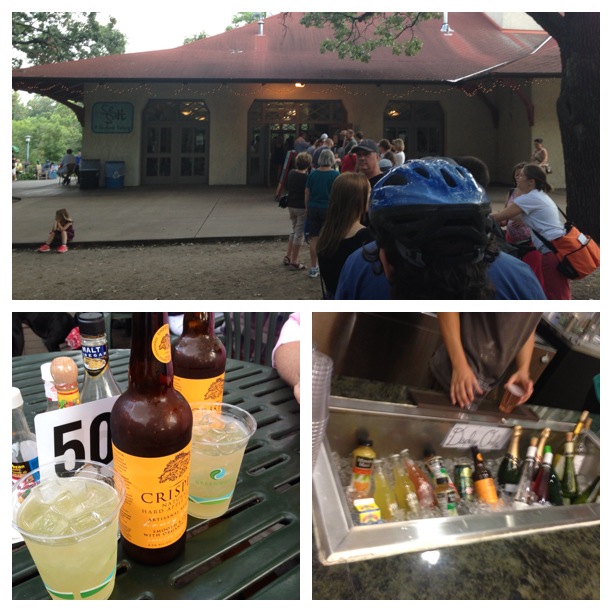 Also be prepared for long lines to even order your food, seemingly no matter what time of the day you go. I've never experienced an under 30 minute wait. This night was almost an hour. I rationalize the wait to mean it must be good to have such a consistent and devoted group of patrons. These are complete first world problems - I know - but it's just a heads up to our reader friends if you have never been there. The good thing is that if you have kids, they can run around in the park while you wait outside in line. FYI, they offer free water inside, so if you make friends with your line buddies, you can grab some water while you wait. Sea Salt offers tasty adult beverages of wine, local beers and my favorite, the Crispin Hard Apple Cider. We ordered a couple hard ciders and found a seat outside (pretty much all the tables are outside) close to the Falls and got some excellent people watching in before our food came out. We went appetizer heavy with an order of raw oysters, calamari, crab and avocado with tortilla chips. Everything was good. The oysters were huge, tasted so fresh, and were served with all the raw oyster side goodies like raw horseradish along with plenty of cocktail and hot sauce options. The calamari was delicately breaded with a sweeter dipping sauce. Sea Salt in my humble opinion, is one of the best places to get calamari in the Twin Cities. The crab and avocado were also very good, but I would probably order it again for a lunch vs. dinner taste.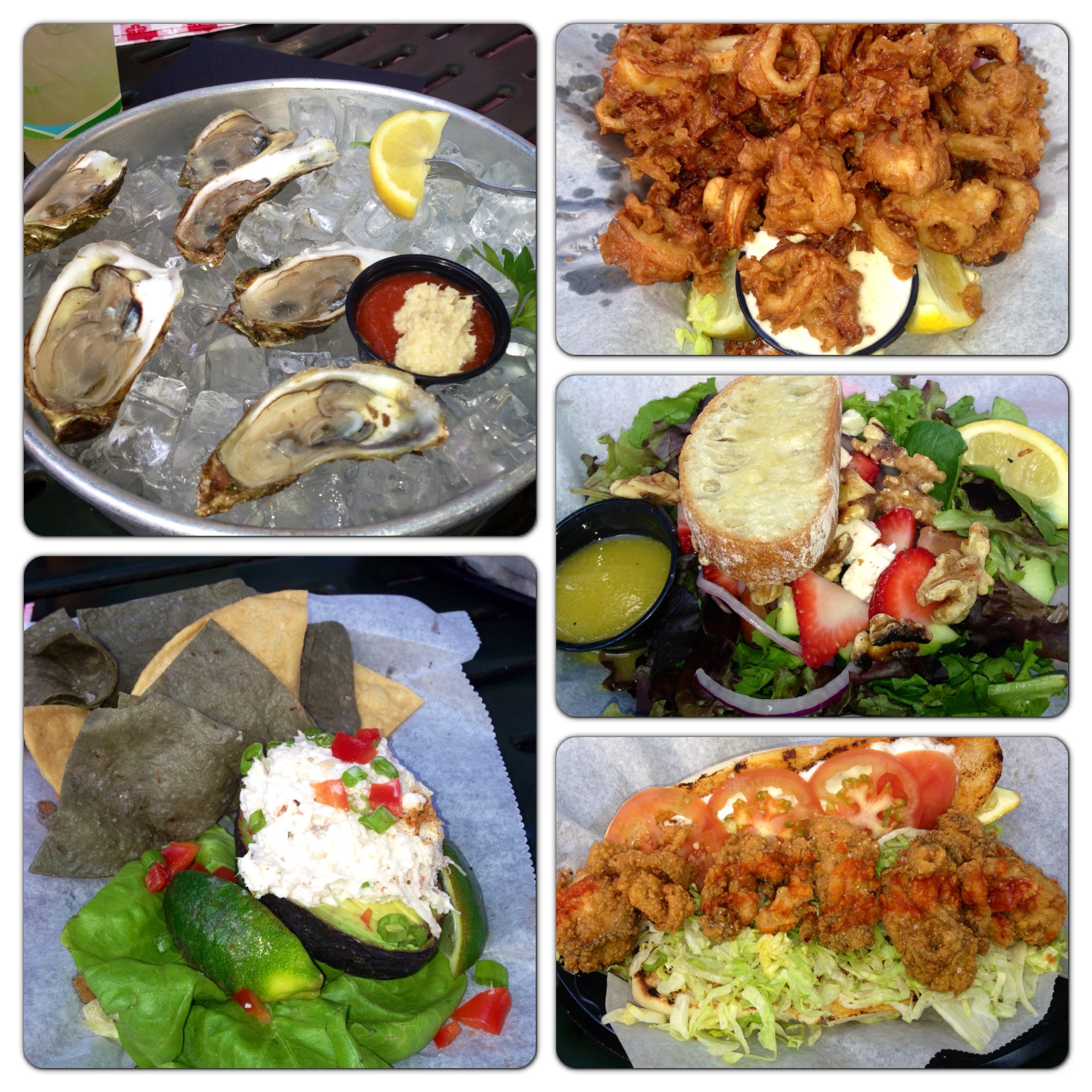 For dinner we split the fried oyster Po'boy sandwich and the strawberry walnut salad. The fried oyster sandwich was served on a toasted bun with plenty of lettuce & tomato, seasoned well, and the protein to bun ratio was perfect. Loved it. The salad was plenty for two people to split and offered up a nice fruit and veggie side for our meal. Gotta have a little color, even if your dinner is served in baskets. They do offer Sebastian Joe's ice cream for dessert, but we were stuffed. Sea Salt offers live music on selected nights, but to me, the relaxing sound of Minnehaha Falls literally steps away, was the best part of the experience. The people watching was also really fun. Eclectic groups were sprinkled all around us. Lots of couples on dates and lots of neighborhood people with their dogs. The park offers rentable multi-person bikes and trikes which also provided amusement. For us, strolling around by the Falls was the best. They are especially beautiful this year.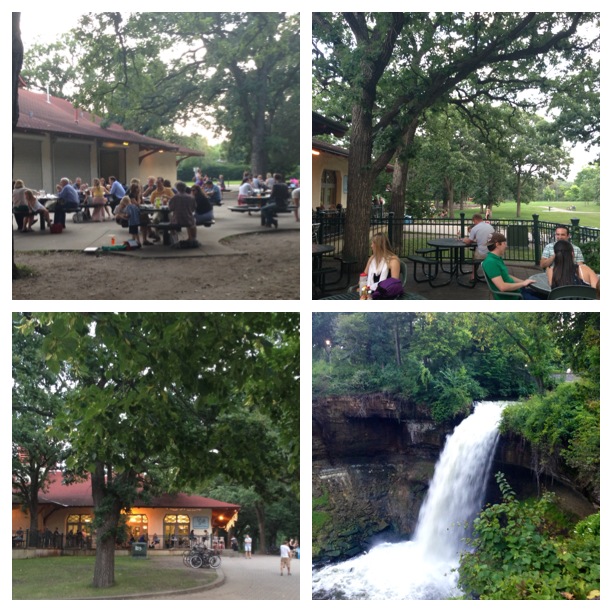 FYI - Sea Salt has switched to their Fall hours -- open everyday 11:00 AM to 8:00 PM. They have posted that they will remain open this year until October 27th, so you still have plenty of time to experience some seafood greatness alongside the true Minnesota landmark of Minnehaha Falls.