The Classical Actors Ensemble Performs 'Love's Labors Lost' at Twin Cities Parks
Posted by Nadja Leonhard-Hooper on Sunday, July 6, 2014 at 12:00 AM
By Nadja Leonhard-Hooper / July 6, 2014
Comment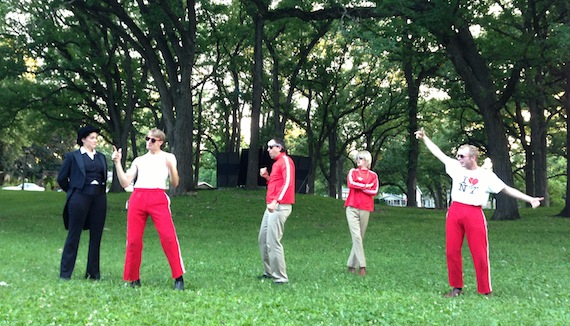 The premise of
Love's Labors Lost
is pretty simple. Four boys swear off girls. Then some girls arrive. Then things go awry. Add to the mix a veritable clown car of characters who all seem to come from slightly different worlds: A fancy Spaniard who might be Inigo Montoya (played by the hilarious Daniel Joeck), the servants played as colorfully dressed Wes Anderson characters/middle school boys, one unnecessarily stupid country wench, a police officer named Dull with a mustache that might be cardboard, and some pretty intense fake Russian accents (you'll see) -- throw in an accordion, some Beatles' tunes and set the whole thing in a park, and you've got yourself a show. And what a show it is! The Classical Actors Ensemble, under the direction of Joseph Papke, has taken
Love's Labors Lost,
(widely considered to be one of Shakespeare's more
'
ehhh' plays) and run with it. It's a farce, brimming with pop culture references (watch closely for the Dos Equis ad) and the occasional penis joke (for those considering bringing kids, go for it, it'll go over their heads). You get the sense that these characters need their audience -- they ask for help, speak directly to us, and occasionally join us, giving notes to their fellow actors that sometimes border on heckling. Jokes about the perils of outdoor theater abound.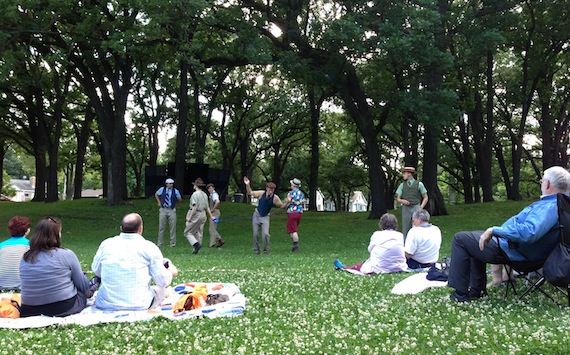 Which reminds me, pack your bug spray and a crazy creek. The show is free, and for another two weeks or so, you can catch this merry band in various Twin Cities parks. The pre show (a game of frisbee) ends as the entire company first emerges from the trees to sing "With A Little Help From My Friends," and as they finished a line, I heard a cork pop in the audience. Wine flows as freely as verse, children come and go since there's a playground nearby, even dogs are welcome. It's free Shakespeare for all, something not commonly done and rarely done well. But they do it well. As the sexes go to jovial battle, the simple set starts to feel like a girls fort and a boys fort. What could be horrifically juvenile is fun with these guys because you get the sense that they're having a great time, throwing in one liners that Shakespeare didn't write, but might have liked. Hannah Steblay is laser sharp as the Princess of France. At one point, mid-stately exit and wielding a bow and arrow, she quips: "Let's hunt, I wanna kill something." Of course, the Shakespeare thing happens. The boys all secretly fall in love, inevitable love letters are written and promptly delivered to the wrong people. In a side plot, somebody's pregnant. And everything works out, kind of. It may not be his best play, but it might have one of Shakespeare's least predictable endings.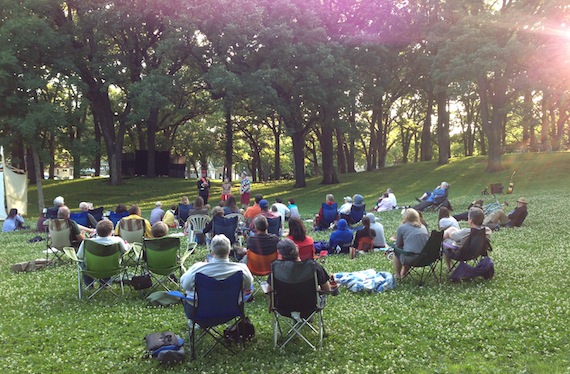 It's also one of Shakespeare's earliest plays -- you can see the classic playwright trying out a bunch of comic devices that he uses over and over again in later plays; this play has all the fun spying-on-your-friends-to-embarrass-them of
Much Ado About Nothing
, the idiots-trying-to-put-on-a-play of
Midsummer Nights Dream
, and the bumbling servants of
A Servant of Two Masters
. There are only a few performances left, so grab a date, a dad, or a dog, a bottle of wine, a blanket and let this crew entertain you with many words, some old, but some new. But be careful, depending on where you sit, they may cast you as Antonio Banderas. You can check out performance times and locations here:
Sunday, July 6th, 2pm - Centennial Lakes Park, Edina Thursday, July 10th, 7pm - Indian Mounds Park, St. Paul Friday, July 11th, 7pm - Como Park, St. Paul Saturday, July 12th, 7pm - Lake of the Isles, Minneapolis Sunday, July 13th, 2pm - Lake of the Isles, Minneapolis
And make sure to check out the next season for the Classical Actors Ensemble at
their website
. Photos by: Nadja Leonhard-Hooper 3