The Delectable Adventures of the Minnesota Meat Trail  -- A Spotlight on Minnesota's Best Butcher Shops
Posted by Tony Randgaard on Thursday, July 4, 2019 at 12:00 AM
By Tony Randgaard / July 4, 2019
Comment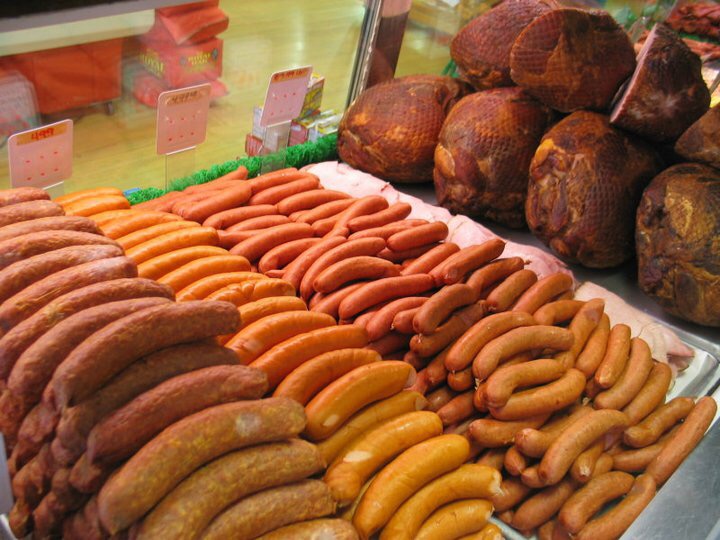 "I travel not to go anywhere but to go. I travel for travel's sake. The great affair is to move." – Robert Louis Stevenson
There is something about hitting the open road that is liberating and I think fulfills our instinctive desire for discovery. As I pack my cooler, backpack and coordinate my GPS, I can feel it. While Lewis and Clark often sent 18 men out to stalk meat, mine will be a solitary expedition.
I will crisscross the state in search of Minnesota's most celebrated and tradition-rich meat markets. From Miltona to Hugo, from Nicollet to Pierz, I will trek to the state's most skilled butchers- many whom have artfully plied their trade for decades.
Edel's Meat Market, Montgomery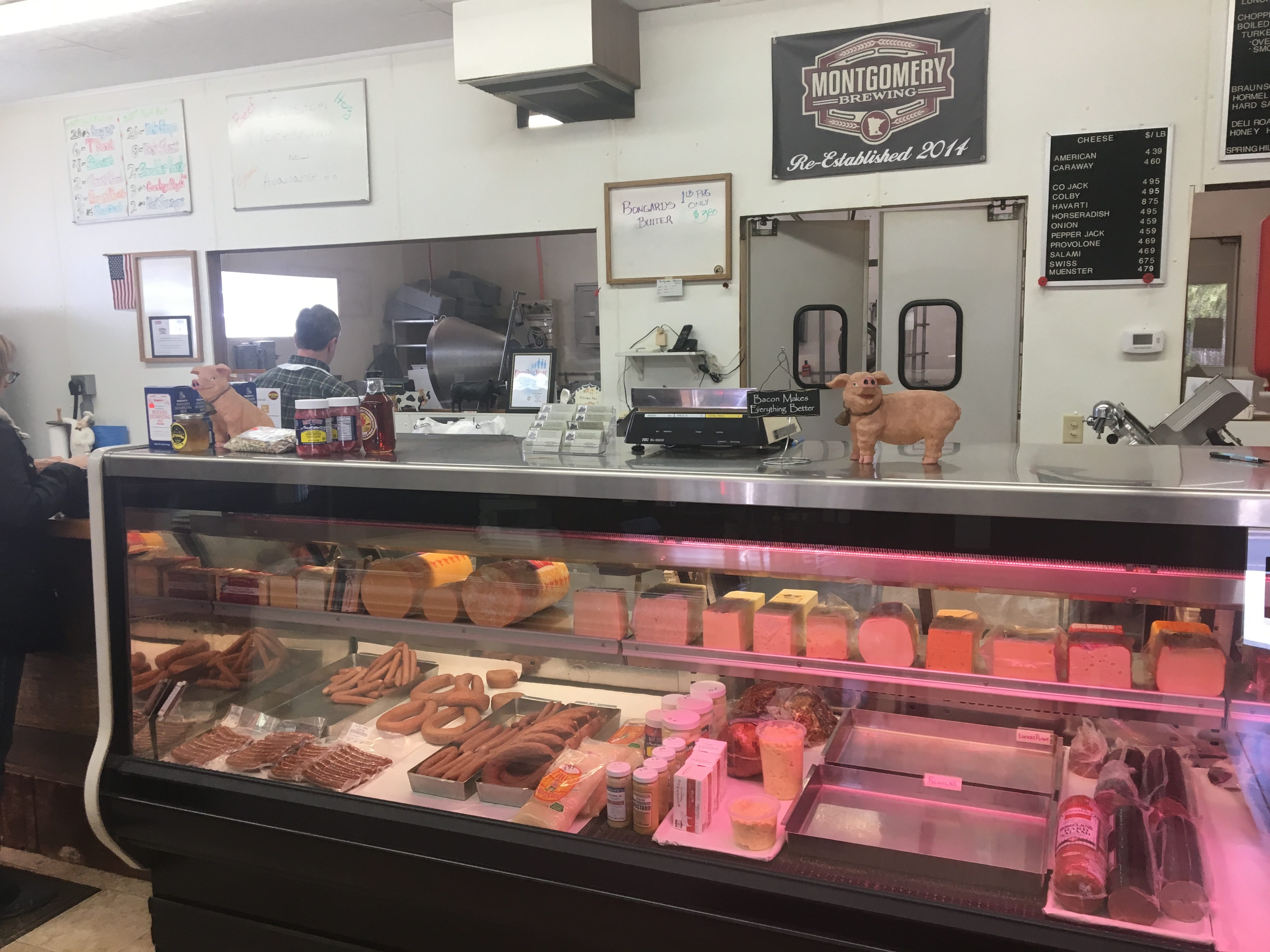 Whether you're betting horses, picking apples in the south I-169 corridor or perhaps taking in the allure of St. Olaf and Carlton Colleges, Edel's Meat Market in Montgomery (edelsmeatmarket.com) is a charming and compelling side trip. The market brings you right into the middle of the historic Montgomery downtown, casting main street images right out of a Norman Rockwell painting. Many of the artfully-designed brick buildings date back to the late 19th Century when Czechs, Germans and Irish settled in this rich agricultural area. The town's famous Kolacky Days celebrate Czech heritage and you can join the 85th annual festival later this month.
Edel's makes many of their own products. When I asked what meats were recommended, other shoppers eagerly chimed in: "the garlic summer sausage, frankfurters and honey barbecue meat sticks." That was easy. The summer sausage made great sandwiches and rather than garlic, the taste was more savory and spicy. Their thick cut bacon was some of the best I have encountered.
Everett's Foods and Meats, Minneapolis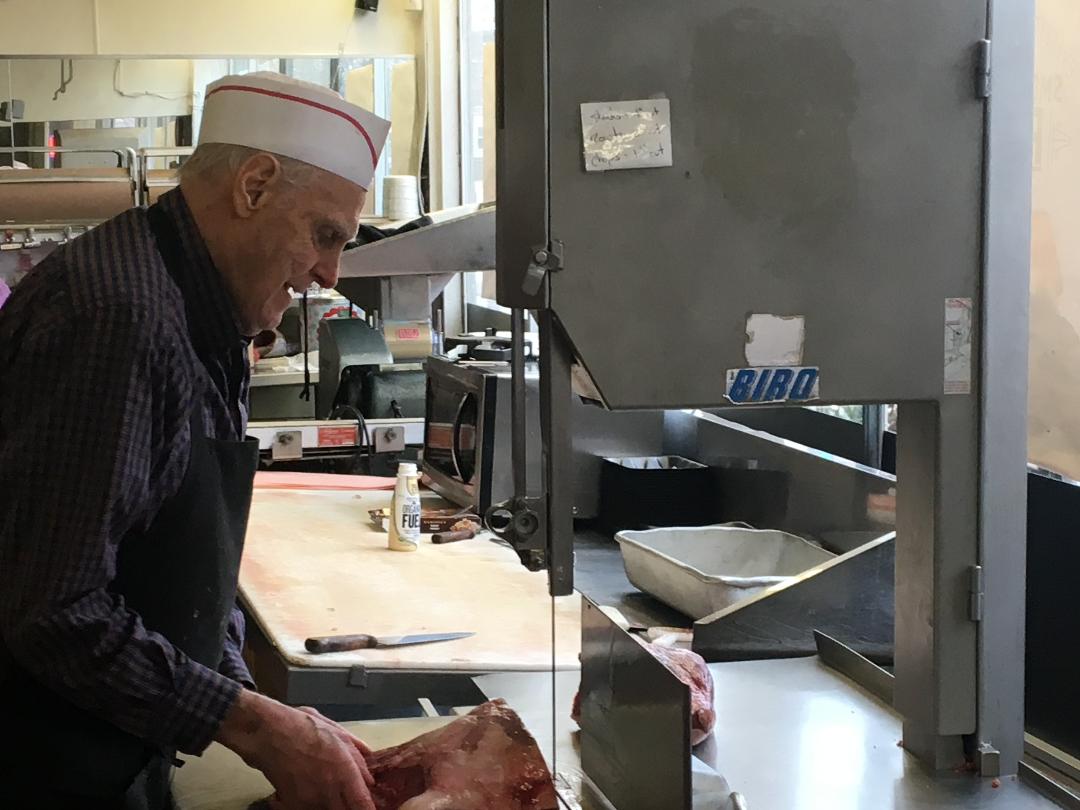 My next stop is a different kind of mission. I am yearning to learn more about a work ethic and passion spanning more than 60 years — just 2 miles from my house in south Minneapolis. My pulse is racing as I roll down Cedar Avenue South in search of Everett's Foods and Meats (everettsfoodsmn.com). I have lived in Minneapolis for three decades and am embarrassed that I didn't even know it was here. Word of mouth accolades woke me from my stupor. My funeral director Dan McGraw (doesn't everyone have one?) makes a special trip here each year for his holiday beef tenderloin while my golf buddies rave about the beef sticks and jerky.
The store is large and modern, dominated by a meat counter that stretches more than ten yards. (see photo). Everett's runs not one but two smokehouses. And it sounds like they get plenty of use because ribs, chicken and sausage are smoked twice per day here. But make no mistake -- this tour is about a special 90th birthday and wonderment about the dedication of the Greatest Generation.
I'm looking for the famous owner Jack Pflepsen. He bought the store in 1956, and has worked a regular shift producing meats ever since. During most of that tenure he has worked 10 hours a day and 6 days a week. His 90th birthday was June 7th and of course when I pop in the back door; there he is, slicing a big chunk of meat. (photo) He certainly looks a lot younger than I imagined, tall and fit with those glacial blue Scandinavian eyes that seem to bore right through you.
My burning question is: "What has kept you coming back since 1956?" With a brimming smile he states quietly: "My love of the customers and passion for creating the meats." He continues, "the pride of all of my children working here over the years." His daughter Nancy Klatke is the manager now and she confirms that she has worked at Everett's since she was 9 years old. She adds that it is just as important to them that the store employs 16-20 workers delivering solid wages and benefits.
Everett's has been named as City Pages "Best Of". My own delicious discoveries have been their beef sticks, smoked bacon and turkey jerky. The tastiest turkey I ever experienced was fried in a vat of oil (fire extinguisher at the ready) in our garage. That high has now been usurped by my baggie of illicit jerky from Everett's. While the turkey is a tad unsightly from the smoking, wow, it packs a flavor explosion of hickory, a hint of bacon and pepper.
I opt to go right to the source and ask Jack, "What are your favorite products?" He states that the wieners and polish sausage are his favorite creations. I take notes with a smile because that just means another trip back to this treasure on Cedar Avenue. I mean, if Jack Pflepsen can show up bright and early here for 63 years running… what on earth could stop me from coming back tomorrow?
Hackenmueller's, Robbinsdale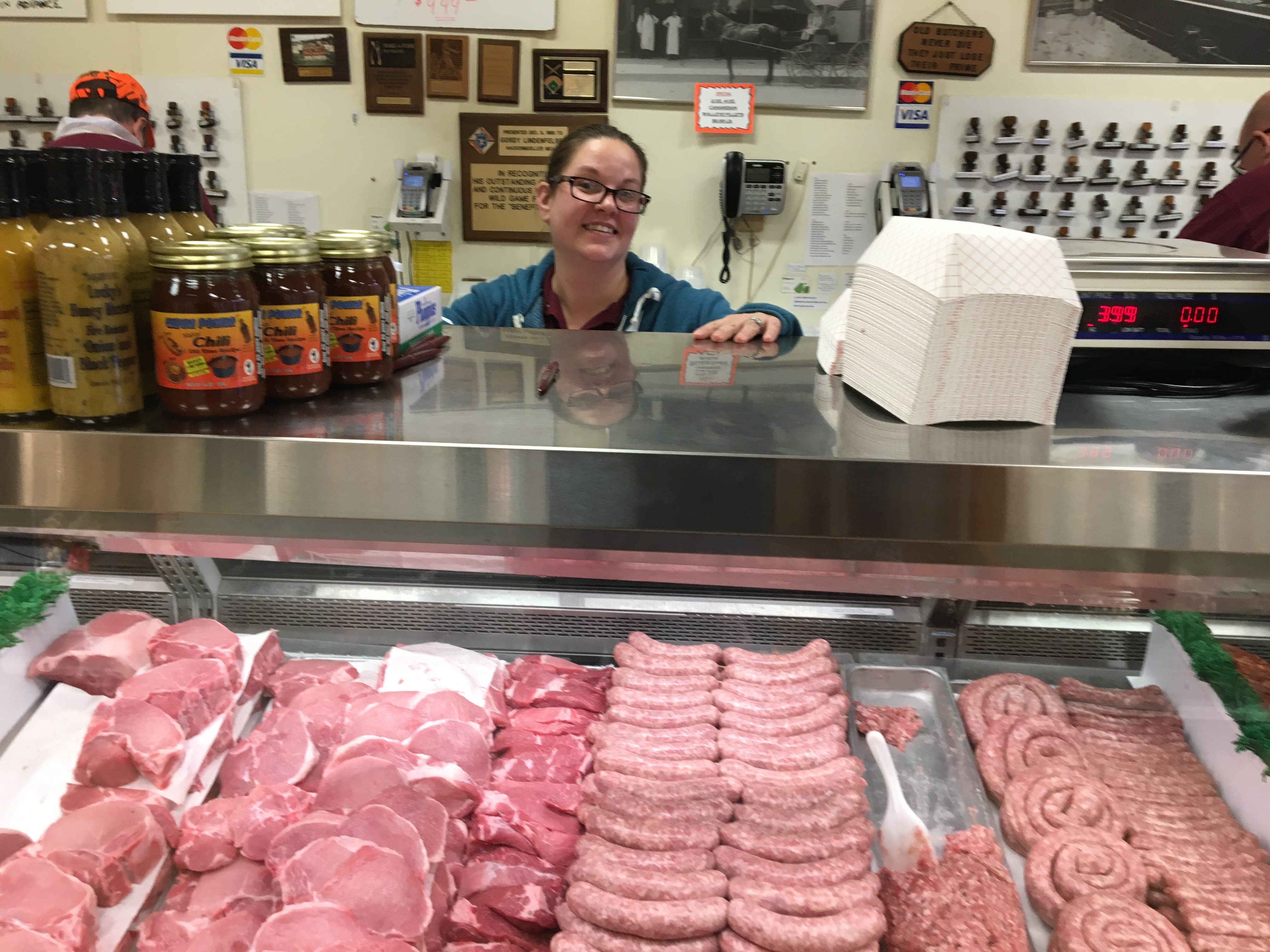 Located smack dab in the middle of downtown Robbinsdale (
hacksmeats.com
), Hackenmueller's Meat Market drips with as much history as its marinated chicken wings. The market is older than any of its peers and used to get deliveries in the 1890s via horse and buggy (see photo). My guide Steve Woodrich grew up in this neighborhood and flips a resounding "thumbs up" for the marinated wings and beef, turkey and pork jerky. Other fans of the market recommend grilling the smoked maple sausage and smoked franks.
Out on the web, it's a head turner to see the market's 5 star rating and then amusing to read a reviewer saying that he wanted to buy a candle that smelled just like this store. He got that right; I would be right behind him in line to buy one.
Grundhofer's, Hugo
A short 25 minute drive north of St. Paul, Grundhofer's Old Fashioned Meats (grundhofersmeatmarket.com) could easily be nicknamed "the Brat Stop." With more than 100 flavors, they have dedicated a whole row of freezer cases to the craft. Crazy as it sounds; their most popular concoction is the Gummy Bear brats. Chuckling, I grab a bag of them. The infusion of sweet bears ignites a taste sensation. If that is a little aggressive for your palette, the cheese curd or garlic parmesan brats were at the top of my shopping list.
The market is also known for their beef jerky or sticks and that is not an easy choice either. There are a plethora of flavors. I chose the bacon cheeseburger beef sticks and they were delicious.
Kramarczuk's, Minneapolis
Kramarczuk's Sausage Company is another storied, family-owned gem at 215 East Hennepin (kramarczuks.com). The meat market and deli received the prestigious James Beard Foundation "American Classic" award and was granted several Target Field Twins locations with the whir of a single phone call to the Pohlad's.
Kramarczuk's has made a name for itself with second or third generation European families seeking the tastiest and most authentic homeland sausages. Food celebrity Andrew Zimmern touts the Krakoski sausages while my Latvian banker Kurts Strelnieks recommends the polish sausages. Whether you are at a Twins game or in the Warehouse District, one thing is clear. You need to reserve time to indulge in this historic food fare.
Back at home with my refrigerator bursting and the barbecue glowing, all I can do is wait. At long last did I find your cherished corner butcher? My meat trail journey has blotted your travel agenda with road trip options across the state. After discovering the enduring passion of Jack Pflepsen, the history of Hackenmueller's and the small town charm of Edel's, I am coming to the conclusion that it may not have been about my favorite cut of meat, instead it was about the journey. The ball is in your court now.
Other Top Picks
Schmidt's Meat Market, Nicollet
Smoked bacon, steaks, champion Wisconsin-style summer sausage infused with honey and maple syrup and dill pickle brats
Miltona Custom Meats and Sausages, Miltona
Bacon, wild rice sausage, onion brats and jalapeño cheese sticks
McDonalds Meats, Clear Lake
Beef jerky, Braunschweiger sausage, beef sticks and summer sausage
Thielen Meat Market, Pierz
Bacon, turkey sticks and free range chicken