The First Avenue Music Festival and The River's Edge Music Festival Not Happening in 2013
Posted by Matthew Deery on Wednesday, April 24, 2013 at 12:00 AM
By Matthew Deery / April 24, 2013
Comment
[caption id="attachment_91" align="aligncenter" width="452"]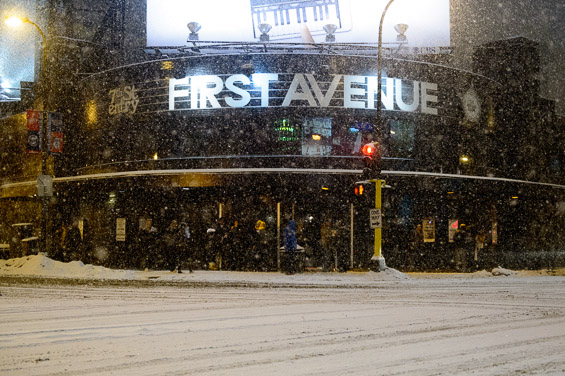 Photo By: Erik Hess[/caption] Music lovers residing in the Twin Cities have experienced quite a bit of bad news lately. First, the River's Edge Music Festival was put on
hiatus
this year after only debuting last summer. A hiatus essentially means the event will not be taking place this summer. Now, the First Avenue Music Festival at Parade Stadium has been dealt the same fate. The popular music hot spot in Minneapolis was set to debut their first music event like this, but the idea of a 2013 event died before it was even born. First Avenue General Manager Nate Kranz talked to the
Star Tribune
:
We had a lineup in place ready to go, and then over the course of three days our two biggest acts dropped out.
First Avenue also released an official press release filling in more of the details on the now-not-happening-event.
First Avenue regrets to announce the postponement of our anticipated Parade Park event this summer. Unfortunately two headliners pulled out late in the planning process, leaving the only option to postpone until 2014. For our inaugural fest we hope to create an event that lives up to the high standards of First Avenue. If we had moved forward this year that would not have been possible. We're excited about the great shows coming to the Cabooze Outdoor Plazaand our first show at Bayfront Park in Duluth, MN featuring Trampled By Turtles and Atmosphere on June 29. While sadly we must wait until next summer for Parade, we're committed to bringing this event to life and look forward to doing just that in 2014.
This is sad news for the Minnesota music scene. There are few things better than a music festival for those who love the art. The fact that two have been put on hiatus for 2013 translates to a much less diverse selection of musical events this summer for the community. Last year the River's Edge Music Festival had Dave Matthew's Band and Tool headlining. Now, the festival has no headlining acts or music being played in 2013. While there are still plenty of musical acts to check out this summer, its unfortunate to see two of the bigger events getting the axe.