'The Football Jones' Week 10 Picks
Posted by Scott Flaskerud on Sunday, November 9, 2014 at 12:00 AM
By Scott Flaskerud / November 9, 2014
Comment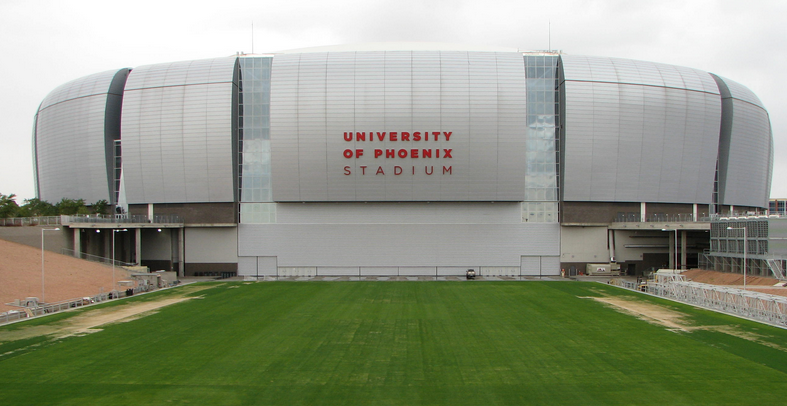 The first Super Bowl took place in 1967 and it was played at Memorial Coliseum in Los Angeles, California – as was designated prior to the season as all Super Bowls have always been. Since that first "Big Game" was played in the winter before The Summer of Love, 47 more Super Bowls have come to pass, and never once has the team that hosted it been able to make it all the way and play in it in their own stadium, in front of their own home fans. This year's Super Bowl is going to be played at University of Phoenix Stadium in Glendale, Arizona. (Side note: in the fascinating five minutes of research I just did on Super Bowl history, I think I just deducted and learned that L = 50 in Roman numerals. I'm a genius!)
(3-5) St. Louis @ (7-1) Arizona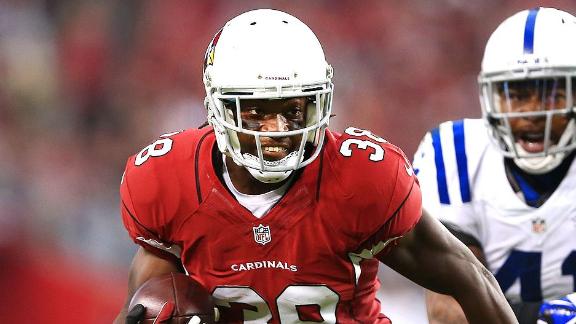 Let me go ahead and begin this week's piece by making what surely will be my biggest, boldest, most grandiose prediction of the season: The Arizona Cardinals are going to be the first team in the
history of the NFL
to play in the Super Bowl in their home stadium this year. That's a Football Jones Pig's-in-the-Poke guarantee. I can feel it in my bones and/or I saw it in a dream! Meanwhile, the Rams 3-5 record is a smoke-and-mirrors mockery of respectability. In their three wins they've beaten (1-7) Tampa Bay by two points, needed a slew of special teams trick plays to beat the Seahawks by two points, and then last week they held on to beat the 49ers by three points only because Colin Kaepernick clumsily fumbled the ball away at the goal line in the waning seconds of the game. (Side note: I couldn't even begin to describe how infinitely dead the 49ers are to me.) The Cardinals aren't going to literally drop the ball or be tricked by special teams foolery or flat-out suck enough to let the Rams steal this one. Winner: Cardinals
(5-3) Miami @ (6-2) Detroit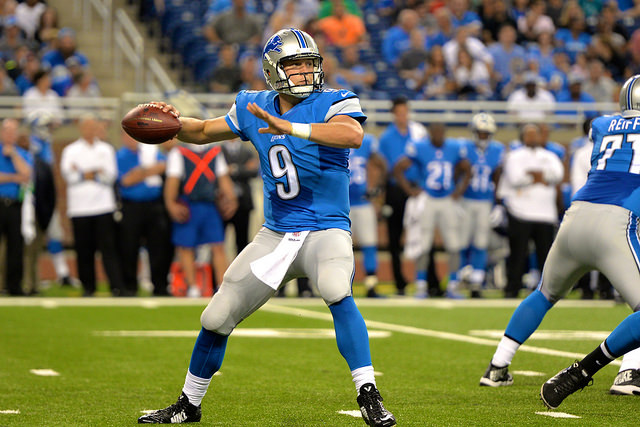 I'm awarding Detroit no points for spoiling my Upset Dandy two weeks ago in London when they kicked a time-expiring field goal to beat the Falcons after their kicker had just missed one moments before, but the play was called off because the play clock had run out on the Lions before the snap was made. That there, was a game the Lions didn't deserve to win, and furthermore, if you can't decline a delay of game penalty... well, I guess I just don't know what purpose "rules" serve anymore in a football game. More to the matter: The Dolphins are second in pass defense, third in overall defense, and fourth in run defense. And they've been scoring the fifth most points in the league since Week 4, and their young QB, Ryan Tannehill, is coming off his career-best passer rating in a 37-nil beat down of a good San Diego team last week. Long-story-short, my diagnosis for this week's game between the two is that the Dolphins are cresting while the Lions are treading water.
Winner: Dolphins 
(2-6) Atlanta @ (1-7) Tampa Bay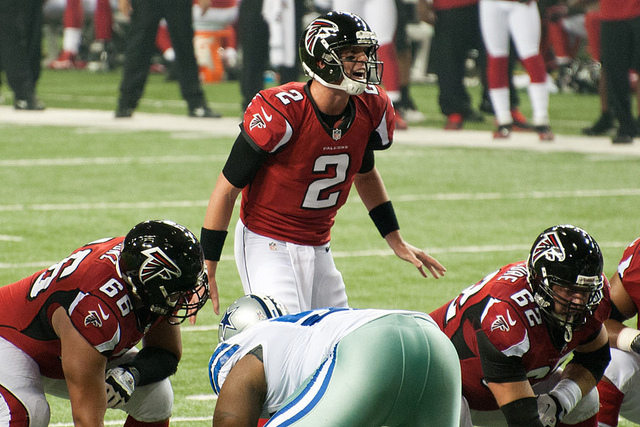 Speaking of the Falcons, while they obviously have the superior offensive weapons in this game between two teams that both have astoundingly awful defenses, and it certainly was my first instinct to take them to win it without so much as a second thought... upon actually giving it a second thought... I decided I was going to double-down on the Bucs from my Upset Dandy from last week for the exact same reasons I took them to beat Cleveland. Outside of the two times that Tampa has been annihilated – once by these very Falcons in Week 3 by a tune of 56-14 on Thursday Night Football (hello, payback revenge factor!) – all of their other five losses have come by six points or less. They are the proverbial one play away from winning some of those games. Atlanta, on the other hand, just gets beat up all the time, mainly. Save for the aforementioned London travesty two weeks ago when they definitely should have beat the Lions. But... when you're bad, you're bad – and sometimes (most times) you lose the heartbreakers. Long-story-short, my diagnosis for this week's game between the two is that the Buccaneers are deceptively better than what their 1-7 record would suggest, while the Falcons 2-6 record is pretty much just exactly who they are.
Winner: Buccaneers
The FBJ Upset Dandy of the Week: (3-5-1) Carolina @ (6-2) Philadelphia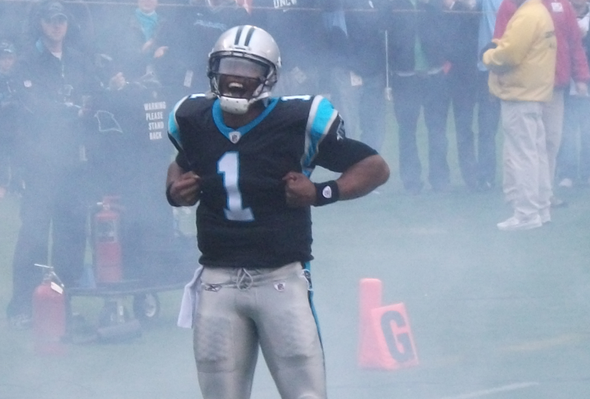 In a shortened week of 13 games with six teams on bye, in which the favorites are of the heavily-favored variety, it was tricky to find an upset this week. As such, I'm going to dumb down the analysis for my UD this week to three simple mere suggestions: 1) the Eagles starting QB is going to be Mark Sanchez, whom you might remember from the infamous "butt fumble" in his last year with the Jets 2) the Panthers have gone 1-5-1 in their last 7 games, and it's simply time for them to win a game 3) it's Monday Night Football, when the stars (Cam Newton) come out to shine.
Winner: Panthers 
The FBJ Absolute Slam-dunk, 10-Out-of-10-Times, Pig's-in-The-Poke Guarantee: (3-5) Chicago @ (5-3) Green Bay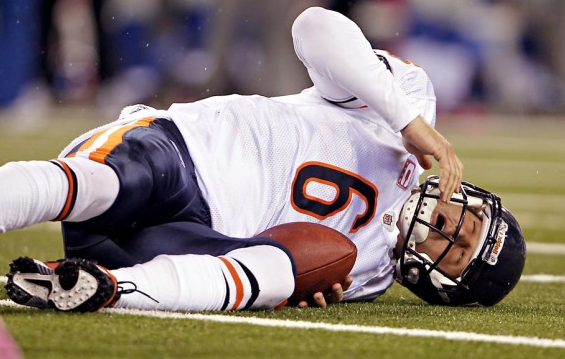 It's been well established in the recent years that Packers own the Bears and that's just the way it is. Green Bay is 8-1 against them in the last nine played between the two, and Rat Boy (Aaron Rodgers) has tossed 18 touchdowns in the last seven forays against them, while only conceding four picks. But records and stats aside, there is only one thing that mattered to me in predicting the outcome of this game: In their last game they played two weeks ago before their bye last week, the Bears lost their starting defensive end Lamarr Houston for the rest of the season on an injury he incurred: (A) while
celebrating
a sack that he got on (B)
Jimmy Garoppolo
, the Patriots
backup quarterback
, who had only come into the game for Tom Brady on account of the fact that the Patriots (C) were up
45-7
on the Bears and eventually went on to beat them
51-23
. If I'm Lamarr Houston, I can't really... ever look my teammates in the eye, pretty much ever again. Furthermore, when that happens to a player on your team... things are going to spiral south immediately, pretty much every time. (Side note: I'm pretty sure I've gotten my FBJ P's-I-T-P Guarantee pick wrong every single week this season, so I am very much strategically hoping for that trend to continue this week. On multiple levels, even!)
Winner: Packers 
Photos by: Wikipedia --
ESPN
 -- 
MGoBlog
 -- Football Schedule -- 
Pantherfan11
 -- BearsBlog