'The Football Jones' Week 17 NFL Picks
Posted by Scott Flaskerud on Saturday, December 28, 2013 at 12:00 AM
By Scott Flaskerud / December 28, 2013
Comment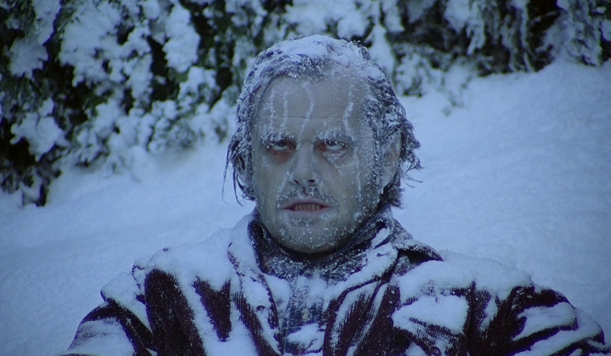 First of all, seeing a projected HIGH of NEGATIVE four degrees on New Year's Eve... kind of makes me want to quit the band. I am hell bent on celebrating the coming of the calendar year 2014 and I want to do so without freezing to death in a snow bank somewhere, damnit!
Actually, I guess there could be worse ways to go if you're drunk enough. But that's neither here nor there! More to the matter: After spending the bulk of this season in the top three payout slots in my picks pool standings, this treacherous and dreadful December of mine has knocked me out of the money. But I've got one last shot here in Week 17 and nothing short of a 1st place finish this week will get me back in the football monies. The insight of my every pick must be wise... and every last-minute field goal must go stray or true in accordance with my football needs. And above all else, any game I pick in which all the other picks poolers picked the other team to win, those games must, and I do say MUST, go my way. Such as...
Washington (3 - 12) @ NY Giants (6 - 9)
I want to make it as crystal clear as an azure sky that if the Giants were (7 - 8) heading into this game, as opposed to (6 - 9), I would take this New York Giants team to beat this Washington Redskins team 100% of the time, without so much as a moment of thought, just to adhere to my lifelong theory about Tom Coughlin's New York Giants. To revisit it:
#1) Germans love David Hasselhoff #2) Tom Coughlin's New York Giants go (6 - 2) in one half of the season and (2 - 6) in the other half of the season, like, every single year. They went (2 - 6) in the first eight games of this season, for instance. And through five games in the 2nd half this year, things were perfectly on schedule! They had gone (3 - 2) and needed to run the table in their final 3 games to finish 'er up with a nice and tidy 8-8 final record. But alas. The dream ended in a Week 15 clunker to the Seahawks, 23 - zippers. And that's when I realized that I just don't know who the Giants are anymore. And while the Redskins can't possibly get this season over with soon enough, they've only lost their last two games by a single point in each of 'em. If they're not careful, I think they're in grave peril of accidentally stumbling into a victory here to close the season!
Winner: Redskins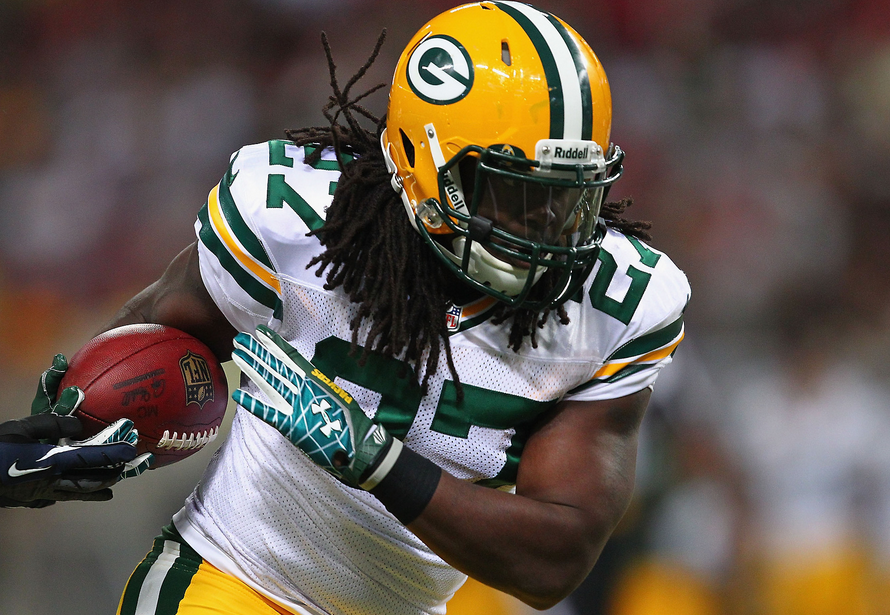 Green Bay (7 - 7 - 1) @ Chicago (8 - 7)
It's pretty much gonna be vomit town when the Packers win the division this year, what with them having won only half of the games they played this season, and all.
Doubly much so, is that they'd basically only be winning it by virtue of that asinine Week 12 tie they squeaked out against us (and by us, I do mean the Minnesota Vikings, mind you) when we had been ahead by 16 points in the 4th quarter. And what's galling most of all to me, is how absolutely sure I am (me = Vikings fan, mind you) that this is what's going to happen. I mean, I picked this game's outcome before I even found out that Rat Boy was going to play! Things just always come up roses for Packers fans, and that's just the way the world works. Gawd, I'm just already so bitter about this!
Winner: Packers

San Francisco (11 - 4) @ Arizona (10 - 5)
Three weeks ago I thought I had Arizona 100% completely figured out. They were a good team that could hang with the elite teams, but not good enough to beat them... and conversely, they were a rock solid team that never lost to bad or middling opponents. In the pick'ems business, it's a rare treat to have a middle-of-the-pack team you feel can depend on and you know week-to-week when they're gonna win and when they're gonna lose. Well, they kinda had a big surprise for me last week when they went to Seattle (regarded as the biggest home field advantage in the league), and pulled out a gritty 17 - 10 upset over the Seahawks who were looking to lockup the #1 seed, which... would have been a pretty big deal for them. Never in the proverbial million did I see this coming going into this season.  But in my book, that win for the Cardinals last week officially makes them 'Totally Mcgoatally For Real.' Which is to say, I now know they can beat anyone on any given Sunday. They're all grown up! San Francisco dramatically punched their playoff ticket last Monday night in the last game ever (depending on playoff seeding) at the historic Candlestick Park, so they've taken care of the important biz and after winning five in a row, they may be ready to take a breath before the playoffs begin. Meanwhile, Arizona only needs two things to happen to punch their own ticket to the dance. #1) They need to beat the 49ers in this bad boy, to which I say...
Winner: Cardinals
But #2)...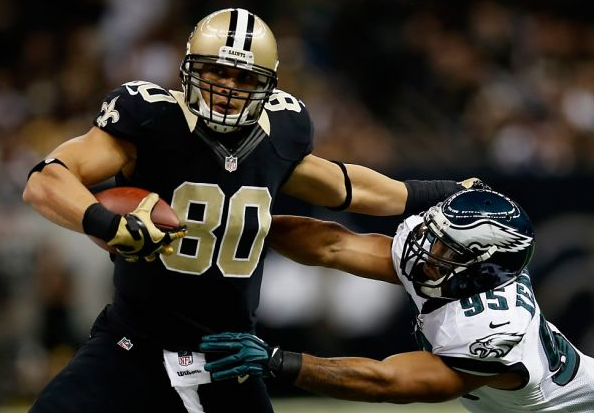 The FBJ Week 17 Absolute Slam-dunk, 10-Out-of-10-Times, Pig's-in-The-Poke Guarantee: Tampa Bay (4 - 11) @ New Orleans (10 - 5)
… Arizona also needs the Saints to lose this game to the Buccaneers. At the Superdome in New Orleans. Where the Saints are undefeated this year. And in the seven games they've played there this year, their average margin of victory for beating their guests is by 17.43 points, which is roughly two touchdowns and a field goal more than the other team scores in that game. The Saints, mind you, would miss the playoffs if they don't win this game (and Arizona beats the Niners). Also, I would venture to say the Tampa Bay Buccaneers are quite a much worse and more hopeless team than even their (4 - 11) record would indicate.
Winner: The Saints win this game 100 out of 99 times, is what I'm getting at.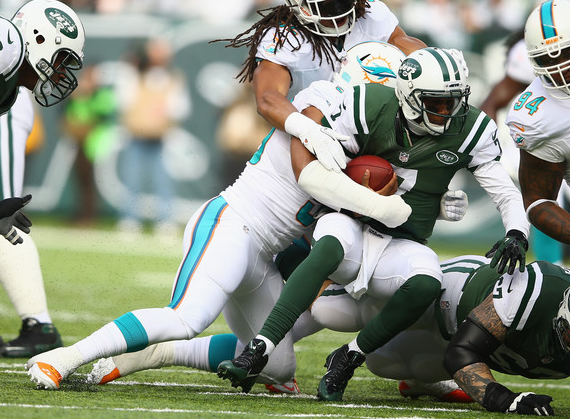 FBJ Upset Dandy of the Week: NY Jets (7 - 8) @ Miami (8 - 7)
We've had a heck of a season together, New York Jets. You, with your perfect, harmonious, clockwork, win-lose, win-lose, win-lose approach to your games for the first eleven weeks of the season... me, with my season-long vehement refusal to believe that you weren't going to be a train-wreck... we've come a long way, old sport! And while you've got nothing to play for this Sunday, and all the Dolphins have to do to make the playoffs is beat you and hope for either the Ravens or Chiefs to lose… what I'd like to propose is that you go out there this Sunday and beat the Dolphins just for the old fashioned heck of it! And Rex Ryan's job, too. Save it! The city of Gotham needs a head football coach named Rex Ryan who has an evil twin brother named Rob. It's your god-given destiny to finish 8-8 this year, Jets. You win some... you lose some! Left-right, left-right!
Winner: Jets
Photos via: Google