'The Football Jones' Week 3 Picks
Posted by Scott Flaskerud on Saturday, September 20, 2014 at 12:00 AM
By Scott Flaskerud / September 20, 2014
Comment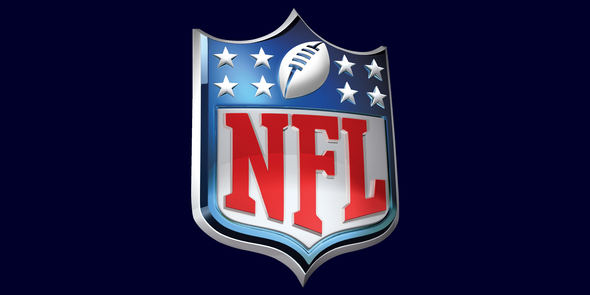 So, I've been experimenting this year with a new wrinkle in my picks-making strategy and I call it the "ten-six theory." The gist of it is that in every non-bye, full slate of 16-game weeks... at the end of the day, I want to find ten home team winners and six road team winners. My theory is – and I've done absolutely no research on this to analyze the weekly results in seasons past, mind you – but simply having watched as much NFL football as I have through the years... my gut tells me that 10-to-6 is the magical ratio of home-to-road winners in any given week. And in Week 1 – that's exactly what happened. And although I didn't get all of the games right, the results were good enough for a first place finish in the picks pool I'm in. In Week 2, I got too cute and varied from the system to overcompensate for what I thought was a road favorite heavy week... and the results suffered accordingly. Don't fix what ain't broken, Jones! Anyhoo, I'm back steady on the course here in Week 3 and even though it's only been proven true once so far, I must always... trust... the... system! So here's a handful of prognosticated results for this weekend from my new, insanely sexy
Ten-Six Theory
.
Pittsburgh @ Carolina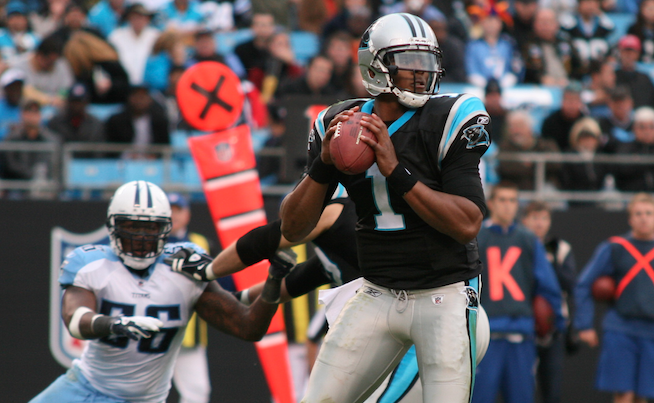 The Pittsburgh Steelers burst out of the gates like gangbusters this season scoring 27 points(!) while their defense pitched a shutout(!) in the first half of their season opener against the Cleveland Browns. In the six quarters of football that they have played since then... they have been outscored 50 to 9. Furthermore: through two weeks of the season so far, there are three teams in the NFL that haven't manufactured a defensive turnover. The Steelers are one them. On the flip-side: there are four teams in the NFL that haven't given one away on the offensive side. The Panthers are one of them.
Facts:
A) I view Carolina as a superior team to Pittsburgh B) Carolina is the home team in this game C) From the above stat, I can feel confident that based on scientific fact, Carolina is not going to make a game-changing turnover mistake in this game. Picking football games is so much easier for me when the stats do all the work!
Winner:
Panthers 
Baltimore @ Cleveland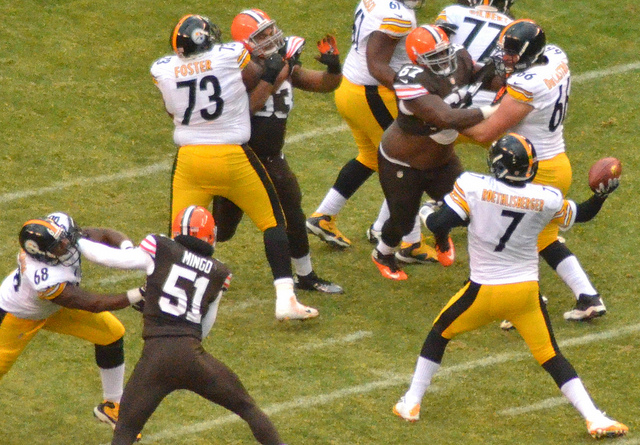 Speaking
of Pittsburgh and Cleveland... when the Browns came storming back in the second half in the season opener against Pitt only to lose on a field goal as time expired... I chose to take that as Pittsburgh possibly being a bad team -- as opposed to Cleveland possibly being a good team. So without a shadow of a doubt last week, I went and made the Saints one of my Survivors over Cleveland at home after the Saints had lost their season-opener. The Browns, of course, were on the happy side of a time-expiring field goal in that one. Heading into this season, I felt like I had all the reasons in the world to believe that the Browns were going to be a freak-show mess this year. What with them drafting "Johnny Football" in the first round and the frenzied media circus that comes with him... the Josh Gordon year-long suspension (at the time) for smoking weed (and really, people... being banned an entire year for
smoking weed
?! – the NFL's got some rather more serious "issues" right now, I'd say...) and even the owner of the team needing to settle his own personal trucking business (or some such) lawsuit in the off-season, and all. But two weeks into the season, I've done a complete one-eighty on these bad boys! Mainly because I remember now that their starting QB, Brian Hoyer, is the hometown hero kid that came in for them in Week 3 last year after their opening day starter went down with injury and Hoyer immediately lifted his sorry-looking 0-2 Browns squad to a win. I remember it particularly well because it was us (the Vikings) that he beat! And Hoyer lit such a fire for that team that they went on to win three games in a row with him! But then he got a season-ending injury and they only won one game for the rest of the season. What I'm getting at here is this: as long as Hoyer is the starting QB for these Browns, I'm officially going to believe in them. But the moment he gets injured or has one or two bad games and the calls from their treacherous, star-struck fans for "Johnny Football" to be given the reins become too loud to make it impossible for their management not to... may god have mercy on their souls. Winner:
Browns
Green Bay @ Detroit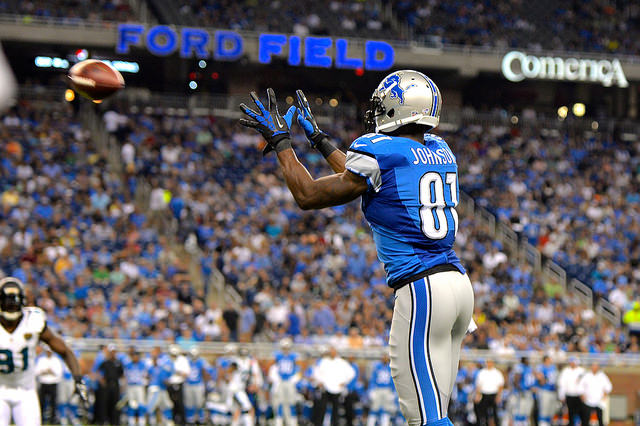 I don't have any eye-boggling stats or any particular intel to report on about this game, but I thought a Minnesotan-based audience might enjoy the fact that after I had done my usual research on it, it took me only a moment to realize that I simply felt like the Lions are a better team than the Packers. No X-factors required. When you think about it – isn't that kind of amazing and cool? The Detroit Lions... being a better team than the Green Bay Packers...? It's never been like that for as long as my memory is concerned!
Winner:
Lions
The FBJ Absolute Slam-dunk, 10-Out-of-10-Times, Pig's-in-The-Poke Guarantee: Houston @ NY Giants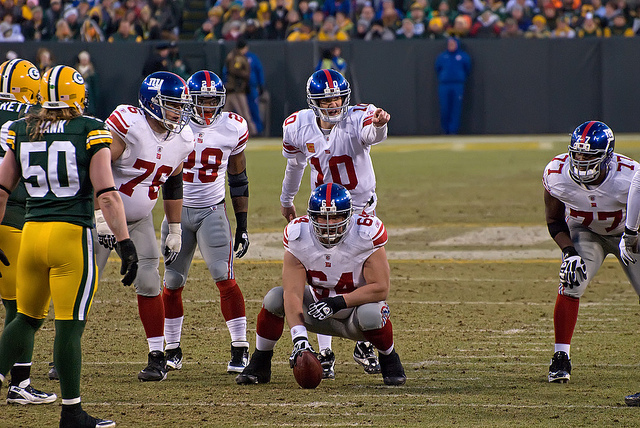 Just like last year, the Houston Texans have won their first two games of the season. Very much
unlike
last year, I'm vastly confident in saying they're going to win another one or so throughout their next 14 games.
Facts:
Through two weeks so far, the Texans are the second best team in the NFL in turnover ratio (+5), while the Giants are the single worst team in that regard (-6). The Texans have only given up 20 points to their opponents so far, which is the fewest amount that any team in the league has surrendered. The Giants have given up 60 points, and are the second-to-worst team in the league at letting their opponents convert "third-and-long" plays into first-downs.
Personal opinion:
Eli Manning doesn't like the new offensive coordinator's offense, and feeling entitled as he does as being part of the Kennedy equivalent of QB families, he isn't really even going to try to learn it. And furthermore, while Tom Coughlin was once one of the greatest motivational, fire-and-brimstone head coaches of this time... he's one-hundred-and-eleventy years old and he's lost his players ears. The jig's up in New York, see. I'll stake my Pulitzer on it!
Lock Winner:
Texans
The FBJ Upset Dandy of the Week: San Francisco @ Arizona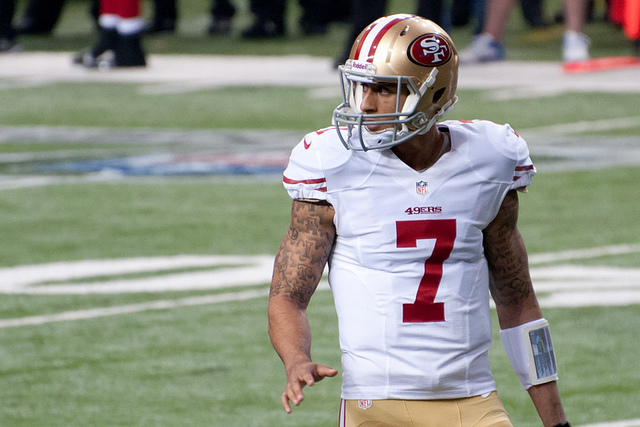 The (1-1) Niners just lost to the Bears last week, and it's almost inconceivable of such an NFC powerhouse following that disappointment up with dropping a game to a formidable division foe in the Cards (2-0) to fall two games down to them. And the Cardinals are going to be without starting quarterback, Carson Palmer (barring some sort of scientific miracle), on account of him having "sleeping" nerves in his throwing shoulder that are apparently too mysterious of a medical condition to even diagnose and fix. The commonsense/safe pick in this game is absolutely to take the 49ers to win it. They've won 9 of the last 10 games the two teams have squared off, for pete sakes!
But
... the Cards came pretty close last year, losing by two points at San Fran, and then on a time-expiring field goal in the rematch. And furthermore, there's one little golden nugget of a stat through the first two weeks this year that I can't extricate from my mind. Of the 32 teams in the NFL, there is only one of them that hasn't scored a single point in the fourth quarter so far. That would be the San Francisco 49ers, and they have been outscored 28-0 in doing so. On the proverbial flippy... the Arizona Cardinals have outscored their opponents in the fourth quarter of games by a tally of 27-0. You can't even script stats so definitive as that, and I, as a maniacal, rango-tango, devil-may-care football gambler, simply cannot turn my back to that stat and say no to it. Carson Palmer or no Carson Palmer, Arizona is beating San Francisco 55-0 in the fourth quarter this year. Fifty-five to zippers, in the final session, when the deeds of the day are decided. Um-kay? Upset Winner:
Cardinals
Photos via: Google -- 
Parker Anderson
 -- 
Erik Drost
 -- 
MGoBlog
 -- 
Mike Morbeck
 -- 
Football Schedule