'The Football Jones' Week 7 Picks
Posted by Scott Flaskerud on Saturday, October 18, 2014 at 12:00 AM
By Scott Flaskerud / October 18, 2014
Comment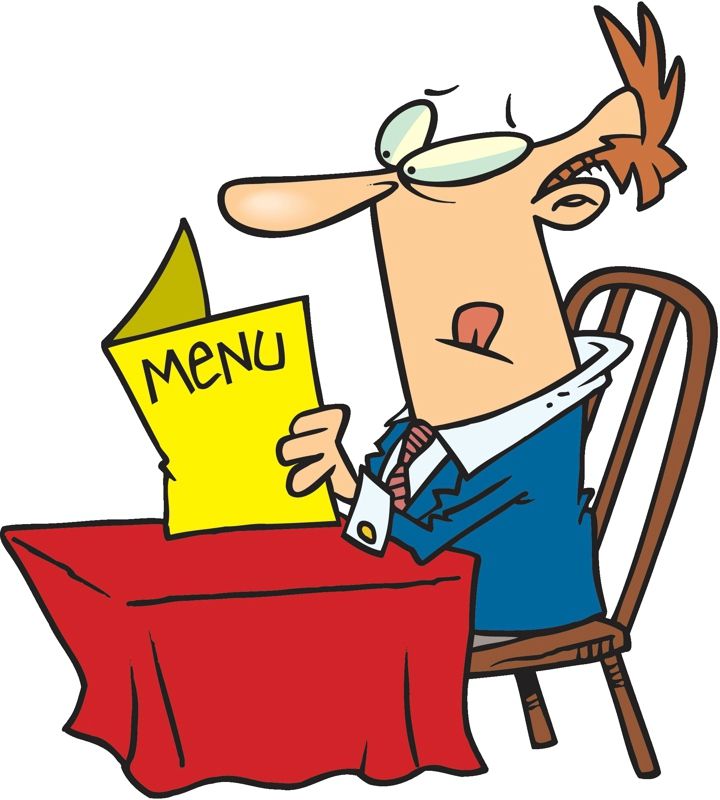 You know that cold, helpless feeling of pulsating regret when you're at a restaurant and you're absolutely torn between two dishes on the menu that both sound delicious and your mind is racing back and forth between the two and the pressure intensifies with each passing moment of indecision because when the server comes back to your table it's go time and you gotta make the call right then and there and live with the consequences for the rest of your life... … and moments after you've made your order and the server is walking back to the kitchen, you suddenly have the most intense craving for the dish you didn't order and no matter how good the one you ordered was going to be... … you knew in your heart that you blew it. What you
really
wanted... was the other one. Well, that's what happened to me in my Survivor pool this week. I had it narrowed down to two teams, and I spent an entire day and two nights mulling over it with my mind racing back and forth between the witherto's and whyfor's for each team. And in the end, when the Moment of Truth deadline was upon me... I know in my heart that I blew it. I'll begin this week's piece with the Survivor I chose... and I'll end it with the one I wish I would have.
(2-4) Atlanta @ (4-2) Baltimore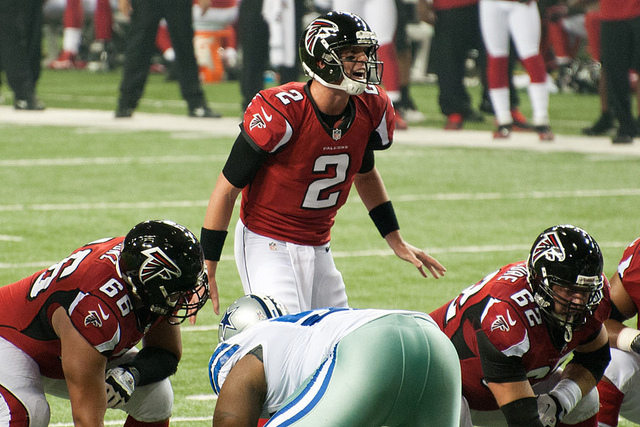 Atlanta's Matt Ryan and Baltimore's Joe Flacco were not only both first round picks in the same draft class of 2008, but they were also both the first two quarterbacks to be their team's starting QB right out of the gate and go to the playoffs in their rookie season...
in the history of the NFL
. They were both instant franchise quarterbacks for their clubs (Minnesota fans have been looking for one of those since Tommy Kramer retired, really), and openly admitting my sports geekdom: I think it's going to be a fun treat through the years whenever they get a chance to hookup on the field. But as for this year's encounter between the two, I turn to my new favorite statistic: fourth quarter points. While the Ravens have outscored their opponents 38-14 in the final session of their last five games... The Falcons have been outscored 49-0 in the fourth quarter of their last four games. "Yahtzee!" is the word I exclaimed out loud to myself when I read that stat last Wednesday night and drew an inked circle around the word "Baltimore" on my picks clipboard (whilst I was sitting on my porch stoop on a beautiful evening, if you simply must know).
Winner: Ravens
P.S. I couldn't possibly expect you to care, but for the sake of sharing things... should the Ravens lose this game and our hometown Vikings also lose this Sunday... your humble narrator's Survivor money dreams will end in tears for yet another year. I had big plans for that $100 human earth cash dollars! I was going to be somebody!
(3-3) Houston @ (3-3) Pittsburgh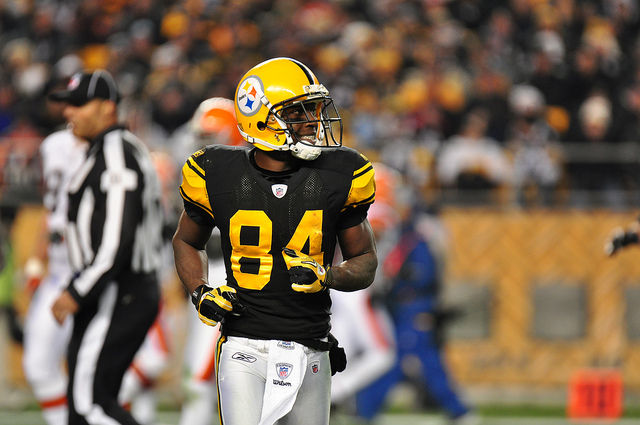 Hey, do you guys remember when I vehemently refused to believe that the New York Jets weren't going to be a train wreck last year, but they still managed to win every other week by perfectly platooning wins and losses every week? Win-lose, win-lose, left-right, left-right? Well, ladies and gentlemen: the Steelers are the new Jets! Pittsburgh won their season opener on a time-expiring field goal over Cleveland (more on them below) and then promptly got soundly destroyed by Baltimore in Week 2. Then they won the next week, lost the following week, so on and such forth. The point is, this week is their turn to win and I honestly didn't even feel the need to do any cerebral statistical research on this game. Who are they playing, anyway?
Winner: Steelers
(3-2) Cleveland @ (0-6) Jacksonville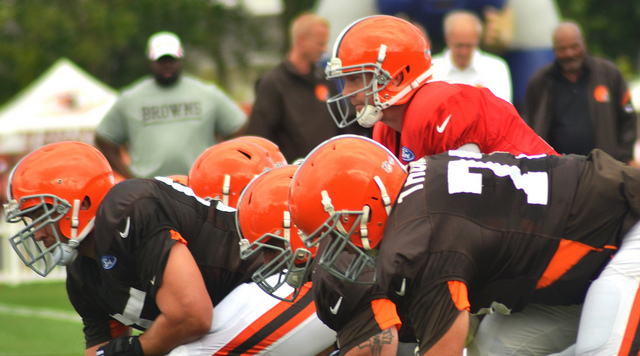 The Cleveland Browns are definitely, officially my favorite non-Vikings team this year. As such, the only reason I'm even talking about this game is that I'm going to make it a point to include them in every weekly piece I write from here on in. What can Brown do for you, yo?! UPS = big ups! (Am I right or am I right?) In fact, at this moment of time, if Cleveland can avoid losing to the "they gotta win sometime" Jags this week, I am prepared to boldly and wildly predict that Cleveland is going to lose to Denver in the AFC title game this year, a la the John Elway/Bernie Kosar years which featured the most infamous goal-line fumble in the
history of time
committed by Cleveland's Earnest Byner in the 1988 AFC title game between the two. Yup. I'm taking the Browns to the playoffs this year, people. Please collect your electric brain bananas that I just exploded at the door. Thanks. If I haven't mentioned this before, bee-tee-doubleyou, Cleveland and Minnesota sports fans are like brothers and sisters in sports suffering. Nobody has endured the torments of heartbreak and perpetual disappointment that we have for as long as we have. As such, there should be nothing but respect, admiration and consolation shared between our fanbase's markets. And to that end, I say let's paint the town Brown!
Winner: Browns
The FBJ Upset Dandy of the Week: (2-3) Kansas City OVER (5-1) San Diego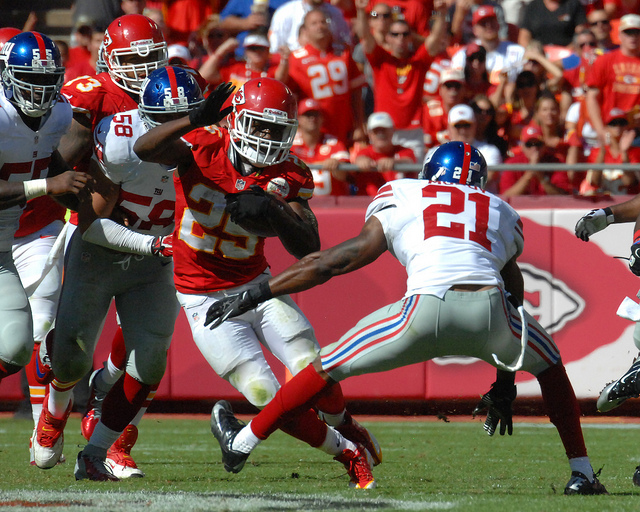 While his Kansas City squad has lost the last two encounters of such nature, Andy Reid won 13 consecutive games after their bye weeks when he was the head coach of Philadelphia. The man is some sort of post-bye-week genius. His trick? He gives the team an entire week of vacation during the bye week. This kind of bold thinking of leadership in rewarding employees with time off is something I could sink my teeth into, frankly. It both speaks to me on a personal level and it also makes sense to me in my brain's department of 'Reason & Reasonability.' On the flip side, the Chargers have been living high on the hog with five straight high-scoring wins and they are proverbially "due" for a letdown. I think Reid works his bye week magic again and shocks the lightning bolts. (I generally abstain from apologizing for puns.)
Winner: Chiefs
The FBJ Absolute Slam-dunk, 10-Out-of-10-Times, Pig's-in-The-Poke Guarantee: (5-1) Dallas OVER (3-3) NY Giants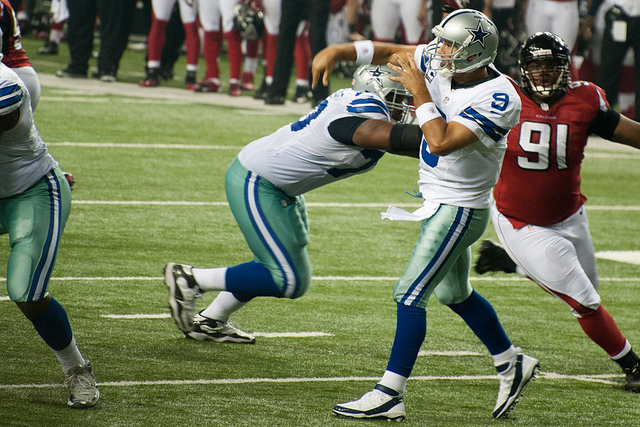 First of all: it's becoming increasingly evident to me that this whole lifelong theory of mine of the Giants going 6-2 in one half of the season and going 2-6 in the other half of the season every year is possibly, within the ballpark realm of theory,
maybe
something I should give up on. I mean, it's not even mathematically possible for it to happen this year. Second of all: While it blows my mind to even be having these thoughts... I think the Dallas Cowboys are going to go to the Super Bowl this year, for gawd sakes. And here's why in a nutshell: If DeMarco Murray cracks 100 yards rushing this week, he will be the first running back in the
history of the NFL
to ever start a season cracking 100 yards in the first seven games. He'd be breaking the previous record of six games of doing that to start a season, which was held by Jim Brown, who played for the Cleveland Browns when he did that. (BROWNS! Full circle; everything is infinite!) But more to the matter: Dallas just waltzed into the defending champ Seattle's house last week and beat them, which previously, was considered unfathomable. Ergo: Dallas is unstoppable. It sure would be nice to have chosen to survive on them this week, let me tell you! Photos via: Google --
 Football Schedule -- Brook Ward -- Erik Drost -- Dave Kopp