The 'Futbol Jones' World Cup 2014 Preview
Posted by Scott Flaskerud on Wednesday, June 11, 2014 at 12:00 AM
By Scott Flaskerud / June 11, 2014
Comment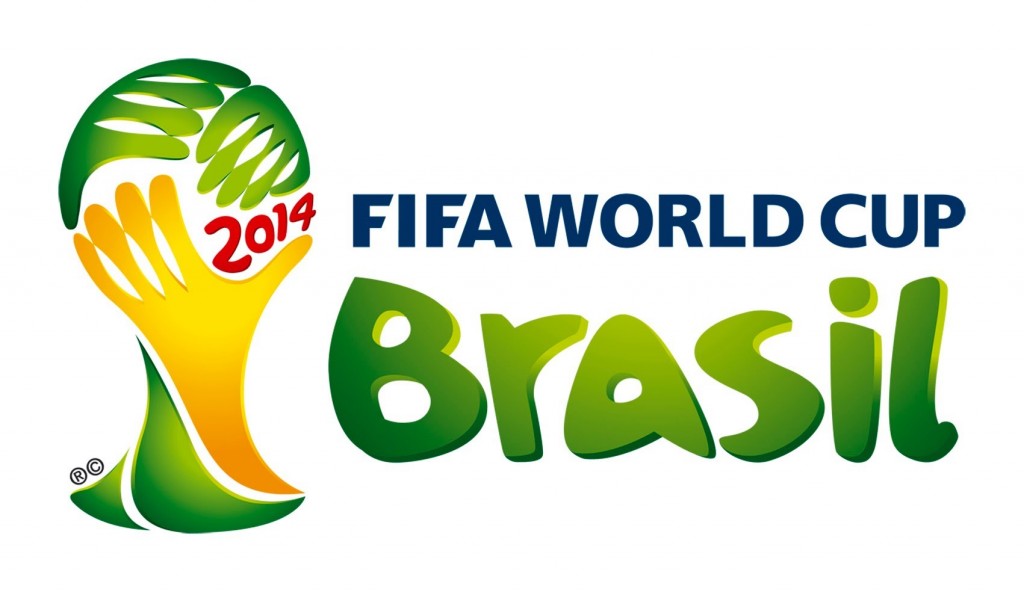 I need to begin this piece with a confession. I had never watched a minute of soccer in my life before 2006. As the proverbial fates had it, I was unemployed that summer -- with job-hunting being probably the one single thing I detest doing more than anything in life, tuning into the World Cup seemed like a keen idea to me at the time. And so I was there, front-and-center on my couch, for the first match of the tournament. I listened to the two teams national anthems and saw the emotions in the faces of the players on their sides, and I watched as the first kick was made and the clock began. And it was the proverbial love at first sight. This will be my third World Cup now, and with two Euro Cups in between, this marks my fifth Cup as a human being on planet Earth. Here we go!
Group A: Brazil, Cameroon, Croatia, Mexico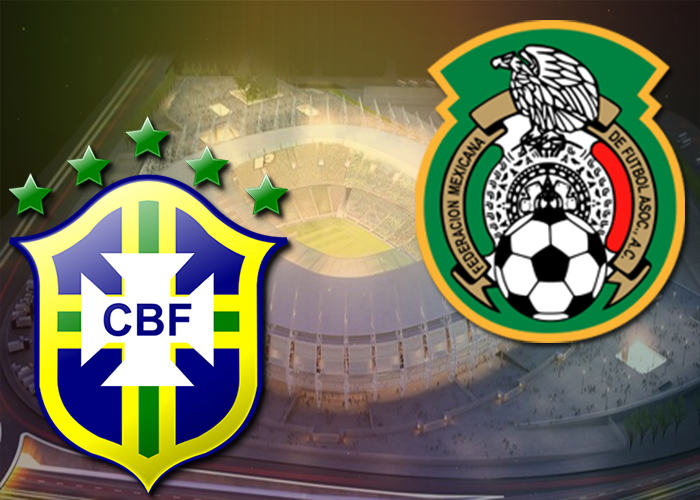 I'm not going to waste my or your time on explaining why Cup host Brazil is going to win this group, but picking the second entry to pass through is a little bit tricky. Mexico is the sexy pick, but they've gone through a period in the past year or so of hiring and firing four different head coaches in a span of six matches. That seems insane to me. Croatia, meanwhile, is always
good
... but not
great
. They haven't gotten out of the group stage since 1998. I do absolutely adore the midwestern, off-highway, country restaurant, red-and-white-checker-board table placemat jerseys, though! Thank you, Croatia. You're a little piece of chicken-fried steak for all of us. And lastly, this is the final go at it for Cameroon's star and captain, Samuel Eto'o. I feel like they could surprise, but most of their men have seen too many winters -- including their captain. At the end of the day, I'm going to roll with Mexico's passion willing them out of this group to advance to the knock outs... but that's pretty much their ceiling. Mexico has advanced out of group play in four straight World Cups – only to be knocked out in the first round of the bracket each time. And if they pass through with the second spot in Group A this summer, they will surely have to face Spain (see below) in the first round of the bracket. Nellie, El Tri. Some are born to sweet delight; some are born to endless night. P.S. Brazil is where Pele is from. Even people who hate soccer know who Pele is. Brazil: Sexy women; sexy parties; sexy soccer. The End.
Group B: Australia, Chile, Netherlands, Spain
[caption id="attachment_273455" align="aligncenter" width="513"]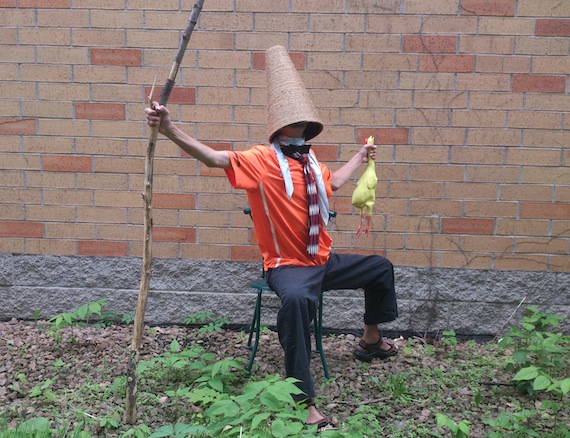 Your humble narrator donning his Dutch jersey.[/caption] Hey, did I ever tell you guys about the time I predicted Spain to beat Netherlands in the Final of the 2010 World Cup and then as the tournament began and progressed its way through, Spain went on to defeat Netherlands in the Final of the 2010 World Cup? It was pretty much up there with man landing on the moon and the creation of the wheel, as far as human achievements go, obviously. And while I will ride on the curtails of that bracket I filled out being the only moderately impressive thing I've ever done in my life to my grave... it was the Quarterfinal match in that tournament in which I became a Netherlands fan for life. Tied 1-1 with Brazil in the second half, long time Dutch superstar Arjen Robben
took a corner kick
from the right side and left-footed a laser into the middle of the pack where a teammate (Dirk Kuyt) deflected the ball with his forehead and headed it directly
backwards
deeper into the pack which found Wesley Sneijder who sideways headed the ball into the net for the game-winning goal. To this day, it was the single most majestic goal-scoring play I have ever seen. It was so, so, so... magical. I went on to name the first cat I had in my adult life after them. Dutch Radke Jupiter Jones was his name and he was a legend in these here parts, I tell you what. But I digress.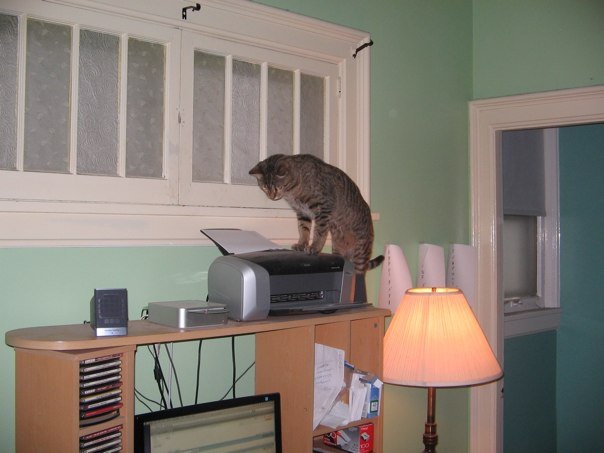 The point is, while Chile seems like the stronger team, I'm taking the Dutch to get out of the group just because, well... when you're this guy... that's what you do. As your sports gambling attorney, however
.
.. I would
advise you to take Chile over the Dutch. This Netherlands squad tends to self-implode to epic degrees at the first sign of dismay (see Euro Cup 2012), and their first game in group play is against Spain. That would be the Spanish side that is the first team to ever win three of the major Cups in a row – (Euro 2008, World 2010, Euro 2012). Ergo, that kind of automatically makes them the greatest national soccer team ever in the history of time and stuff. I feel pretty safe about going ahead and penciling them in as the group winner, even in this year's Group of Death. As for Australia... "tough draw" Socceroos.
Group C: Colombia, Greece, Ivory Coast, Japan

Colombia is the new hotness, see. Get to know/love them. They haven't been to big stage since 1998, but they've found the pieces and they are going to storm through this group and go on what the movie makers call: "a roaring rampage of bloody revenge." Until they run into one of the 800 pound gorillas. (Which will come in the form of Brazil in the quarterfinals, mind you.) Meanwhile, Ivory Coast has had the ridiculous misfortune of being drawn into the Group of Death in both of the past two World Cups, and have failed to advance. They still have their otherworldly superstar, Didier Drogba, and now that they have finally been drawn into a "normal" group, I am giving you a 100% Futbol Jones guarantee the Elephants will pass through to the bracket. Pig's in the poke; done deal; take it to the bank. It's a karma thing. Which makes this a difficult group for Japan, who is lying in the grass like the slipperiest of snakes. Japan plays like ninjas, basically, and they have advanced out of the group stage in two of the past three World Cups. They're all quick and surprise attack-like. At any given moment of a match when things have seem to come to a stalemate, Japan will go all crouching tiger on you and pounce like the dickens for a game-changer! I literally have no idea what I'm talking about here, but I do think Japan is the most dangerous potential spoiler in the tournament. And I vehemently refuse to believe that Greece FINALLY isn't going to be a train wreck. They're all a hundred years old. Party's over, Greece. Knock it off!
Group D: Costa Rica, England, Italy, Uruguay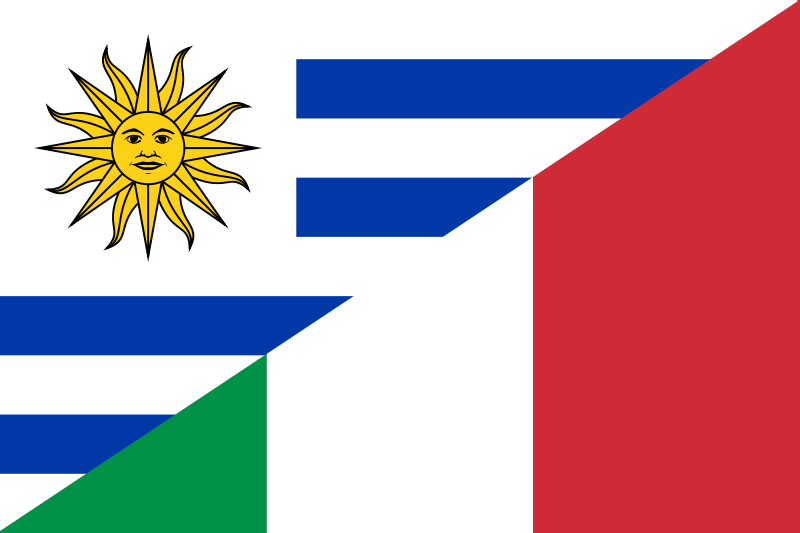 Uruguay went all the way to the Semi-Finals in the last World Cup with a nearly impenetrable defense that didn't allow a goal in group play. And now for this year's go, they've added a fearsome offensive attack to go along with that. Their pair of strikers in Luis Saurez and Edinson Cavani are regarded as being amongst the elite. Oh, and their star from that last World Cup who won the tournament's Golden Ball award, Diego Forlan... is now coming off the
bench
. Yikes! I'm taking Uruguay to win this very tough group and I have them making more noise after that. Side note: the only time that Brazil has ever hosted the World Cup before was 1950. Uruguay beat them in the Final that year. Meanwhile... As long as Gianluigi Buffon is standing in front of the Italian net, Italy will always be plus-1 advantage over their opponents. He is the best keeper in biz, and in my opinion, he single-handedly won them the World Cup back in 2006. His prowess, along with the Italian flair for drama in flopping for cards, that is. Italy's flopping was so bad in that tournament that during one match, after an incident of it, the English commentator dryly and with disgust dripping in his voice simply said: "That was
deeply
pathetic."
It might have been that same Italian drama that induced France's intensely beloved soccer savior, Zidane, to literally headbutt an Italian player in the middle of the pitch during the Final of that tournament. And while that's all in the past now... Italy still has Buffon tending the net. As such, I'm passing them through. Which leaves England as the odd man out here. It's hard for me to hate on England, what with all the brilliant rock-and-roll they've given to the world. I mean, without David Bowie I don't know if I would even know who I was as a human being on planet Earth! But England has gotten out of group play in at least four straight World Cups now, including making it to the Quarter-finals twice, and in this very tough group I'm simply playing the "they're due" card for falling flat. It's nothing personal, England. Again: I love your music very much! And Costa Rica... well... thanks for the beautiful beach (I assume)!
Group E: Ecuador, France, Honduras, Switzerland

Of the eight groups, this one was the hardest for me to wrap my electric brain around, but I'm taking France to win it simply on account of how nightmarish of a campaign they had in the 2010 Cup. When you have a team-wide player boycott on practice when you're on the biggest stage in the world... that's... not... good. They made asses of themselves, frankly, and they need to redeem themselves this year with a good show. Honduras hasn't scored a goal in the World Cup since 1982 and that might not change this year. Which leaves Ecuador and Sweden -- picking the second team to pass through this group between those two was the single hardest decision I had to make on my entire bracket. The Swiss sailed through qualifying, but it was in a group of cupcakes (Iceland finished second in that group). And Ecuador had been building a strong campaign, their heart-and-soul star, Christian Benitez, died of cardiac arrest last summer -- while my first instinct was that his death would be an emotional rallying point for the team, they haven't been finding it since then, going 1-3-1. In the end, it came down to one thing. As I was desperately searching for the answer on my porch a week or so ago... it occurred to me. The novel I am currently reading is Kurt Vonnegut's
Galapagos
. In which the story happens to take place, naturally... in Ecuador. Everything seemed so obvious to me then!
Group F: Argentina, Bosnia-Herzegovina, Iran, Nigeria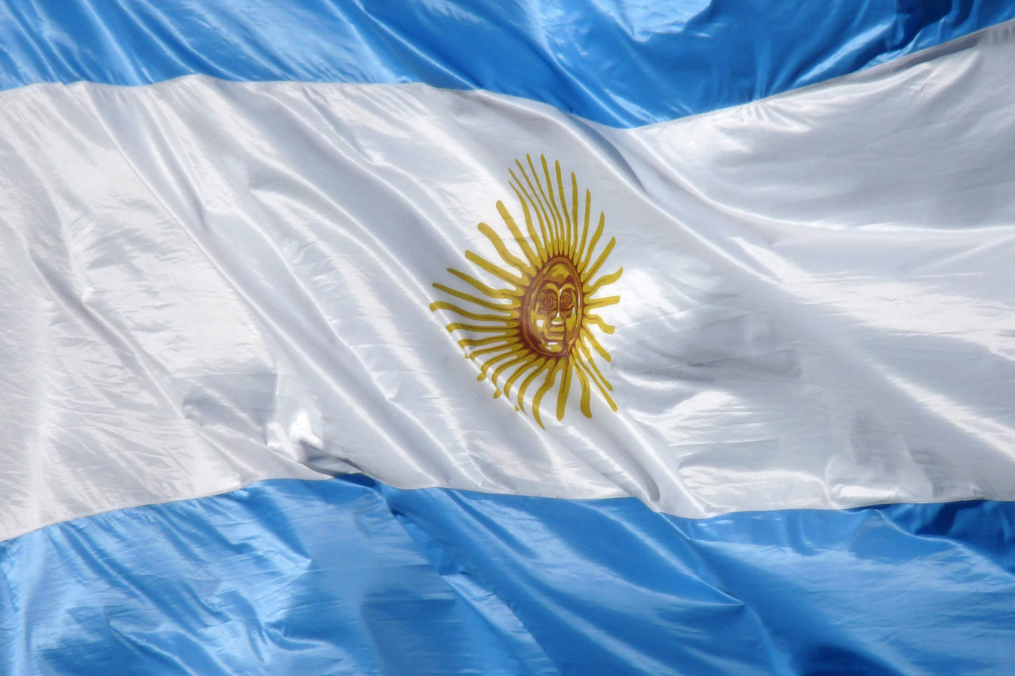 In their ten qualifying matches for the World Cup, Bosnia-Herzegovina (the artist formerly known as Yugoslavia), scored 30 goals and allowed only 6. The mathematics I was taught in high school tell me that if you score three goals a match and you only allow one goal just a smidgeon over every other match... you're probably going to win some soccer matches. This is the first time the Bosnians have ever been to the World Cup, and I'll be danged if I'm not feeling saucy enough about them to make them my Cinderella in this summer's little affair. And I don't mean just getting out the Group in their first go at it. I'm talking...
Quarterfinals
... baby! With that said, Argentina is obviously going to win this group. In Messi, they have the undisputed greatest player on the planet these days and loads of rich talent flanking him on all sides. They are one of the great storied soccer nations in the world AND their powder blue and white striped jerseys are of the highest crazy sexy cool style. I have big plans for Argentina this year, frankly. BIG plans, um-kay? Don't even worry about Iran and Nigeria. They're just here for the free snacks.
Group G: Germany, Ghana, Portugal, USA

A week ago or so, I strolled into the Boss Man's cubicle at work with a clipboard in my hand and I excitedly proclaimed: "I started filling out my bracket last night!" "What bracket?!" he asked, perplexed. I handed the clipboard to him and he took one glance at it and started flailing his arms. "Oh, who cares?!" he cried and gave the clipboard back to me in a flinging motion, as if it was pure disgust that his eyes had been forced to witness. To which I says to him, I says: "Only this tiny sector of the human population that's west of Los Angeles and east of New York City called...
planet Earth.
" "Nobody
here
cares about it," he retorted.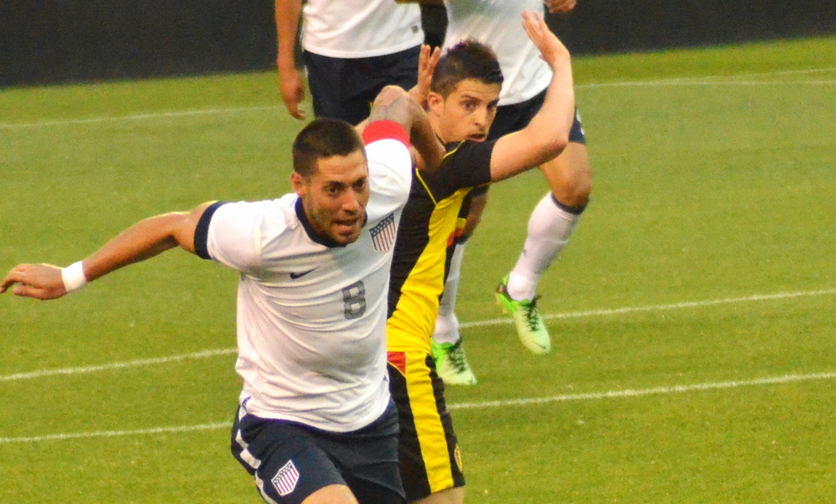 I'll save my own personal philosophical views on how much I care about the USA soccer team for another time, but Germany and Portugal get out of this group ten-out-of-ten times. It's by far the easiest group to pick the two teams who advance. The End. P.S. For any ladies that may be reading this... if you haven't heard about Portugal's Christian Ronaldo... you may want to
look into that
.
Group H: Algeria, Belgium, Russia, South Korea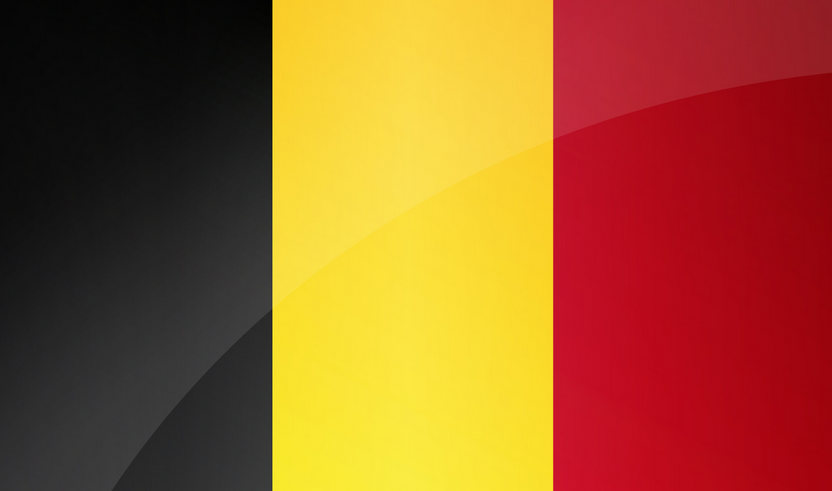 With three players that led their Premier League squads in goals at this midpoint of the season this year, I wouldn't expect Belgium to waffle in this tournament. Wait. Let me start over. So three Belgium waffles, a Denver omelet, a piece of French toast and a nun walk into a bar... Well, everything is booting off now and I've sufficiently over-egged my pudding, but the point is, Belgium has some high-octane ballers on their squad and I can't see them not advancing. But while they are the group favorite, I'm going all in on Russia to win the group. Upset town! Russia is a defensive-minded team that only allowed five goals in their ten qualifying matches -- from what I read, the players are really drinking the Kool-aid from the coach, Fabio Capello. And with Russia on slate to host the next World Cup in 2018, I sense a feeling of excitement building here. And this is a team that has never advanced out the group stage in the history of the World Cup before, mind you. We're talking about Russia, here. Kind of a big country... geographically in size and politically in history and stuff. They literally have grizzly bears that wear ice skates on their feet and skate around on ice and shoot pucks into the net with hockey sticks in Russia. I have seen video of it with my own very eyes!! But while I'm high on Russian espionage novels and maple syrupy layered breakfast things, I think South Korea could absolutely make the story interesting in this group. Eleven different players on their squad punched the back of the onion sack during qualifying and as a whole, they are regarded as the best of the Asian crop. Still, though: waffles; hockey-playing bears. And lastly, if Algeria scores a goal in this World Cup, I will offer up a high-five to the entire nation. My limited research on this whole thing found that their best result in qualifying was a 2-2 draw with Ivory Coast, who had already clinched their qualification. Yeah... no, Algeria. Here is a look at my personal bracket -- prepare your eyes for a glimpse into the future.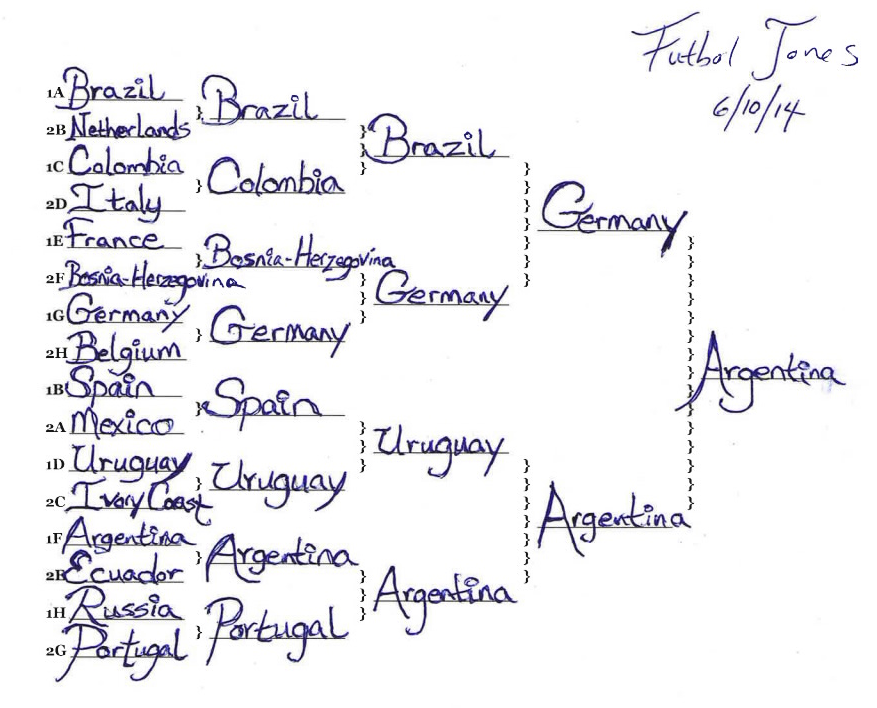 The World Cup kicks off today -- I cannot wait for another round of lasting soccer memories. Images via: Wikipedia -- Scott Flaskerud