The Great Minnesota Get-Together: Round 2
Posted by Matthew Deery on Tuesday, August 27, 2013 at 12:00 AM
By Matthew Deery / August 27, 2013
Comment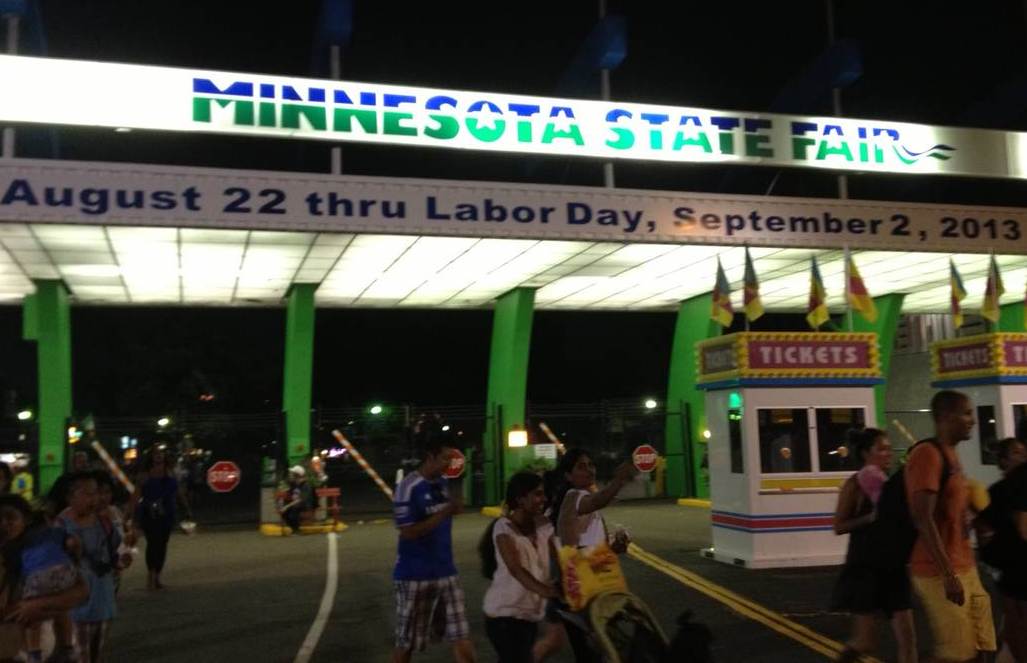 This second fair day was a late night, brief visit. Cadi and I made it to the fair consecutive days, Friday and Saturday, but this second visit we got to meet up with my sister and brother-in-law to eat dinner and have some drinks. It's always fun to go to the fair later in the day as the crowds are smaller, and the sun and humidity are less brutal. Of course, some people don't want to shell out the $12 to only stay at the fair for a few hours, but for some like me, the brief visits are sometimes the best -- you are significantly less worn out, and you still leave full of fair food if you make your mission to eat. On this Saturday, I started off my night with another Poncho Dog corn dog. I was so hungry walking into the fairgrounds, I couldn't help but stop at one of my favorite booths for one of my favorite fair foods. At the fair, this is what I'd call an appetizer.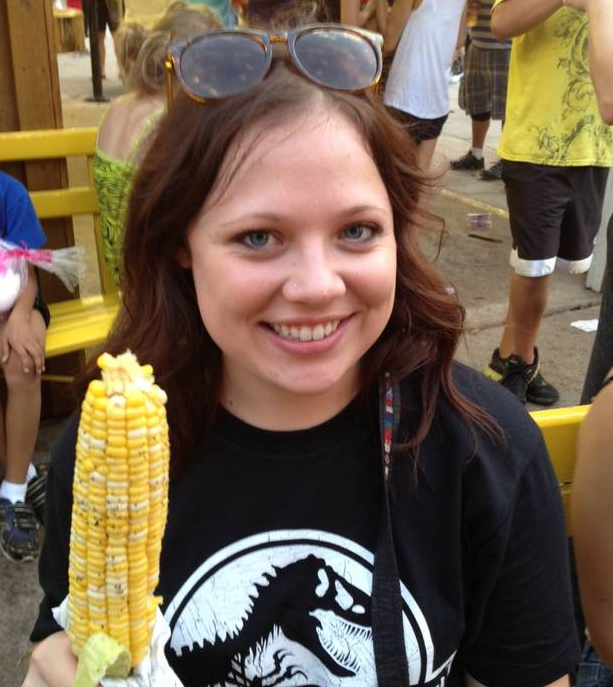 After that we headed down to the corn booth, a fair staple I surprisingly had not tried before Saturday. I've had corn on the cob plenty of times outside the fair, and heard plenty of great things about the grilled corn at the fair, but for some reason I've never forked over the moola to try this corn. I was shocked to taste what I had been missing. There is a reason this stand always has a line out to the street -- this perfectly grilled corn is savory, and doesn't even need the extra flavor of butter and salt to be delicious. I'm sure all of you have already tried the corn here, but since I'm behind the times, I recommend this booth to all fans of corn in all varieties.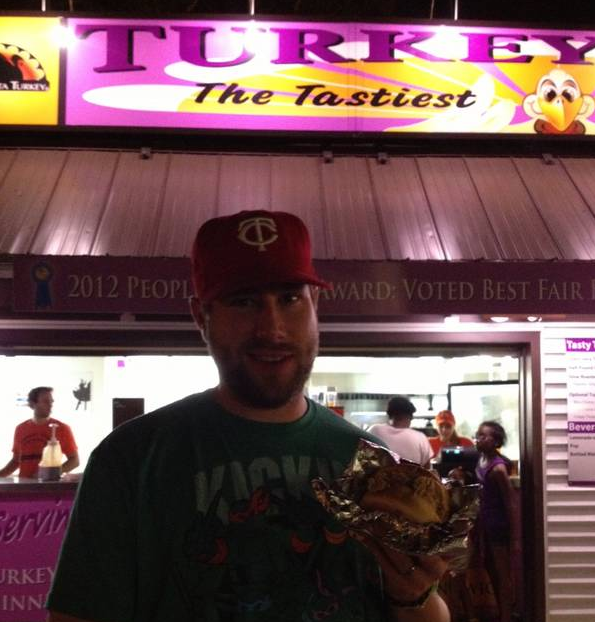 As we walked around for a bit, picking up some beer to sip on to keep us cool during the unreal humidity, I could not fixate on what I wanted to eat next. So after quite a bit of wandering, a wave of desire washed over me -- I had to have Turkey-to-Go. If you have not had Turkey-to-Go before, the single best thing I can do for your life is recommend you try this heavenly turkey sandwich. Next time you go to the fair, make it your mission to eat this pulled turkey on a bun of happiness. The turkey is so succulent and juicy, the taste is almost indescribable. This turkey sandwich doesn't taste like anything you've ever hand on Thanksgiving, so floor any expectations, because you have never tasted any turkey sandwich this good before. While the sandwich is a bit expensive, once you take that first bite, the $6+ price just fades away.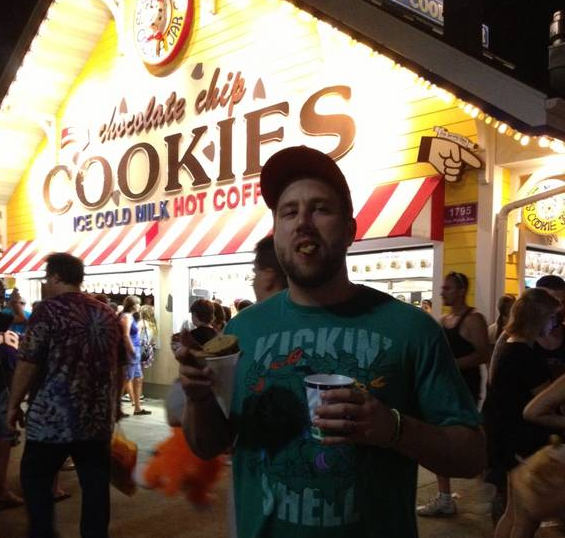 After walking around for awhile longer and picking some of our favorite spots to people watch, we realized it was almost time for the nightly fireworks to shoot off. Conveniently, the fireworks shoot off from the Grandstand, which also is located right next to Sweet Martha's Cookies. There is no way we could spend time around the cookie stand, especially with that overwhelming fresh baked goods smell, without buying ourselves a small cone of fresh chocolate chip cookies and a couple of glasses of ice cold milk. I couldn't even stop munching on these babies long enough to take the picture you see above. I'm sure I don't really have to tell any of you how delightful these cookies are, it's a fair tradition for most. While enjoying our cookies, the four of us were treated to the Grandstand fireworks show -- and my what a show they put on display. I can honestly say I've never seen some of the fireworks they blasted off that night -- there were smiley faces, five-pointed stars, and other crazy pyrotechnics that made this show memorable.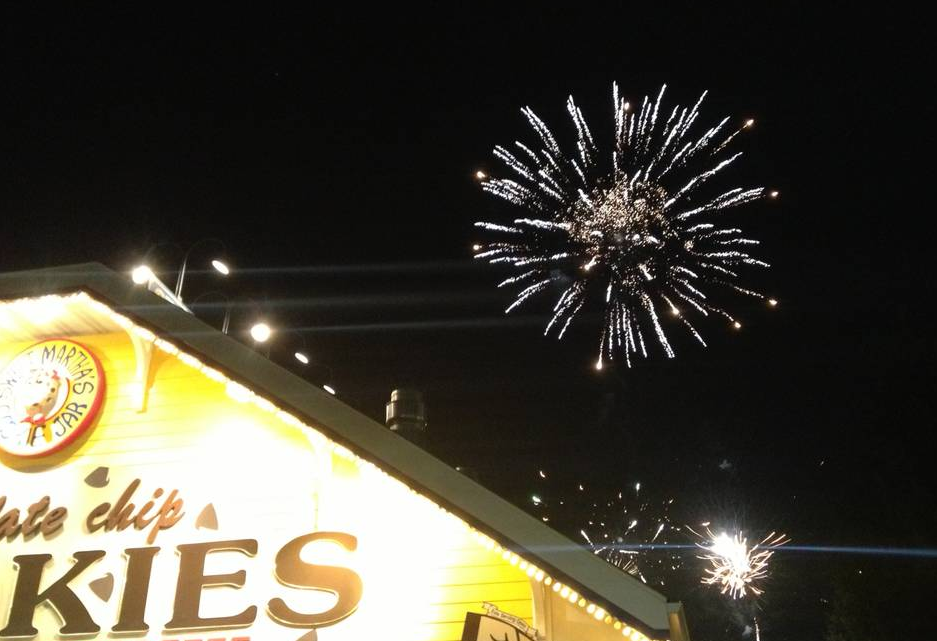 After the fireworks show, we headed back up towards the main gate and made a pit stop at O'Garas for a nightcap and to wait for the crowds to dissipate a little before we hopped onto the Roseville High School shuttle. The best feature at O'Garas outside their refreshing beer selection, is the cooling mist they have for overheated patrons.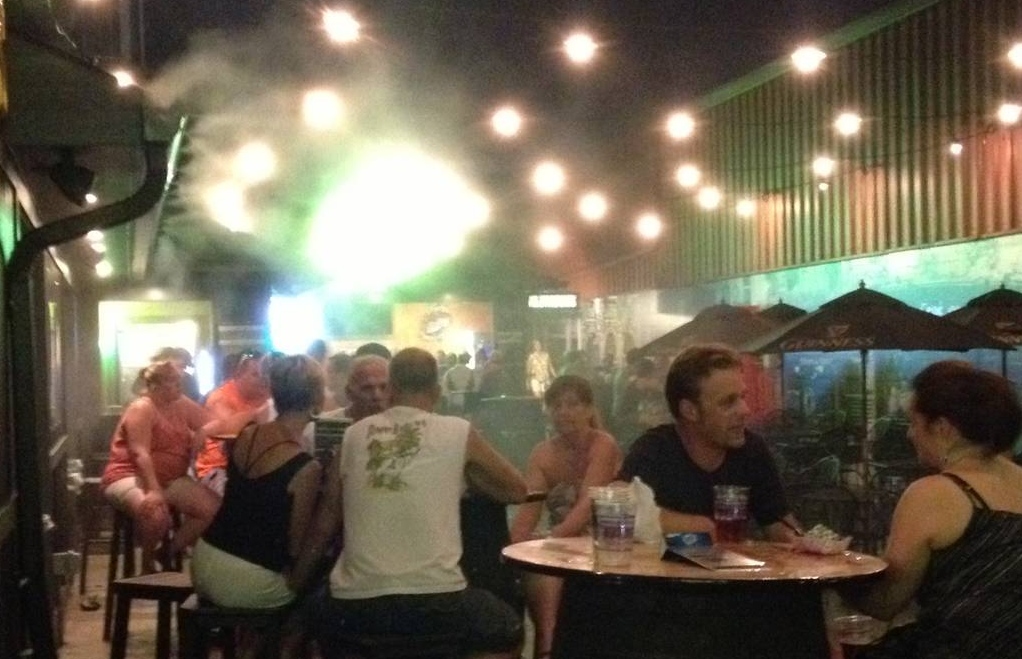 The blurry photo above is the mist raining down on fair goers. The refreshing mist is a blessing on the humid days of the August summer, you will often find people sitting there for hours. I enjoyed the mist while we waited -- leaving the comforts of the "cool zone" (not the vicinity surrounding me... yep, bad joke) we took off into the humid night, stuffed once again, eagerly awaiting our next trip.