The Great Minnesota Get-Together: Round 4
Posted by Matthew Deery on Sunday, September 1, 2013 at 12:00 AM
By Matthew Deery / September 1, 2013
Comment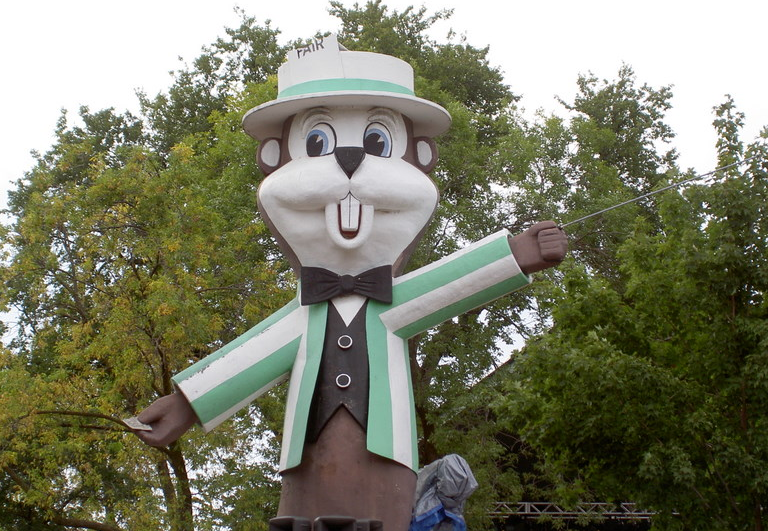 This fair rendezvous took place with my mom, sister, and wife. This experience was not all about eating -- each time I go to the fair with my mom, we go into all the buildings, shops, and check out everything that's going on. And, we have to go early. So our day started by getting up in the morning for our fair experience and ended just when it started to really get hot. Upon our arrival, most of us started off the day by getting some of our favorite go-to foods -- footlong hot dogs and corn dogs.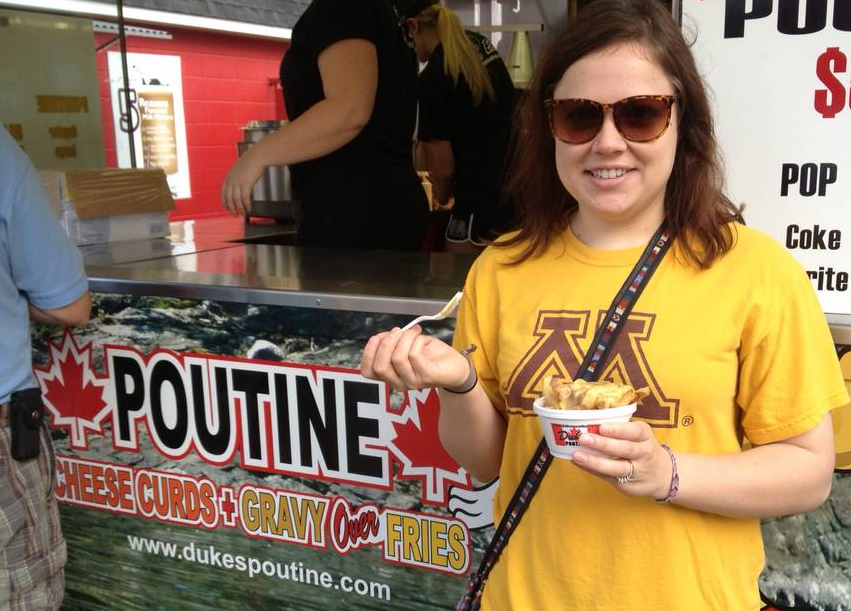 Our first new food stop was to check out what many Canadians consider a delicacy -- Poutine is a bowl with a mixture of fries, cheese curds, all covered in gravy. I must say, this is not my dish. I love fries, cheese curds, and gravy -- but all together, I cannot say I love the combination. The gravy makes things a bit soggy, not the way I like to enjoy these foods. My wife Cadi however, loved the Poutine and could not get enough of it. I can definitely say it's worth checking out -- the moderate price at $5 is a good value to at least tell others you tried something new.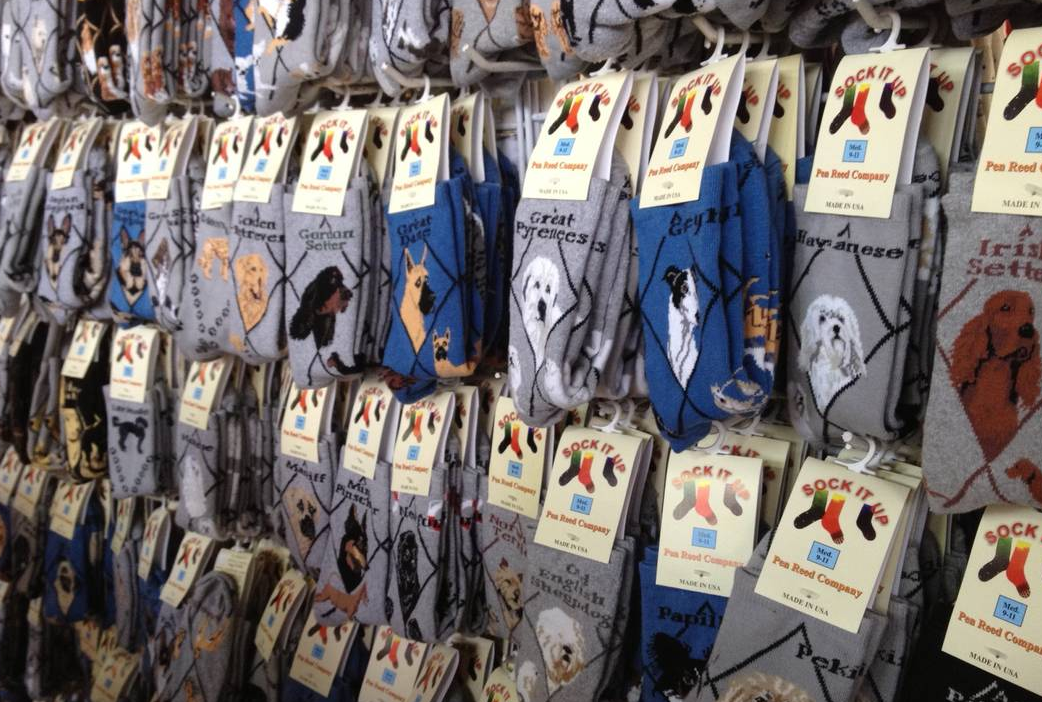 We then walked to the Coliseum to look at some of the unique merchandise sold by vendors. Dog lovers would be pleased to check out the stand selling dog socks for almost any breed you can imagine. Owners can represent their four-legged friends by purchasing their likeness on socks.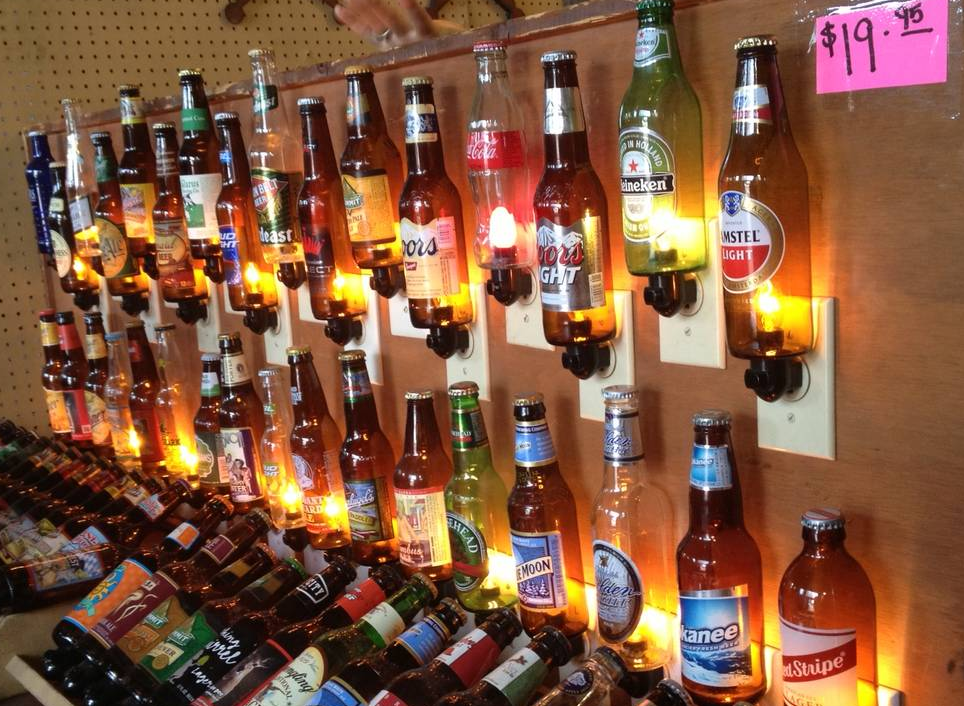 We also walked by a cool stand that had night lights made out of beer and liquor bottles. This could be a fun way to add some flare to a man cave and showoff your favorite beers.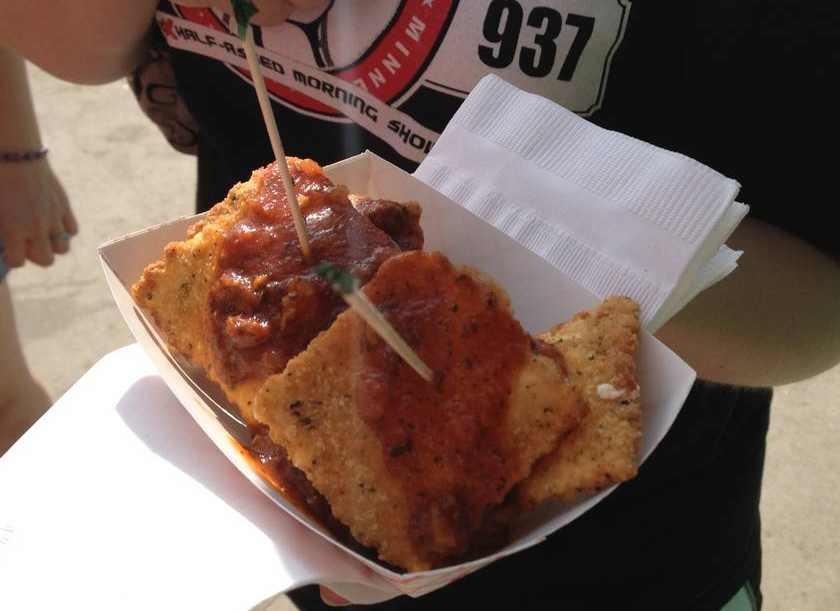 Our next food stop was The Big Pepper where we tried deep fried ravioli. I wasn't overly impressed with this food item either. The sauce was tasty -- but crispy, deep fried ravioli is not something I am used to or that I particularly enjoyed. There was plenty to go around for all of us in the basket, so this would make a good item to share with others.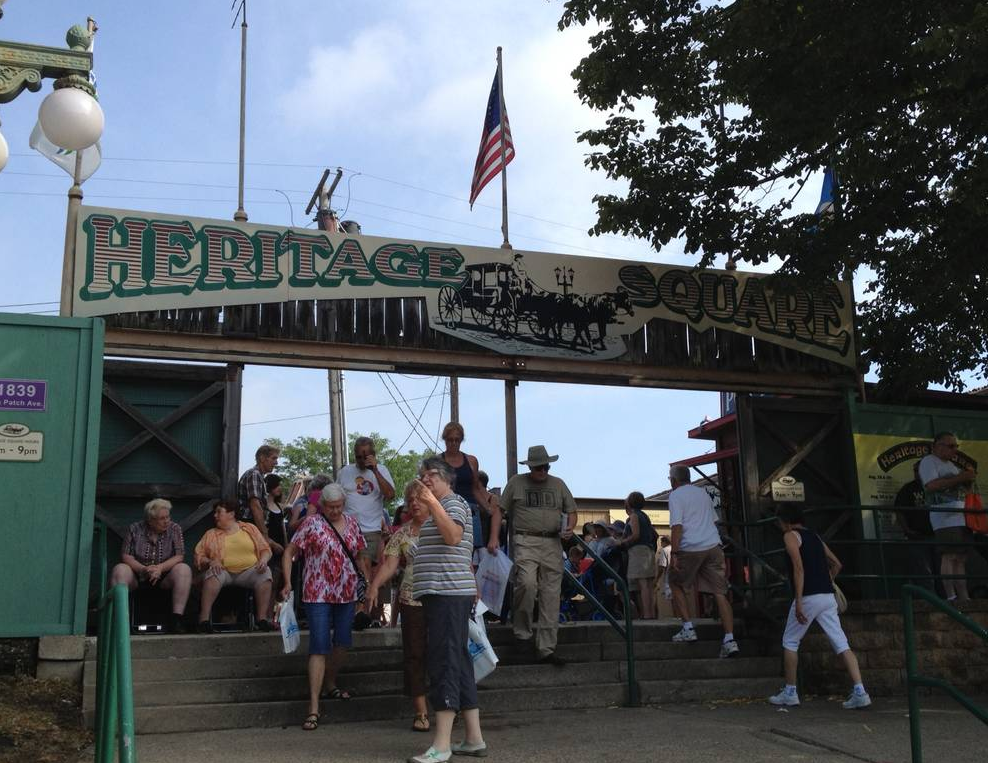 Our next stop was Heritage Square, one of our last visits to the beloved area. As many of you know, Heritage Square is
going away
in favor of a bus depot to streamline transportation for shuttling fair goers. I've always loved Heritage Square and its rustic look and feel. This area is full of talented artisans and their crafts, a welcome spot for those looking to buy decorations, knickknacks, or whatever else you can find here. I found a pair of colorful mittens for my wife that say Minnesota Nice, the product of a local knitter.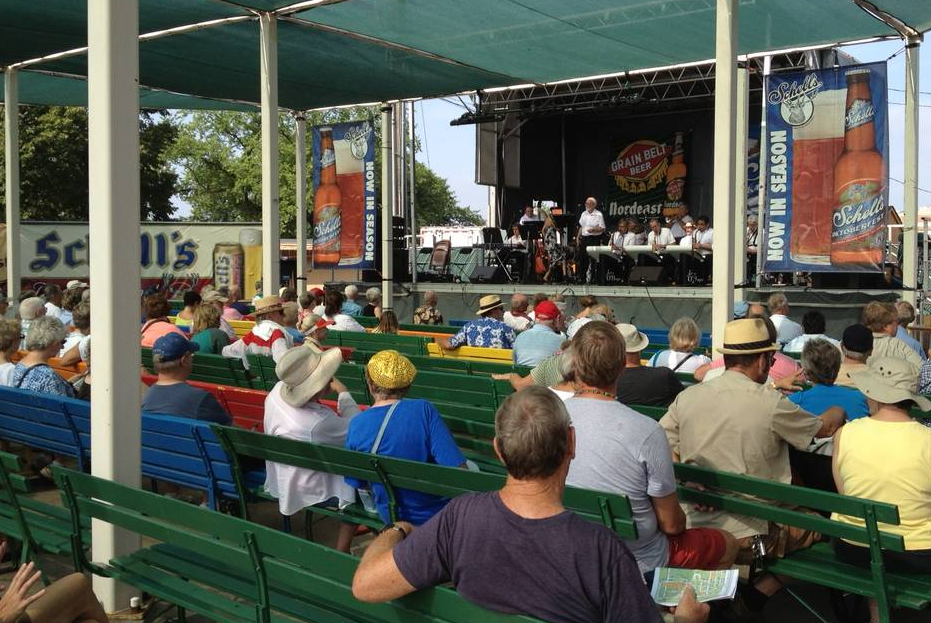 Of course, Heritage Square almost always has live music playing, and our visit was no different. While we were around Jerry O Hagan and his Orchestra was entertaining the crowd with their tunes. We took a quick break and watched the assortment of musicians playing, and were glad to see a couple enjoying the music by dancing with one another.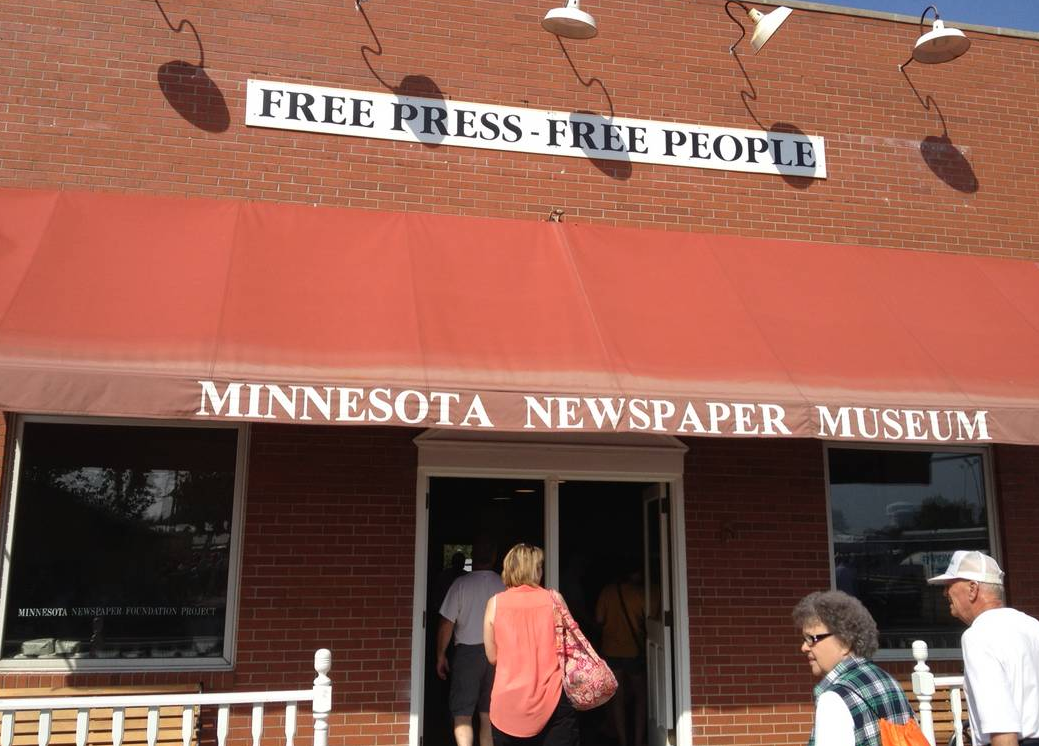 We also took this chance to go check out the Newspaper Museum -- this was one of my favorite stops of the day. This was a chance to check out, and appreciate, the newspaper creation process. The way the news used to be delivered is something to marvel. To compose this post, I simply have to type the text and publish it online for you all to see.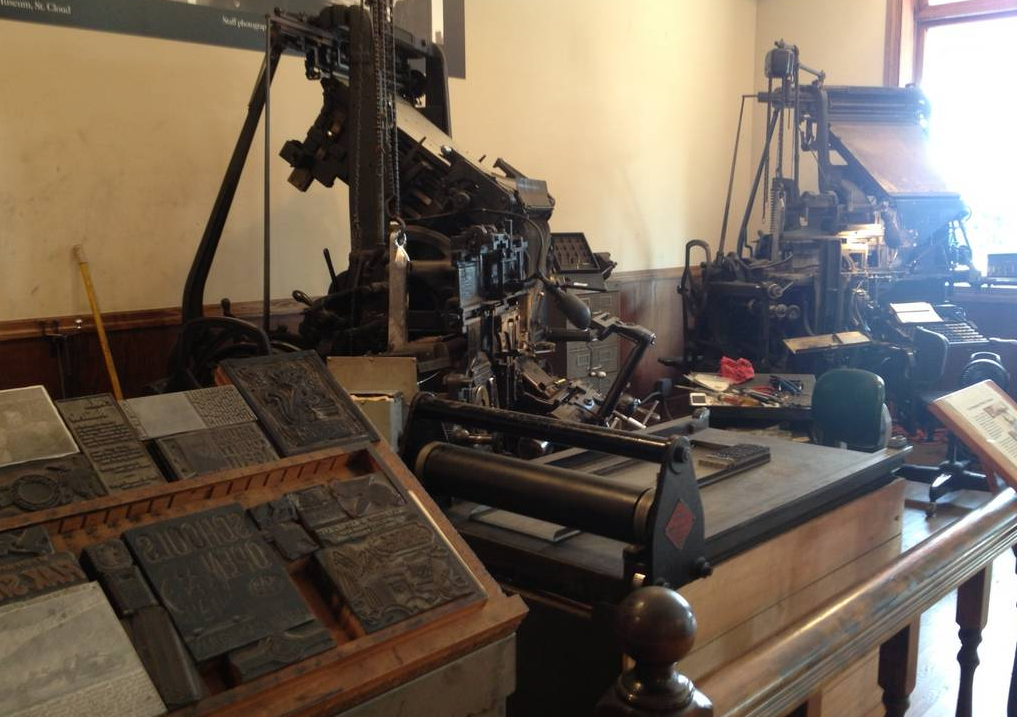 The dated newspaper process was, and still is, no where near that simple, and listening to the newspaper experts talk about the craft makes me grateful for this digital forum. We also asked one of the men working inside if they knew where their museum would be relocated to next year, and he didn't think even the fair knew what they were going to do.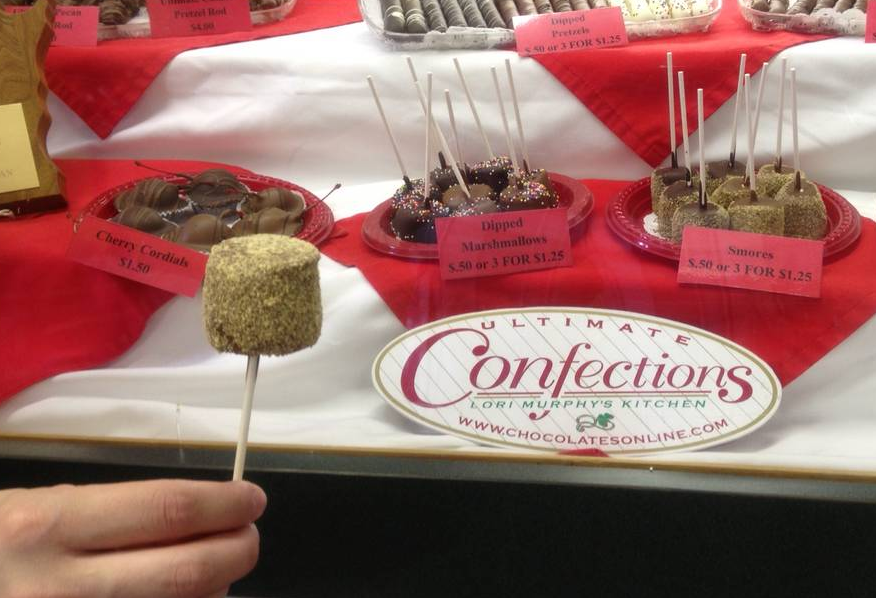 Next, we walked around the Grandstand to see all the merchandise, deals to snatch up, and things to learn (like the Xcel Energy booth my grandpa works at teaching fair goers about proper safety when dealing with electricity). Cadi and I tried a S'more on-a-stick at the Grandstand, an easy investment considering the chocolate covered marshmallow was only fifty cents. It definitely tasted like a chocolate covered marshmallow, but the graham cracker was only sprinkled on the chocolate, making the flavor barely there. Check it out in the Grandstand, but don't be surprised when you don't fall in love.

I didn't spend too much time inside the Grandstand, because the clock was nearing 11:30 and I had to make my way over to the Ball Park Cafe so I could get a shot at the Mini-Donut Beer. The previous day I missed my chance by not getting to the fair early enough. On this Thursday, I was there early enough to wait in line. By the time I got to the cafe, there was a decent sized line of about 25 people. Ten minutes later, the line more than doubled. Ten minutes after that, the line was well into the hundreds, reaching all the way to the intersection of Underwood and Dan Patch Avenue (the image above is me playing with the Panorama function on my phone -- the photo isn't great, but you gotta love that woman's face right?). Everyone walking by kept asking us what we were waiting for -- the simple response, "Mini-Donut Beer."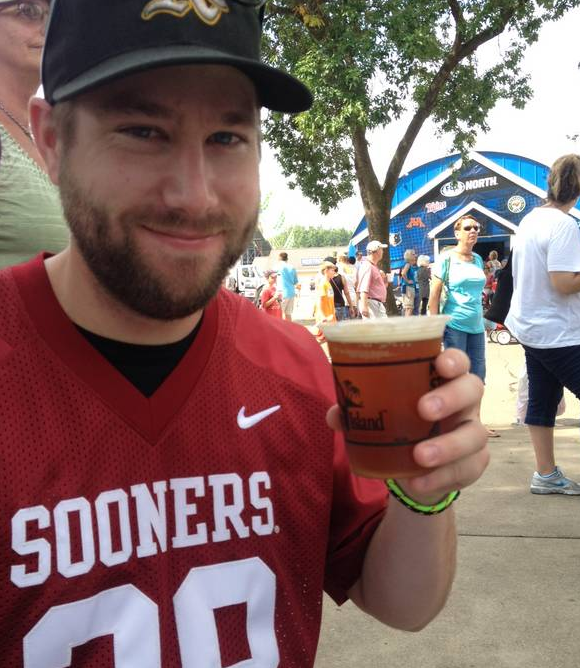 After the keg tapped at noon, the servers at the counter flew through the line, with one server rimming the empty cups with cinnamon sugar while another pours in the specialty beer. I know this beer sounds strange, but it really was excellent. The beer was quite sugary, even aside from the brim of cinnamon sugar. But the taste on the brim perfectly complimented the beer in the glass. I would never buy a six pack and drink them all, but this beer was definitely worth the wait and lived up to the hype. Look for this brew next year, as I'm sure its popularity by word-of-mouth will only help its legend grow. Our day didn't last too much longer as the temperature started to climb. We picked off a few more food favorites before leaving to take our shuttle away from the fairgrounds.