The Great Minnesota Get-Together: Round 5
Posted by Matthew Deery on Thursday, September 5, 2013 at 12:00 AM
By Matthew Deery / September 5, 2013
Comment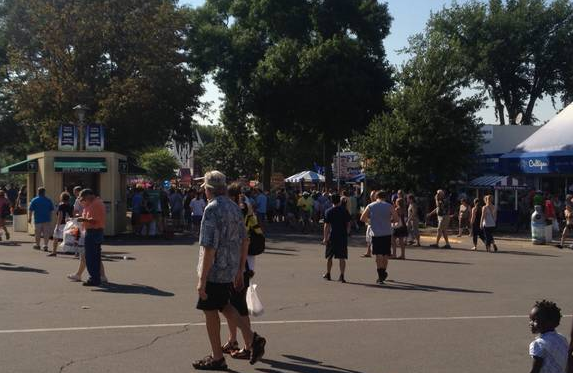 As you all know, the fair wrapped up on Monday. But that doesn't mean I shouldn't recap my last visits there -- it's been a busy week, and I'm just catching up. This fair day started in the late afternoon, again, on another hot day in the sun. The sweat rolling down my back and humidity made for an awful combination. When word rolled in that rain was in the forecast later in the evening, it sounded like welcome relief. This final Saturday was definitely one of the busiest days at the fair this year. Because it was so busy when we arrived, we walked around quite a bit -- the lines for every booth were so long, the wait didn't seem worth it. The four of us, myself, my wife Cadi, and my two friends Jeff (who writes for our humble site) and his fiancee Emily, found ourselves over by Heritage Square when we made our first food purchase. Cadi had been dying to eat one of those huge turkey legs, and Heritage Square is one of the best spots to indulge. While not as good as Turkey-to-Go, this turkey leg was delicious. Especially the skin on the meat, with just enough seasoning to add some flare to the regular taste of the bird. This was definitely more than one person should probably eat, so it's good three of us were busy eating it.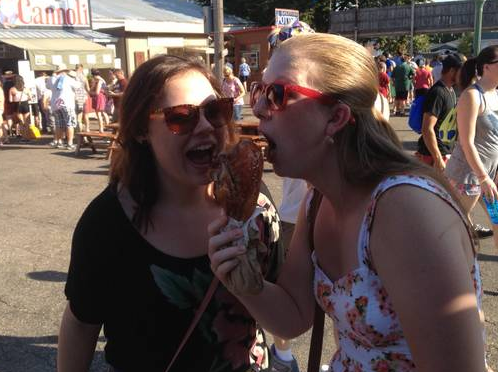 None one in our group had been to the Mighty Midway yet -- we decided to make a trip there to walk around and play some carnival games. It's always a tough sell to play the games at the Midway, mostly because then you have to give in and talk to the carnies. They are already some of the most annoying people on the planet, always shouting at you to come and play their games -- it feels against my own code to hand over my money to them -- it feels like they are winning, because clearly they are conning people out of money to play their rigged games.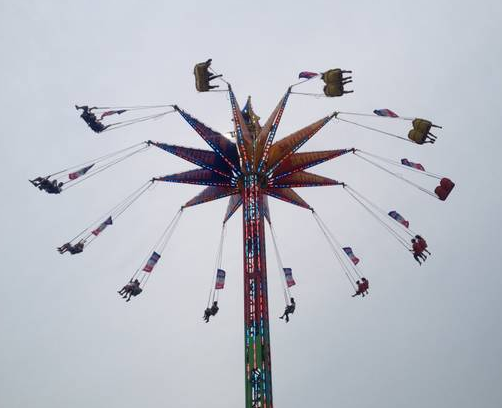 I started off throwing cheap plastic balls at the upside down beer bottles. With three balls to throw, I only missed the bottles once -- unfortunately, despite two bottles being hit, one right on the nuts, no bottles broke. The carny running the stand tried to challenge my masculinity to buy another three throws, but I didn't bite. The plastic balls clearly are not the right tool to bust glass bottles. Next, Cadi and I went to try and pop balloons with darts -- Cadi hit a balloon, I hit two, and we got two cheap stuffed animals. We spent $15 on Midway tickets, and barely got to play three games.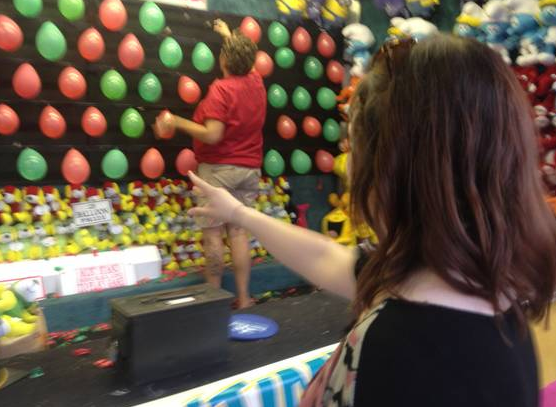 Almost everything at the Midway costs five or more tickets, a bigger rip off than the rigged games themselves. If I can make a recommendation for those looking to play games, visit the arcades on the fairgrounds. They are significantly cheaper than the Midway, so you get way more "bang for your buck," and you can redeem prizes from tickets won while playing the games, and the prizes are not limited to useless stuffed animals. So unless you are looking to ride the rides at the Midway, stay away from their games.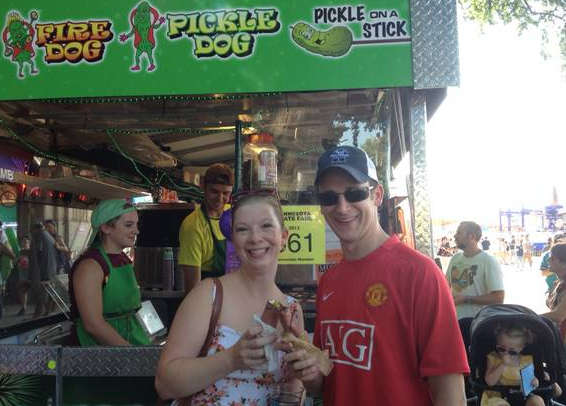 Leaving the Midway, we made a stop to get a pickle dog and a fire dog. I tried the pickle dog, a pastrami wrap with cream cheese spread rolled around a dill pickle. I can't say it was my favorite thing I tried at the fair as I'm not the biggest fan of the ingredients, but everyone else enjoyed the flavors. As a fan of spicy food, Jeff also very much enjoyed his fire dog.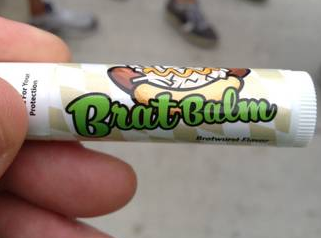 Walking past the Star Tribune booth, the people working there of course tried to get our attention in an effort to promote the Star Tribune. He asked us the last time we read the Star Tribune, when really, asking a group of 20-somethings, he should have asked the last time we picked up an actual newspaper. The dying medium is doing everything it can to stay relevant, including trying to sell newspapers to young people who don't read them. We all have smartphones and much more convenient ways to get our news. For chatting with the vendor and answering his question, we were given Brat flavored lip balm. It's definitely not something I would apply to my chapped lips, the flavor was not very good, but it's a worthy attempt to brand something many people can use.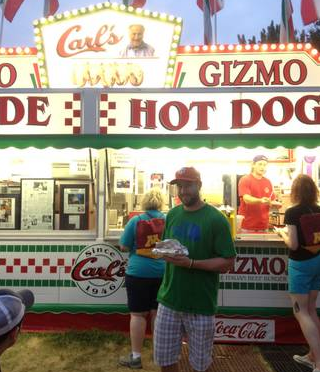 After walking around for awhile, we made a trek to Machinery Hill to seek out a Gizmo sandwich, a food item many radio personalities were raving about all week. Once we got the sandwich, I completely understood the hype. The ground beef and Italian sausage sandwich features a bit of a "kick" and definitely had plenty of flavor to make us all smile with delight.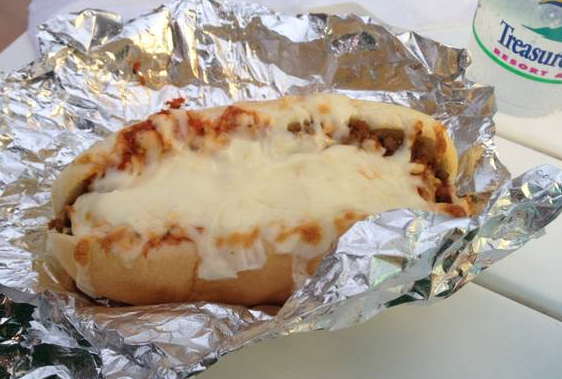 The beef and sausage rested in an Italian roll with a Gizmo special sauce mixed in and was covered by mozzarella cheese. It was a great idea to buy this with a group, as this big sandwich was probably too much for one. Next year, put this sandwich on the radar if you have never tried it.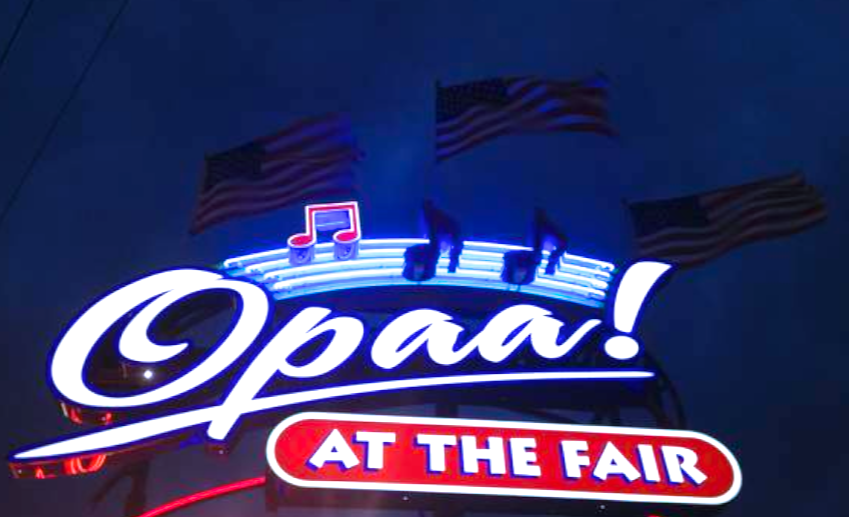 As the sun disappeared behind the horizon, the rain began to lightly fall. The four of us stopped at Opaa!, a place known for its drink selections and live music. The seating space had a canopy, but one to block the sun, not the rain. We still got drizzled on while we drank some beer and listened to a country music band play their tunes. This is a great spot for younger crowds to hang out while the fair is winding down each night. Although, their beer prices were ludicrous, closer to Metrodome fares than a reasonable bar.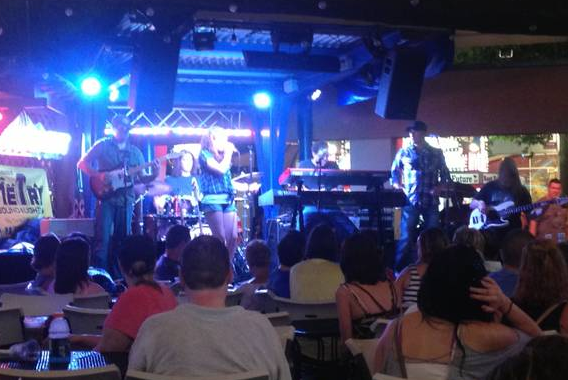 The rain picked up, and after getting quite wet, we decided to head out from the fair and call it a day. This Saturday at the fair was a huge success, with food, games, music, and much more. Photos via: Matthew Deery