The Great Minnesota Get-Together: Round 6
Posted by Matthew Deery on Friday, September 6, 2013 at 12:00 AM
By Matthew Deery / September 6, 2013
Comment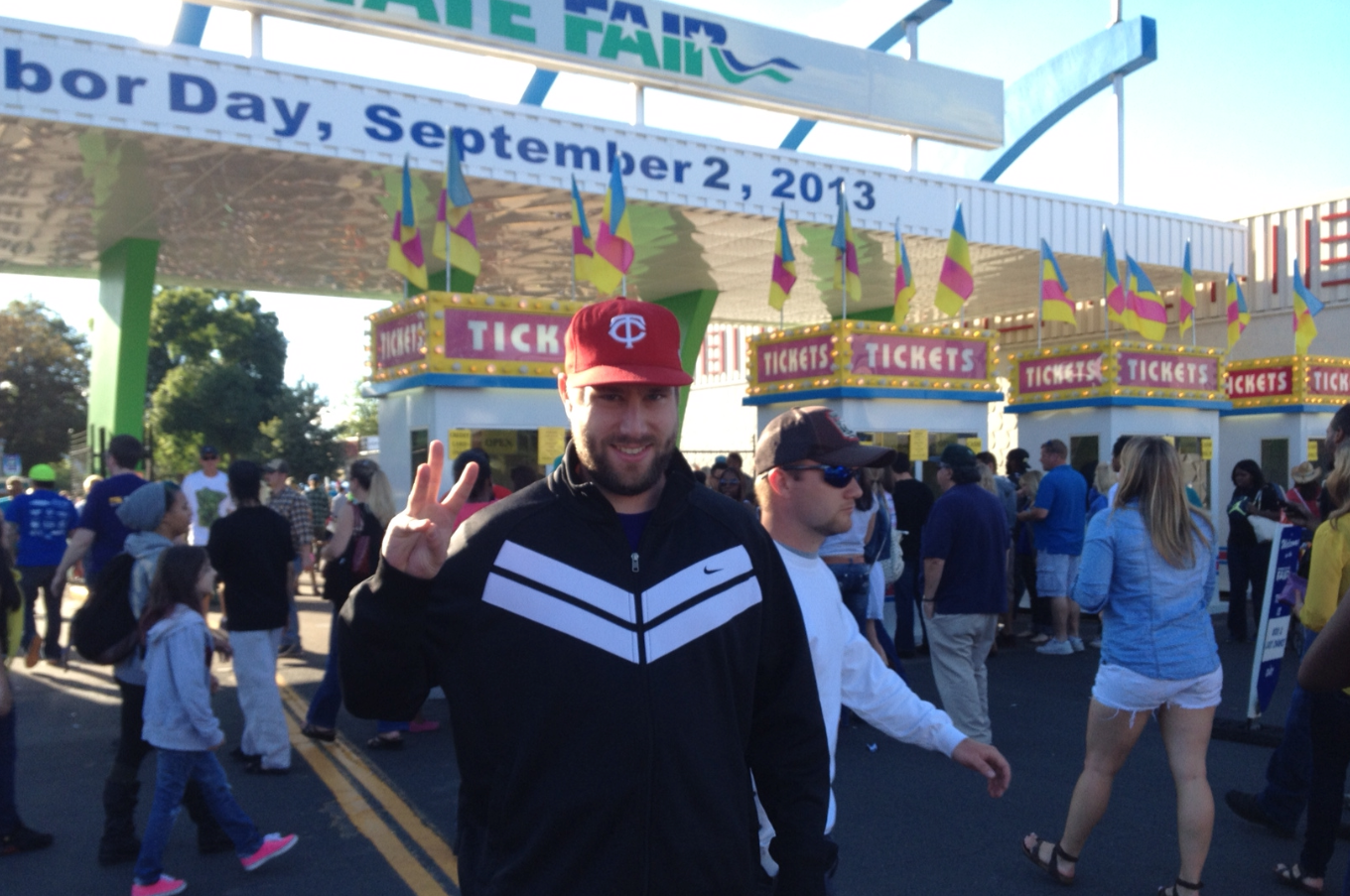 The State Fair has sadly been over for a few days now, but I left my final recap of my favorite event of the year until now. This final visit on the final day was bittersweet, as it always is when it sinks in that this fantasy world of food you just engorged yourself in will be gone for an entire year. The day was a blast with my cousin Andrew and my brother Ryan -- we ate (duh), played games at the arcade, and best of all, meandered aimlessly around the fairgrounds for an evening. And in case you're wondering, in the header photo above I am holding up the ASL sign for six (I took two years in college -- required), not a three. To start, as usual, walking into the fair hungry, our first mission was to find some food to eat. We made our way to the Mancini's booth to try their highly regarded Steak Sandwich.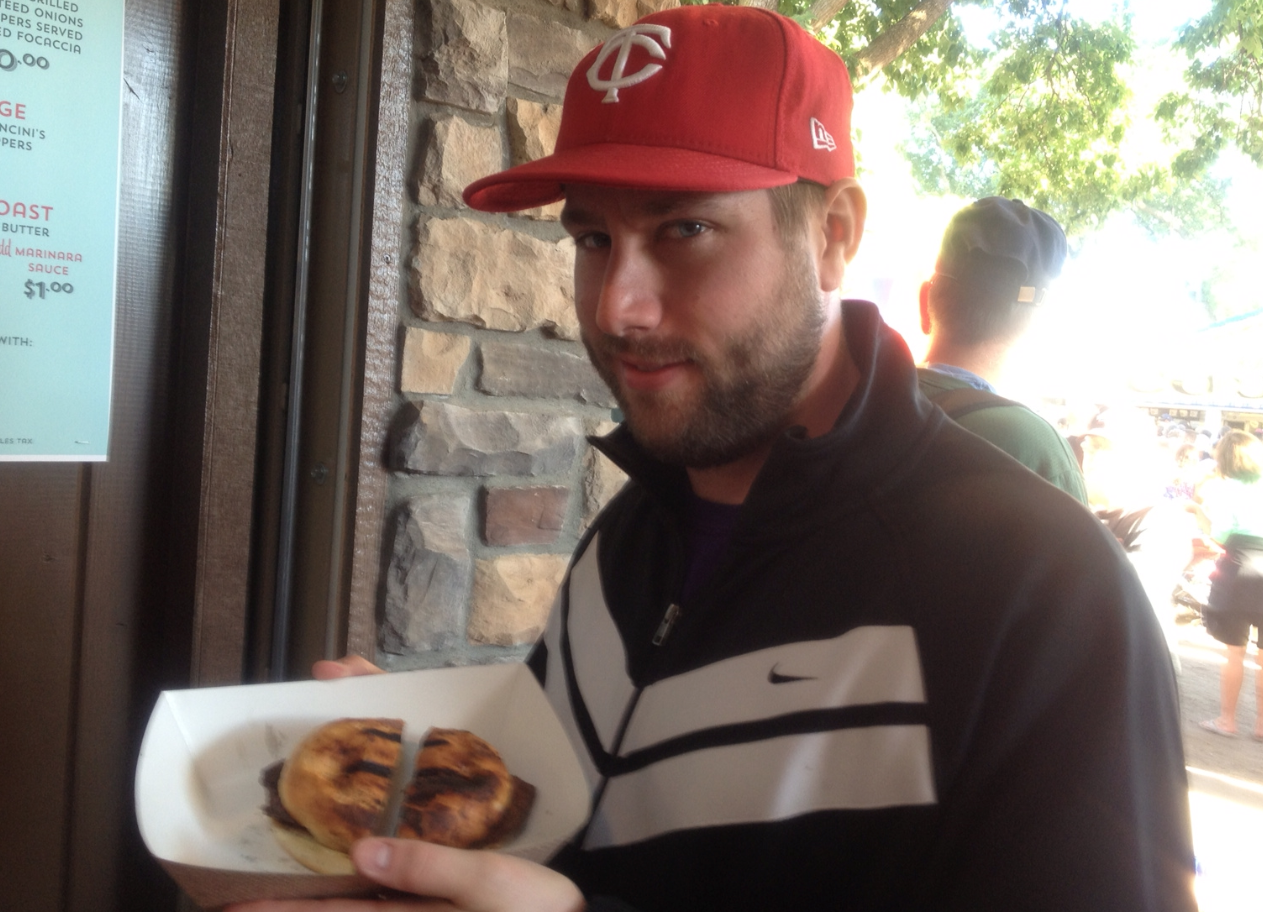 Without a doubt, this sandwich was well worth the very expensive $9 price tag -- I know, I almost had a heart attack seeing the price. But to be honest, the steak was so delicious, juicy, and flavorful, I forgot about the price right away, almost to the point where I got back in line for another.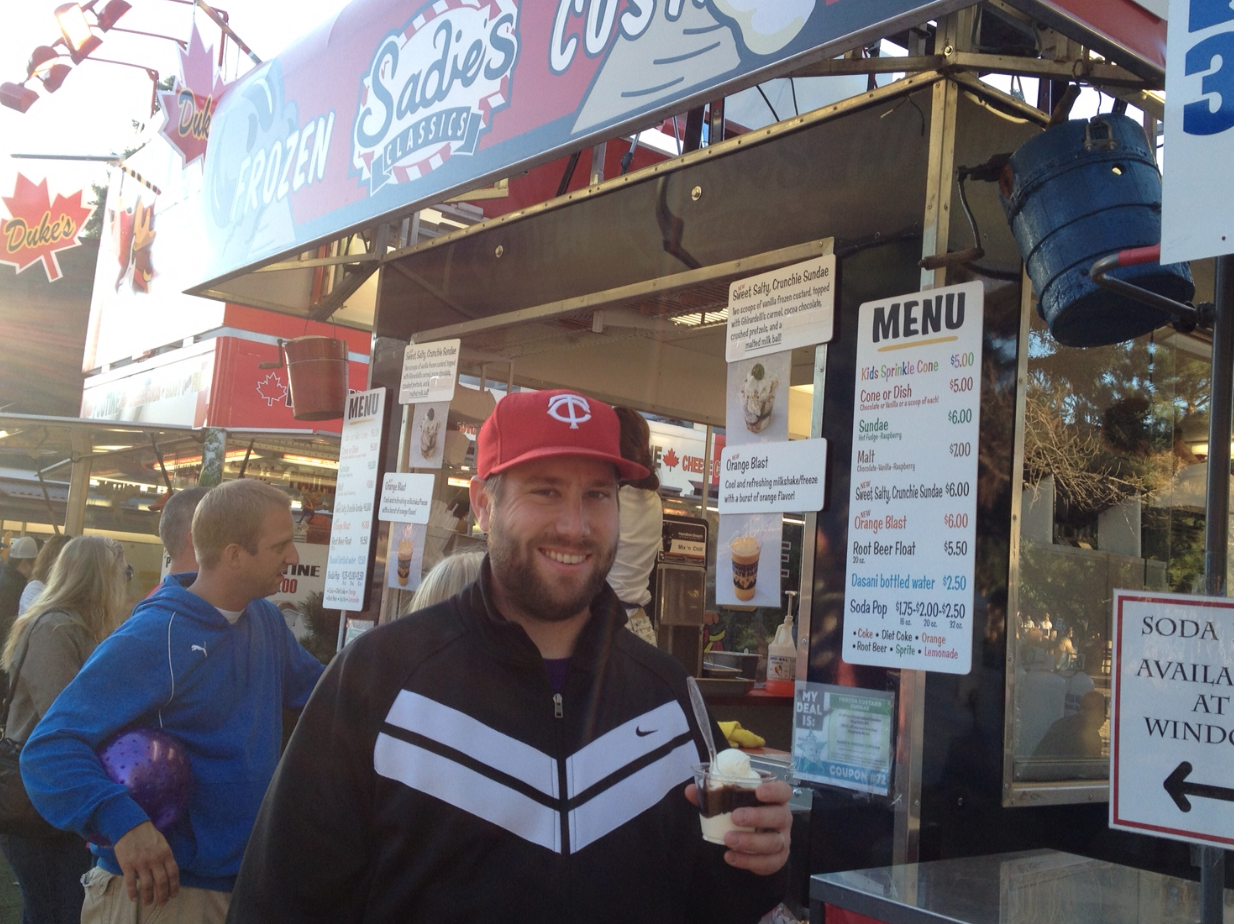 Felling satisfied with the little meal, it was time to move onto something sweeter -- having heard many positive recommendations to try out Sadie's Frozen Custard, that had to be our next stop. Though I have enjoyed a lot of ice cream in my days, this little cup of heaven definitely ranked as one of the better ones I've enjoyed. The custard was thick and creamy, and there was just the perfect amount of hot fudge topping to compliment the cold custard. Though you can get ice cream almost anywhere, and custard a handful of others, this dessert is one you should seek out at the fair next year.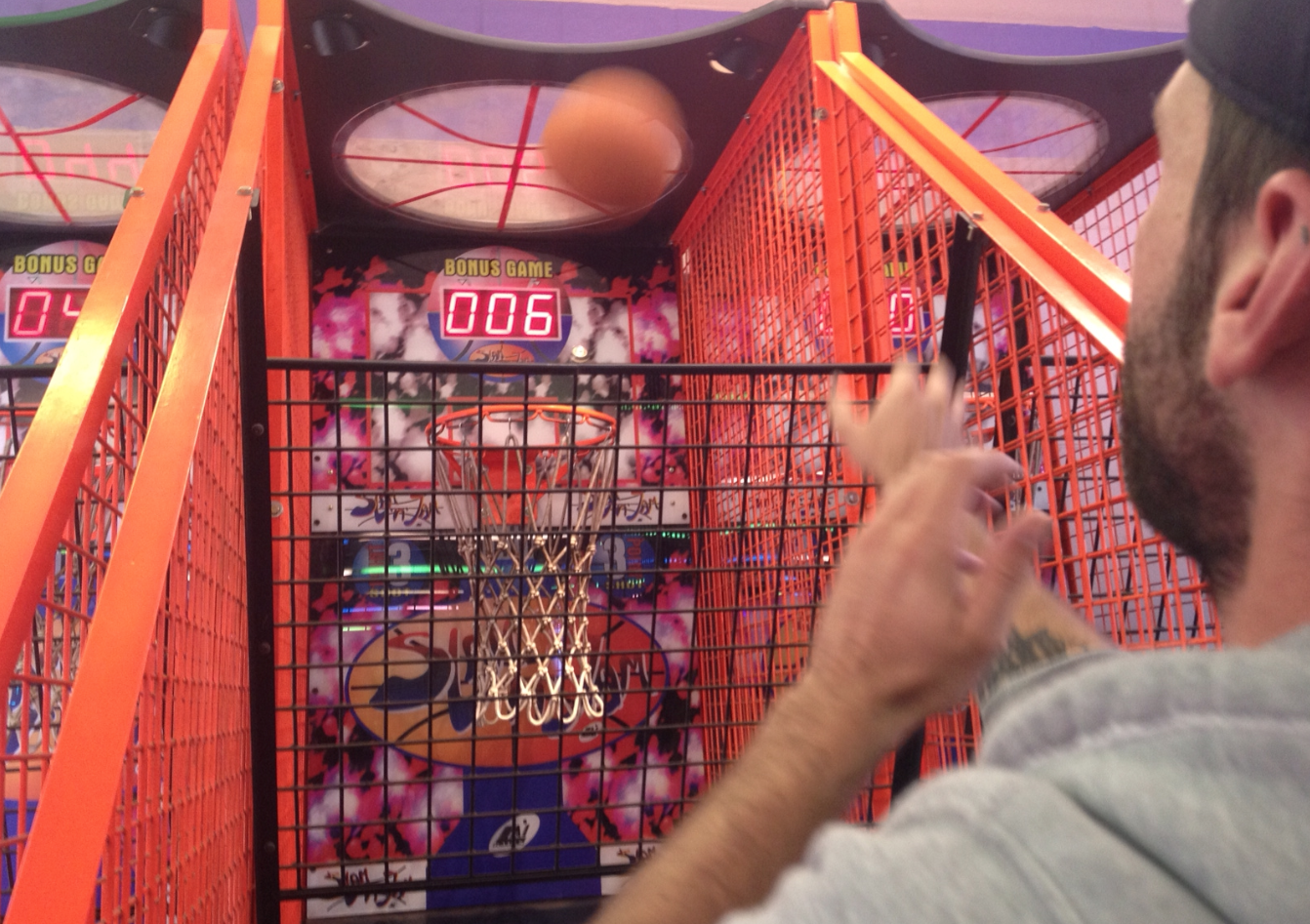 Moving on, we decided to have some fun at one of the many arcades posted in the fairgrounds. For a handful of quarters, you can have way more fun playing Skee-ball and shooting hoops against buddies than warding off Carnies at the Midway. In these arcades, it's not about winning some cheap stuffed animal or prize -- it's about having fun playing the games themselves.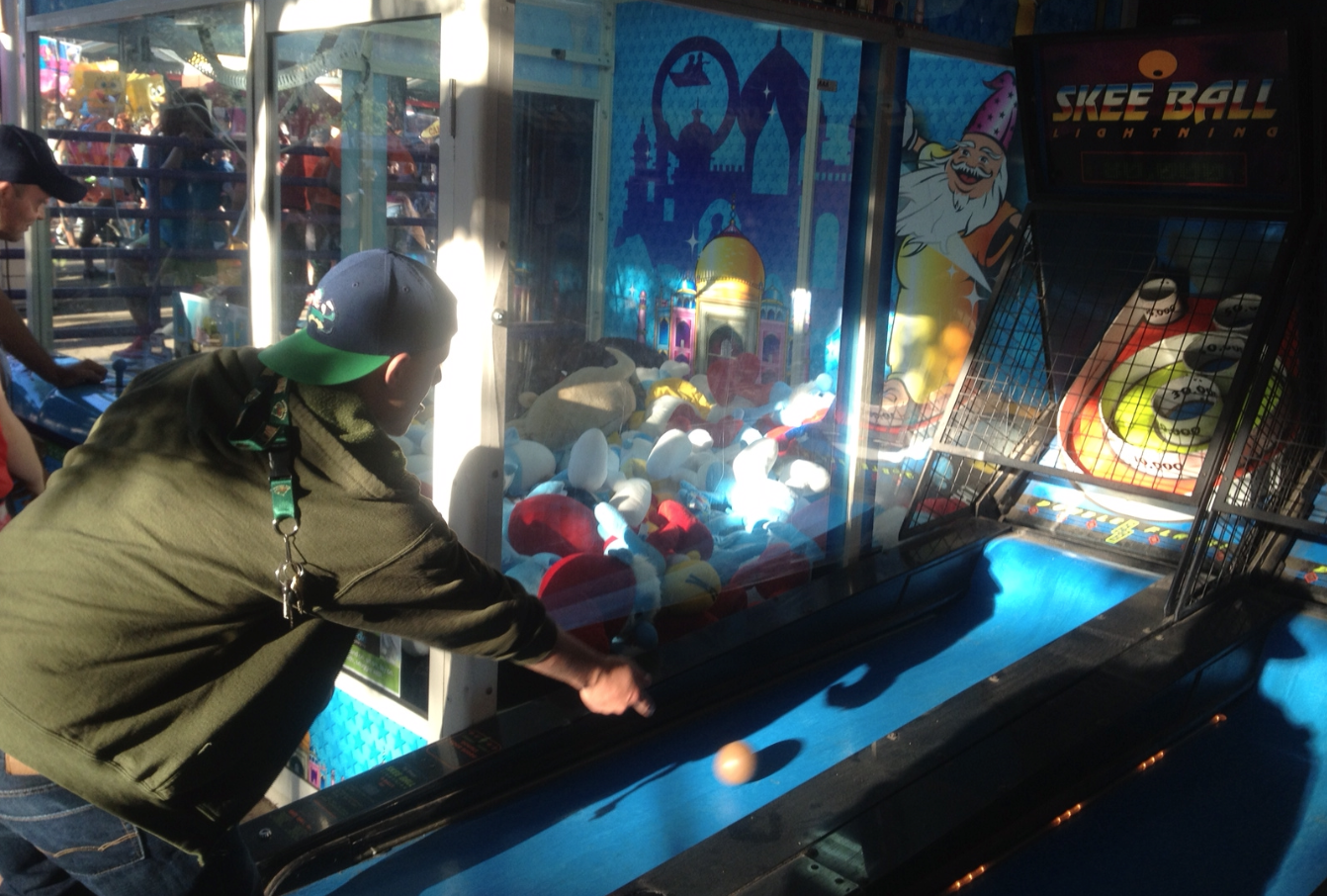 The three of us had a blast competing in Skee-ball games and trying to outscore one another on the mini basketball shooting game. To be frank, I'm pretty good at the basketball game, not so much at Skee-ball -- I'm one of those people who risks it going for big points and ends up missing everything and getting the lowest point ring.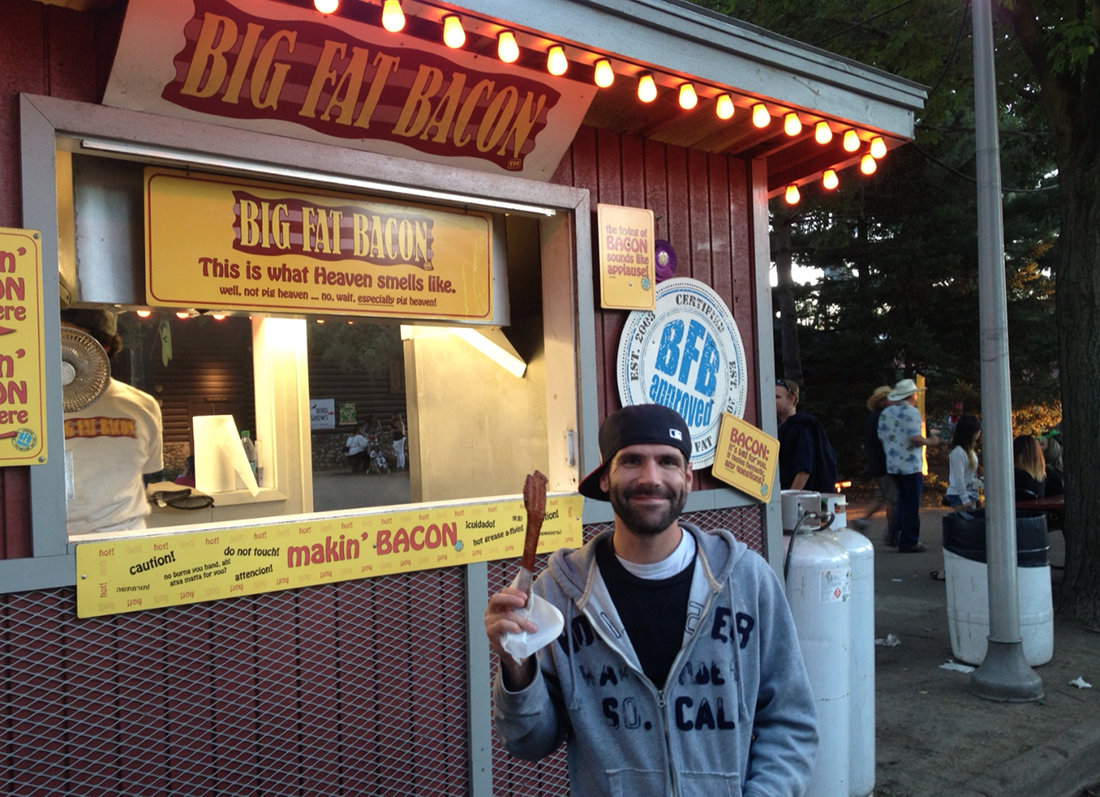 Post arcade, my brother Ryan and I decided we wanted to check out Big Fat Bacon. I love bacon, but never brought myself to check out this unique State Fair food item, essentially a huge piece of bacon on a stick. Both of us enjoyed the treat, Ryan a bit more than me, but it's worth a few bucks to try out. It almost tasted more like a pork chop than bacon -- and I like my bacon extra crispy, which this for the most part was not. On the final night of the fair, we were treated to an absolutely beautiful sunset to wrap up the picturesque evening.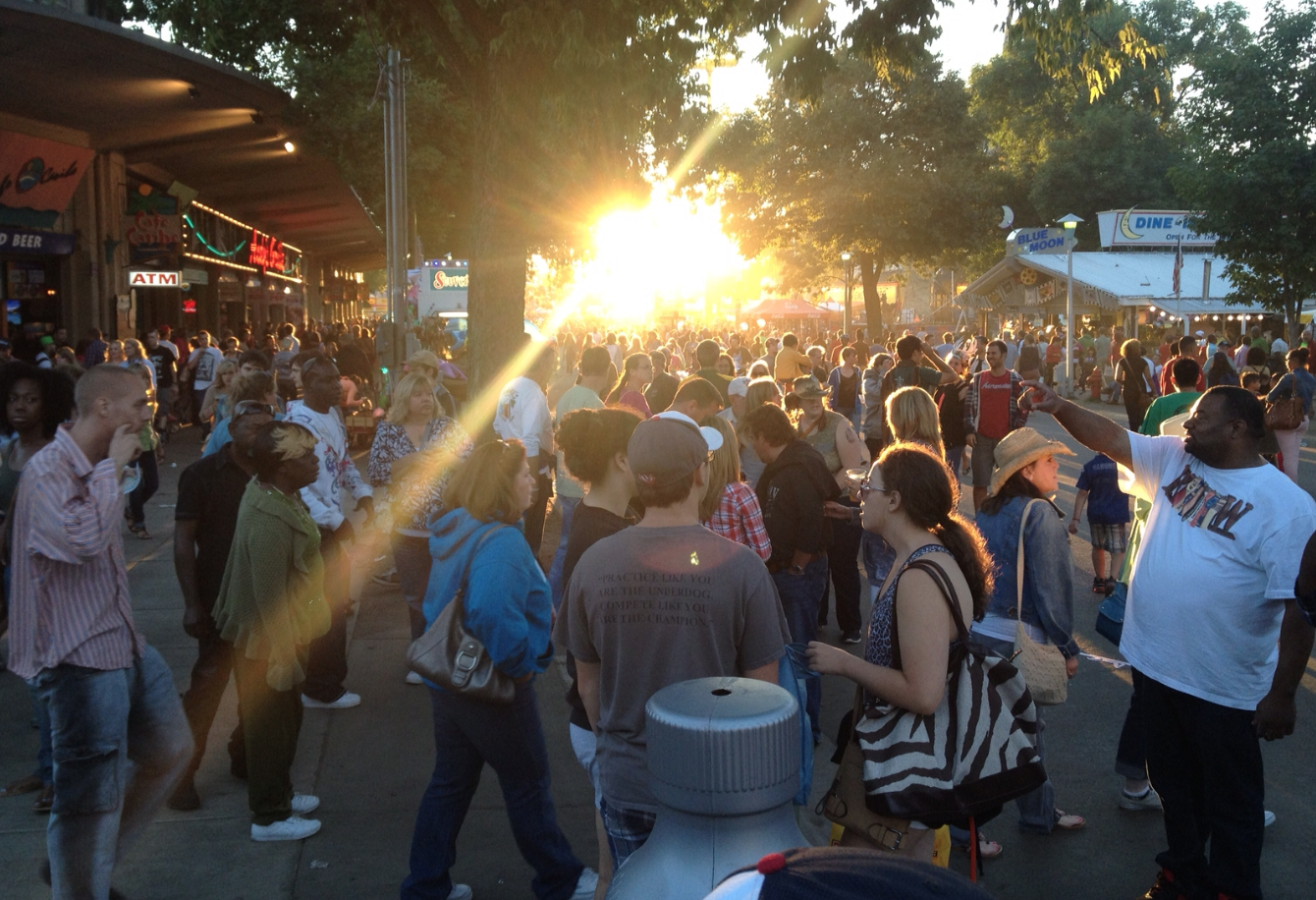 After meandering around for an hour or so, just 'people watching' and enjoying the conclusion of the fair, we stumbled back into the area of Luigi Fries. It had been a few years since I had these cheesy delights, but if memory served, this investment was going to be worthwhile. Andrew being full didn't participate in the chow down of the Luigi Fries, so Ryan and I did the heavy lifting. These babies were layered with mozzarella cheese on top of delicious breadsticks, accompanied with very tasty marinara dipping sauce. They were also cut into four pieces, making for easy sharing -- if you can still contemplate sharing after that first, cheesy bite.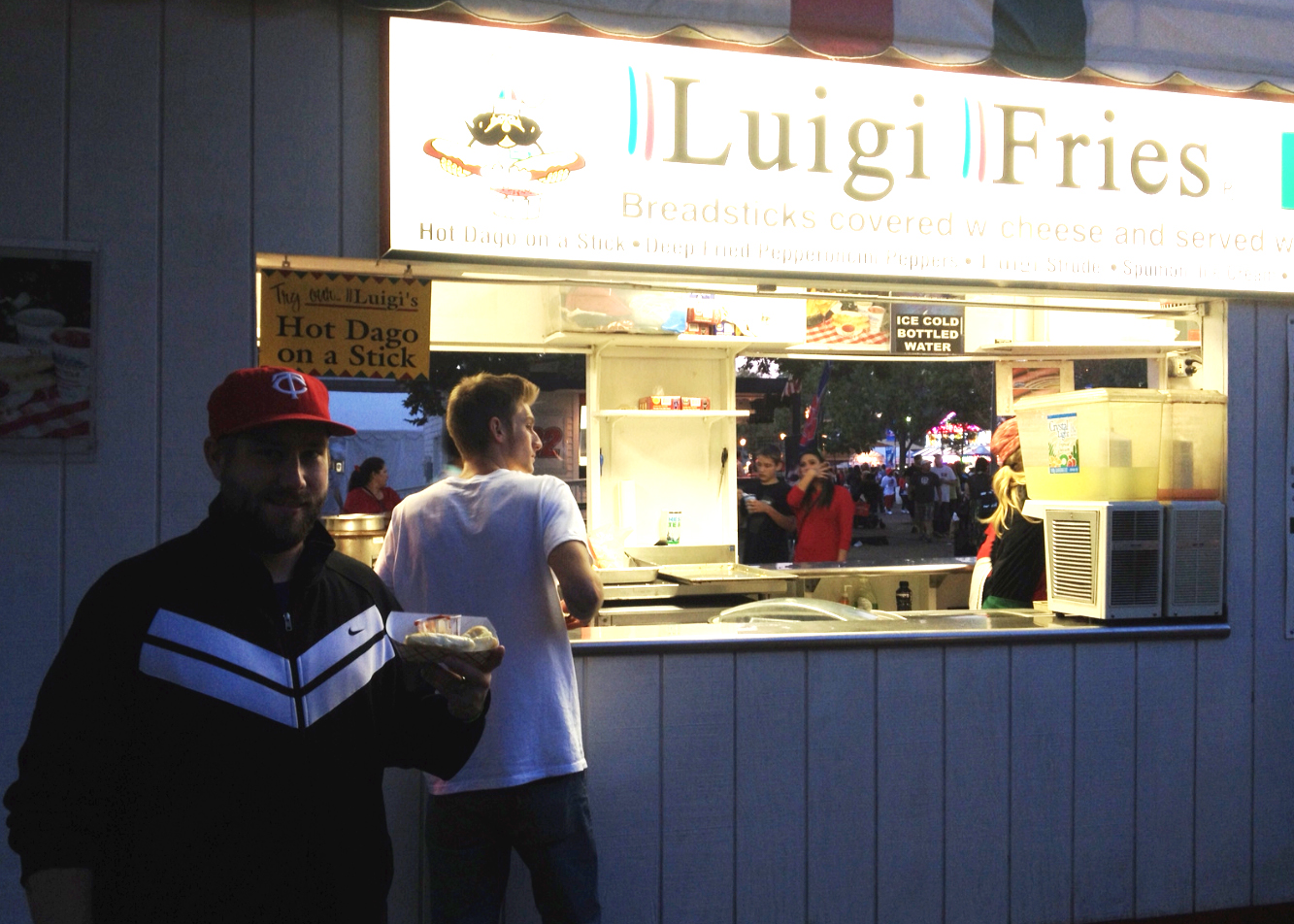 We then walked our way towards Machinery Hill, where we came across the group karaoke I had been hearing about on the radio. You can see in the photo below, all people have to do is stand in front of the mounted mics and start belting out the lyrics projected on the big screen up front. It's funny to listen to this choir of people, both old and very young, sing a chorus of songs you have heard on the radio a million times. Despite being a fun experience for those participating, the chorus of singers was nothing anyone could really enjoy -- they were, awful.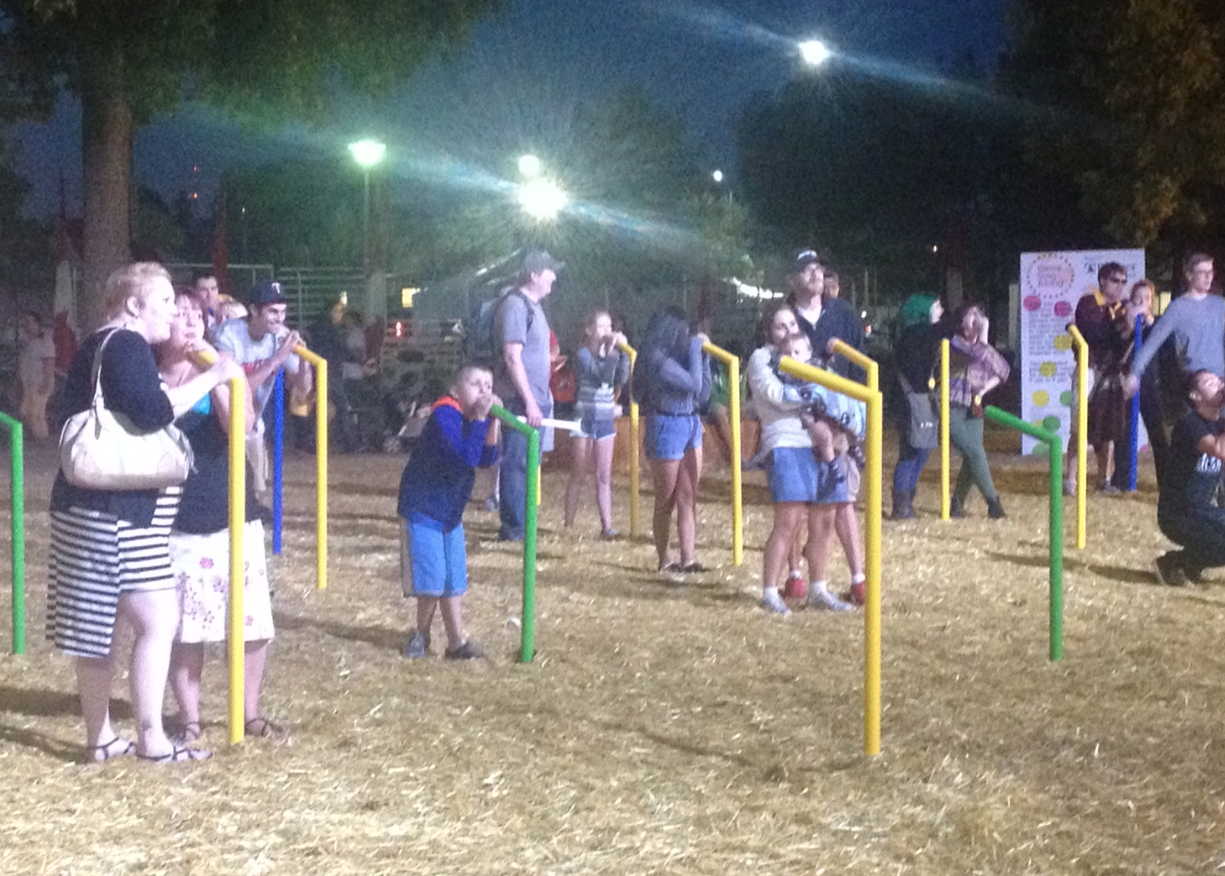 Deciding that we were ready to go soon, the three of us concluded that we couldn't possibly go the entire year knowing we missed our last chance to buy Sweet Martha's Cookies. So we headed back towards the Grand Stand for our final mission of the 2013 State Fair: get some fresh, hot chocolate chip cookies. Though we were all pretty full, why not stuff some cookies down when it'll be our last chance to do so in a year?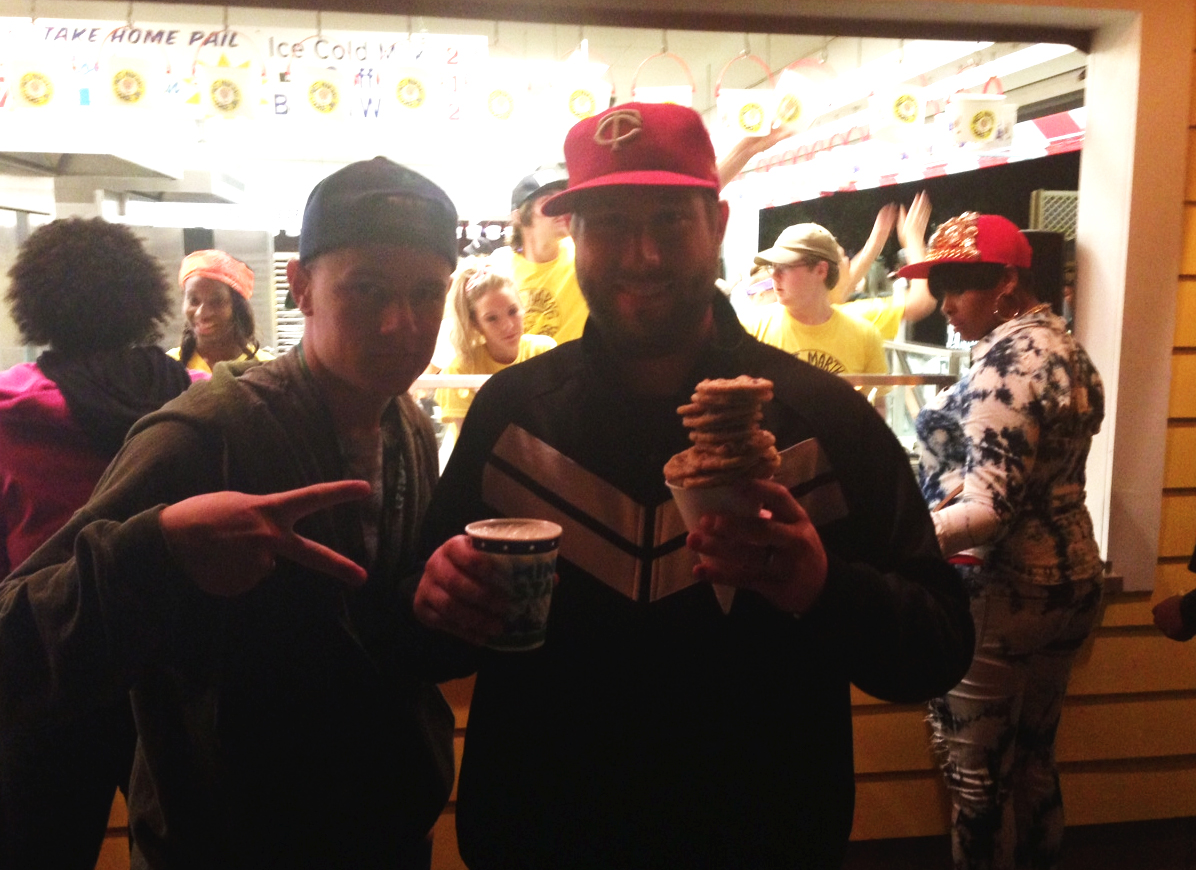 And really, no words are needed for these cookies -- I know they were amazing, you know they were amazing -- let's just leave it at that. So thus concludes my recaps of my six trips to the 2013 State Fair. It breaks my heart to know it'll be over 350 days before I get another crack at the fair's plethora of food options. Photos via: Matthew Deery