The Jungle's 'Gertrude Stein and a Companion' is a Landmark Revival
Posted by Ryan Sanderson on Friday, January 30, 2015 at 12:00 AM
By Ryan Sanderson / January 30, 2015
Comment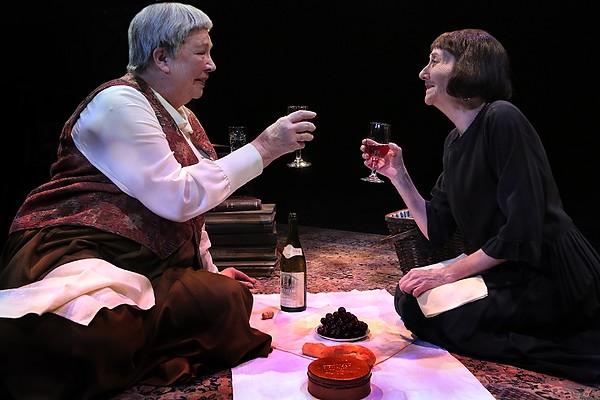 One glance around the
Jungle Theater
, as my friend and I took our seats for Tuesday night's opening of 
Gertrude Stein and a Companion
, I was fairly certain we were the youngest people in the audience by twenty years. There's an aristocratic air to the design of the Jungle, from the seats to the stage, to the nine page list of donors in the program, to the portrait of Artistic Director Bain Boehlke in the front of every program staring at you like you just spilled ketchup all down the front of your shirt. While many smaller local theaters court the experimental, low-budget vibe, the Jungle pitches itself less as a more established
Theater in the Round
and more as a younger sister to the Guthrie. Their Lynn-Lake base where they've been stationed since 1999 is a temple to this particular brand of legitimacy. That's why it's interesting to think of the Jungle twenty-three years ago: traveling from venue to venue like so many upstart theater companies, showcasing new, vital plays with young talent. 1992 was the first year Boehlke's troupe staged this particular performance. Then, as now, the leads of the two woman show were Claudia Wilkens (who some will remember as the secretary from 
A Serious Man
) as Gertrude Stein and Barabara Kingsley as her friend and lover Alice B. Toklas. As the program says, this exact production, more than two decades prior, was so popular that it toured the country. Revived for the Jungle's twenty-fifth anniversary,
Gertrude Stein and a Companion
 is whimsical, but its intimacy and playfulness evoke a vital spirit in defiance of the historical context. Little more than a conversation between two intimates, the play opens with Stein's death in 1946. Her spirit converses with a distraught Toklas, and their remembrances trace their romance from its origins in 1907 through two world wars, the well-documented parade of famous artists who passed through their Parisian home at 27 rue de Fleurus, Stein's literary struggles and late success, and a long period of mourning following her passing. It's the second category that provides much of the subject's allure. Gertrude Stein would ultimately become far more famous as a mentor to great artists and writers like Pablo Picasso and Ernest Hemmingway than she ever was as a writer. Wilkens and Kingsley both take turns imitating these larger-than-life figures as they pass through the story. Toklas, it seems, did not like Hemmingway (anyone who has read his musings on her in 
A Moveable Feast
 will understand why). In fact the play's title comes from the derogatory way in which he referred to the couple.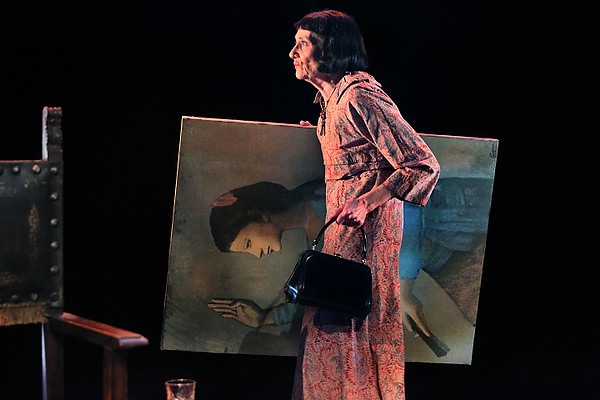 The true power of Win Wells' script is the way it reframes a familiar story about some of the most important events and famous people of the twentieth century as an inside joke between two lovers. Here it's not Picasso the renowned artist, but Pablo, a shared companion about whom the couple trades inside jokes. WWII is reduced to an anecdote about a dim-witted German officer. There's almost no narrative drive behind any of this. In fact, the play's biggest shortcomings are those moments it tries to impose some structure or greater significance on the couple's musings. Those moments when all context fades; when gaps of sixty and a hundred and twenty-three years fade into the distinct signature of two lives lived together — those are when the play reaches transcendence. What in the world of literature, in the world of politics, in the world of history could matter more than the playful, intimate banter between these two? Shows like this put a lot of pressure on their cast, and Wilkens and Kingsley are more than up to the challenge. Wilkens' boisterous and self-assured Stein pats at her own ego while briefly hinting at the frailties hidden just beneath the surface. "When you're a genius you're privileged," she says of herself, before later admitting she was intimidated by the notion of even leaving her home. Kingsley's high-strung, sheepish Toklas is a perfect foil: fragile where Stein is guarded and motivated in ways the self-styled egoist could never be. She invents words like "moneyed" and phrases like "Happy's not logic," which are as simple and human as they are absurd; a trait reflected in Stein's writing. The one hosts some of the most impressive intellectual gatherings of her time. The other hides quietly in the corner, waiting for everyone to leave so she can tell all the jokes she'd been thinking up that whole time. Boehlke frames the set with staggered pylons that squeeze the stage up front to emphasize the two leads, while the back seems to fade into dark eternity. It's a nice touch. Sometimes the tech overreaches with an unnecessary musical flourish or a stagy lighting cue at odds with the intimate nature of the moment, but for the most part every detail encourages the audience to lose themselves in this special dream space and embrace all its truths and inconsistencies. This goes back to the idea of legitimacy. Say what you will about experimental theater, but few places in the Twin Cities can or would put on such an impressive production of such an unorthodox show with such a phenomenal cast. It's a perfect marriage, and it's easy to see why this special performance is considered a benchmark.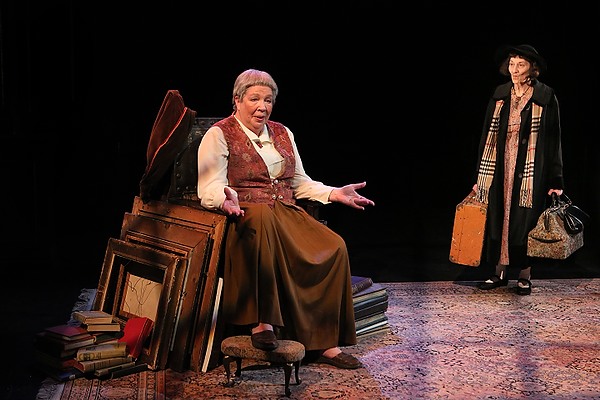 One of the more curious details the play addresses is the way Stein's eventual literary success was funded by the sale of her famous art collection. She paid ten or twenty dollars for early works by Matisse, Picasso, and Renoir that would eventually become priceless. Critics and peers always questioned the legitimacy of her prose. It seems fitting that validation arrived, not from her defense of herself, but from her ability to perceive greatness in others. Perhaps her ego was fragile. Perhaps she bloated her intellectual self-worth. Yet who can argue with someone who so boldly and successfully found beauty in the works of others and nurtured their talent into a full modern renaissance? In the same way, the play implies she saw the true, unpretentious beauty in every expression from Toklas. "It may not be right, but it's delicious!" she's fond of saying. That's ultimately the production's true achievement. It encourages the audience to see past trivial things like prestige, age, gender, and even death, and look to the beauty at the heart of the thing that is boundless. That could be a truthful vision in a budding artist, a simple expression spoken among geniuses, an all-encompassing love in a world at war, or a light ninety minute two woman show on a dusty old stage. "A rose is a rose is a rose," someone famously wrote.
Gertrude Stein and a Companion
 runs until March 8. Photos by:
Michal Daniel