The Vikings Should Trade Adrian Peterson. Now.
Posted by Brent Lee on Sunday, February 23, 2014 at 12:00 AM
By Brent Lee / February 23, 2014
Comment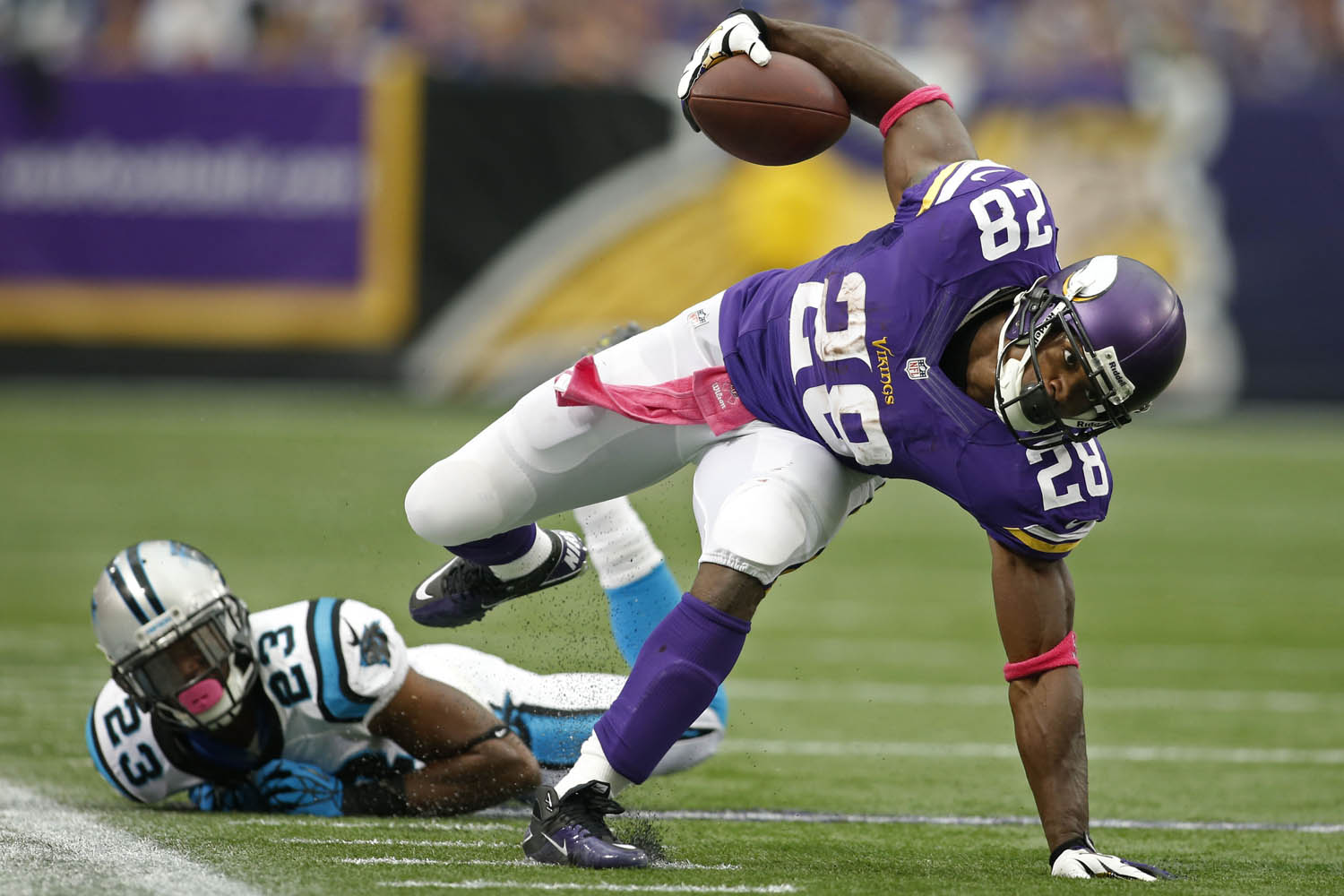 Though it sounds equal parts crazy and counter-intuitive, if the Minnesota Vikings want to win a Lombardi Trophy, they should trade their All-Universe running back Adrian Peterson.
And they should do it now. No, I'm not kidding. And you,  if you love the Vikings and want to see them have a legitimate chance to win a Super Bowl sometime before 2020, should agree with me. Here is why...
A Cautionary Tale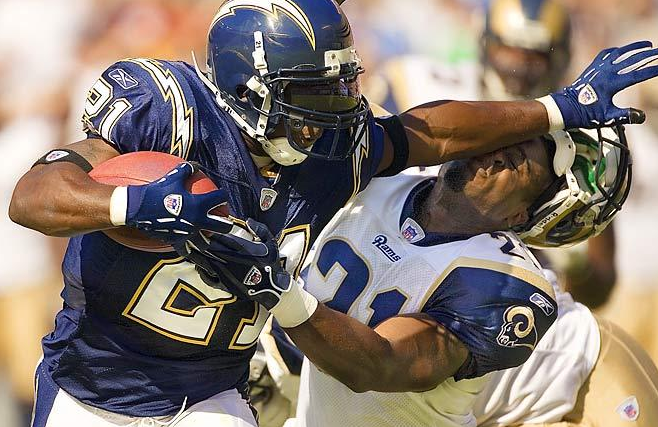 Long, long ago (2001) in a city far, far away (San Diego) there lived a brave warrior who was fleet of foot, full of heart and a favorite of football fans from all across America. His name was LaDainian Tomlinson. For seven years, the swift and strong Tomlinson reigned supreme over all the other running back's in the football kingdom, accumulating 10,650 rushing yards and 115 touchdowns while gaining acclaim as one of the best rushers the NFL had ever seen. Pundits and prognosticators proclaimed Tomlinson's torrid pace would near guarantee he would scale the pantheon of pro football's greatest legends, pulverizing their career records en route to establishing a new plateau of excellence amongst all NFL running backs. And then Tomlinson turned 29.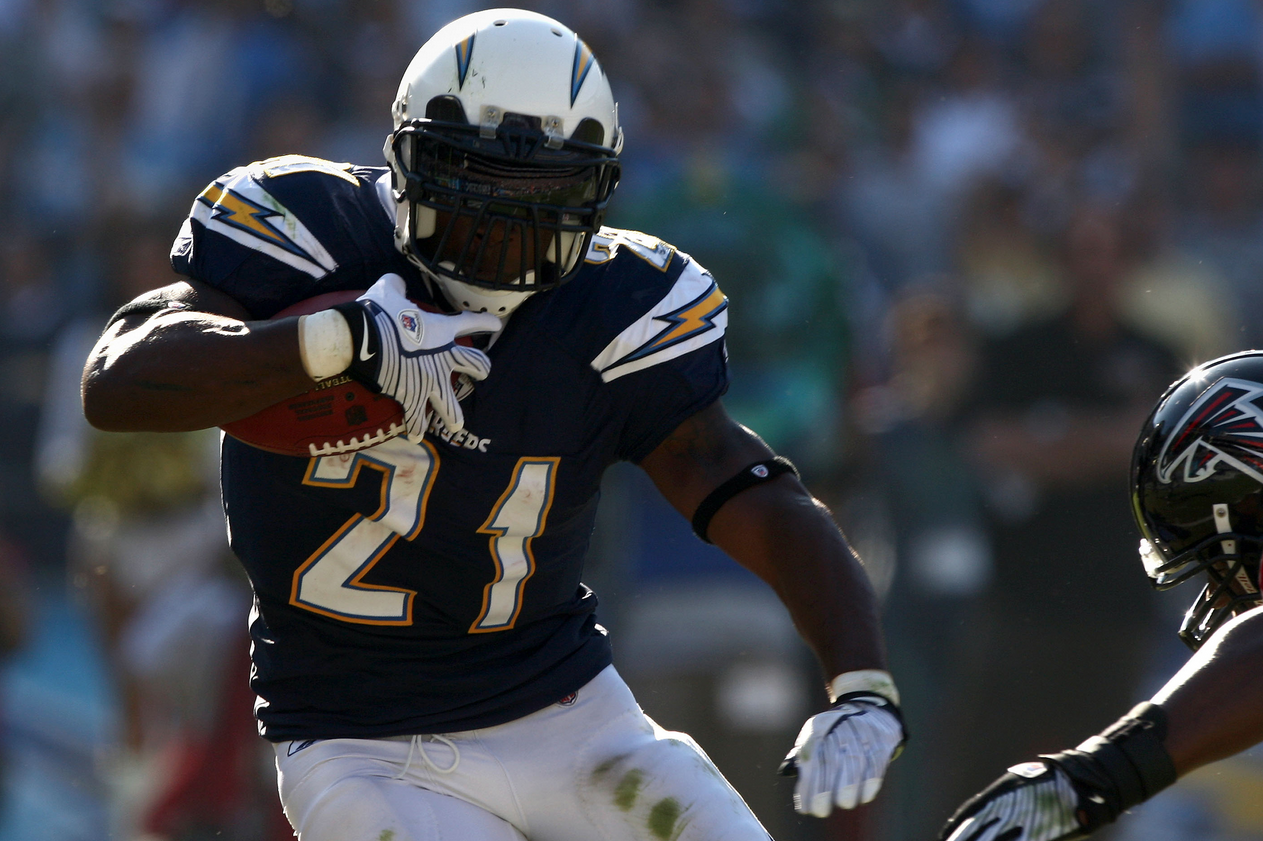 In fact, from the time he turned 27 until he retired at 32, Tomlinson's production rather hastily fell from superhuman to subpar... Tomlinson at age 27 — 1,815 rushing yards, 31 totals touchdowns -- first in total rushing yards, NFL record for single season total touchdowns, NFL MVP. This was undoubtedly the best year of Tomlinson's career. Age 28 — 1,474 yards and 18 touchdowns -- first in rushing yards, second in touchdowns. Down from the previous year, but Tomlinson was still an elite rusher. Age 29 — 1,110 yards and 12 touchdowns -- tenth in rushing yards, tied for eighth in touchdowns. Hmm... down some more, but still he still rushed for 1,000 yards.
Age 30 — 730 yards and 12 touchdowns -- this is the first year Tomlinson failed to reach the 1,000 yard mark in a season. His contract expired with San Diego and he became a free agent despite his stated desire to play his entire career as a Charger. Age 31 — 913 yards and 6 touchdowns -- Tomlinson is picked up by the New York Jets in free agency. This is the only time since turning 27 that he would rush for more yards than the year previous, though his 6 touchdowns are the lowest output of his career at this point. Age 32 — 280 yards and 3 touchdowns -- though he split carries in New York the year before, Tomlinson loses his starting job to the Jets Shonn Greene.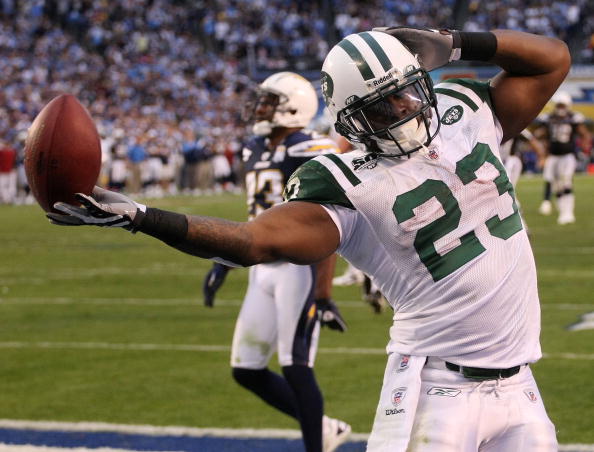 On June 18, 2012, at the age of 32, LaDainian Tomlinson retired. And so the football tale of LaDainian Tomlinson came to a relatively lowly ending that could not have been foreseen from such lofty heights as he had soared earlier in the story. The mighty L.T., as his adoring fans called him, took only a brief span to go from beloved would-be lifetime Charger and surefire all-time greatest rusher, to second-string Jet struggling for playing time. And then to carry a football, nevermore. Nevermore.
The End
Tomlinson and Peterson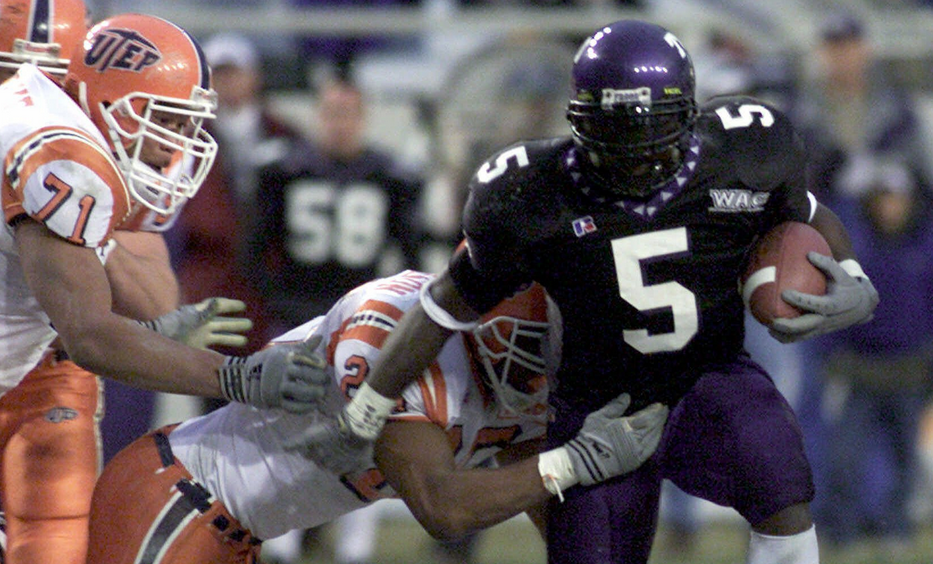 With Tomlinson's tale in mind, fast forward to the present, and consider the the current case of Vikings superstar running back Adrian Peterson. Like Tomlinson, Peterson has compiled gaudy numbers over his seven year career as a pro, rushing for 10,115 yards and 86 rushing touchdowns. Like Tomlinson near the height of his career, Peterson is arguably the best football player in the NFL right now. And just like Tomlinson's was, his name is often bandied about as the greatest running back in the history of the game. In fact, Tomlinson and Peterson's lives have been remarkably similar up to this point. They were born and raised in south Texas only two hours drive from one another. Peterson was born in Palestine and Tomlinson in Rosebud. Both were All-American and Heisman finalists who played collegiately in the south, where football is a religion and the faithful worship at stadiums on Saturday afternoons. Peterson ran for the Sooners of Oklahoma and Tomlinson for the Horned Frogs of Texas Christian University.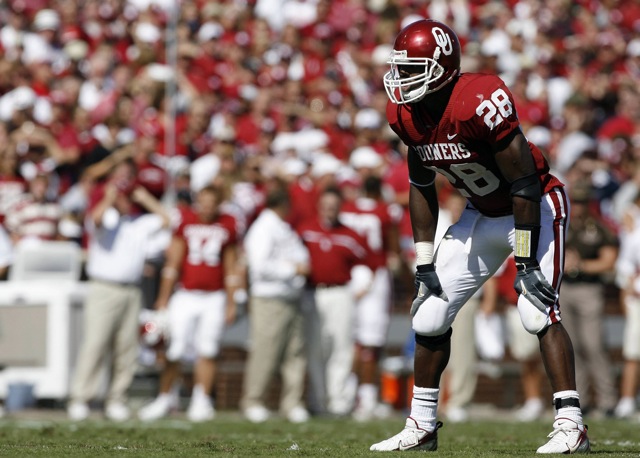 After such highly successful college careers, each was selected in the top ten of their respective draft classes (L.T. went 5th in 2001, A.P. was drafted 7th in 2007). And each player piled up comparable (and huge) individual statistics, each earning NFL MVP honors when they were 27 years old, despite enjoying limited playoff success. Perhaps more important to our discussion than any of those similarities is a comparison of Tomlinson's and Peterson's medical histories. Both have suffered through knee injuries at a similar point in their careers — Tomlinson sprained his MCL in the 2007 playoffs, while Peterson tore his MCL and ACL during the final game of the 2011 regular season. Each man also sustained significant groin injuries later on after returning to play — Peterson's required surgery this past December. The arc of LaDainian Tomlinson's career should serve as a warning to Vikings fans who believe Adrian Peterson's abilities will last a long time into the future, because while L.T.'s story is a cautionary tale, it is by no means a novel one. NFL running backs have a limited shelf limited and, according to conventional wisdom, hard historical data and just plain old common sense, Peterson's best days as a football player may in fact be behind him.
The 30 Year Wall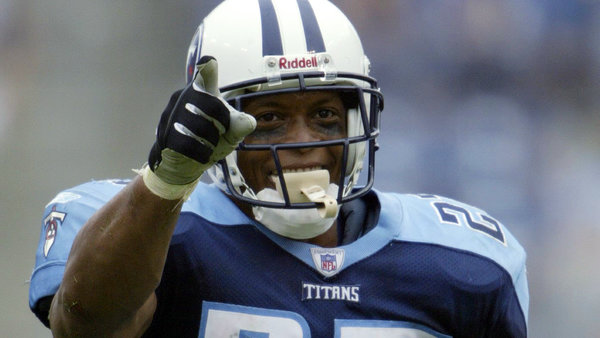 Elite NFL running backs tend to experience a drop in production as they near the age of 30. This is something that every player personnel guru in pro football, and every decent fantasy football owner, knows as gospel. In fact, (1) conventional wisdom along with (2) hard historical data tell us that 28 is the age at which we can expect running backs to begin a decline in production. The only question is how fast they will decline. Peterson, oh by the way, turns 29 on March 21st this year. (1) The conventional wisdom bit is simple: NFL football is a brutal game. According to NFLPA Union President DeMaurice Smith, the average NFL career lasts only 3.2 years, and running back is on the short list of most physically taxing positions on the field.
Think about it: The top NFL linebackers — another one of football's roughest spots — make 10 to 15 tackles per game. Featured running backs like Adrian Peterson often carry the ball twice as frequently, averaging between 20 to 30 carries per contest. Excepting touchdowns and plays that end up out of bounds, nearly every one of those carries concludes with a bone-crushing NFL caliber tackle. Adrian Peterson has carried the ball 2,033 times in his career, and he is not the type to avoid contact. Though he is an immensely strong runner who often gets the best of the violent collisions he is involved in, they are violent collisions regardless -- it is fair to speculate that his body has taken a significant accumulated toll as a result. (2) The hard data portion of the equation is as statistically complex and nerdy as you'd prefer to make it, and I prefer my equations pretty nerdy...
Here
is a brief report done in 2000 by Pro Football Reference which concludes that while receivers and quarterbacks statistically last a bit longer, "the word 'old' means 28 for a running back." The report goes on to provide data to evidence the fact that running backs peak at the age 26 or 27 and subsequently decline in effectiveness thereafter.
Here
is a study by Footballperspective.com that shows half of NFL running backs are "essentially washed up" by the end of the season after they turn 29. And
here
is an academic thesis out of the Haverford College Department of Economics examining the econometric models for the deterioration of an NFL running back (I warned you it could get nerdy). Among its conclusions, the study finds "running back production decreases gradually from the age 27-32," which, oh by the way, perfectly matches the arc of Ladainian Tomlinson's career and neatly brackets the age range in which our beloved Peterson presently finds his almost 29 year old self.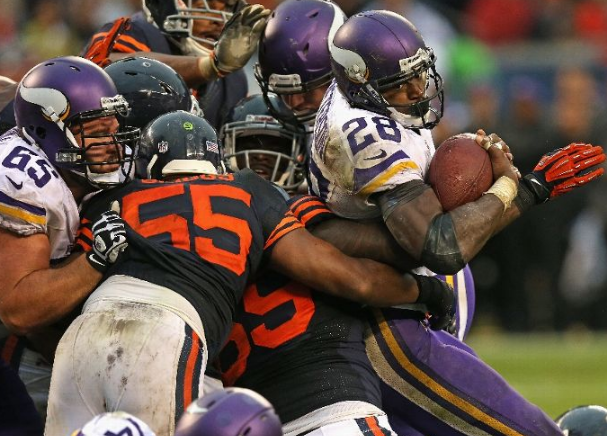 To be fair, all three studies I've linked indicate there is no perfect science to predicting when any given running back will hit the proverbial wall. All sorts of variables are in play and there are — as is the case with nearly any mathematical model — statistical outliers. However, I believe it is fair to say the consensus of these studies, as well as the conventional wisdom — in addition to plain old common sense — is relatively clear. While NFL running backs are elite physical specimens, of which Adrian Peterson may be the most elite to ever live, they also tend to lose significant production as they age and accumulate a large number of carries. Individual players may vary in their decline, and some exceptional cases of rushers producing at a high level past 29 or 30 may exist, but the data support a general trend of decline for running backs nearing three decades of age. "But Adrian Peterson is different!" says you. Adrian Peterson is
Awesome
(I capitalized the A on purpose). But, despite his
Awesomeness
, the once invincible All-American out of Oklahoma appears to be demonstrating some of the early, tell-tale indications that he is, in fact, mortal. Statistically, Peterson has already started showing strong signs he will not be the exception to the "30 Year Wall" rule of thumb for NFL running backs. Though he rushed for a respectable 1,266 yards in 14 games during 2013, his production was way off his 2,097 yard, MVP-winning performance from a year earlier.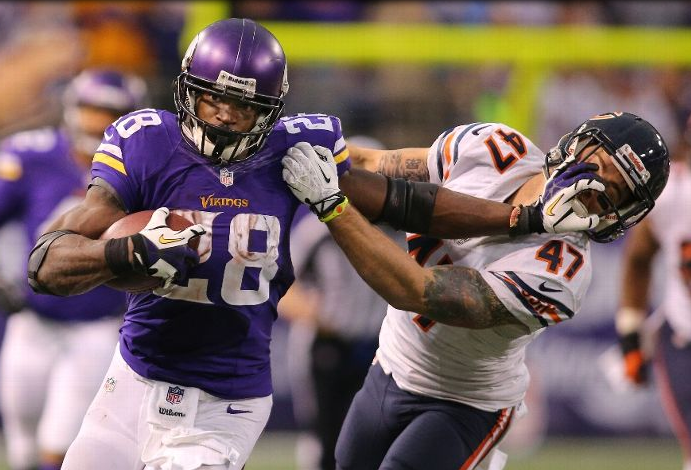 Further, Peterson's body has taken more than the baseline NFL beating from injuries over the last few years. He suffered the highly publicized, season-ending knee ligament tear in 2011. And though he came back with one of the greatest seasons in league history in the 2012 campaign, he looked noticeably less explosive throughout much of 2013, eventually missing the final two games of the season with a groin injury. Moreover, it is worth noting that though Peterson has always been in apparently incredible football shape, he also runs like a mad man, rarely eschewing contact and rather rambunctiously appearing to actually seek out opposing defenders to smash into. I doubt he'd disagree with my assessment of his running style. In fact, I'd imagine he'd be quite pleased with the description. This style of play, though entertaining to watch — and just flat out
Awesome 
— must reasonably be expected to contribute to more wear and tear than a player who was less, aggressive, in regard to how they played the game. In fact, when compared to Ladainian Tomlinson — who preferred to uses his quickness to elude defenders rather than run over them — Peterson's highly physical play is yet another reason I think it's likely he will not find a way to be an exception to the rule and slip through a crack in the 30 Year Wall.
The State of the Vikings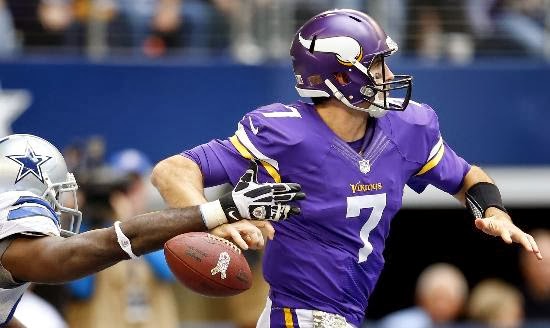 Based on their current roster and their lackluster performance this past season, it isn't anything resembling a bold prediction to say Vikings will likely not be a contender to emerge from the tough and balanced NFC North in 2014. Even if Peterson were to return to his pre-2013 form and turn in an improved performance over last year, given the Viking's numerous personnel holes — beginning (but not ending) with the quarterback position — unless Peterson were to rush for 2,500 yards, Minnesota is probably not going to make a serious run at the playoffs, let alone the Super Bowl. Trading Peterson now would allow the Vikings to get relatively high value for him before his production experiences the decline projected to accompany his "advancing age" -- don't worry, 29 is young everywhere outside of pro football. Teams on the verge of more legitimate Super Bowl prospects like the Broncos, or perhaps the Cowboys — who have both shown a willingness to spend liberally on player personnel — would be incentivized by the potentially significant boost Peterson's talents might bring to their offense. In exchange, Minnesota could accumulate multiple future draft picks to improve overall talent in their many areas of need. Think
'Herschel Walker Trade'
-- however, most NFL experts and personnel mangers acknowledge a trade of that magnitude would never take place in the current NFL.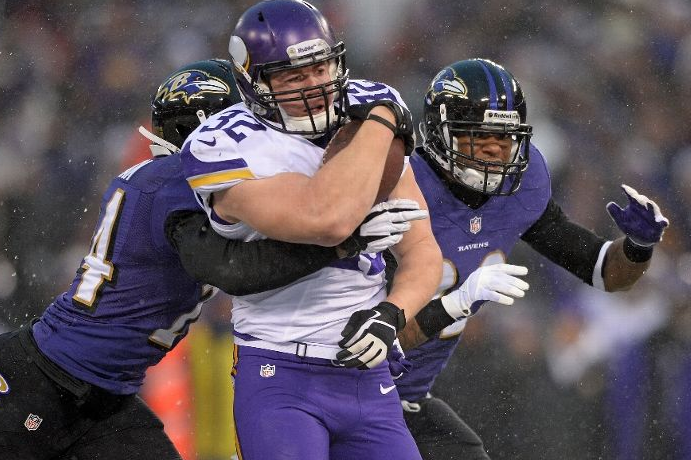 As an immediate replacement for Peterson, the Vikings have Toby Gerhart, who is only 26 and has shown flashes of brilliance in limited duty -- he is also a free agent, so his duties are not locked into the 2014 season. Gerhart has been a serviceable backup and more than one NFL
media
outlet
believes he could be a solid starting running back given the opportunity. If they don't trade him, Peterson will play out the remaining four years of the record-breaking seven year, $96 million contract he signed in 2011. He'll be 33 years old when the deal expires, I and expect his numbers and impact will decline in the meantime in accordance with historical precedent. It's very possible — I'd even say likely — that Peterson won't even be the full-time, feature running back for the Vikings by the 2016 season even if they keep him for the duration of his current contract. If Minnesota doesn't improve their team almost immediately, I expect Adrian Peterson will be one of many NFL elites who play into the twilight of their careers with no realistic chance of winning a championship.
Final Questions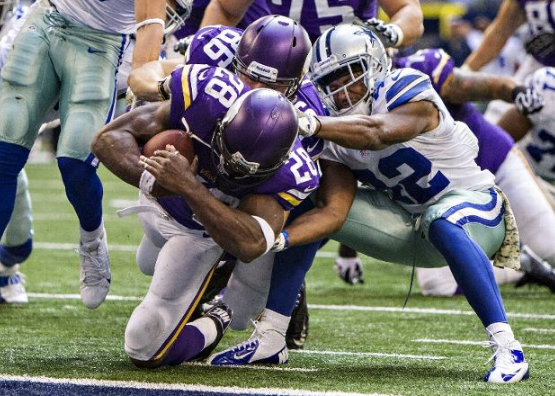 Will the Vikings trade Peterson? I doubt it. Vikings General Manager Rick Spielman sounded adamant in an interview with Pro Football Talk on NBC Sports Network in January:
"Adrian's not going anywhere," Spielman said simply.
Even though Spielman made a similar statement about Percy Harvin not long before dealing him to the Seahawks last year — in exchange for first, third and seventh round picks in the draft — he seems resolute about keeping Peterson a Viking:
"We have him under contract, he is the face of our franchise, he is a blue-chip player, and we have a new coaching staff coming into place, and you know, [we're] very excited about what's coming ahead for us", Spielman continued.
Everything Spielman says is true. A.P. is a great player and at the core of this Vikings team, and contracts and football strategy aside, Peterson is among the most popular players and best attendance draws in the NFL on top of being perceived as, unlike many
NFL stars
, a genuinely likable guy. With the new stadium set to open in 2016, even if he was doomed by personal health and historical precedent to be unproductive, I expect Peterson will stay a Viking if nothing more than to sell season tickets and keep morale high for Vikings fans who have already purchased their #28 jerseys.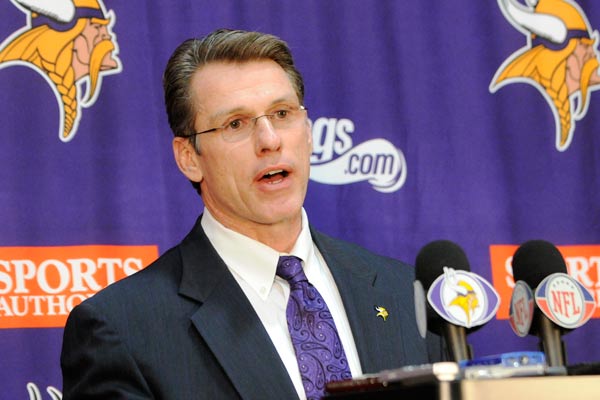 Do I want the Vikings to trade Peterson? Nope. Not really. AP is the most entertaining NFL running back since Barry Sanders and I love that he plays for my hometown team on Sundays. As Minnesotans, we are lucky to have him wearing a purple jersey and I hope he proves me and the data to be very, very wrong. But I also tend to trust the data and want to reasonable about my expectations for Peterson's future. While I supported the Minnesota's pick of Peterson back in the 2007 draft and I've enjoyed watching him ever since (his 296-yard game was my favorite), I also think the Vikings should try and make decisions that help maximize the team's success.
Should the Vikings trade Adrian Peterson? Yes. Absolutely yes.
More than perhaps any other sport, football is a team game, and having one legendary player doesn't make up for the aggregate weaknesses of a team. If Minnesota wants to assemble a 53-man roster that is capable of winning a Lombardi Trophy, they should cut their losses, trade Adrian Peterson, and use the draft picks they can get in return to help build a winning base of young players.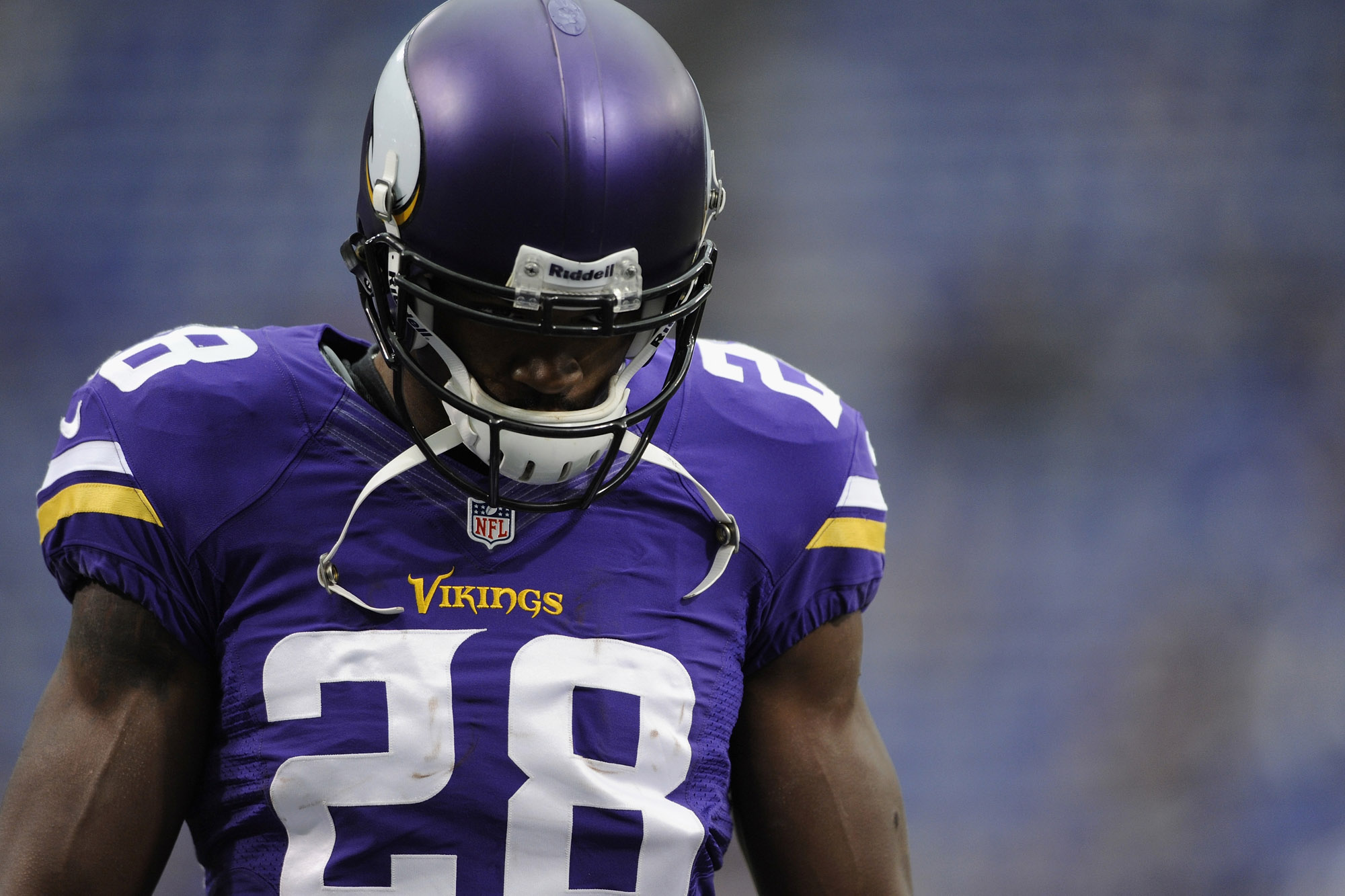 Just like Tomlinson did — and so many other great NFL running backs — Peterson is also getting older and, due to the severe accumulated toll that pro football tends to place on the human body, he is likely to slow down. A lot. And soon. Long before the Vikings will again be a legitimate contender, A.P. will be like L.T. and all the other NFL rushing legends who simply ran themselves out of effective carries. Trade Adrian Peterson now. The 30 Year Wall is coming. On March 21st, 2015.
Tick. Tock.
Photos via: Google