This is Game 7—Wild and Avalanche Face Off Tonight
Posted by Brent Lee on Wednesday, April 30, 2014 at 12:00 AM
By Brent Lee / April 30, 2014
Comment
[caption id="attachment_235391" align="aligncenter" width="570"]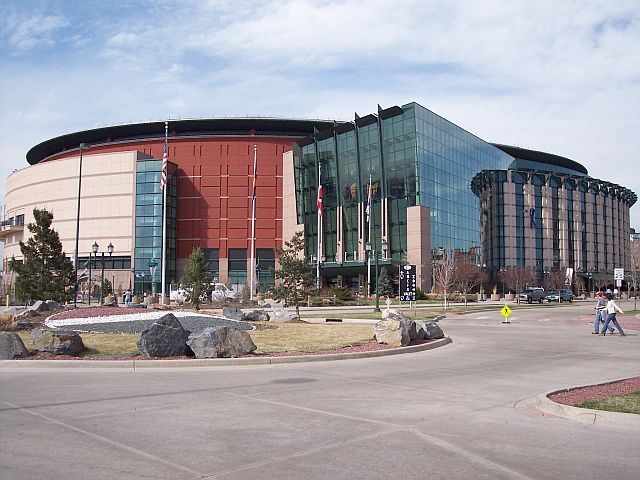 Pepsi Center in Denver, Colorado[/caption]
Author's Note:
I recommend you turn on the song "Eye of the Tiger" by Survivor in the background while reading this post. (Here is a link to the Youtube video.)
Game. Seven. The mere utterance of those two words will bring goosebumps to any diehard fan who loves their team enough to fathom the implications of what they mean in competitive sports.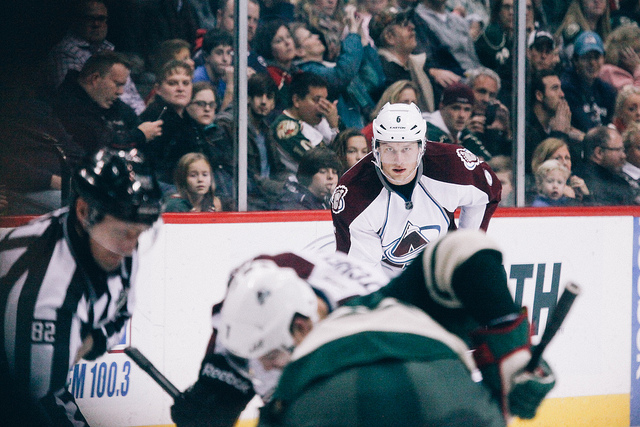 Game 7 is an elimination game for two teams in one night. It is desperation and finality — the climax in a campaign of battles pitting athletic warriors who refuse to surrender against one another in a single winner-takes-all fight for playoff survival. Pick your favorite cliche:
"This is for all the marbles!" "There's no tomorrow!" "If you lose, you go home!" "It's do or die."
You'll hear every one of those glib little one-liners if you tune into tonight's telecast. And even though I'm well aware it's
just a game
, and there are much bigger problems facing our world right now than whether or not my hometown hockey team wins tonight,
I'm amped for Game 7, baby
!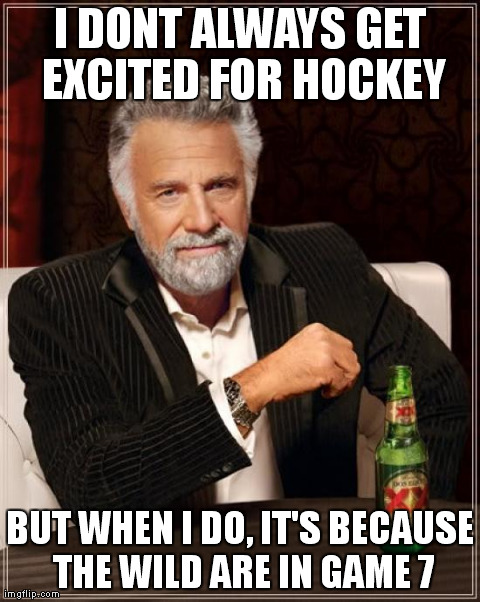 I'm not even a huge hockey fan, but I'm buying fully into the Minnesota Wild right now — I've got my
playoff beard
growing strong and I'm laser focused on this evening's epic 'Duel In Denver'. Zach Parise, Mikko Koivu, Ryan Suter and company head west to Colorado to battle the young and talented Avalanche for a chance to move on to round two in this year's NHL Playoffs. If the Wild can best the Avalanche, it would be the first playoff series victory for Minnesota since their epic run back in 2003... Remember those 2003 playoffs? It was our fledgling franchise's first foray into postseason puck, and they made it a memorable one. After falling down three games to one in the opening round against the same Colorado Avalanche, the Wild battled back to win the series — in seven games. Then, in round two, the Wild summoned similar magic, clawing back from another three games to one deficit to overtake the rival Vancouver Canucks. Minnesota became the first team in the history of the NHL to comeback from two 3-1 series deficits in a single postseason. Those more-than-a-decade-old playoffs were a blast in the Twin Cities — it seemed like everyone was talking about the Wild. And though our inspired run ended in the Western Conference Finals, for a few weeks in April and May of 2003, Minnesota — the "State of Hockey" — was enamored with their home club. A win this evening could restore some of that 2003 magic and make our state wild for the Wild once again. [caption id="attachment_235400" align="aligncenter" width="342"]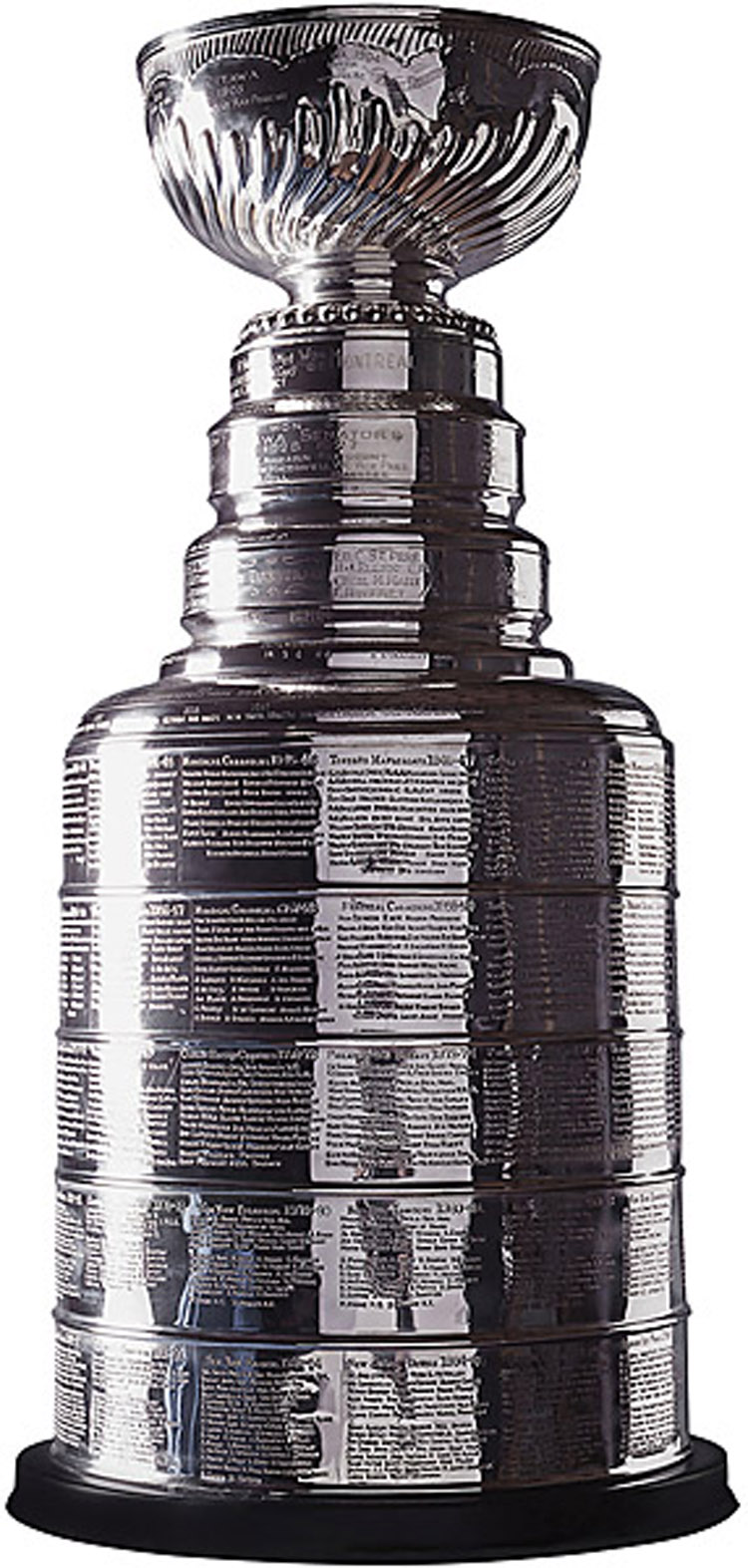 Maybe this is the year?[/caption] *** There are plenty of questions in the air entering tonight's tilt: So far in this dramatic series the home team has won every game — can the Wild find a way to flip that trend and triumph on the road? Games one, three and five took overtime to determine a victor — will game seven share a similar fate and require more than three periods for a series winner to emerge?
Can the Wild keep 18-year old phenom Nathan MacKinnon, a newly-healthy Matt Duchene, and the rest of Colorado's explosive scoring force at bay? Or will the Wild succumb to the relentless offensive barrage of which the Avalanche are capable? How will the relatively inexperienced Wild goalie Darcy Kuemper handle the pressure of playing on the road in this decisive playoff game? Will he embrace the moment and thrive? Or will he buckle under the weight of the pressure and flop? Will a previously unsung hero (who is close personal "
friends
" with Minnesota Connected's Editor) emerge for the Wild and became an instant star a la Mikael Granlund in Game 3? Will
@SnowflakeNelson
(
#Ladyinpink
) be in attendance at Pepsi Center tonight after her
(in)famous
Xcel Center tirade? [caption id="attachment_235386" align="aligncenter" width="570"]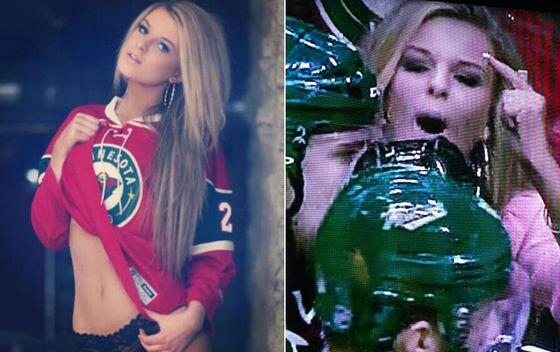 The lovely (and loud) Wild Fanatic @SnowflakeNelson[/caption] All those questions (and more) will be answered tonight in Denver Colorado. We'll find out which team possesses the grit to continue in their pursuit of Lord Stanley's Cup and which team will spend the next six months trying to forget April 30, 2014. Thus far, the series has been a heart-wrenching roller coaster, filled with intensity, intrigue, disappointment and resiliency in the face steep obstacles. Despite the drama and heroics so far, I'm optimistic tonight's game could be the most exciting of the series. After all,
this
is Game 7. Photos via:
Justin Fennert
—
Anglerove
— Brent Lee — Wikipedia