Timberwolves' Big Night: Draft Towns and Tyus Jones
Posted by Travis Bridell on Sunday, June 28, 2015 at 12:00 AM
By Travis Bridell / June 28, 2015
Comment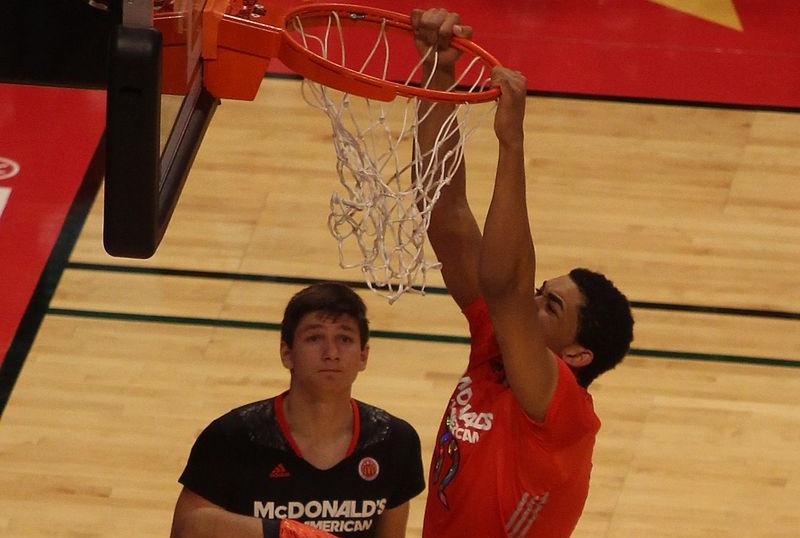 Going into the draft Thursday, it was basically a lock that the Timberwolves were going to select Karl-Anthony Towns with the first number one overall selection in Minnesota basketball history.
This certainty came after months of speculation that Coach/GM Flip Saunders was enamored with Duke big man Jahlil Okafor. In fact, Towns didn't know he was going to be picked first until NBA commissioner Adam Silver nodded at him before announcing the first pick.
Instead, Saunders and the Wolves ended up with Towns and Okafor's former Blue Devil running mate, Apple Valley's own Tyus Jones.
Jones was the 24th overall pick, which Minnesota earned by trading the 31st and 36th picks from this draft and another future second round pick (The 36th pick was from the Corey Brewer trade, so thanks Brew.)
The two had fantastic seasons as freshman in the NCAA (This year's draft had 13 freshman taken in the first round, most ever.) Towns wasn't asked to score as much as Okafor due to the plethora of talent at Kentucky, but his defense is a large reason why the Wolves selected him. In about 21 minutes per game, he averaged 10 points on 57% shooting, six rebounds and two blocks. He should only be able to improve those numbers with greater time on the floor and the natural progression of his talent.
Who better to learn from than (Wolves' sherpa) Kevin Garnett? (Here's a great piece on why Towns is a great fit for today's NBA and a new age KG.) Garnett accepts his role as a teacher and ought to be a great tool in developing Towns, a workout warrior like Garnett.
"Outside of Kevin Garnett in '95, Towns had the most impressive workout I've seen," Saunders said.
Saunders also added that Towns' defense will help the team's transition offense. On Jones, Saunders added that he plays well on the big stage and is a natural leader who Flip has been watching "since [Jones] was a sophomore in high school."
The 6-2 point guard led Duke to the NCAA Championship this with 11.8 points, a team-high 5.6 assists and 3.5 rebounds, upping his play in the NCAA tournament. He had a stellar outing in the National Championship against Wisconsin with a game-high 23 points, earning Most Outstanding Player of the tournament. Towns joins John Wall in 2010 and Anthony Davis in 2012 as Kentucky Wildcats selected number one overall.
The core of youth the Timberwolves now possess in the two picks from Thursday, Andrew Wiggins, Zach LaVine, Shabazz Muhammad, Adreian Payne, Gorgui Dieng and Ricky Rubio infused with leadership from KG and Kevin Martin, looked poised to make a big step and plan on not earning the top pick in the 2016 draft.
The new lineup will allow Jones to spot Rubio and fill in for potential injuries, rather than forcing LaVine to play slightly out of position at the point. In addition, Towns ought to pair well with the other bigs on the team.
Towns says he was roommates with his new teammate and fellow number one overall pick Andrew Wiggins back in the 2013 Nike Hoops Summit and he can't wait to play with him. Jones is also the first time the Wolves have acted as homers and picked a Minnesota kid since former Gopher Rick Rickert (who famously fought KG) in the second round (shout out to David Brauer on that tidbit).
At the end of the night, Timberwolves general manager Milt Newton added:
"We believe we hit a homerun."
That's exactly what it seems like, as the Wolves look to turn around their fortunes for the future.