Timberwolves Trade Corey Brewer to Houston
Posted by Travis Bridell on Friday, December 19, 2014 at 12:00 AM
By Travis Bridell / December 19, 2014
Comment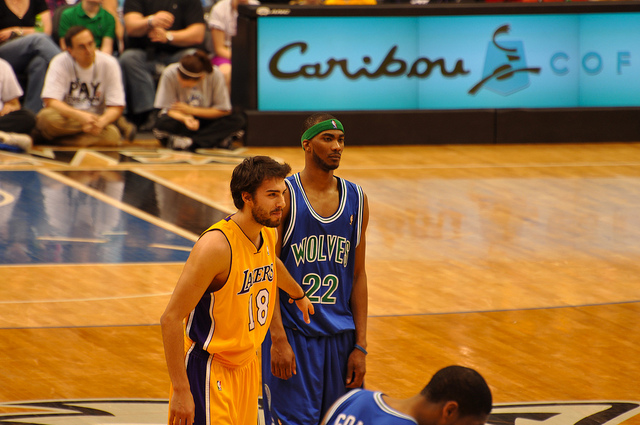 In an unsurprising move, the Timberwolves (5-19) have traded away small forward and former first-round pick Corey Brewer for the second time, as first reported by Yahoo Sports'
Adrian Wojnarowski
. Brewer has been with the team since last season, in which he recorded a career-high and franchise record-tying 51 points against the same Houston Rockets (19-6) he will now be suiting up for. The Rockets reportedly gave up 6-foot-4 shooting guard Troy Daniels and draft picks for Brewer and backup power forward Ronny Turiaf. Turiaf is out for the season due to injury.
Brewer had been rumored to be on the trade block with contending teams like the Cavaliers and Clippers also looking at the veteran swingman. 
It had been rumored for some time that Brewer might be on the move. The 28-year-old was one of the more experienced players on the Timberwolves, but will fit well into a new role for Houston, most likely coming off the bench as another defensive ace to Trevor Ariza as the Rockets push for a top seed in the playoffs. Interestingly enough, Brewer's three trips to the playoffs have come in his only three years away from the Wolves.
Brewer was averaging a shade over 10 points per game and leads the league in steals with 2.25 while playing 28 minutes per game. His minutes and starting position will be headed to 2013 lottery pick Shabazz Muhammad.
The first time the 6-foot-9 Brewer was in a Timberwolves jersey, current Rockets coach Kevin McHale was in charge of basketball operations. McHale also coached Brewer when HE was the Timberwolves head coach during the 2008-09 season. 
"To get traded to a team where the guy who's coaching is the guy who drafted you, that's my guy, I love Mac," he told Jerry Zgoda of the Star Tribune who had noted in the morning that Brewer was at shootaround.
Jonathan Feigen of the Houston Chronicle reported the potential second-round draft picks the Rockets will be giving up:

Daniels has logged 6.4 minutes per game in 17 appearances, averaging 2.7 points. On Thursday, Daniels went 3-of-4 on three-pointers for a season-high nine points.
Photo by: 
k1k0.com