Timberwolves Training Camp Starts Up
Posted by Travis Bridell on Friday, October 3, 2014 at 12:00 AM
By Travis Bridell / October 3, 2014
Comment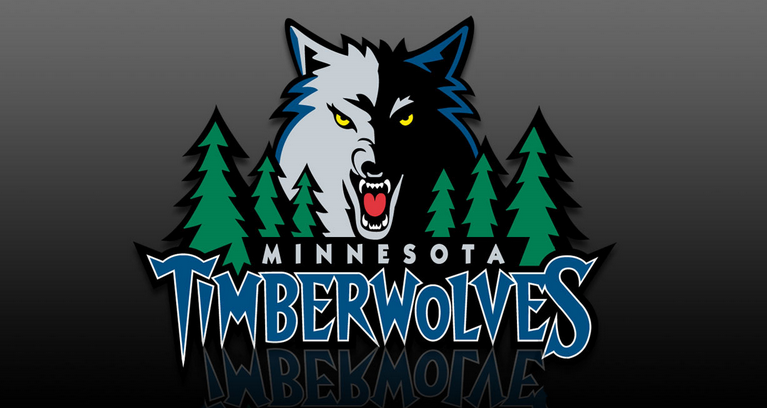 Four days into training camp, the Timberwolves are working on everything from cohesion to shooting. There is also a lot of competition for playing time on this squad.
"There's a lot of young guys who want to take the spot and there's the vets who don't want to let that happen," point guard Ricky Rubio told the team. "… I'd say that's good with a training camp."
Camp kicked off at Minnesota State University-Mankato with
"
Dunks after Dark" Monday. The event included three 12-minute scrimmages and a 10-minute freestyle session. The excitement swirling around the team is fervent as the team had a record ticket sale since the Kevin Love trade. This excitement was apparent at the event where fans were treated to fancy passes from point guard Ricky Rubio to many of the new athletic Timberwolves acquired this offseason. 
Rubio has a new shooting coach, Mike Penberthy, whom he practiced with for a week over the summer. Penberthy and the rest of the staff is trying to raise Rubio's career shooting of 37% as well as improve upon last year's team shooting percentage of 44%.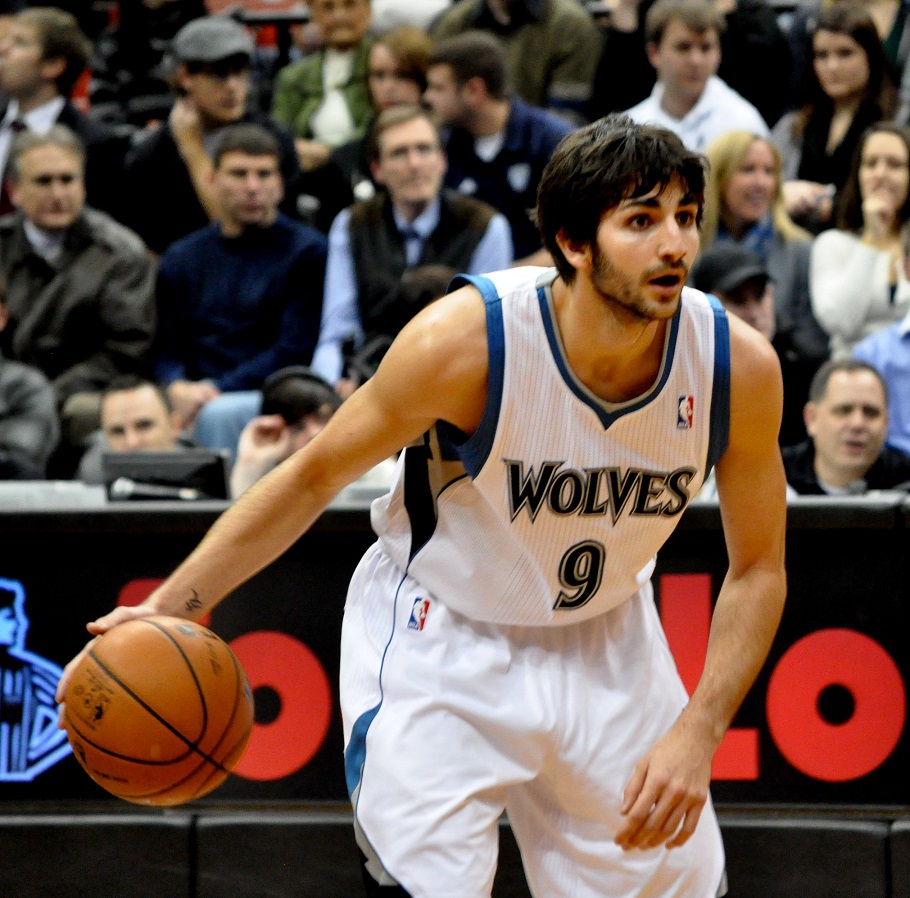 The amount of competition on the team now boils down to the new, unique mix of veteran and youth talent. 
Headliner 
Andrew Wiggins
 has been praised by players and fans as most are hoping for the young man to bail the franchise out of its ten-year playoff drought. Joining fellow rookie Wiggins on the wing is 13th overall pick Zach LaVine who wants to prove that he isn't just another raw, hyper-athletic player.
"I feel like I showed a lot of my game is passing ability, you know, scoring, shooting, different things like that," Lavine said. "I'm very excited to show my whole game."
He and the rest of the team tossed footballs around in practice Friday (after the embarrassing loss by the Vikings Thursday night). Meanwhile, f
ormer Timberwolves' and Pistons' guard Chauncey Billups was there as a guest of
coach Flip Saunders
 for a few of the days. The new, and old, coach hopes to regain the success of the teams he last led to the playoffs as he trims the 18 camp participants to 15 ahead of the season opener in less than four weeks.
"It's going to be very interesting to see the dynamics of how all that comes into play," Saunders told the Pioneer Press Monday.
A major factor of the team will be new veteran forward Thaddeus Young who is looking to keep up his production of a year ago. For the 76ers, he averaged 17.9 points per game and over 30% three-point shooting. He admitted he won't be putting up Love's 26 and 12, but would much rather take a team to the playoffs than put up numbers.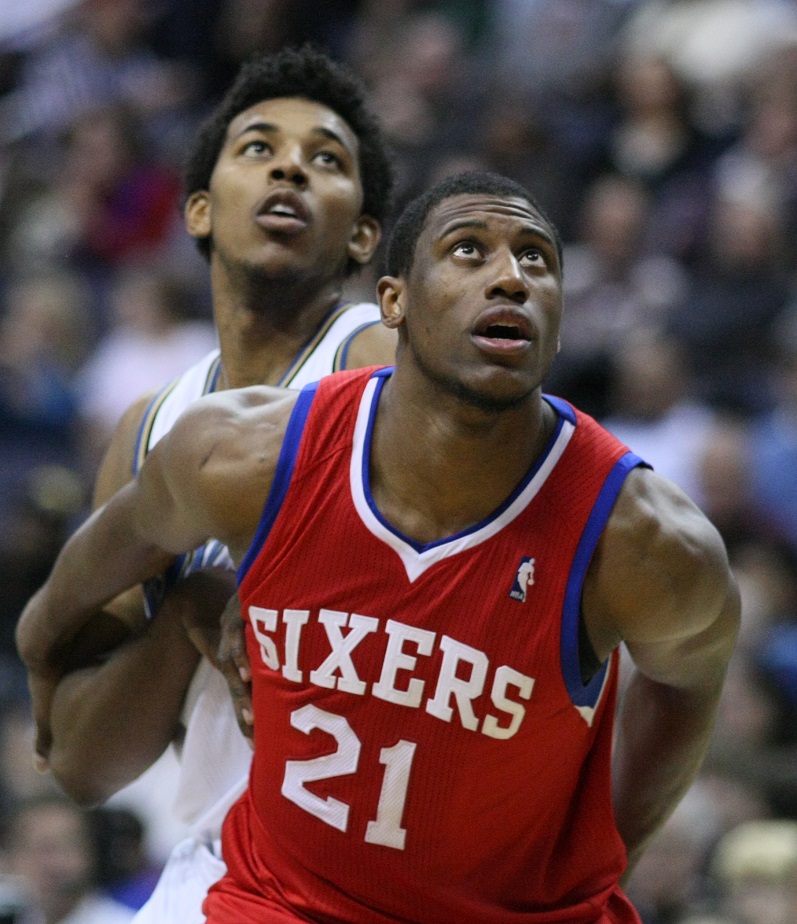 Young will be mentoring a lot of the new players along with other veterans Corey Brewer, Mo Williams and Kevin Martin, among others.
None of the players were sitting around during the offseason, though.
Wiggins, Young, LaVine and Anthony Bennett had a grand welcoming at the State Fair, while second-year players Bennett and Shabazz Muhammad both
slimmed down
considerably. Ricky Rubio, center Gorgui Dieng, and guard J.J. Barea all took part of the FIBA World Championships this summer in Spain. Barea led the games in points with 22 per game over five games for Puerto Rico. Rubio was third in assists with 5.1 assists along with 5.5 points and 4.4 rebounds in seven games. Dieng averaged 16 points and 10.7 boards, leading Senegal to the elimination round in six games. The Timberwolves are hoping to give more playing time to Dieng to keep down the wear and tear on Pekovic. Pek only played 54 of 82 possible games last season, and while he was out for an extended period at the end of the season, Dieng filled in nicely. The rookie had two 20-rebound games and several double-doubles in Pek's absence. Timberwolves prospect 
Nemanja Bjelica
, who may or may not join the Timberwolves at some point in the future, was also at the FIBA games. He averaged nearly 12 points, 7 rebounds and 3 assists per game in nine games, taking Serbia to the finals in which they lost to the United States. There is a lot of optimism in this first week of camp and for Wiggins, LaVine and others the chance to get some real NBA action is looming.
The Timberwolves' first preseason game is Oct. 7 in Indianapolis to take on the new-look Pacers. There are seven preseason games before the regular season kicks off on Oct. 29 against the Grizzlies in Memphis.
Photos via: Minnesota Timberwolves -- 
Joe Bielawa
 -- 
Keith Allison