'Trail of Terror' Lives Up to the Name
Posted by Leah Putz on Wednesday, October 21, 2015 at 12:00 AM
By Leah Putz / October 21, 2015
Comment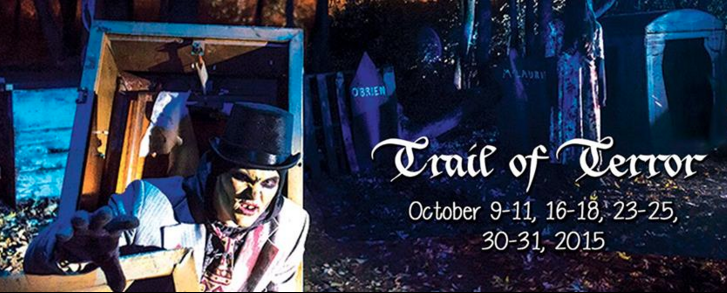 Ghosts, villains, monsters, and murderers. When you think of the typical 'haunted house' of Halloween themed festival, these are the things that come to mind. And Trail of Terror, located in Shakopee, on the same grounds as the Minnesota Renaissance Festival, packs a punch with all of these and more. The eerie feeling begins immediately with the drive into the trail grounds. The park doesn't open until 7 p.m., so you're driving in at night, and you're directed through a narrow trail of trees with little to no light around. It feels like a scene from a horror movie and goes on just long enough that as soon as you start wondering if you've gotten horribly lost, you see the trail grounds and the parking lot. It's a bit overwhelming first walking into Trail of Terror -- there's so much to do and you're not sure where to start! My friends and I -- all being huge 
Game of Thrones
fans -- headed immediately to the "Throne of Swords" setup with the big "Meet the Dire Wolf" sign nearby. Giddy, we climbed up onto the Iron Throne and took our photos before gazing at the sleeping dire wolf caged beside the throne.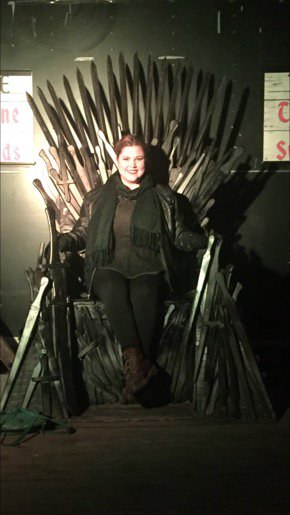 We briefly considered Knockerball -- an interesting sport where each player wears a large inflatable ball around them and then, as far as I can tell, just run into each other (don't quote me on that), but quickly decided that we'd rather spend the extra five dollars on the mechanical bull. Yep, that's right. They had a mechanical bull. And you got three turns for five dollars, which I thought was well worth the money, even though I fell off after two seconds every time. After exploring a bit more of the grounds, which included three large bonfires, a few bars, karaoke, and some food stands, we decided to get down to the scary business. The two main attractions to Trail of Terror are the maze, which is three-quarters of a mile long, indoors, and heated, and the outdoor trail walk. In addition to those, there are several small trailers which function as mini haunted houses, each only about a minute long. Unless you get lost in the Crubbs Pest Control house and wander around in the dark for an extra few minutes, as I did. We hit all the miniature trailers first, making sure to get to each one before taking on the main attractions. All of the trailers are short bursts of fun and terror, but the highlights were Crubbs Pest Control, Crystal Caverns, and Chuckles Pizzeria (especially if you saw the last season of 
American Horror Story: Freak Show
). But none of them held a candle to the indoor maze, dubbed Hotel 666.

Hotel 666 is made up of 25 different themed 'rooms' linked together in a large warehouse, forming one giant, long, terrifying walk through hell. Though it's only three-fourths of a mile, it feels never ending, and just when you think you've escaped it, Jason from 
Friday the 13th
chases you right back inside. The rooms evolve as you move throughout the maze; at one point you're walking through a mock cemetery with ghouls lurking behind tombstones, and then you turn a corner and you're in a butcher's shop with bags of fake corpses hanging from the ceiling and strobe lights going so quickly it's hard to stay oriented. It's a rush of adrenaline like no other, and you're on edge the entire time until you finally stumble out into safety and feel a bit of relief. After a drink, a corn dog, and some deep breaths of the crisp fall air, we decided to go back for more and try the Howling Pines Woods Walk. Though the woods walk didn't pack as much of a punch as the indoor maze did, it was still unnerving to be walking in the dark through the woods and have people jumping out behind trees and scaring you. The most terrifying thing that happened was when someone jumped out of the leaves, he was completely camaflouged and took us totally by surprise. I was struck by, surprisingly, the beauty of some of the decorations. There were lights strung up in the trees and when there wasn't anyone around to terrify me I felt like I was in a scene from 
The Lord of the Rings
 or something of that ilk. After the trail walk, it was time to go home so we filed out of the Trail of Terror grounds. As we left, I reflected on my hesitation before Trail of Terror. I wasn't sure I wanted to pay $19.95 to get in, but in hindsight it was absolutely worth it. And we didn't even take advantage of everything they had to offer or visit every attraction! Trail of Terror is open Friday-Sunday until Halloween and if you have a chance and the heart, I would definitely recommend spending a night there this spooky holiday season. For more information, visit: 
http://www.trailofterrormn.com/
Photos courtesy of: Leah Putz -- Trail of Terror