Traveling in Portugal -- The $2 City Bus Ride to Oz
Posted by Tony Randgaard on Saturday, August 31, 2019 at 12:00 AM
By Tony Randgaard / August 31, 2019
Comment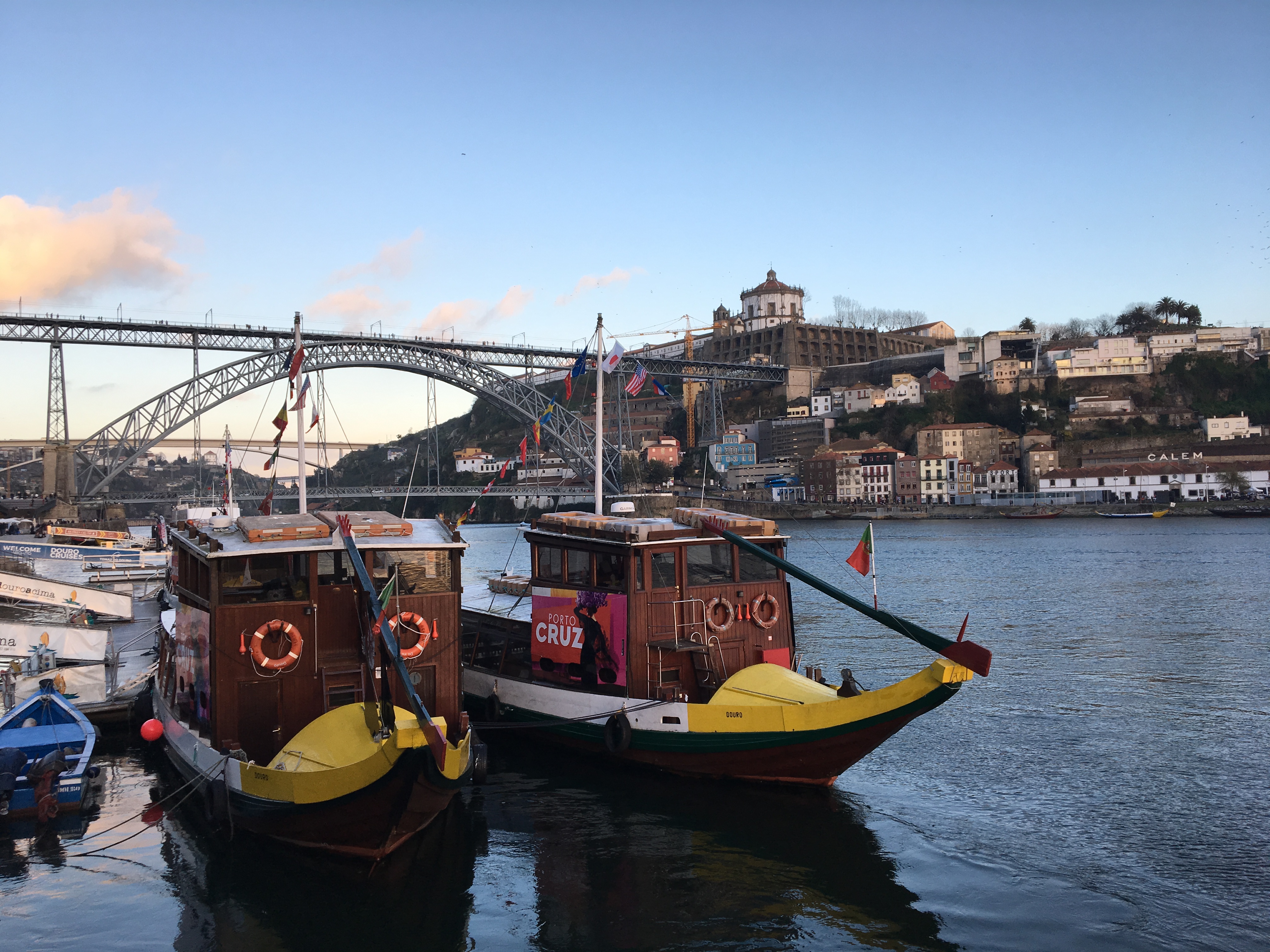 It's nearly impossible to find a travel bucket list ranking that doesn't contain Porto or Lisbon, Portugal. From spectacular rivers and beaches to pristine medieval architectural wonders, the country is a glowing media darling. Is it all that it is cracked up to be? Let's follow one bewildered Minnesotan on his excursion from the downtown Porto McDonald's.
Something just doesn't seem right here. My legs are still burning after traversing the 225 steps of Porto's Clerigos cathedral tower (see photo) and now I am rejuvenating with a "Coca Cola Sem" (Coke Zero) at the nearby McDonald's. Maybe a McDonald's from an alternate Portuguese universe? The entrance is guarded by a bronze eagle statue perched on stone columns, surrounded by large glass windows that soar to the arched roof. Inside, I'm surprised by exquisite art deco stained glass and chandeliers right out of the Waldorf Astoria. In a city that will exhaust your phone memory with photo-worthy vistas, I break down and start snapping my first-ever photos of a McDonald's.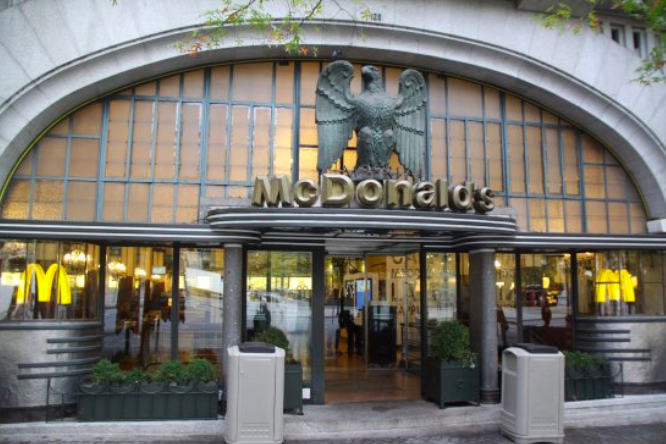 I check my Google map and see that my bus stop to get to the beach is just on the other side of the street. It may be an ironic adventure because I am headed from the home of the Big Mac to a beach bus stop called Castelo de Queijo or "Castle of the Cheese." I sip my drink and notice there is already a line for the Porto STCP bus number 500. In a few moments, the line grows to 20, and then 30 people and still there is no bus in sight. When the queue reaches 50 people, I am wondering how can this bus be as popular as a Star Wars opening? Then shrug my shoulders and decide I'll wait for the next one since I don't want to stand. When the bus finally arrives, it is a modern two decker motor coach with reclining seats and expansive windows.
I join the line early for the next one, hand over two Euros ($2.25) and head for the upper deck. After claiming a window seat, the bus starts edging its way down Porto's cobblestone streets. Streets that seem even narrower with the lofty bus crowded by stone storefronts, built right up to the sidewalk. We follow the street Mouzinho de Silveira downhill past a string of outstanding tapas restaurants including Cantinho do Avillez and Tapisco Porto. Cantinho is run by the country's superstar chef Jose de Avillez while Tapisco is a great value and you can plop down right at the kitchen counter and create your own chef's table.
Within a mile we are nearing the banks of the Douro River, an imposing waterway that has driven the commerce of Porto for centuries. When the bus emerges from the last row of tall buildings and careens north onto Rua do Infante Henrique, there is a collective gasp of wonder "Ohhh" reverberating through the cabin. And rightfully so. Hundreds of feet above the Douro, we are rewarded with a startling panorama of the river dotted with cruise ships, ferries and the ancient, iconic rebalo boats. (see header photo) The river banks are painted with the brilliant pastel colors of Portuguese architecture — a Monet-like tapestry of pink, azul, magenta and yellow buildings capped with the signature Porto red-tiled roofs.
If the truth be told, this scene would easily fill three days of your sightseeing calendar.
· Behind me to the left is the double decker steel suspension bridge Dom Luis I, designed by Gustave Eifel. The top deck is pedestrian friendly, elevated hundreds of feet above the river, delivering some of the most stunning views in the city.
· Straight ahead on the opposite river bank is Vila Nova de Gaia, a bustling hub of port wine lodges. I recommend crossing by the same Dom Luis I bridge and then jump on the cool aerial gondola, Teleferico de Gaia which gracefully eases you down to the river bank. (see photo) From there you can walk to a handful of the tradition-rich port wine lodges such as Porto Augustus, Quinta dos Corvos or Graham's. Their tours showcase the history and art of the Portuguese wine business. Buy a bottle of their wine and the tour is free; then consider that several of the lodges make it easy by shipping wine right back to your home in the States.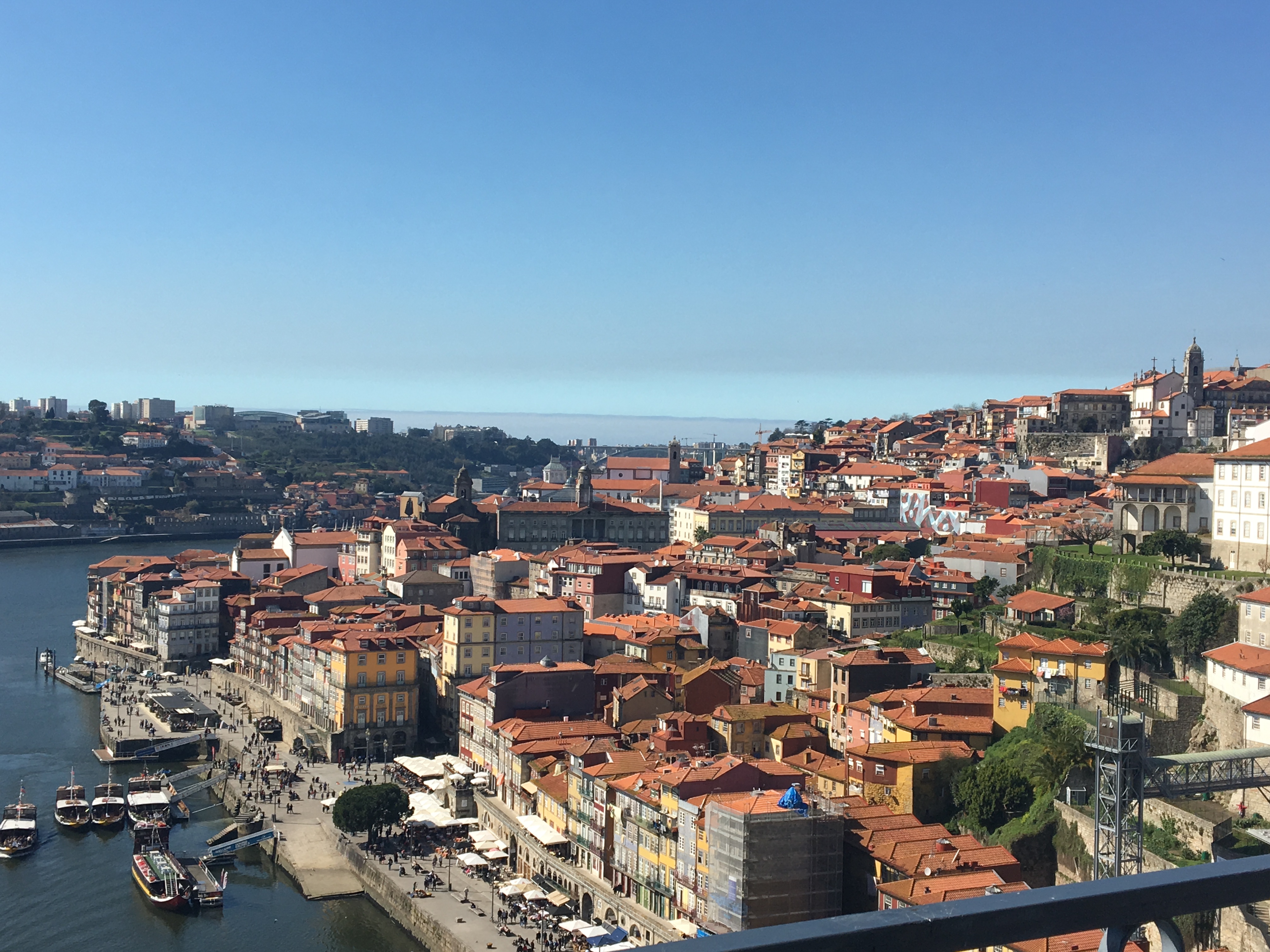 · As the bus veers right, I take in the sights and sounds of the busy Ribeira Square and waters-edge promenade. The boardwalk is full of interesting restaurants, patios, street entertainers and river cruise opportunities. Even in March with temperatures in the high fifties or low sixties, the sun was intense. After 20 below zero in Minnesota, I was happy to lather on sunscreen and plant myself in the Ribeira shoreline patios.
As the bus cruises past the Ribeira, I settle into sightseeing mode: a pleasant day dream absorbing the river, neighborhood and the rhythm of stops every few minutes. (Most with no one getting on or off.) I marvel at more single oar rebalo boats. Strictly for sightseeing and selfies now, they used to be the workhorse cargo engine, delivering the renowned port, red and white wines from the valleys to Gaia for aging and storage. In a few minutes, I notice the Douro is gradually widening, its mouth morphing and stretching into the wide blue sea.
A number of tourists get out at the first seaside village of Foz do Douro, with large breakers crashing against the beach in the background. My goal is the Castle of Cheese but as several more idyllic ocean stops pass by, I am seriously doubting my plan. I can see the beach and it is drawing me like a magnet -- a wide white sand beach dotted with rugged craggy rocks that could double as a Northern California postcard.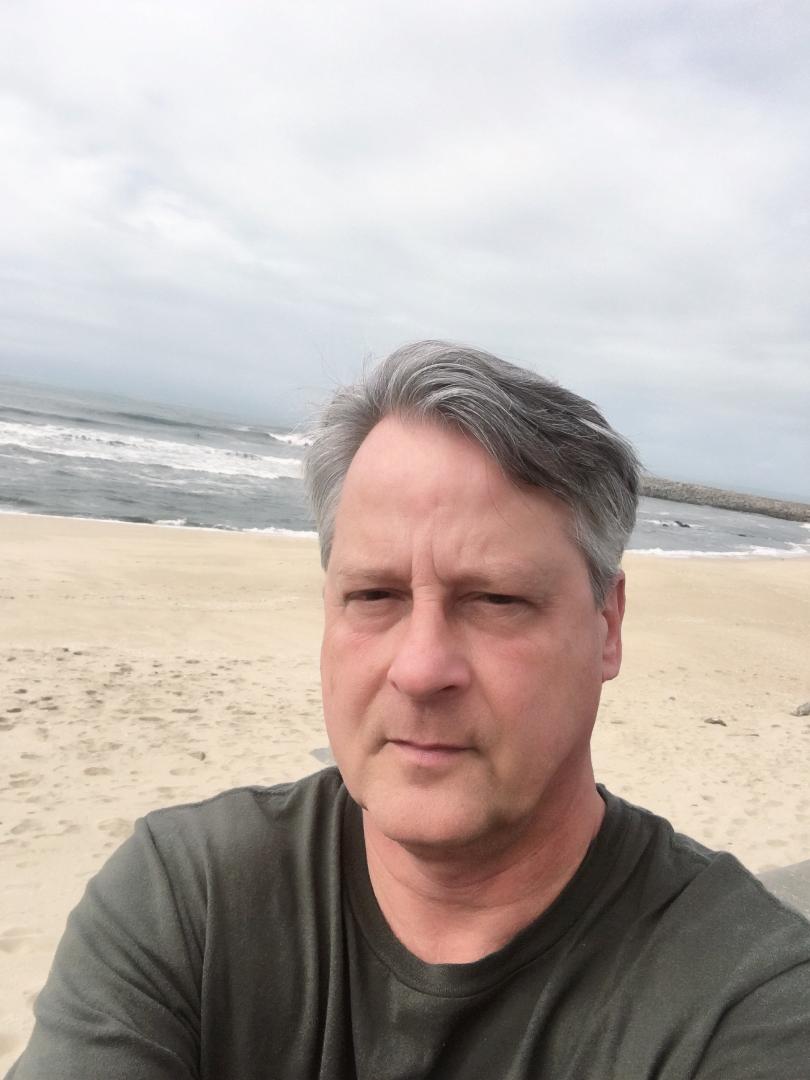 When I finally hear the Castelo de Queijo stop I stumble out and the beach is only steps away. I have found a new favorite place. The castle delivers surreal views of the Atlantic in all directions and costs only 50 cents for entrance. Wow, this trip is into my wallet for $2.75! And then on the other side of the castle, I find the wide pedestrian promenade that stretches for miles and leads me back to what might as well be the yellow brick road to Foz. It's nearly impossible to walk more than a block or two without plopping down, taking photos and soaking in Porto's ethereal perspective.
I admit the idea was to get some exercise and hike back to see the fortress in Foz (the Fortress Sao Jaoa Baptista da Foz). I mean I'll at least keep a pace similar to the skipping heroes in the Wizard of Oz. The walkway is excellent and it's barely over a mile. Soon, two great beverage/snack stops run my exercise plan off the rails. My best laid plans turn the "hike" into a leisurely afternoon of tanning, napping and sipping the local beer favorite -- Superbock.
My first detour was Ibar Praia de Aqurio, nestled right on the beach. So close you are expecting beach restrooms or a shower but instead the concrete bunker offers coffee, draft beer and appetizers. I make notes about what a cute place it is with patio tables and my chaise lounge hanging right over the beach. Then four blocks later, have to erase them at the Homem do Leme café -- which is even better. They have a full blown restaurant with great views and cushy sofas galore.
By the time I made it to Foz, I felt the same wonder and excitement of Dorothy and her friends when they caught sight of the Emerald City. There was no doubt I was coming back to this wonderful seaside. It was easy to find a nearby #500 bus stop and catch the bus back into town. But this time as we roll ahead, I am frantically taking notes about passing neighborhoods so that I can pick just the right Airbnb spot — for next year's vacation in Portugal.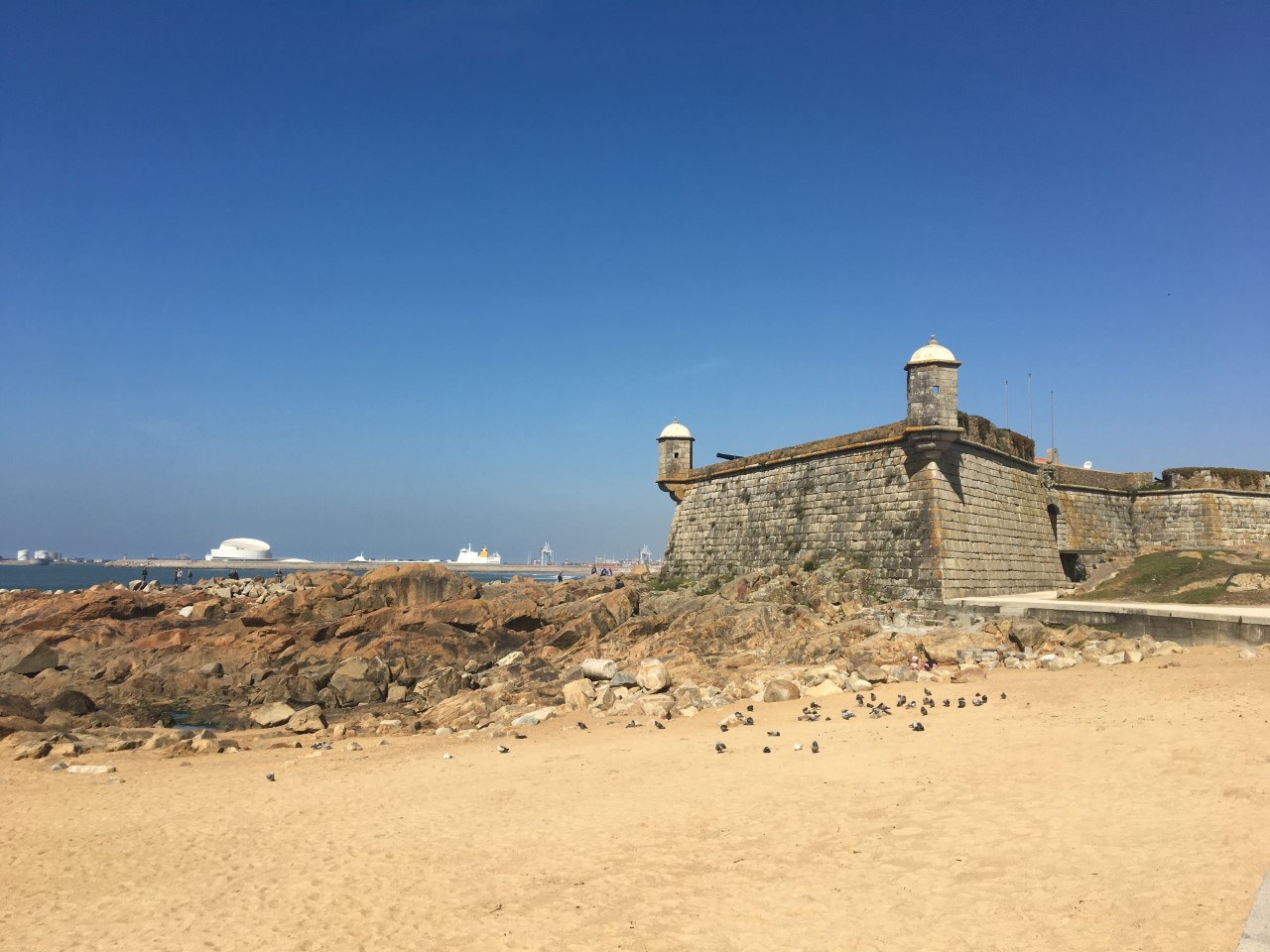 The Secret to Low Fares to Portugal
Don't let the fare finders such as Kayak or Google Flights scare you off. In the spring, I found a Norwegian Air one way fare of $149 from Chicago to London-Gatwick (drove from MSP) and then tacked on TAP Air Portugal flight for a hundred bucks right into Porto. You can use the same method from other Norwegian Air or low cost carrier gateways. Oh and by the way, Norwegian operates the 787 Dreamliner from many of its gateways. That is a bucket list item in itself.
From Porto, I took the CP train first class to Lisbon for $42. That got me a comfy business class-type seat, my own row and a window seat to take in the spectacular sights. And the train zooms along, often at speeds over 100 MPH. From Lisbon, there are cheap short hop flights to Gatwick or Stansted, rinse and repeat with a low cost flight back to the States.
For frequent flyers, major carriers such as Delta, United, and Air France- KLM fly to Lisbon. Delta has run economy award sales for spring travel from the U.S. to Lisbon for as few as 30,000-44,000 miles. In the friendly skies, note that United ran one of its best award promotions on Cyber Monday enabling U.S.-Lisbon in the range 40,000- 48,000 miles round trip.
Well, the ball is in your court now. If I can turn a dazed and confused Mickey D's run into an unforgettable week in Portugal, imagine what a skilled traveler like you could accomplish? My advice is pretty simple.
Just follow the yellow brick road to Foz.