Trump Sets Door Ajar For Aspiring Cuba Travelers
Posted by Tony Randgaard on Saturday, June 10, 2017 at 12:00 AM
By Tony Randgaard / June 10, 2017
Comment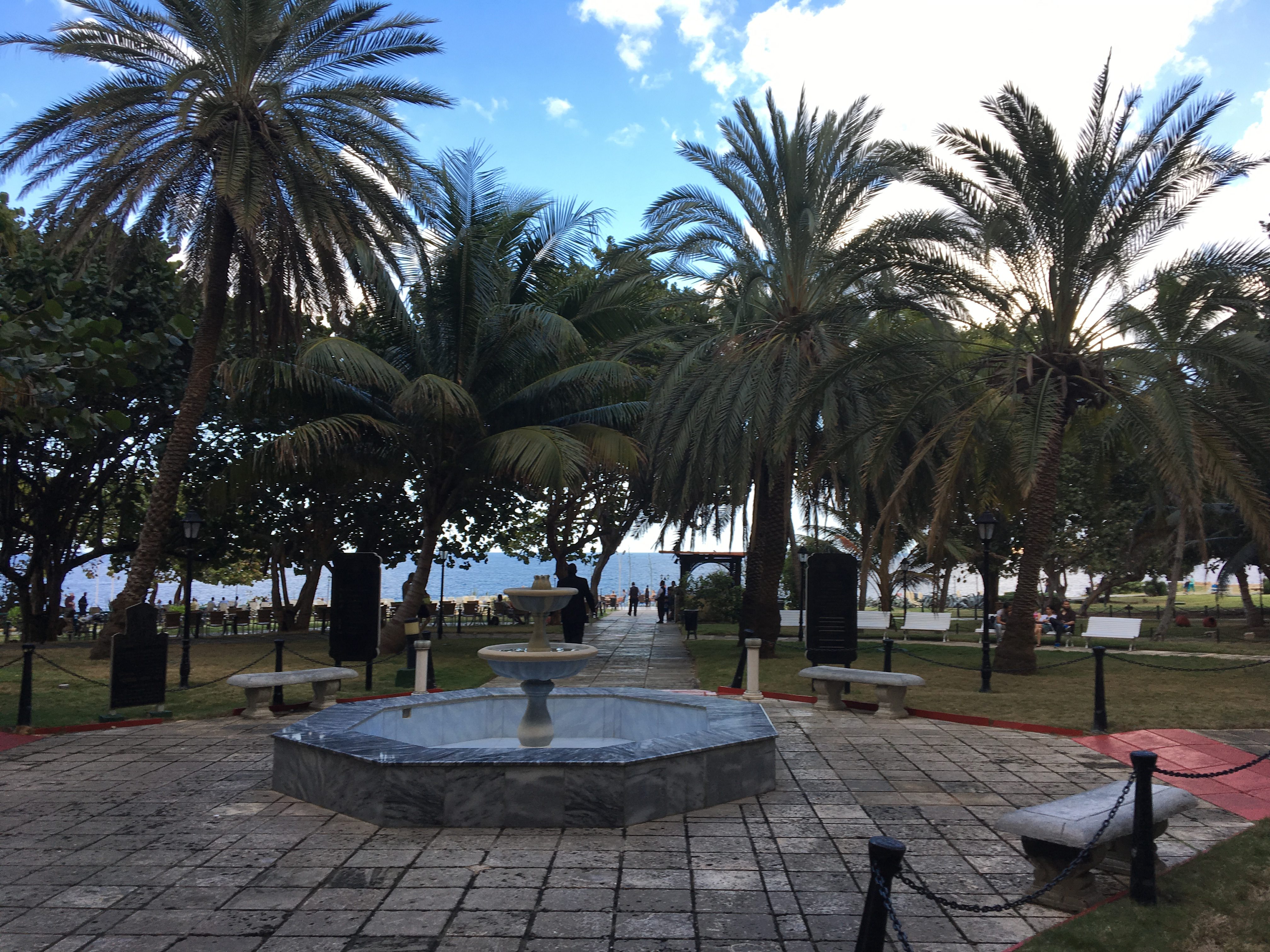 Tony Randgaard traveled to Cuba twice recently under the relaxed U.S. travel restrictions. The New York Times and CNN report that President Trump is poised to narrow the Obama loopholes that have enabled thousands of Americans to visit the lost-in-time island since fall of last year. Take in his latest adventure and Minnesota travel tips—before it's too late.
---
I got off the bus in downtown Havana wearing a Gustavus Tennis tee, high hopes and a Cheshire cat smile, cultivated by two months of meticulous planning. I stepped into a frothing stew of pedestrians, vintage Fifties Ford and Chevy taxis, three wheel bicycle cabs and street peddlers. Not to worry, I had been told my Airbnb apartment was a mere five blocks away and of course I could always lean on those basic Spanish phrases I had been practicing. After "No gracias" to two taxi drivers, I took evasive action and darted into the Hotel Angleterre's posh bar lounge and found a bar stool with plenty of room for my bags. With the vast majority of Cuban workers on the government payroll, I was carrying low expectations for service. The bartender was dressed in dapper dress shirt and formal vest and looked quite a bit like Bob Newhart. He eventually made his way down to my end of the classic dark wooden bar. After tipping him a Cuban buck on a three dollar beer, I maligned him with my broken phrases to start my search, presenting the exact building address as well as the nearest cross streets. To my surprise, he was helpful and told me to go straight ahead three blocks and take a right for three blocks. However, when he gestured right he said 'izquierda' which in Spanish means left. I mulled that over for quite some time, hoping to ask him a follow up question. Alas, he never came back to my end of the bar and in fact never looked at me. Then I found a cheerful Cuban waitress and she confirmed the same directions, a little bit more like seven blocks. So I headed back into the milieu and 80 degree heat; went three blocks ahead and then at least five blocks right without seeing any of the three streets from my directions. Sweat dripping done my neck, it was time to catch my breath. This time I popped into a corner cafeteria and asked the storekeeper where the cross streets were. Before I could even finish the sentence, the young Cuban guy in line with me said: "I know where it is and will give you a ride." Wow, what luck! I loaded my bags onto his three wheel bike (called a bicitaxi) and we were off. We made good time and three blocks later parked at my apartment. I ask how much do I owe? "Fifty, senor."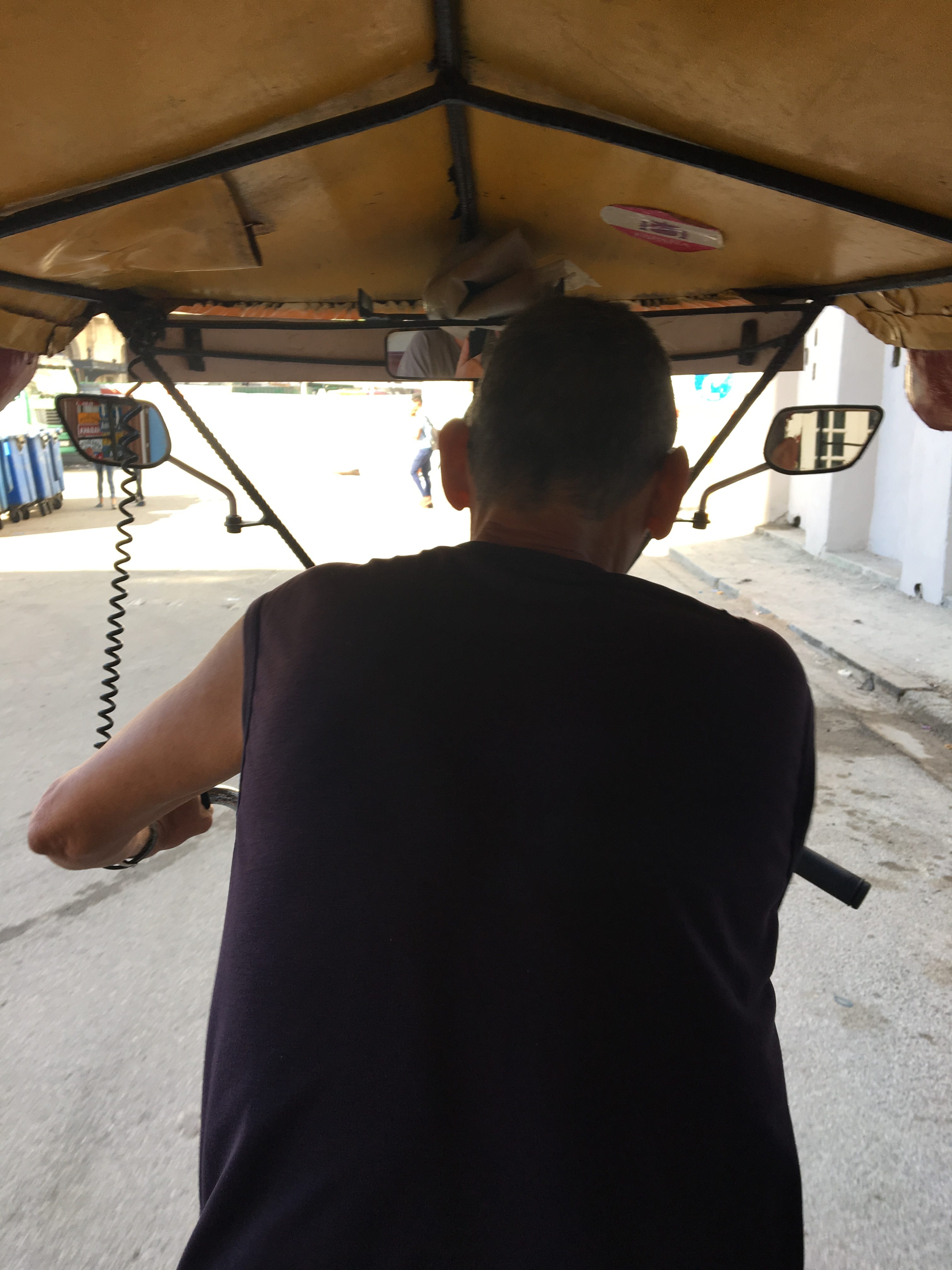 I tell him I don't understand. He reiterates 50 Cuban pesos (CUCs) which is equivalent to 57 US dollars! When I tell him no way will I pay that for three blocks, suddenly, another employee of the same company arrives right behind him presenting identification as a supervisor. He promptly displays the "official taxi tariff" showing 25 pesos per kilometer. After many minutes of arguing, I negotiate the bill down to $35 U.S. By now I am dripping wet and exhausted from the day's travel. The supervisor agrees and gives me five pesos change for my 40 dollars. Quite a baptism by fire, right? In a tightly regulated society such as Cuba, one would think that the men would be worried about going to jail for such a scam. The brilliance of their grift was that Cuba operates two parallel currencies. The CUC pesos I carried are basically pegged to the dollar while the tariff they showed me is in a different currency. It is also pesos but called monetary nacional. Monetary nacional is the local working man's currency but it is very devalued, one dollar equates to 26 pesos. So long story, short is I was shown the correct tariff but the ride cost 52 pesos in local currency, or about 2 bucks. And to add insult to injury, when the bicyclist gave me change for my 40 bucks, he gave me five monetary national pesos worth about 20 cents. Net loss in my first 45 minutes in Havana= $39.80.
Wondrous Cuba Consoles
Energized by a long nap, I was able to laugh about this episode that evening, soaking in a spirited salsa band with cerveza in hand. From this rocky beginning, Cuba and its people welcomed me with open arms, proudly unveiling a panoply of wondrous sights. While in Havana, I spent many days walking the entire old town of Habana Vieja and then the lush green neighborhoods of modern Vedado. From my "casa particular" or privately owned apartment, near the popular Obispo Street and the Capitol, it was rarely more than five blocks to find the next cathedral, Hemingway haunt, museum or well-preserved architectural gem. In the old town, claustrophobic narrow stone streets magically pour into magnificent plazas such as the Plaza de Catedral built on the site of a swamp -- this is Cuba's finest Baroque structure designed in geometric curves that Cuban author Alejo Carpentier described as "music carved into stone."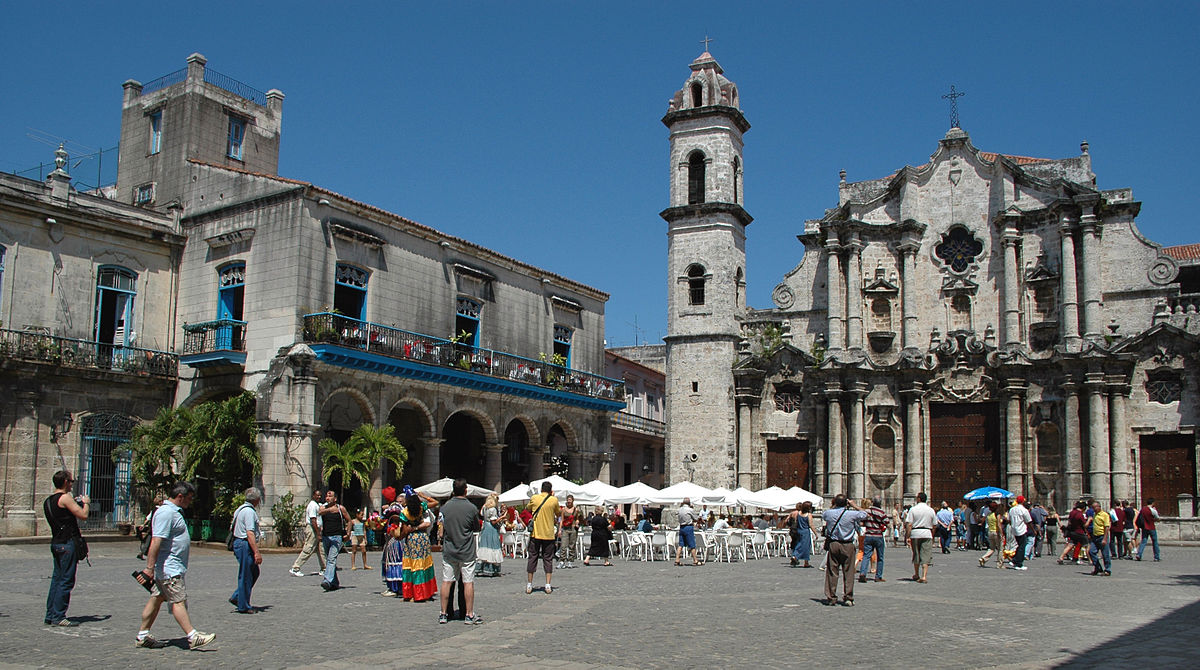 The cathedral is flanked harmoniously by several noble mansions built in the mid-eighteenth century. Like the cathedral, the 1720 Condes de Casa Bayona and the Casa de los Condes de Penalver use facades and porticos to filter light and shadow, distort perspective and oh by the way- shelter residents from the elements. Two of these historic homes house excellent museums now while a third is the restaurant El Patio providing respite for weary tourists. Havana's most famous landmark may be the Malecon, its romantic five mile esplanade winding around Havana Bay. Behind its ample walking path and busy roadway are the eclectic, sometimes crumbling facades of nineteenth century storefronts, while the other side of the harbor reveals the Morro Castle and its imposing stone fortifications standing guard over the city. The lush and suburban Vedado area is a vintage cab ride away and it was easy to savor the ride along the Malecon as star struck lovers scurried from the sea spray, crashing over the seawall. Most of the retro Forties and Fifties taxis were immaculately restored—and the route from the Capitol to the iconic Hotel Nacional is only five CUC or six bucks. I made the commute more than ten times and lost track of all the exquisite cars I rode in. Vedado is home to the world class, bustling University de Habana and the sprawling concrete mall which is the Plaza de la Revolucion, the epicenter where millions gathered to listen to Castro and participate in the communist social upheaval. Best seen at night, the square is anchored by the towering José Martí Memorial, his 60 foot statue nestled against a 358 foot tall tower. Opposite the memorial are the large illuminated steel portraits of Che Guevara and Camilo Cienfuegos, heroes of the Cuban revolution. Vedado's suburban design and ample green spaces create neighborhoods that are great for walking and exploring.
Spontaneous Salsa!
By 3:00 p.m. on any given day, Cuba flaunts the impact of its music and arts programs embedded within its educational system. Across the city, musicians lug their instruments over cobblestone streets and set up in small stage areas in cafes, restaurants and bars. (see photo)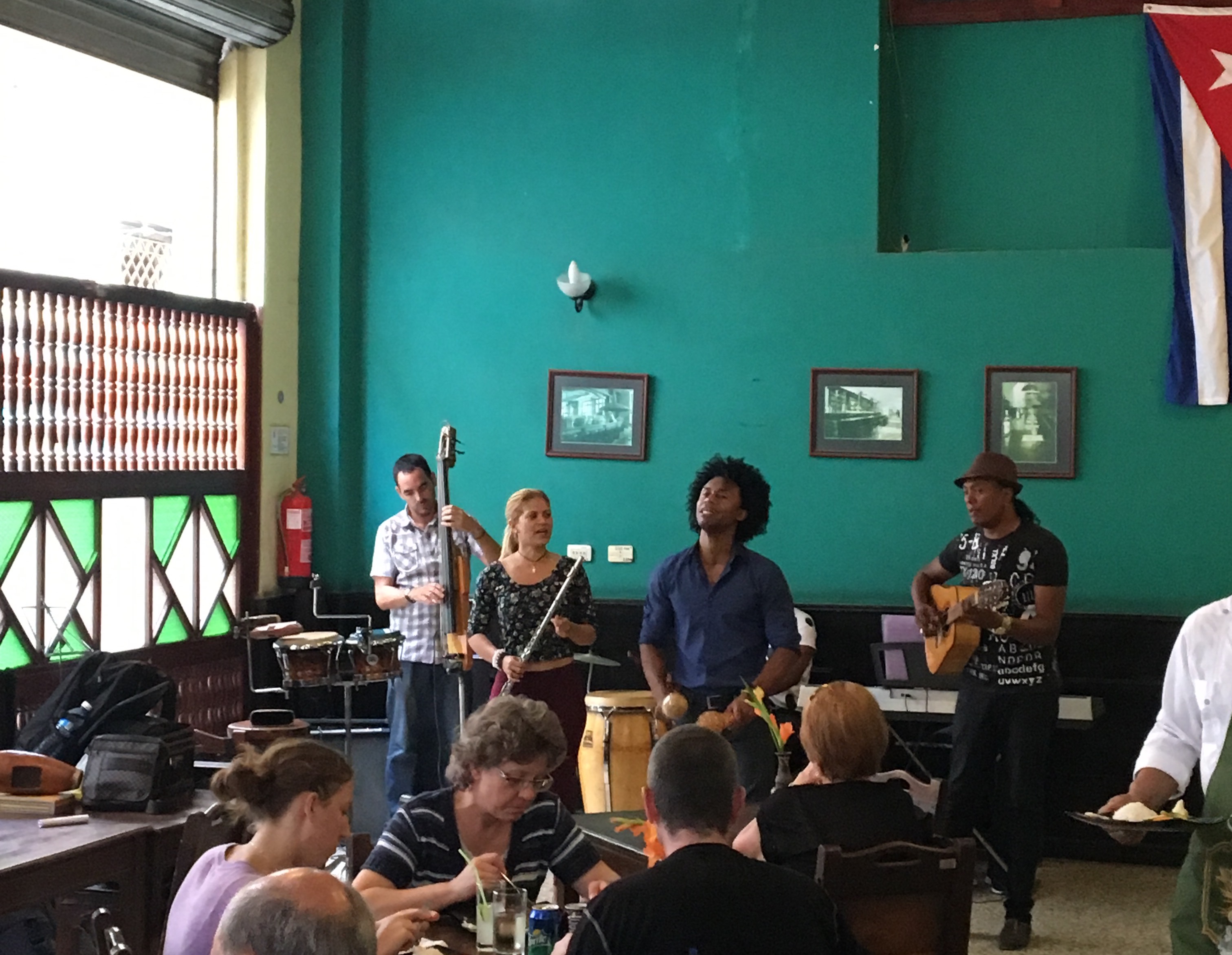 It is difficult to walk two blocks without encountering a band belting out lively salsa, mambo and Cuban ballads. And the frequency of classically trained bass, flute, saxophone and trumpet players is remarkable. After soaking in a polished musical set, a band member will walk around the business with a donation hat in hand — and it strikes you that they are not being paid. Indeed, this rich cultural gift relies on the kindness and tips of the patrons. One of my pre-trip planning exercises was to take a salsa lesson and rehearse the steps in my living room. That effort paid off with several opportunities to join spontaneous salsa outbreaks in front of these skilled musicians. At the same time, it is easy to find and take salsa lessons once you arrive in Havana. Simply walking around Habana Viejo you will see lessons in progress or many flyers promoting classes.
Swimming Pools and Movie Stars
One of the hidden benefits of Cuban communism is egalitarian access to the playgrounds built for the rich and famous. The famous mob boss Meyer Lansky built the art deco Habana Hotel Riviera in 1957, as the largest and grandest resort outside Las Vegas. (see photo) The legend is that he presented suitcases stuffed with $3 million in mob cash to the dictator Fulgencio Batista to build the resort and secure control of gambling operations on the island. Lansky meticulously managed every detail of the hotel's development, sparing no expense, with all 352 rooms enjoying beautiful views of the Gulf of Mexico. He humbly took the title of "Kitchen Director" and then quickly staked out residence in the Presidential Suite on the top floor. The hotel was created in a maritime open air design that leads you through a lobby promenade, then meanders across bridges strewn over sunken gardens. Lansky created the hotel's Copa Cabaret night club with an expansive stage and state of the art media for its nightly music and entertainment "Extravaganza." The club attracted headlining talent including Ava Gardner, Jean Fenn, William Holden and Nat King Cole. Comedian Steve Allen taped an episode of his prime time show from the hotel. Today, even non-guests can experience the vintage art deco features of the hotel and wander to the unique saltwater pool where Esther Williams and Gardner used to frolic. Astonishingly the entry fee for the pool is only $11 USD—and that includes four drinks. The grand hotel is showing some signs of her age but the special architectural charms remain as well as the wonderful vistas from the unique retro lobby. And why stop there? Not far up the road, is the masterpiece of the Malecon sea coast, the renowned 1930 Hotel Nacional de Cuba. This neo-colonial treasure is set on a large hill with breathtaking views of Havana Harbor and the city. The opulent tile lobby teases your eyes upward, to walls soaring to a rugged timber ceiling. Antique lamps and a row of intimate porticos evoke déjà vu from a vintage Hollywood movie gone by. Stride right through the lobby to the back gardens for a serene cocktail and take time to soak in the wonderful panorama in front of you. This hotel is replete with national history including the bloody Cuban coup of 1933 and the infamous Mafia Havana Conference in 1946 which was dramatized in The Godfather Part II. Within these walls are many other significant stories ranging from the Cuban Missile Crisis to the philosopher Jean Paul Sartre's famous interview of revolutionary hero Che Guevara. To learn more, the hotel hosts two daily tours Monday-Friday for guests and non-guests alike. And don't forget the pool! It is gorgeous and this time non-guests can gain access it for $23 USD. That amount sounded hefty at the time but as the cheerful pool attendants assured me on each delivery that 'food and drinks are included' -- I never did reach the end of the gratuitous tab. Maybe next time?
Standalone Cuban Airfares Are Cheap Too
Our Cuban Travel Feature earlier this month delivered hacks for getting your Cuban visa and options for affordable tour packages. The recent announcements by low fare carriers Spirit, Frontier and Silver airlines exiting the Cuban market are certainly not good news for budget-conscious travelers. The moves prompted the U.S. major carriers to immediately jack up their round trip fares from interior U.S. cities like MSP. All is not lost. If you are able to break your trip in a low fare hotbed like Orlando or Fort Lauderdale, you can unlock substantial savings. On both of my trips, I broke the trip in Florida: snagging a Southwest $59 one way fare Fort Lauderdale -- Havana the first time; then Jet Blue $75 each way Orlando-Havana-Orlando the second time. In the most recent sales for the peak summer, rates are running as low as $100 each way on Jet Blue or Southwest from these gateways. Kayak is a very useful mobile app because it will break fares automatically from MSP (call Southwest directly for their rates). Personally, my preference is to stay over and enjoy Orlando on the outbound leg and fly all the way through on the return. Of course, some of the normal caveats apply. The most convenient way to break the trip is by traveling light with only carry-on luggage and you need to be careful to allow plenty of time to clear customs on the return connection. Your Trip Planner and Scorecard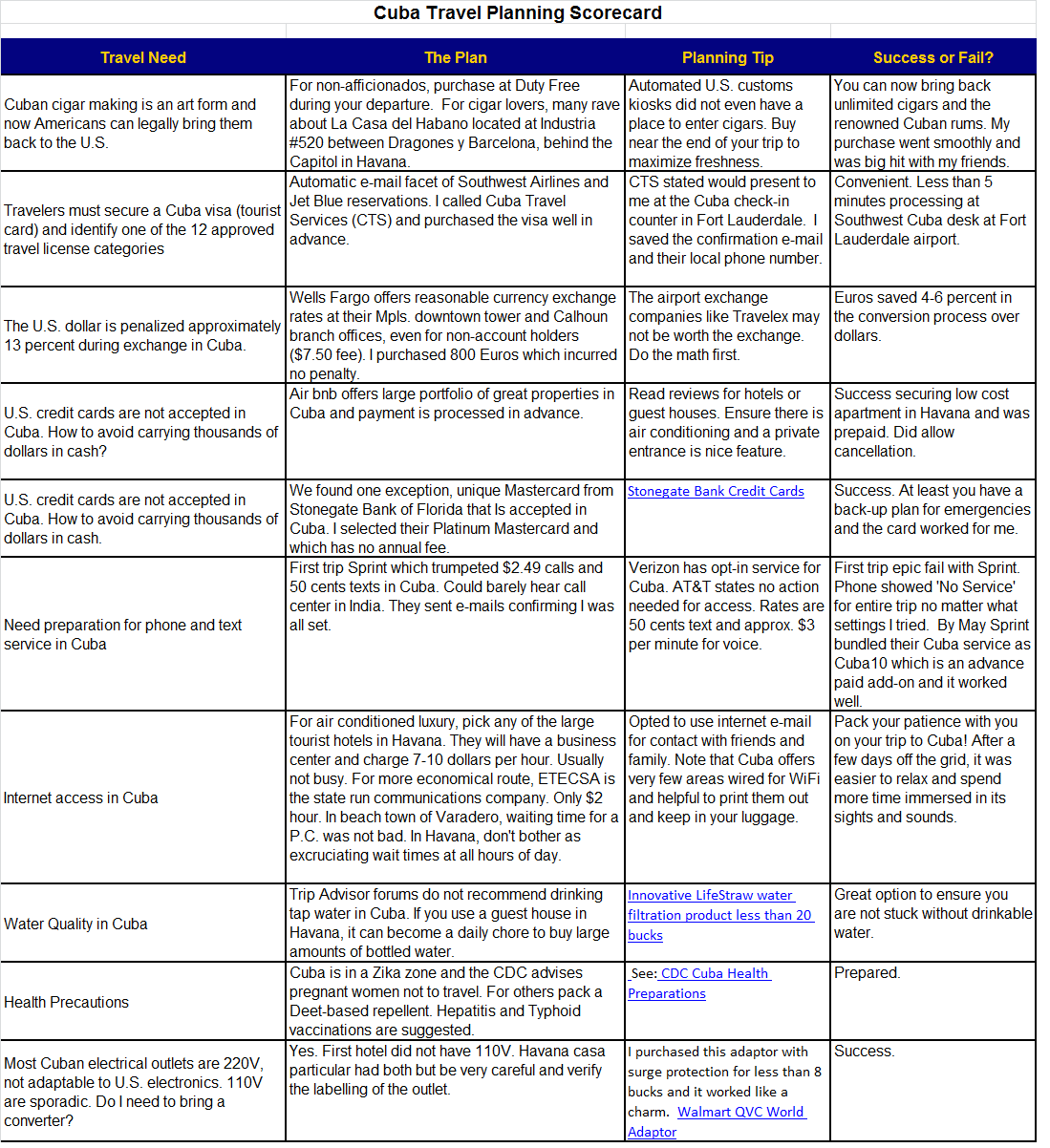 It may seem questionable to take advice from me after that calamitous beginning in Cuba, but my many years with the airlines did pay dividends with a number of the travel hacks or tips that I planned. So to help my fellow adventurer maneuver their travel to Cuba, we present the following scorecard showing the plan, contact information and outcome. Why wait to click Cuba off your bucket list? Yes, I arrived as an easy mark for the grifters — but left with tears in my eyes and a determination to return soon. Photos by: Tony Randgaard -- Wikipedia