Twins Fest @ Target Field -- Joe Mauer, Phil Hughes, and Bert Blyleven Impress
Posted by Scott Flaskerud on Sunday, January 26, 2014 at 12:00 AM
By Scott Flaskerud / January 26, 2014
Comment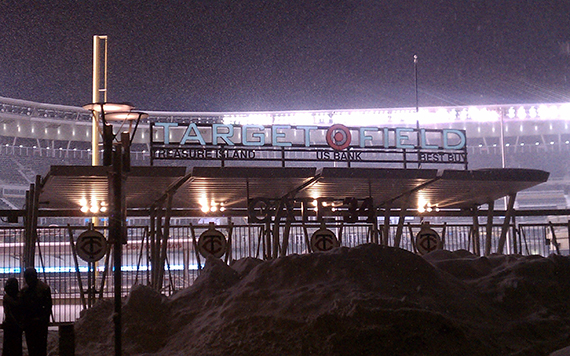 I have come to see now that this winter of two thousand thirteen-fourteen  shall be the end of all things forever. There is no hope. There is no end to the madness and cruelty of
The Coldness
. I can no longer remember people that I might have once known, nor trees that I might have once frolicked amongst, nor lakes, my most vital of allies, that I might have once swam in and received my life force from.
The Coldness
has bound me. I cannot get out. The end of all that once was... has come to pass. Still, though, I did go to Twins Fest last night and A) for me to "do something" in the middle of the worst winter of our lives is completely amazing and B) it was pretty freaking sweet. Let me tell you about it!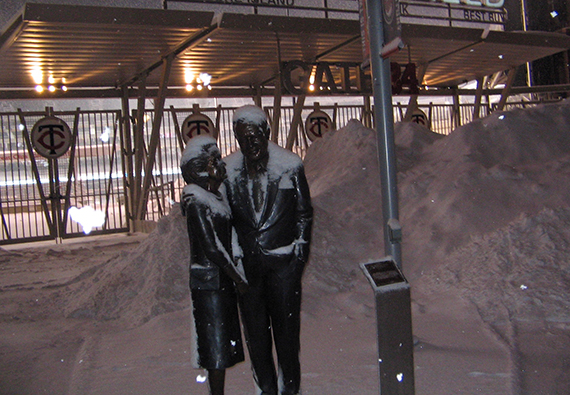 The evening began at Keiran's Pub in the seedy underbelly of downtown Minneapolis where I had found a private room to sit quietly and collect my thoughts while figuratively smoking a bit of the
Old Toby
, wizard-style from a long pipe. Moments later, my closest sports confidant – my buddy Stark – found me and the journey was soon on its way. We passed through the snow-riddled gates of beautiful Target Field, which is my most beloved edifice in this entire city. I dearly wish they would bring the pine trees back to centerfield, but apparently I don't have any say in that matter. Regardless, Target Field is the greatest thing that's ever happened to any of us in our lives ever. The End.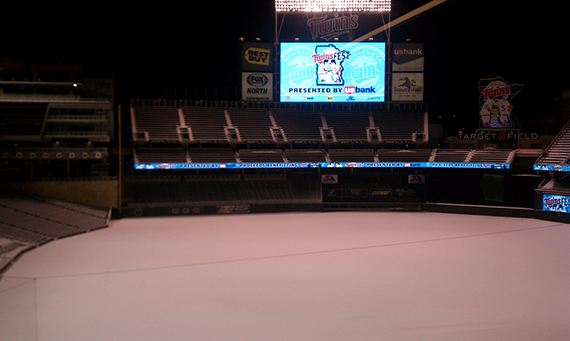 Anyway, Stark and I passed into the building and walked through a beautiful corridor adorned with pictures of Twins lore and into the Club Level room which was filled with giddy people and carnival glee. We played a spinning wheel game and won miniature baseball bat pens, which is a prize your feverishly humble narrator cherishes rather much so. A few booths down we saw Bert Blyleven's magical mystery fling outer space motorcycle from outer space. And in mere moments, out of nowhere, as if in a dream, we saw with our very eyes, the very Bert Blyleven, sitting atop that very hog. Like the Dutch playa he is, Bert commissioned from the small audience around the booth a comely female to sit behind him on the bike as we all (who had working cameras at the time) took pictures. Afterwards, I approached him and shook his hand and of course told him how brilliant and beloved he was.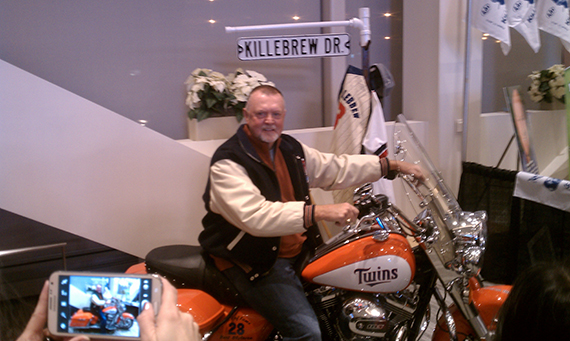 And then, in that very moment, I fulfilled a dream that I never ever thought – in my wildest dreams, mind you – that I would be able to fulfill. I gave Bert Blyleven crap for taking so much vacation time off in the summer and abandoning Dick Bremer (who is probably one of the greatest historians of Minnesota ever, by the way) in the broadcasting booth. I mean, as a Hall of Fame baseball player turned everyday color man for a baseball team, you have all winter to vacation, right? Well, whatever. Bert's a righteous dude and he's earned the right to do whatever the hell he wants. Plus, he's of Dutch blood. Side note: You may or may not find out this summer that Netherlands football is kind of a big deal to me, and as such, I love all things from Amsterdam and orange. For instance, did you know that carrots used to be purple until one day the king of the Netherlands demanded of his scientists that they make carrots orange? True story. Most anyhoo, as I concluded my talk with Mr. Blyleven with some more praise and a fist pump, I turned around to leave him to his and his own, I found two ninja security guards at my back, with weapons drawn. After they realized I was not going to create a "situation," they dispersed without dialog and let me go on living my life without murdering me there in the Club Level room. And for that, I suppose I am thankful.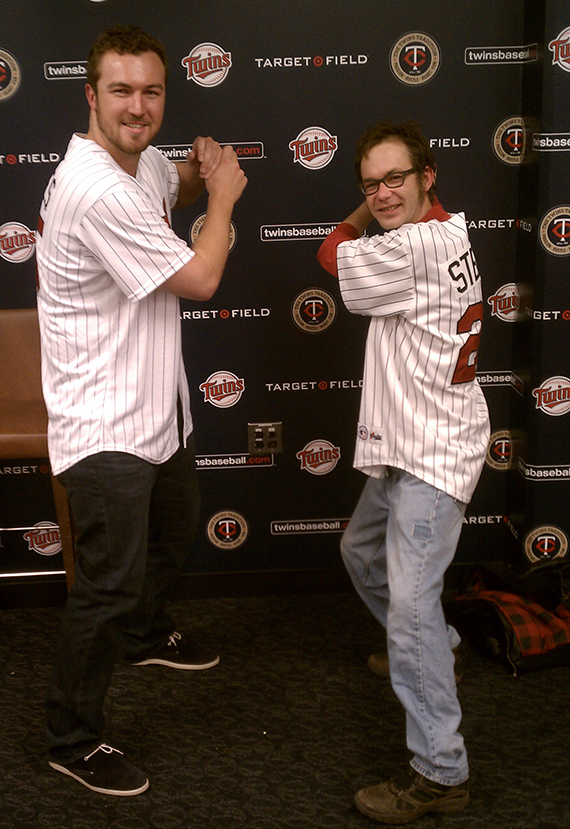 Having nearly escaped my death via ninjas, Stark and I walked down more beautifully-aligned corridors and came across a room where our very own Twins players were having their pictures taken with us common folk. There was nary a line for our newfound pitcher, Phil Hughes, and so I went in that direction. And although he comes to us from the team of which I will not speak, I can say that he is the most awesome and righteous professional athlete I have ever met. He's actually probably the only professional athlete I've ever met, but that's not the point. The point is, he let me blather on to him about this idea about a photograph I have had in my mind for years -- and even though it was ideal to be standing next to a left-handed hitter, of which he was neither, he was game for the picture and participated. As such, to this day and for days to come, I'm a pretty big fan of Phil Hughes. May he be a shining light that came to us from the enemy, as was Pavano. The next stop was the batting cages. The hitters being thrown to by Twins personnel, no less. Obviously, I had to do it. There is no price too high to swing a baseball bat in the attempt to hit a baseball for this dude, I will tell you what. And although I was the only adult in the cage and when I got my shot I swung and missed on all seven pitches, the despair of being athletically incompetent and not cracking one hard into the nets could not overcome the joy of swinging a baseball bat. For swinging a baseball bat feels like summer. And summer, is when the world is good.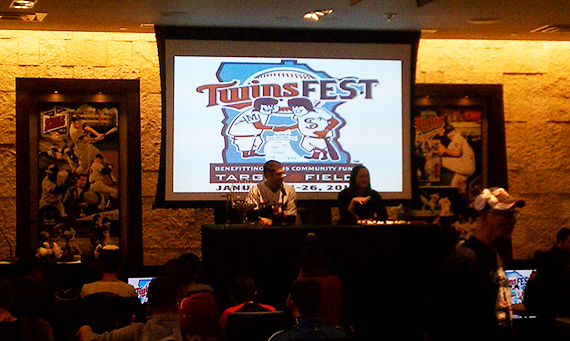 Sulking in my personal despair as it may be, we were walking through the old timey baseball card collector booths and making our ways to someplace that was somewhere, when Stark ran into an old buddy from a previous job -- now this former co-worker is a big Twins PR guy, and the guy told us to take the elevator to "minus two." And so we did and sunk below the earth's ground by two levels. And that's where we found Joe Mauer calling bingo for fans that had come to play alongside the fireplace in the majestic hall of the minus two room. And that's where I live now. Until summer. Photos via: Scott Flaskerud