Tyus Jones Not Only Minnesotan to Find Success
Posted by Travis Bridell on Wednesday, April 8, 2015 at 12:00 AM
By Travis Bridell / April 8, 2015
Comment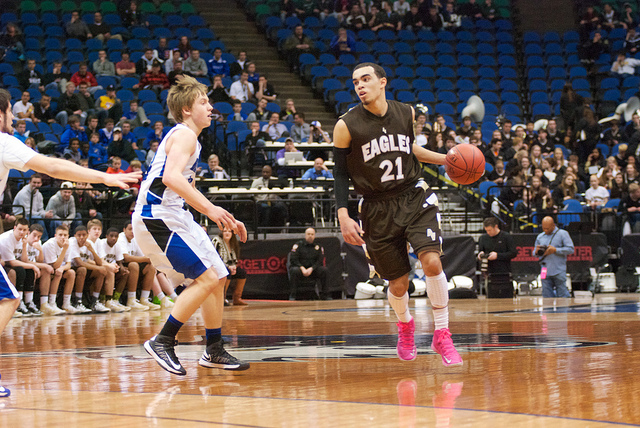 We saw Duke and Minnesota's own Tyus Jones win the NCAA men's basketball national championship Monday. Jones was just one of the best players in one of the best recruiting classes out of Minnesota last year.
Minnesota had the best high school basketball players it's had in a long time. We saw them spread across the country after Gophers head coach Richard Pitino was unfortunately skipped over due to the timing of his hire and the unfamiliarity between him and the recruits (and boy, would these guys have helped).
Rashad Vaughn, Reid Travis and Tyus Jones elected to go to UNLV, Stanford and Duke, respectively.
Monday, we saw Jones come through big time for Duke and Coach K. His 23 points -- 19 coming in the second half -- led the team. The former Apple Valley star boasted a strong tournament and came out as the Final Four's Most Outstanding Player.
The 6-foot-1 point guard was able to basically put the dagger in Wisconsin's hopes with his three-pointer with 1:20 left in the game. These heroics come after a season in which he averaged 12 points and five and a half assists per game while leading Duke to a 29-3 regular season record. Meanwhile, Vaughn had a strong showing as a freshman for the Runnin' Rebels, until he sat out the last ten games with a knee injury. His averages in 23 games were around 18 points, leading Division I freshman, and five rebounds. The 6-foot-6 shooting guard, who went to Robbinsdale-Cooper before transferring to Findlay Prep (Nev.), 
declared for the NBA draft yesterday
. Lastly, DeLaSalle's Reid Travis won a championship of his own with Stanford albeit in the NIT against Miami (should have been a Gopher if you want
NIT championships
). Travis had seven points and seven rebounds in the championship, above the forward's season averages of 6.2 and 5.6, respectively. It seems the fortunes of the three top recruits weren't hampered by their choices to move away from Minnesota. The Gophers will look to improve with this year's top
DeLaSalle recruit
, while the rest of us will wait and see what the 2014 recruiting class will do next year, whether in the NBA or still in college. Photo by: 
Gordy Hagert