'Uptown Vapor Shoppe' -- A Place For E-Cigarettes and Community
Posted by Matthew Deery on Sunday, April 13, 2014 at 12:00 AM
By Matthew Deery / April 13, 2014
Comment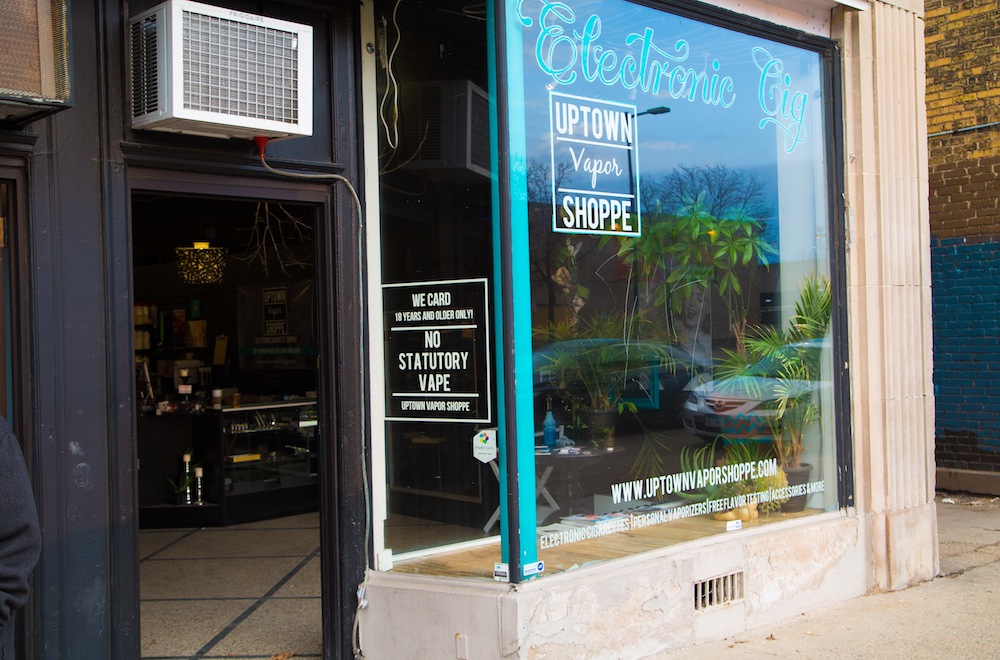 The lifeline of Uptown is Hennepin Avenue -- this bustling road is always full of life with cars, bikers and pedestrians making their way to their respective Minneapolis destinations. Along the busy street, tucked next to Brass Knuckle Tattoo, sits Uptown Vapor Shoppe. For those Minneapolis residents who use e-cigarettes or personal vaporizers, Uptown Vapor Shoppe should be be your new destination for all your vapor needs. The person behind Uptown Vapor Shoppe is the lovely Sina War -- she is the day-to-day operator of the business supported by a partner who acts as the financial backer of the establishment. The partnership has not only sprouted the Uptown location, but one in Maplewood as well (under a similar banner, there are two other locations nationwide) -- War's younger brother, Jonny Ny, runs the Maplewood location.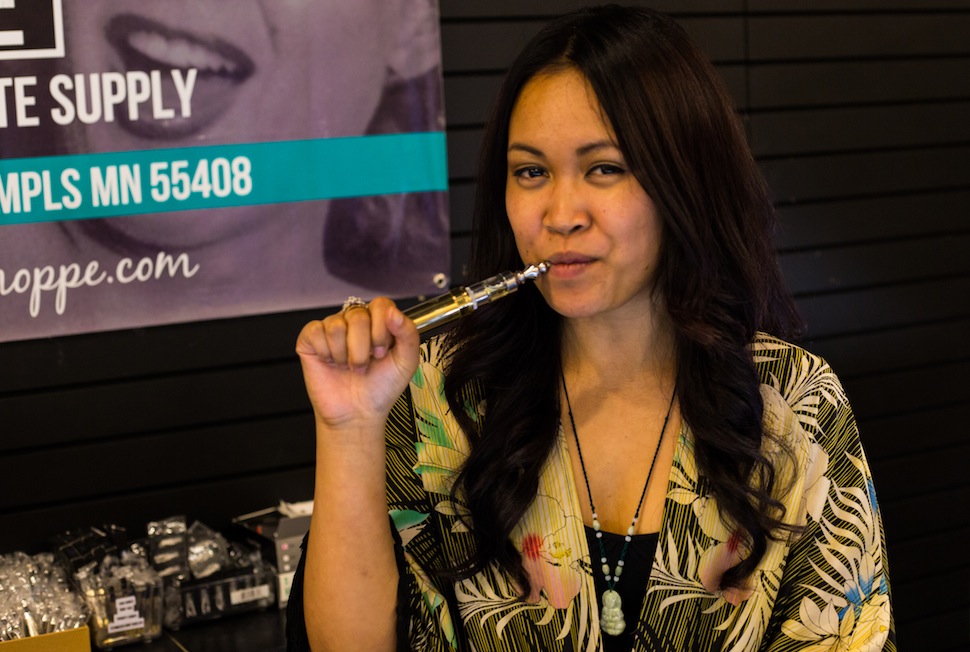 The fine Uptown establishment is only a week away from celebrating their one year anniversary as one of the first e-cigarette shops in Uptown. Since their debut in 2013, similar shops have popped up all over the area -- consider Uptown Vapor Shoppe somewhat of a trendsetter, one of the first to climb the summit and plant the flag in Uptown. As cigarettes have been piled on by health experts, politicians and the like, e-cigarettes have become a much more favorable alternative to the tobacco counterpart. This has helped War's business to grow significantly in the past year, hence the highly trafficked Uptown spot and the birth of the Maplewood location. Despite the other Uptown e-cigarette options, Uptown Vapor Shoppe cares about more than just your business. The staff there is keen on helping fellow vapor cigarette users understand the world of "vaping." I was politely scolded a handful of times while talking with War for calling it "smoking" -- Ms. War would interject, "vaping." This type of staff and helpful mentality has grown Uptown Vapor Shoppe's faithful clientele into a strong community.
"One of the best things about this store, is the community," War said.
The shop brings in people who want to buy new vapor products, but also those regulars who love the staff, the ambiance of the location, and want advice on "upping their vapor game." With the staff knowing so much about vaping, they can also help those who are having troubles with their vaping apparatuses. War has even fancied herself a small repair shop in the back of the store to help get customers with issues vaping once again.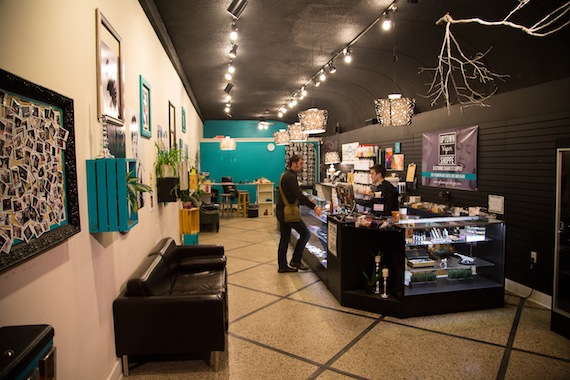 One thing that really impressed me was not only how much War and her staff knew about e-cigarettes, but how well they presented the information. The e-cigarettes sold at Uptown Vapor are no where near as simple as buying cigarettes, putting one end in your mouth and lighting the other. The e-cigarettes have batteries, chargers, tanks, heating coils, drip tips, flavored E-juice, all of which needs to be maintained for the little vapor machines to work properly. With all these different options, there is clearly a lot of variety in the different apparatuses one can use to get their nicotine fix. So I had War take me through her process of selling a new customer. Since I had no information on the subject, she had to start at the very beginning.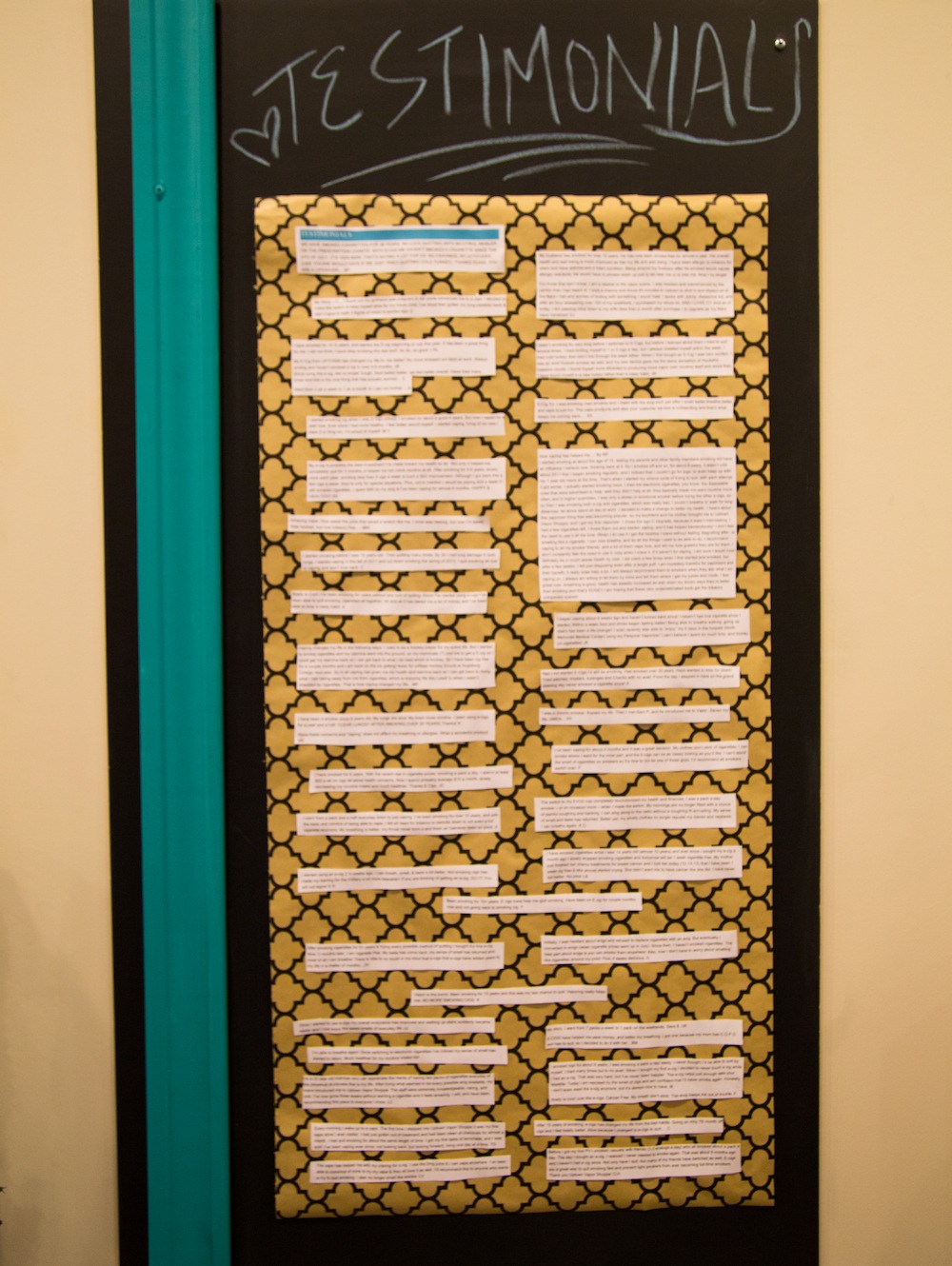 Despite being a little overwhelmed by it all at first, War talked me off the ledge and guided me through her process of helping newbies figure out this modern world of smoking... sorry, I mean, vaping. First, she showed me the batteries and all their variations (some big, some small, some with the ability to change the voltage), the different tanks that hold all the E-juices, and described all the specifics and details without a hiccup. Though I didn't understand it all, it was reassuring to listen to someone who posses so much knowledge on vaping to help guide a novice on their journey.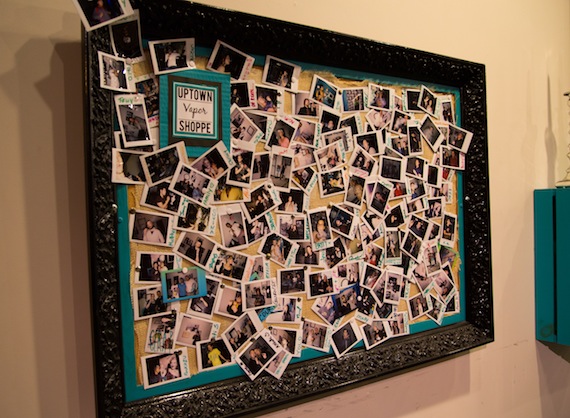 My favorite part though was up next: trying the different flavored E-juices. There were tobacco type flavors, even menthol tasting concoctions, Mountain Dew and Red Bull flavors, almost every kind of fruit flavor you can imagine, and even odd flavors like cupcake. Yes, cupcake -- believe it or not, according to Ms. War there are some very devoted cupcake customers out there. My favorite was an oil called "Sexy Lady," a smooth flavor with a touch of honeydew. War claims this is one of her most popular flavors, and tasting it for myself, it was easy to see why.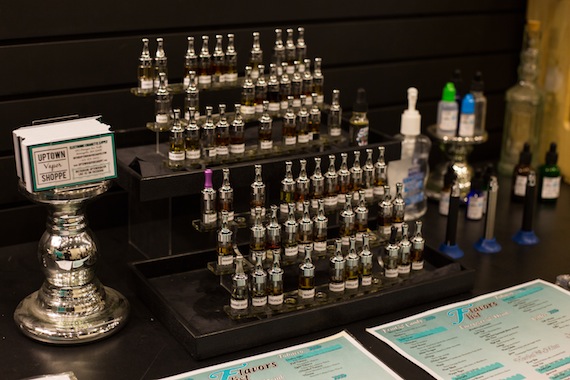 There are of course the usual line up of flavors described, but Uptown Vapor likes to add new limited additions to keep things fresh. While I was at the shop, War was meeting with a local craftsman who makes his own brand of E-juices -- his E-juices will soon be sold at the shop. Again, his contribution ties back to the whole community aspect.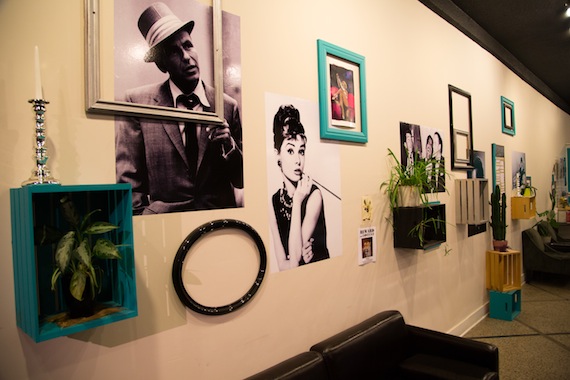 A huge plus to Uptown Vapor is how welcoming the space feels -- there is so much character in the shop it's impossible not to get caught up soaking in all the intricate details within. The wall to your left when you walk in has a photo board of all the satisfied customers and regular guests of the shop. There are also printouts of testimonials of those reflecting on their good experiences. My favorite pieces of this wall however, are the classic portraits of American icons like Frank Sinatra and Audrey Hepburn smoking cigarettes. The wall on the left is the dated practice of smoking which perfectly contrasts to the vapor products on your right offering the new age of smokers something fresh and less dangerous than cigarettes.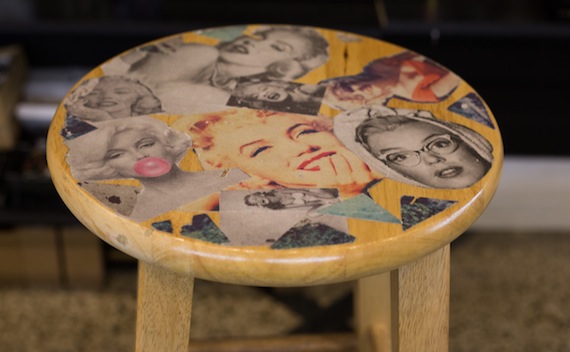 Another neat little detail of the shop are the stools behind the counter. Each is decorated differently by the employee who lays claim to said stool. Ms. War's stool is decorated with Marilyn Monroe, others with current icons like Lana Del Rey. Chatting with one of War's trusty shopkeepers, Sam, a patron turned Uptown Vapor Shoppe employee, a smile beamed as he discussed his love for the store and vaping. He even showed me a few tricks -- he underplayed his abilities to blow smoke rings and make a small tornado on the counter, but I was certainly impressed (the pictures don't do the live "show" justice).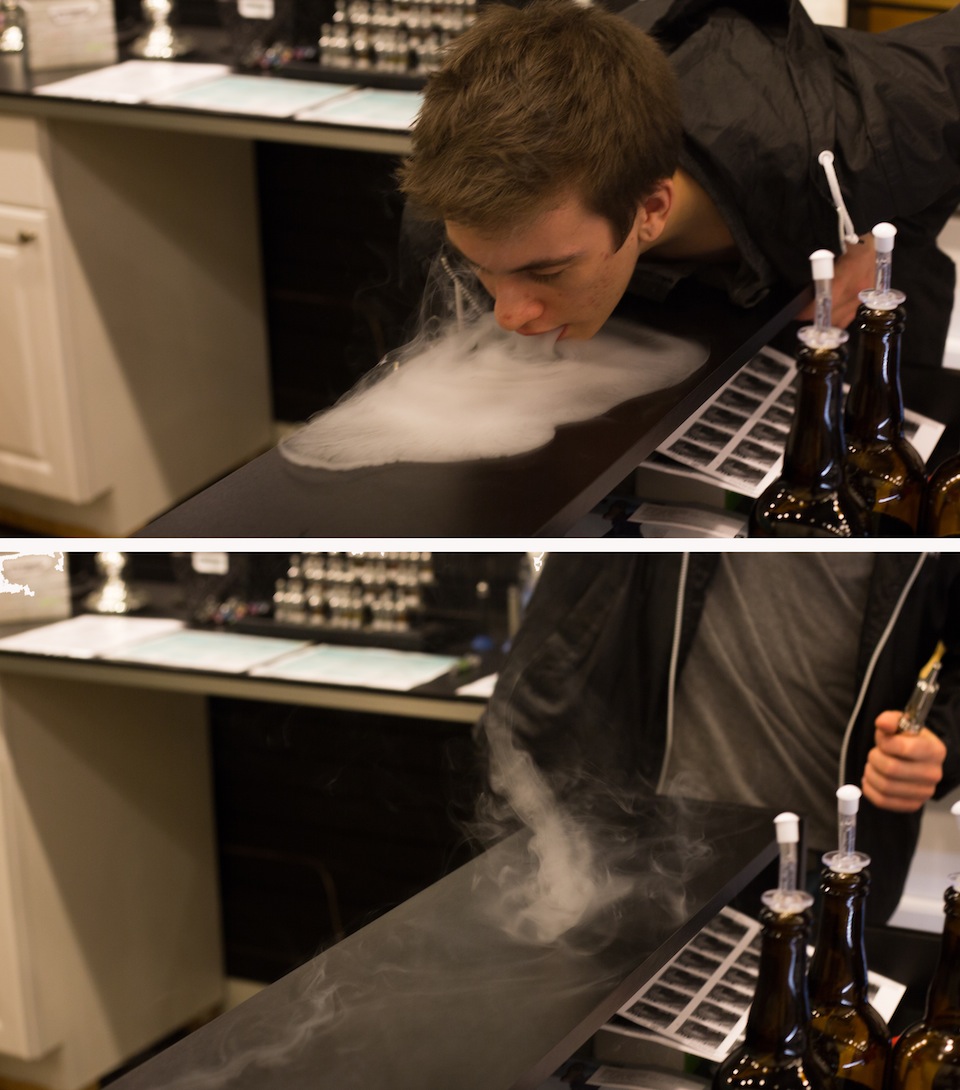 Upon leaving the store, I was grateful for the chance to chat with Sina War, her staff, and get to know her beloved Uptown Vapor Shoppe. Simply spending a couple hours in the shop, I was able to get a sense of the community she was discussing. Despite the constant flow of traffic on Hennepin Avenue, next time you're in Uptown, make sure to slow down and stop into the Uptown Vapor Shoppe to see what this place is all about. For more information about Uptown Vapor Shoppe, visit their
website
. Photos by: Matthew Deery