'Urinetown' at the Jungle Theater Boasts Satire, Humor, and Bold Criticism of Corporate Greed
Posted by Nadja Leonhard-Hooper on Wednesday, July 17, 2013 at 12:00 AM
By Nadja Leonhard-Hooper / July 17, 2013
Comment

Urinetown
 at the Jungle Theater will appeal both to musical theater people and those who mock them. The show, directed by John Command, satirizes and pays homage to countless musical theater conventions. The music and lyrics of Mark Hollman and Greg Kotis flit from 
Fiddler on the Roof
 to 
West Side Story
 to 
Les Miserables
 to a
Brechtian
tone without missing a beat. Somehow, even as the genre changes, the show remains an aesthetic whole. This is an impressive staging of a tongue and cheek musical that speaks directly, and a little conspiratorially, to the audience. It's a biting, uproarious satire not only of musical theater styles, but also fascist capitalism, corporate greed and government control. The world in which 
Urinetown
 takes place is fictional, but it's a world that many environmentalists see on the horizon. Environmental degradation has become so severe that an endless drought has led to severe water scarcity and equally severe austerity measures. Everyone must pay a fine to pee, or they are shipped off to the mysterious "Urinetown," (which may or may not be a euphemism for simple murder). Kersten Rodau, armed with a strong voice and a plunger, carries much of the show as the tough Penelope Pennywise, who runs one of countless Public Amenities where the poor line up to relieve their desperate bladders, barely able to afford a morning pee. Rodau has a fabulous voice that's larger than the sweet, living room style Jungle Theater, particularly with a microphone. This is true for most of the characters, so when you're getting tickets, consider avoiding the very front row.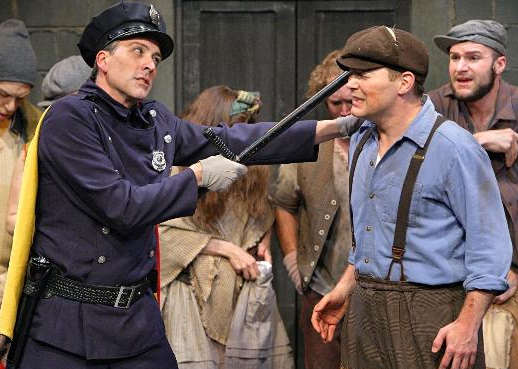 The amenities are run by Caldwell B. Cladwell (played by wild-eyed funnyman Gary Briggle), a corporate tycoon whose evil "Urine Good Company" is squeezing the bladders, and the pockets, of the poor to get the last drops of cash out of them. Out of this dire world with fascist overtones and a fair amount of pee-humor, a young Bobby Strong sees possibility for change. Patrick Morgan plays the idealistic Bobby as a bit of a rocker, which is sometimes a hit and sometimes a miss. It takes a great deal of vocal control to pull off a rougher sound in a theater that small without the sound growing unpleasant. His performance really picks up in the second act. The stars of the show are Officer Lockstock (Bradely Greenwald) and Little Sally (Elise Pluhar) who step easily in and out of the narrative to great comedic effect. Greenwald nails Officer Lockstocks's snappy one liners ("Don't you think people want to be told that their way of life is unsustainable?" or "She has to love him, he's the hero of the show") and uses his acrobatic voice in a way that had the crowd cheering before each song had finished. The details of his relationship with his partner Officer Barrel (Jon Whittier) are hilairious, particularly if you're paying close attention. Pluhar's Little Sally is the inquisitive student of Lockstock's pedagogy of cynicism. The musical is framed by their dialogue, which is in some ways a tutorial about how to make a musical. Little Sally is doubtful about the potential success of the musical happening around her, and her commentary gets better as she mourns the revolution's downward spiral with cries like "What kind of a musical is this?" But even she has a little rough edge (piggy bank is a teddy bear whose head can be screwed on and off). In short, Bobby, inspired by his forbidden love for Caldwell's beautiful daughter, Hope, (an appropriately naïve Tiffany Seymour) leads the poor in a glorious revolution to Pee 4 Free. But don't expect a happy ending.
Urinetown
is full of darkly humorous surprises, and the final notes are decidedly un-hopeful about the prospect of a proletarian revolution. If he's listening, Karl Marx is furiously thrashing in his grave. But maybe he would like the music.
Urinetown
runs through August 11th. It runs approximately 2 hours with one intermission.