Vikings Put Giants to Sleep -- Rise to 4-0
Posted by Matthew Deery on Tuesday, October 4, 2016 at 12:00 AM
By Matthew Deery / October 4, 2016
Comment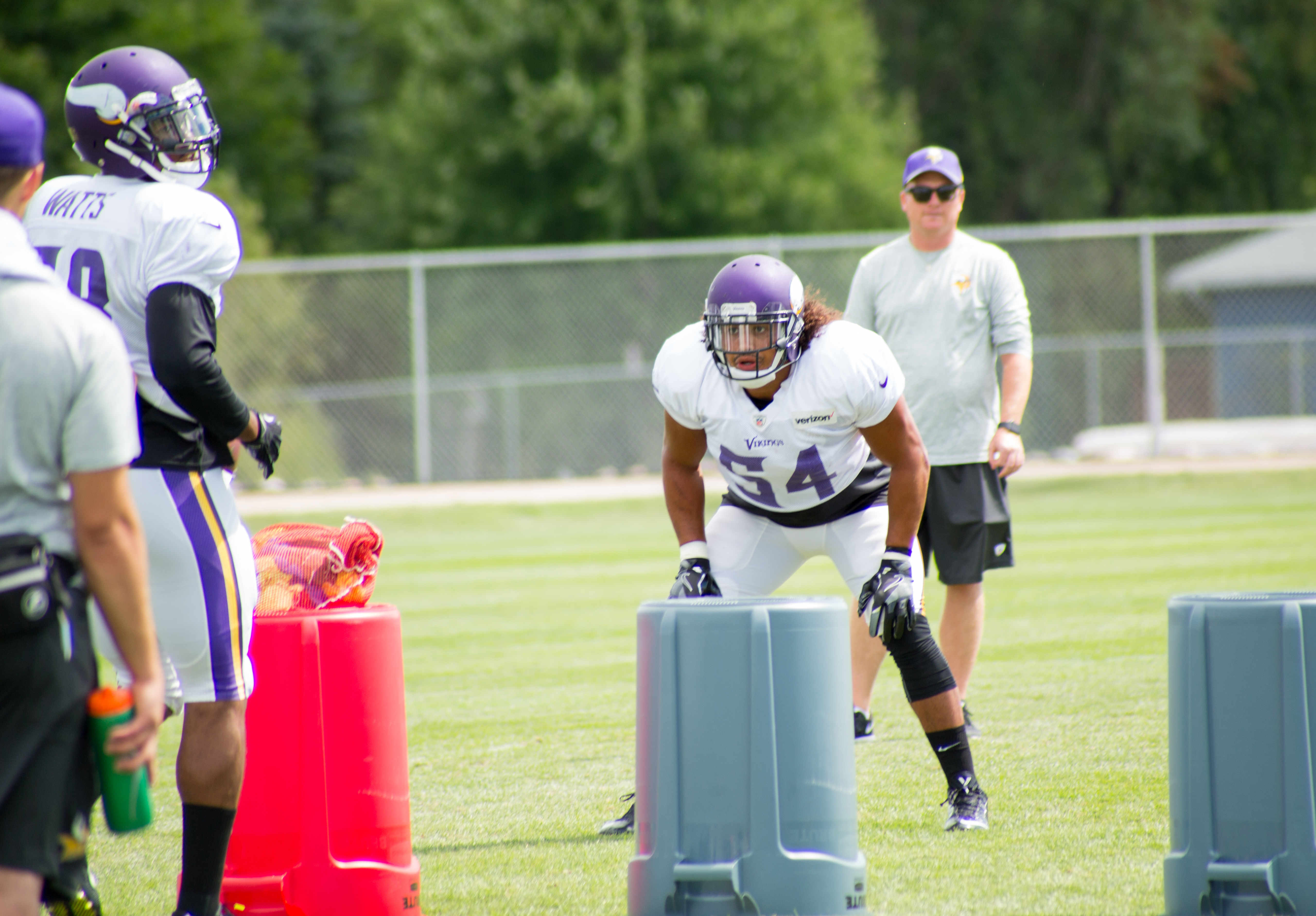 The Minnesota Vikings are 4-0. The last time they were 4-0... well, I can't talk about that because it brings up
too much pain
(cough, 2009). The NFL has surely
taken notice
of the Mike Zimmer led Vikings, one of the three remaining unbeaten teams. At this moment, they are undoubtedly one of the top three teams in the entire league -- I think the Broncos are best until they prove otherwise and a Brady-led Patriots team are still elite. Still, top three in the entire league right now? When's the last time we've said that (cough, 2009)? The Minnesota Vikings turned in another start-to-finish, lights out performance and dismantled the New York Giants on Monday Night Football. The Giants barely showed a pulse for the duration of the entire match. These types of dominating performances remind me of a team you might have heard of, the New England Patriots. Now, by no means am I saying this budding, mostly unaccomplished Vikings team compares to the dynasty that is the Patriots, nor Mike Zimmer to Bill Belichick. But the feeling is the same -- in terms of preparation to beat an opponent, the "next man up" mentality and making players work within the system, the team as a whole is much stronger than the sum of its parts.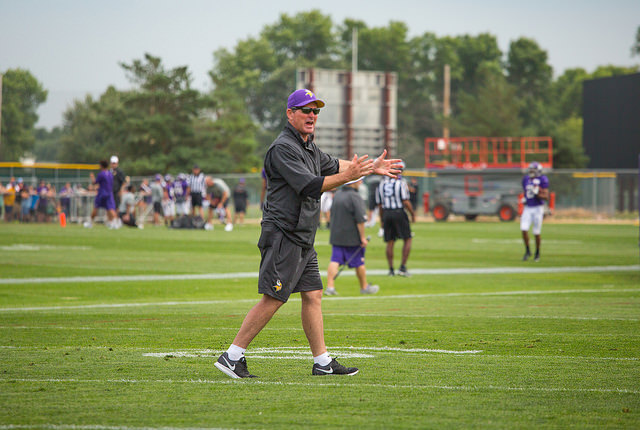 This appears to be a team system built for success. Zimmer has said time and time again to his players, "Just do
your
job." That collective mentality and a prepared roster makes this team one to be feared. So how good is the Minnesota Vikings defense? The defense is so good, they can dominate an entire game without eye-popping numbers -- they can record zero sacks, yes, you read that right, zero sacks and only one interception while still completely rendering a relatively powerful offense inert.  None of the defensive numbers pop out from the stat sheet except the Giants final score. Eli Manning was frustrated all night, one of the league's
diva
best wideouts was frazzled from the get-go and the Giants were held to only ten points. And even those ten points seemed fortunate scores for the Giants. The first points, a Josh Brown field goal, might have never happened had Everson Griffen never jumped offsides on fourth down. The second score, a short touchdown run by Orleans Darkwa, was set up by the Vikings only glaring defensive mistake all evening, a 67-yard screen pass by Paul Perkins. Minus those two plays, the Giants might not have scored
at all
. But, even with those two plays, the Vikings defense still dominated the Giants and never let them breathe. Coming off eight sacks on Cam Newton and the Carolina Panthers, many were wondering just how many sacks the Vikings could tally on the statue-in-the-pocket Eli Manning and his so-so offensive line. If I would have told you the Vikings would get zero sacks, many would have assumed the night did not go well for Minnesota. But here, the numbers
do
lie. The sacks aren't there, heck, even the "hits" on Eli aren't really there, but the pressure was consistent and enough to give Eli "happy feet" in the pocket. The "other Manning" surely watched last week's game tape and psyched himself out watching Cam get drilled over and over -- he prematurely gave up on some plays in the face of mounting pressure -- even at times he resigned to live for another down with no foreseeable rush. This Vikings defense is in their opponents' heads.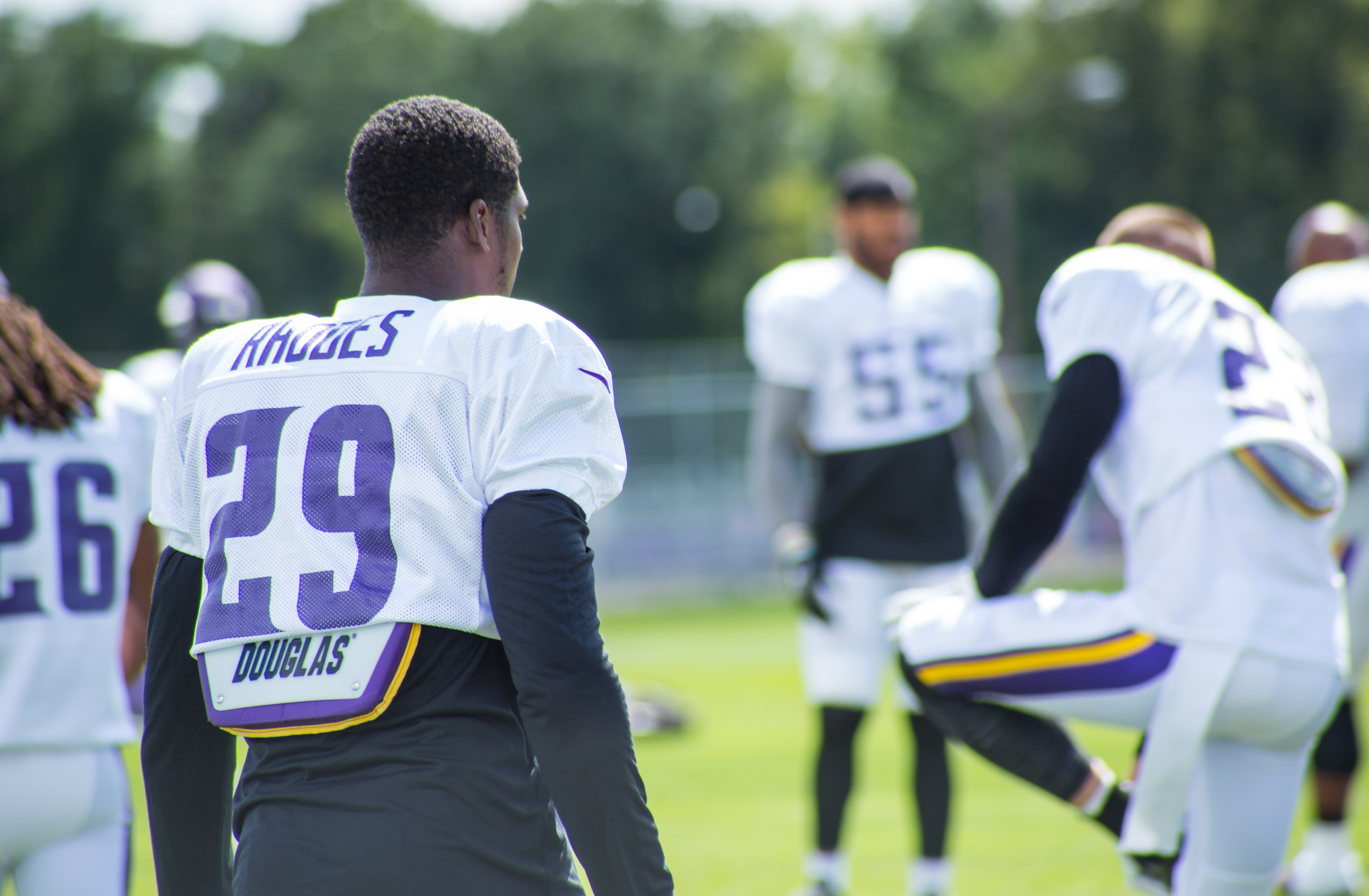 Xavier Rhodes is the obvious talker from the defense, holding Odell Beckham Jr. to three catches and 23 total yards. OBJ has had a record-setting career to this point, reaching many receiving milestones faster than any other NFL wide out -- Rhodes frustrated Beckham and held him to the lowest yardage output in his entire career. Rhodes has ascended into that elite-type cornerback that Vikings fans hoped he'd blossom into. However, my star of the defense last night was Anthony Barr. Like the lack of Vikings sacks, Barr's contributions don't necessarily show up on the stat sheet. But watch that game again, you'll see Barr making key tackles, knocking down passes, blowing up blocks and making Eli Manning panic with his timely blitzes. I'm sure everyone on the Giants sideline saw Barr
blow up this first quarter run play
and did their best to keep a close eye on him (seriously, click that link and watch -- Barr
destroys
Larry Donnell). Surprisingly, though Eric Kendricks made a handful of plays on his own, I could not believe all the plays he left on the field. Aside from that late forth quarter interception drop, Kendricks can be found missing tackles and allowing the Giants running backs to gash the defense for big gains, getting bowled over on the goal line (this one I don't
really
fault him for) and taking a poor angle and missing a diving tackle on Paul Perkins on that huge screen pass late in the game. Kendricks wasn't awful by any means, but fans have gotten so used to him making those crucial plays. The defense is the story of 2016, but the offense showed up on Monday night to prove they are a viable piece of the puzzle. What did Bradford and the offense do after the defense surrendered the first touchdown, putting the Giants within striking distance? Oh, they marched downfield with an eight play, touchdown-scoring drive to effectively end the ball game. Bradford looked even more poised and confident leading this offense. He has done exactly what has been requested of him.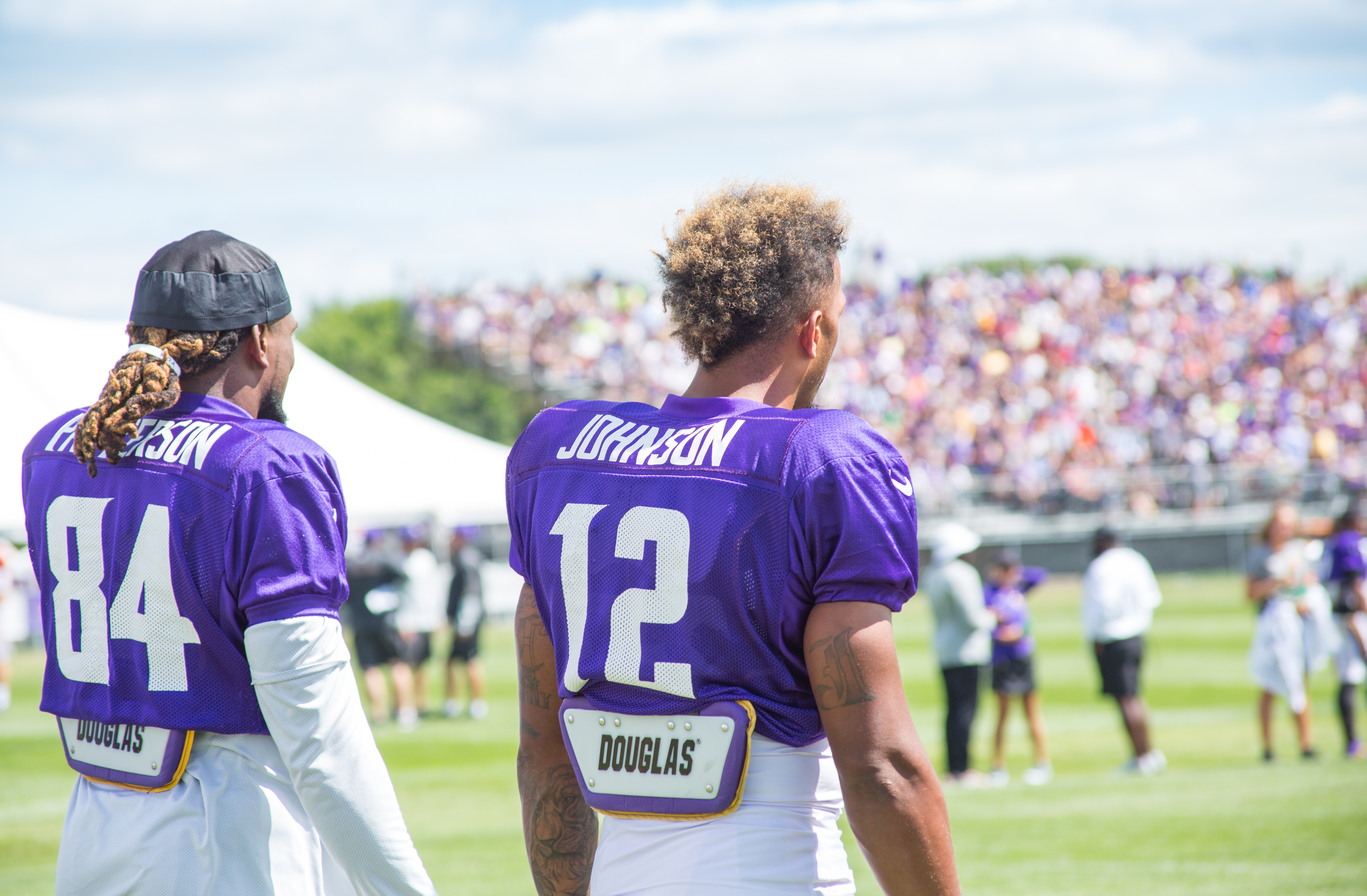 Speaking of that, Cordarrelle Patterson, who saw more playing time last night than the entire 2015 season, caught five passes (he caught two in all of 2015). He's embraced his role as a gunner on the punt team and has started to make plays, like forcing the Giants first turnover, a muffed punt. With this new sense of purpose, the coaches have rewarded him and given him offensive snaps. In those limited plays he proved he can still be an asset, given he accepts his limitations as a wide out. Bubble screens, run plays and simple slant routes are what Patterson can do well and he thrived when given those chances last night. Yes, I'm concerned about Blair Walsh too. I'll give him another week or two of shakiness before I absolutely don't trust him. This team should be in a lot of tight games in 2016 -- the Vikings are going to need all the points they can get. I know I will never trust Walsh again with the game on the line, much less the season come playoff time. And maybe this is a reason to find a new kicker now. Lastly, I want to talk about the running game. Last night there was a showing of life for the Vikings run game -- their two-headed rushing attack produced and the offensive line was quite good all evening. Many were worried this 
last
in the league rushing attack was going to sink this team. But given some time to adapt to their circumstances, the running game showed up. Now, for my controversial take: I truly believe this offense is better without the soon-to-be Hall of Famer Adrian Peterson in the backfield. Without AP, this offense does what it needs to move the ball and score. No longer is the offense beholden to "getting Adrian his carries." If McKinnon or Asiata rush the ball collectively 15 times, both of them buy into that strategy. Peterson just wants the rock.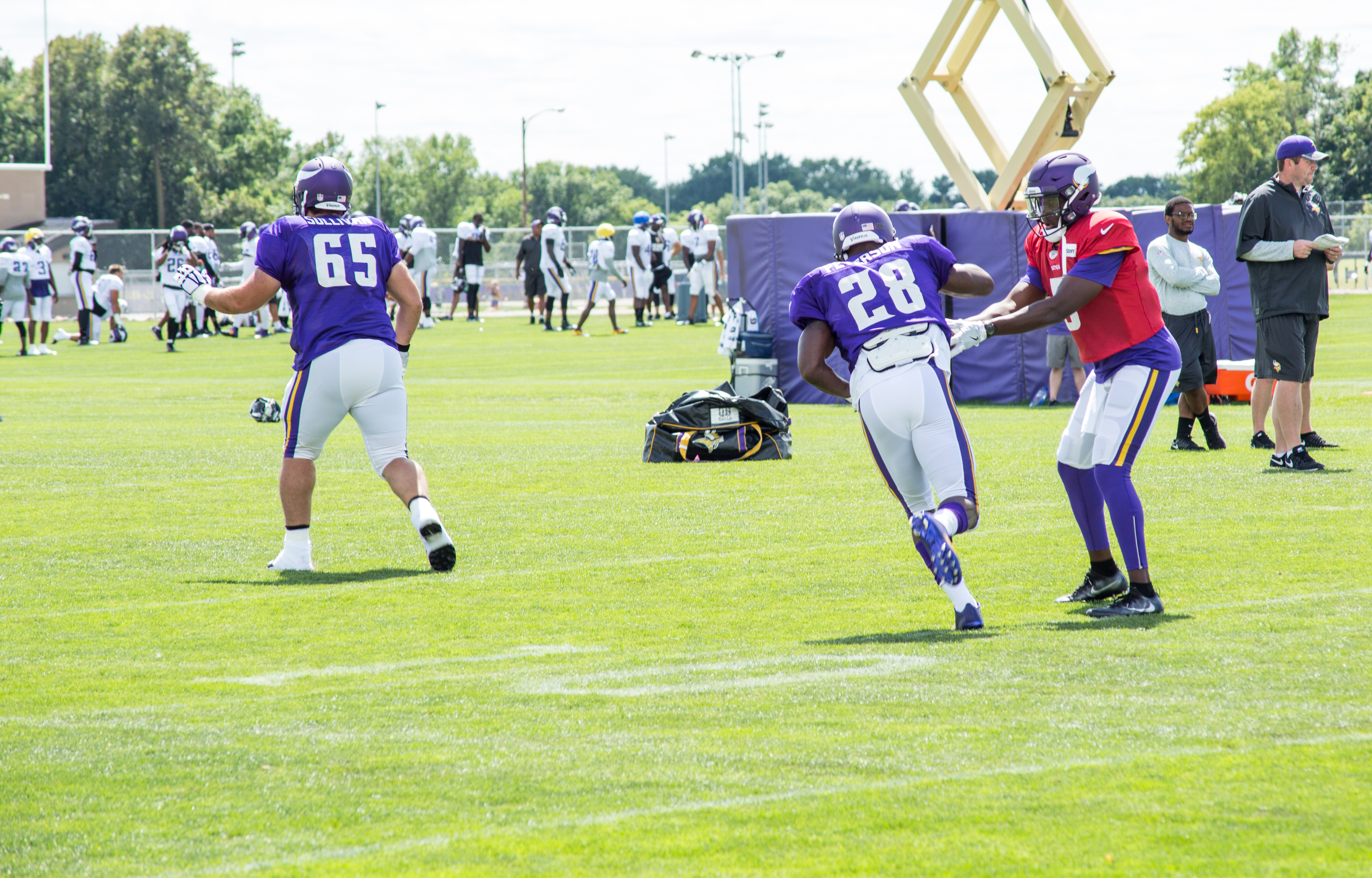 And considering how much Adrian makes, his stature in the league and legacy, the team almost feels obligated to let him carry the ball, success or failure. Without Adrian, the offense runs when it's advantageous, not just because 28 is on the team and doesn't have enough touches. Both substitute running backs showed last night they can be an asset to the offense, both as runners and pass catchers, without handcuffing the unit by forcing touches their way. This offense appears to flow much better with these two instead of Peterson. The Vikings capped off the NFL week by taking down another MVP, this time a two-time Super Bowl MVP. While the Giants aren't near the contenders the Packers are and the Panthers were thought to be, this is another impressive victory for the purple. Gone are the days of embarrassing blow-outs or trap-type games on national television. This is the Mike Zimmer era and those past failures don't matter anymore -- neither does last night's win -- he's already onto figuring out how to dismantle to Houston Texans like Bill Belichick and the Patriots did on Thursday Night Football in Week 3. Houston, you may have a problem. Photos by:
Matthew Deery