Vikings Select Trae Waynes in First Round
Posted by Travis Bridell on Friday, May 1, 2015 at 12:00 AM
By Travis Bridell / May 1, 2015
Comment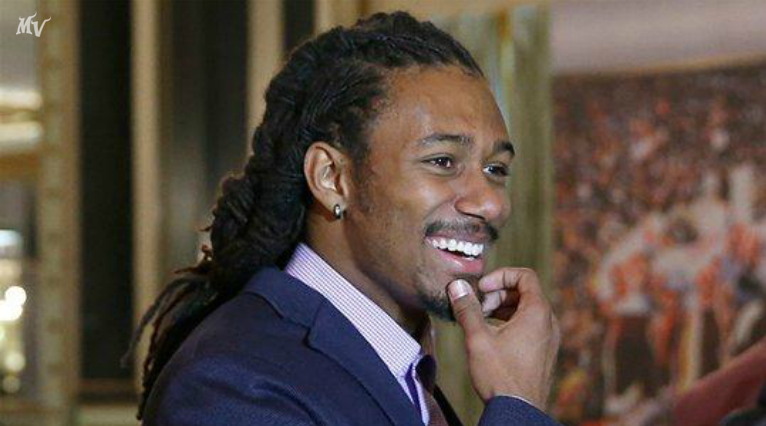 The Vikings headed into Thursday night's 1st round of the NFL draft with the 11th selection. For the first time since 2011, the team ended up with only one first-round pick. Minnesota selected Michigan State junior cornerback Trae Waynes. Waynes becomes the highest drafted cornerback in Vikings history and will pair with 2013's 29th pick Xavier Rhodes on the outside.
"Man, I'm so excited. It's a great feeling. I can't wait to get to Minnesota and start working," Waynes said.
Waynes is no stranger to playing in TCF Bank Stadium, as he played there as a Spartan in 2012 as a redshirt freshman. Waynes started 27 of 36 games played in his three seasons in East Lansing. The
Thorpe Award
semifinalist is 6-foot, 186 pounds from Kenosha, Wisconsin, and ran the second-fastest 40-yard dash at the NFL combine in March with a 4.31. He certainly fits the mold of defensive-minded head coach Mike Zimmer's schemes.
"Everybody says that I love corners, and I guess maybe I do, but I love good football players more than I love corners." Zimmer said.
Waynes was penalized nine times in his last two seasons at Michigan State but was named first team All-Big Ten in 2014 with 46 tackles, three interceptions and a sack.
"Sometimes I thought he was a liability in coverage at Michigan State," ESPN's Jon Gruden said on the broadcast.
Either way, by the end of the season, if not right away, fans should see Waynes alongside Rhodes as the team's other starting cornerback. General Manager Rick Spielman talked about trading back, but noted there were no offers worth possibly missing out on Waynes, the top cornerback in the draft, despite whatever Gruden and others may say. The second and third rounds of the draft continue tonight at 6 p.m., while the final four rounds start at 11 a.m. Saturday. The Vikings have six more selections, barring any trades. Photo courtesy of:
Minnesota Vikings