Vikings Stadium Update: Team Increases Private Contribution -- MLS Headed to MN?
Posted by Matthew Deery on Monday, April 21, 2014 at 12:00 AM
By Matthew Deery / April 21, 2014
Comment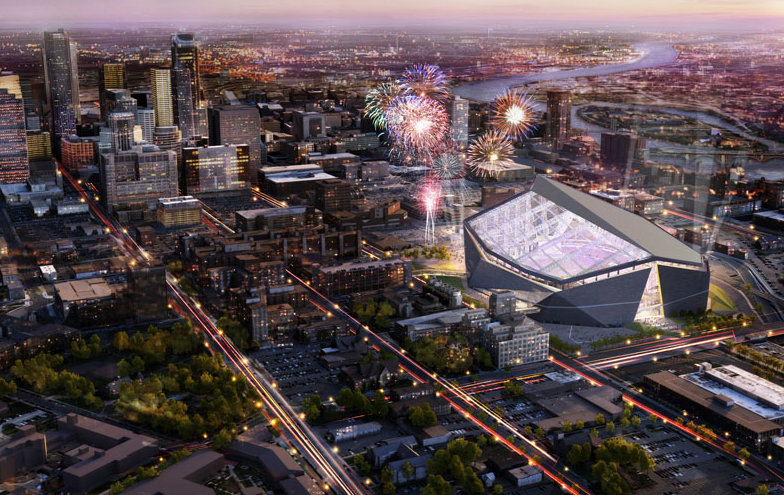 The new construction of the Vikings stadium is kicking into
high gear
-- according to Mortenson, the construction site has swelled to almost 300 workers per day (that number will increase significantly over the summer months). But as with many projects of this magnitude, oftentimes the estimated cost and final cost are different. The Vikings have agreed to kick in $1.2 million more towards the new stadium to ensure the new facility has all the iconic designs and fan amenities initially drafted. These additional funds are going towards a larger west end video video board (a 120x68 foot monster) and video screens for the facility's Fire and Ice Clubs. The Vikings have already stepped in to pay extra unforeseen costs in the amount of $41.4 million, plus this additional $1.2 million, which is on top of their initial commitment of $477 million. Though this total contribution from the Vikings toward this new palace is one of the highest ever since states began to subsidize new facilities like this, it's about time owners and their teams start paying more for these projects. Taxpayers should not be funding these projects at all in my opinion, and don't go on explaining all the "impact on the community, brings in revenue" arguments you can drum up -- I'm well-versed on the topic, and I simply believe these rich owners should be paying for "their" own mammoth facilities. Yes, the stadium will be state-owned -- yes, the Vikings are technically "renting," but that's the problem right there. A private entity, the Vikings, should just build their own facility.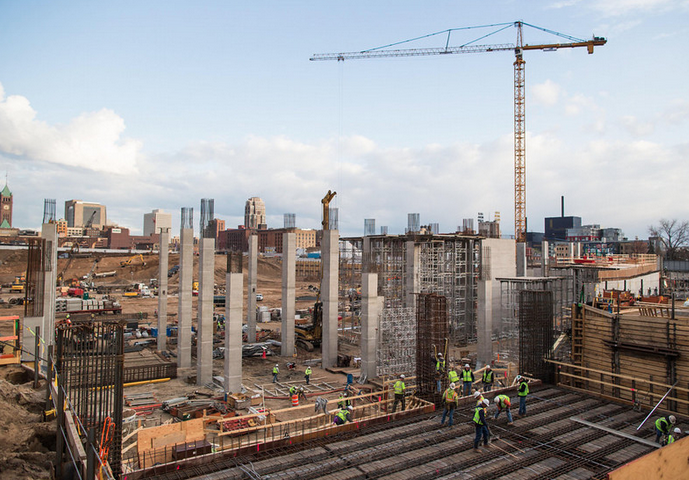 It's not like many states in our Union aren't already in severe debt -- oh wait, yes they are. Hell, call me fiscally conservative. Don't get me wrong, I love the NFL and the Vikings way more than most, but taxpayers funding these stadiums for "public good" (we still have to pay to get in don't we?) is such a misallocation of state resources. Alright, way off topic, moving on. According to the
Pioneer Press
, the Vikings are "stepping up" negotiations with Major League Soccer to bring a team to Minnesota. The new stadium is set to seat some 65,000 for Vikings games, a number which is obviously too high for an MLS game. The stadium architects are working out the details of a "house-reduction mechanism" which would reduce the seating capacity to 20,000 or 30,000 -- this is a crucial component to the stadium properly housing an MLS team. Filling a 65,000 seat stadium for a soccer match is a losing proposition off the bat, especially considering the professional soccer market has no grip on the Twin Cities yet. A smaller, more intimate setting is what makes soccer matches so energetic and full of life. A half empty stadium does not facilitate that. An MLS team would be exciting for the diverse population of the Twin Cities. While many football fans scoff at the notion of professional soccer, there is no doubt that the sport is a growing national past time. Don't be surprised if it continues to grow even more, as more and more young people take up the game and stick with it in light of all the concussion issues in violent sports like football and hockey. With that in mind, a professional soccer franchise might fit right into the Twin Cities market. As the Vikings new facility continues to take shape, all residents of the Twin Cities are affected one way or another. Keep your eye out for more updates. Images via: Minnesota Vikings -- Minnesota Sports Facilities Authority
The personal views expressed in this post are the writers' own and do not necessarily reflect the views of Minnesota Connected or its sponsors.