Vikings Week 4 - Review, Preview and Talking Points
Posted by Erik Bergs on Wednesday, October 1, 2014 at 12:00 AM
By Erik Bergs / October 1, 2014
Comment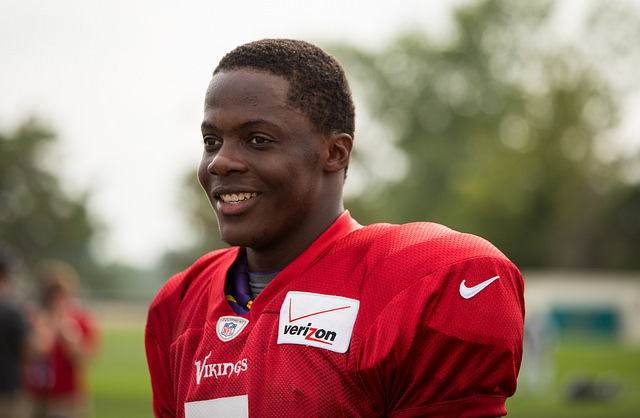 The warm weekend served Minnesota football well. The Vikings have more to give this season than a good spot in next year's draft it seems; but few could dismiss the fact that all is still not well in Purple Nation. First, here are the most savory statistics from the Vikings 41-28 deconstruction of the Atlanta Falcons:
With 317 passing yards and 241 rushing yards, the Vikings are the only team in the NFL to have over 300 passing yards and 200 rushing yards in a game this season.
Matt Asiata is the only player in the 2014 season to carry three rushing touchdowns in a single game.
Jerick McKinnon, with 135 yards, has succeeded in running for the most yards as a rookie in the NFL 2014 season game.
Teddy Bridgewater, with 317 passing yards, is the top single game rookie performer in the 2014 season.
That felt good. It feels even better that Atlanta, coming into the game, was a winning team (having suffered its only loss to the Bengals on the road, who are a darn good club). There's a lot here to be excited about, but (with a short week) we'll keep a lid on the emotions for now.
Chosen One or Just another Chump?
The position of quarterback has been an uncomfortable question for Vikings fans in the last few decades. There really hasn't been a QB that could define the franchise. Any sort of commitment to newcomers gets a healthy eye-roll (remember your own reaction to seeing fans wearing Ponder jerseys?) or two. Teddy Bridgewater could be different though. Only Bridgewater and RG3 have had 300+ yard and zero INT career starts in the past decade. Granted, much of the yardage was gained after the catch (his longer passes didn't seem that effective) with awesome down-field blocking by purple receivers. But Teddy seemed poised, calm and ready for this. He wasn't sacked once; he didn't overpower the charging defenders in the pocket, but rather evaded with attention still on his receivers (a trait of a great QB). Fans have never cheered for a rookie like they did on Sunday in this state. Nobody ever chanted the name of Brad Johnson, Daunte Culpepper or Christian Ponder. Vikings fans seem readier than ever to commit to Bridgewater as a stable QB. Will Bridgewater play on Thursday after spraining his ankle Sunday? After practice on Wednesday the official word is "questionable."
Defensive Problems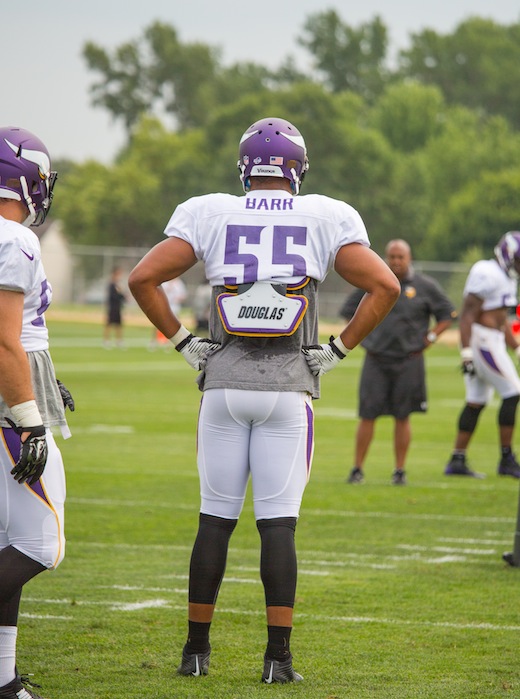 Anthony Barr and Harrison Smith are just part of some promising play that the Vikings are showing defensively; but Atlanta (among other teams before) got away with way too many third down conversions. Even third and long didn't seem to be a problem. Hopefully Zimmer can get the shut down sorted out.
Texted Encouragement from Adrian Peterson
Adrian Peterson, who is restricted from being around the Vikings, has been in constant contact with coach Mike Zimmer it seems. Several players referred to the texts that Peterson sent Zimmer (who then shared it with the rest of the team) as very encouraging with the message to "play your hearts out like it's your last time playing." Jerick McKinnon, who had been getting supportive texts from Peterson, didn't have much of a spotlight cast on him before Sunday's win; with a Peterson-esque breakout performance, though, there seems to be proof that Adrian is still affecting the team positively.
Thursday Cometh!
The game might be in Lambeau Field but it's happening on Thor's-day, so the Vikings at least have an etymological advantage. This first divisional game for the Vikes will kick off at 7:25pm on CBS. It may very well turn into a cold, rainy shootout with sloppy play favoring the two speedy offenses. I don't expect our guys to pull away a win from the Packers, but at the same time I don't think the Packers will have a commanding victory. I'll go with 31-35 Packers. Photos by: Matthew Deery