What Will Become of Steve Wilkinson's Tennis Empire?
Posted by Tony Randgaard on Friday, May 22, 2015 at 12:00 AM
By Tony Randgaard / May 22, 2015
Comment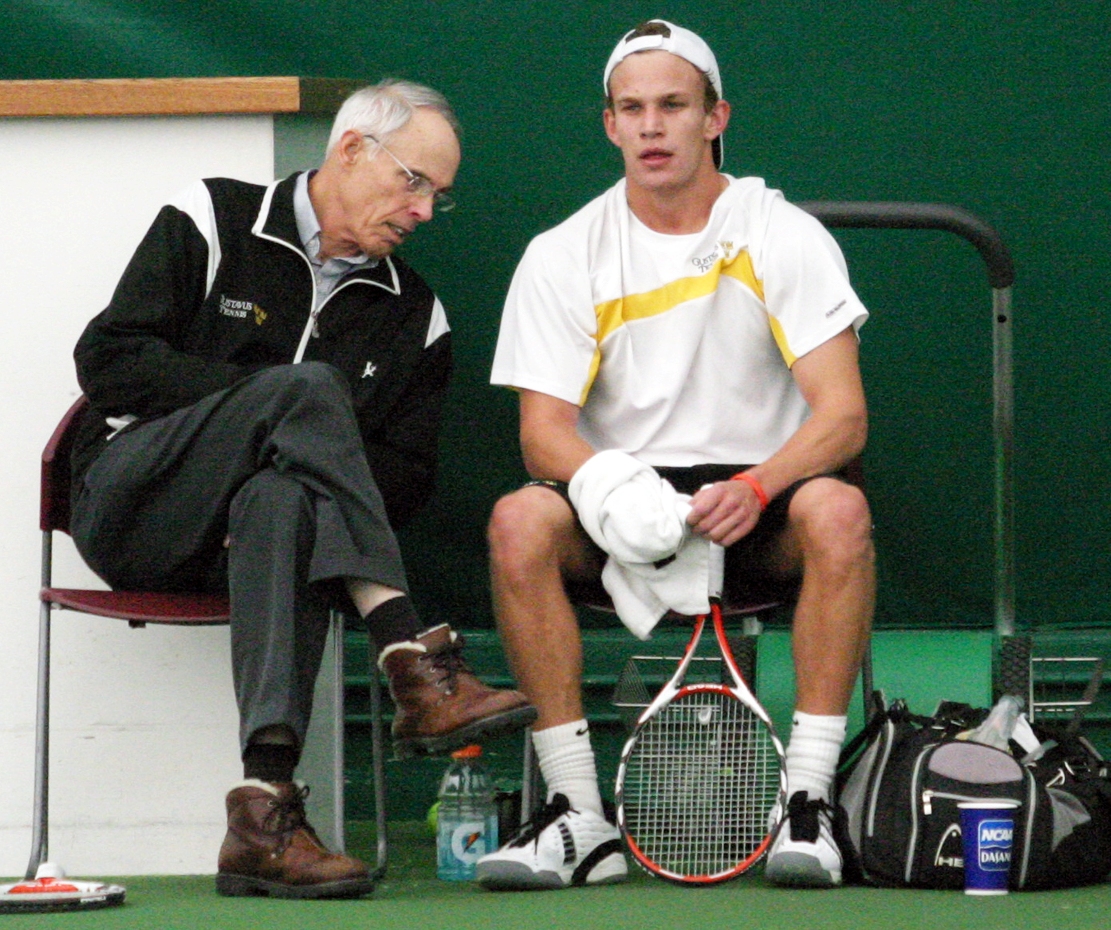 On January 21st, Gustavus Adolphus Coach Steve Wilkinson passed away peacefully at home, leaving behind a trail of historic milestones as the winningest tennis coach of all time. We track his innovative spiritual philosophy and what will remain of his tennis legacy.
A Rocky Beginning
When I arrived as a wide-eyed freshman at Gustavus Adolphus College, Tennis Coach Steve Wilkinson ("Wilk") had just cleared out his office. His young daughter Stephanie carried his boxes as Wilk tried to explain the deeply disappointing news that he had not received tenure and a new professor was taking his office. He had bought a house in small town St. Peter, moved with his wife and daughter and now his career was crashing down around him. His players seemed oblivious that he was facing a huge pay cut and couldn't make ends meet. For my part, I was working in the campus post office and making ends meet at $2.50 per hour. It was easy duty, sorting letters and trying to remember where student P.O. boxes were located. One student, Karen Gibbs' mail was stacking up by the day and I could not find her box. Wilk's PhD in World Religions and Ethics may have been far ahead of the times for the sleepy small town campus in St. Peter, Minnesota. The tide was going another direction in 1977. Almost a third of the enrollment in the liberal arts college wanted business degrees and a more tangible connection to a job. The loss of his planned vocation didn't deter Wilk. He had developed a determined tenacity for not giving up on the courts across the Missouri Valley and later at the University of Iowa. Tall and lanky (photo here) he glided around the court with an economy of motion and a relentless serve and volley game that stole the angles from his opponent. He won the U.S. National Public Parks singles title that summer and was the best player in the Midwest. His team could tell when he meant business. The regular toothy grin disappeared. Then he spoke with grit and conviction and a line of spittle would form on his lips. That was happening now. It was the summer of 1977 and it was time for Wilk to dig in and make the most of his remaining position as Gustavus tennis coach.
Yoga Class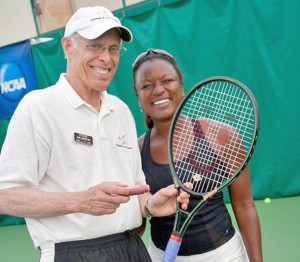 It was an amusing sight to watch Gustavus tennis practices. The opening looked like a Yoga class. Players are scattered about the courts on their backs with legs extended horizontally over their heads in the Yoga 'plough' position. Some are chanting in the familiar seated cross-legged pose. Later, heavy weight blue rubber bands are passed out. Players hook them on arms and legs stretching them hither and yon in a series of strange resistance exercises. Indeed, collegiate tennis had not seen anything like this! Coach Wilkinson's doctoral studies in Zen and Yoga certainly made an indelible mark. He was convinced that traditional tennis methods and practice missed the mark and he intended to throw out the 'baby with the bath water' in the sport. Peak tennis according to Wilk, centered on relaxation through controlled breathing and a trance-like concentration on watching the tennis ball bounce, careen and ricochet-- all the way to contact on the strings. "Did you see that ball hit your strings?" he asked. He challenged players to say "Yes" if they saw the point where the racquet made contact with the ball. His formula then called for 'rinse and repeat', by following one's breathing and a Zen-like focus on the tennis ball, again and again and again. On the conditioning front, Wilk used Yoga exercises to enhance flexibility, improve concentration and minimize injuries. Players received a daily homily that peak performance, sometimes called 'The Zone' could not be attained through traditional win-at-all-cost competitiveness. Wilk rejected traditional intra-team challenge matches. Indeed, if a player was following the concentration process, there really wasn't room for extracurricular anger, frustration or poor sportsmanship. He talked about a next generation concentration that eliminated negative thoughts such as: "What if I lose this match? What if I let the team down?"
But Does It Work?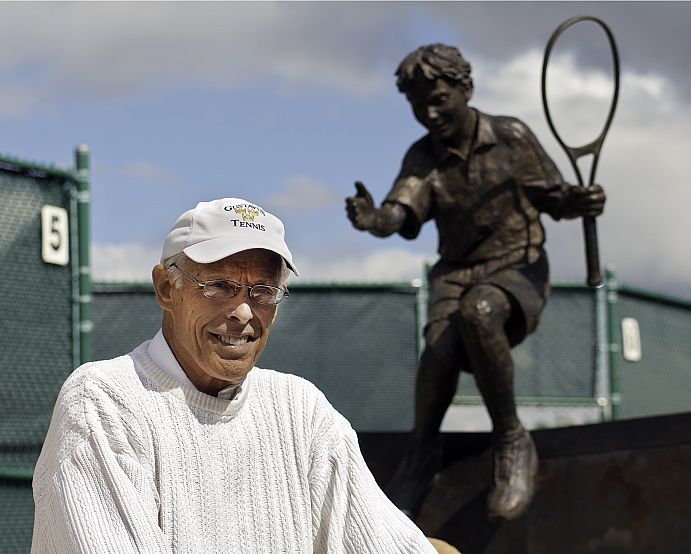 For the most part, players participated in the exercises and listened to the emerging philosophy. Some had been in youth tennis for more than ten years, adopting their own routines heavy on hustling, yelling and an occasional fierce racquet throw. The Wilkinson approach wasn't always easy and required a change in habits. The bar was raised in a dual match held on the concrete courts inside Lund Arena. Most of the team was in the stands watching #1 player Dick Schneider battle an excellent Division II player on center court. It was a decisive match for Gustavus and featured well-played entertaining points. When Schneider won a hard-fought rally with a volley winner, a very strange thing happened. His opponent moved to the net. Was he gathering balls? Minutes passed. Schneider moved across to the deuce court to continue the next point. With his opponent still leaning on the net, the crowd realizes that for him the match is over. Schneider finally paces forward and after a short discussion, shakes hands with his opponent. He won! As players and students poured out of the stands to congratulate him he admitted: "I was so immersed in my breathing and relaxation, I had no idea what the score was. I didn't know the match was over." That was the turning point for non-believers. If the stud #1 player can win with Wilk's program, why not us? It was time to rededicate and follow the Wilk philosophy with body and soul. At the same time, Wilkinson's stature as the top professional player in the region was generating valuable recruiting rewards. With his professorial job behind him, he sought out players aggressively across a wide swath of geography. Sure, the University of Minnesota had scholarships not available to Gustavus in NCAA Division III. But Wilk sold the solid liberal arts college in Wyoming, Iowa, North Dakota, South Dakota, Montana, Missouri and even Sweden. At one point he signed four state champions on the roster at one time. In 1976, he added icing on the cake, snagging Paul Holbach and John Mattke, two of the top three players in Minnesota. With his visionary approach in place and a loaded roster, the nation would soon learn about a tiny tennis powerhouse they couldn't spell--called Gustavus Adolphus.
Karen Gibbs' Inspiration
While I was enrolling at Gustavus in 1976, Karen Gibbs, women's tennis captain was fighting an epic battle with cancer. Better known as "Gibber", Wilk discovered her living life with energy, enthusiasm and sensitivity. She loved being with friends, living "each moment to its fullest". As the cancer spread, she lost part of her right arm. Then she lost 40 pounds and her hair during chemotherapy. Wilk was astounded when Karen at the age of 19, "looked death in the eye and was not intimidated". She learned how to play tennis a second time with her left arm. He recounted that when her friends were sad, she cheered them up. When others expressed sorrow, she counted her blessings. She was selected as Captain again for the 1978 season, but tragically succumbed to the disease in August 1977. That was why I couldn't find her mail box when I started my job three weeks later. Wilk talked about her frequently and organized a fund-raising campaign to recognize her inspiration. His efforts built a student lounge and adjoining tennis courts called the Karen Gibbs Memorial. Later the student apartments overlooking the courts became the Gibbs Dormitory. That same summer, Wilk and his wife Barbara founded Tennis and Life Camps (TLC) a series of summer tennis retreats using the Gustavus dormitories and courts. Over 35 years they would teach thousands of players not only serves, volleys and groundstrokes but also a life philosophy emphasizing full effort, positive attitude and sportsmanship. Tennis legend Billie Jean King endorsed it as: "A powerful, life-changing philosophy... Wilkinson gets it. His approach combines the drive for competitive excellence with a caring humanitarian perspective and delivers a unique perspective for dealing with adversity." Karen Gibbs' fight and heroism would stay with Wilk for three decades. And his mission to promote tennis as a spiritual journey became the foundation of his teams as well as the successful Tennis and Life Camps.
A Dynasty Takes Hold
After garnering his prized 1976 recruiting class, Wilk began beefing up the schedule against resource-rich Division I teams. During one ten day stretch the team beat big schools Iowa State, Bradley and Illinois State. The previous year, Concordia College won the MIAC conference crown. Now the balance of power was changing and Wilkinson's program was picking up steam. Remarkably, he would not lose another conference match—for 14 years! His 1977-78 class nucleuses won the NCAA Division III national championship in 1980 and again in 1982. A dynasty was building that would generate a conference record of 334 wins-- and one loss. During his 39 years, the team garnered 929 dual match wins, the most in collegiate tennis history. Wilk was named National Coach of the Year five times and was inducted into several Halls of Fame.
Full Circle
Wilk's personal experience and inspiration from Karen Gibbs would come full circle in 2008. That is when at the age of 67 he was diagnosed with kidney cancer. The discovery was found in an early stage and doctors at Mayo moved quickly to remove one of Wilk's kidneys. When he came back several months later for a regular follow-up examination, he described his surgeon as a "deer in the headlights". The physician was shocked to see that the cancer had spread across the coach's body. Quickly his condition changed from recovery to stage 4. Although staggered by the terrible news, Wilk took on the challenge with the same conviction and fervor that he admired in Karen Gibbs some thirty years before. Displaying an unbreakable attitude, when part of his hip was removed, he shifted his passion for exercise to walking and bicycling. Although he retired as tennis coach the following year, he remained immersed in practices and tournaments. He hit balls with the team when he could and settled for a cane or golf cart when the cancer treatments hit him hard. During his illness, Wilk continued to travel extensively. During a cricket match in Australia, students and players looked across the grass courts and were stunned to see Wilk in dress shirt and slacks, on his back in the Yoga plough position. He was doing abdominal crunches! According to his wife Barbara, Steve experienced a great deal of pain in the last years of his life. "He did not want to become dependent on pain medication. So he used meditation and the same relaxation exercises which he had taught and used for a great part of his life." Moreover, Wilk did not want to waste any time. For many years his players and TLC campers urged him to chronicle his unique philosophy, shared with them on the courts. When his body was failing him he could still coach and think and write. Over four years, he dedicated his energy to writing a memoir. "It was therapy for him and a way to deal with his changed life," explained Barbara. Just as he had on the courts, Wilk counter- punched each volley sent his way by the disease. He was just as determined to pass on his story to his children and grandchildren. Until the end he wanted to be engaged in conversation and stimulating mind exercises that allowed him to disengage from the pain. Through the remarkable impact of attitude, will power and Mayo doctors, he defied the terrible diagnosis and celebrated 6 more years.
The Funeral and the Future
Coach Wilkinson's visitation was held on a sunny Friday, January 30th at First Lutheran Church in St. Peter. Waiting lines serpentined through the chapel to the front door. Friends, tennis foes and family waited up to two hours to pay their respects. Almost 400 people attended the visitation and then another 1200 packed Christ Chapel on campus the next day for the funeral. Gustavus prepared for the crunch and even live streamed the service on its web-site. Gustavus players, coaches and Tennis and Life campers spoke emotionally about the special impact Wilk's coaching and camp philosophy imparted. They talked about a new found positive approach or about never giving up. After the luncheon, former players convened to the Swanson Tennis Center. When they arrived in 1977, there were 7 outdoor courts and the only indoor play was on the hockey arena concrete (when not in use) and on wooden gym floors. Wilk had tirelessly fundraised to improve facilities during his career. Today, there are a staggering 6 indoor and 21 outdoor courts. The indoor courts include lockers, showers and classrooms. The outdoor complex boasts a coaching or viewing platform and seats hundreds. When you consider that a division I program such as Rice University has five courts, it is easy to understand why these are elite facilities in the nation. As the tennis mixer unfolded, players marveled in the surroundings and couldn't help wondering: "What will happen to this program in the future? Moreover, will the Tennis and Life camps fold in the future without Wilk's presence?" In socializing with the current coach Tommy Valentini, we learned even more about the grit and determination of Coach Wilkinson. Wilk apparently never forgot the impact of clearing out his office in 1977. Wilk and his wife Barbara established an endowment so that the men's tennis coaching position is linked with a professorship in sports ethics. A very unusual arrangement, the endowment provides for one of the most secure tennis coaching positions in the nation, while reinforcing Wilkinson's vision to promote ethics on and off the court. That answers the first question in resounding fashion. And then we wondered what about the legacy of his Tennis and Life Camps? In the next breath, we learned that Wilk took care of that too. Four years ago, he and Barbara gifted the Tennis and Life Camp program to Gustavus. The camps are now owned and operated by the school and run by Wilk's hand-picked director--Neal Hagberg. Neal has been a leader at TLC for more than 35 years. And like every year before it, there is a robust schedule of 15 summer camps being offered for juniors, families and tournament players. In fact, the family camps are already sold out while almost half of all camps are sold out. After the tennis social, we walked through the student union past the book store. Displayed prominently on the showcases, was Wilk's memoir Let Love Serve more info . He finished that bucket list task too—and the book was doing brisk sales! Somewhere Wilk is smiling and likely doing yoga exercises. He would be proclaiming "Yes" because his legacy, team and camps are still hitting the sweet spot on the racquet—just like he planned.
• Retired after 31 years in marketing with United and Northwest Airlines, Tony has been published by MinnPost, Minnesota Connected, Air Cargo News, The Forward, CNS Air Cargo Focus, TC Daily Planet and the Rake. He has won a Silver Addy award in Advertising and launched United Cargo's Friendly Skies ad campaign in 2014.
Photos courtesy of:
Clark Kampfe
-- Gustavus Adolphus College