When Tennis Seduced America 
Posted by Tony Randgaard on Monday, September 3, 2018 at 12:00 AM
By Tony Randgaard / September 3, 2018
Comment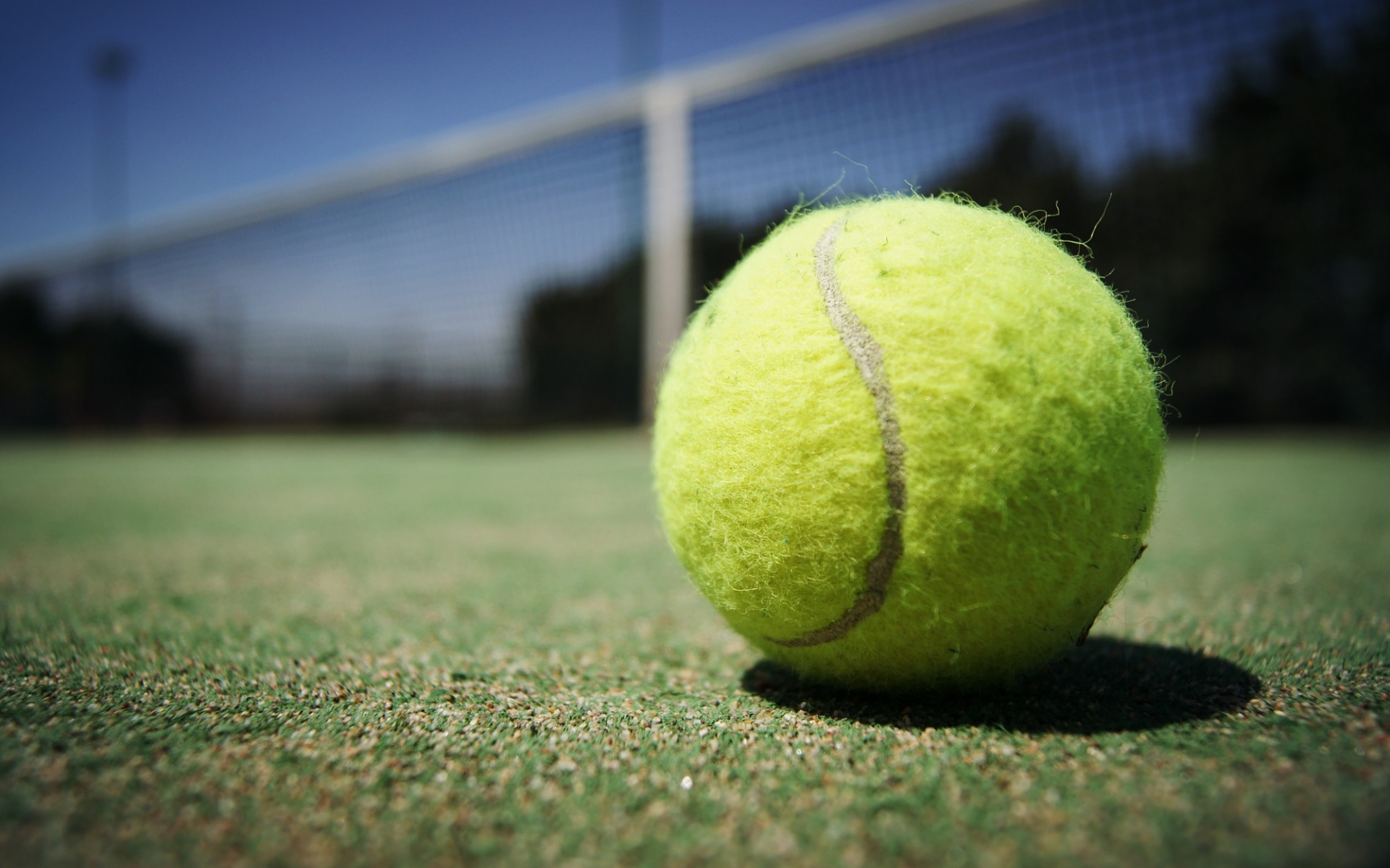 40 years ago the cover of Time Magazine blared: "Sex and Tennis". In many major cities, tennis mixers served as the Match.com of the era. At Lakeshore Racquet Club in Chicago, Friday and Saturday nights were reserved as swinger nights, where seven bucks got you into a mixer with three couples on one court, ensuring you had plenty of time to court your partners. Life Time Athletic in Eden Prairie (formerly Flagship) offered the same mixer opportunities with their own bar just steps away. Noted fashion designer Oleg Cassini was riding a tidal wave of tennis clothing sales when he told Time: "90 percent of the men who play tennis with women are looking for some kind of sexual reward."
From an economic perspective tennis was booming. 35 million people were playing tennis, a number that had tripled in a span of five years. Tennis courts were springing up like dandelions with new tennis construction nationwide exceeding $400 million. In Minneapolis, there were 140 courts, 10 percent more than we have today. Twin Cities Tennis Supply President, Kevin MacDonald told us that his business was stringing 5000 racquets a year then, a number that slumped to 2200 by 2013.
Court time in Minneapolis was in such demand, that the Park Board restricted playing time to one hour blocks and installed reservation racks on every court. The idea was that you could go to your favorite court hours in advance and reserve an "even hour" or "odd hour" time slot. Savvy court scammers would insert an old unwanted racquet into the rack and show up hours later to claim their court. Not surprisingly, this system spurred disputes between players physically waiting for a court, and the rack fillers that showed up seemingly out of thin air. When my Southwest High School practice partners Tom O. and Dave D. refused to give up their Armatage court to a questionable rack reservation, they ended up the in the back seat of a Minneapolis Police Department squad car.
On the international scene, the unflappable Swede Bjorn Borg was on a monumental run. He set a record with 55 straight match wins and had won the last two Wimbledon major crowns. Borg would extend that dominance to five in succession. At the same time, Borg was dominating the syrupy slow French Open where he garnered six championships in eight years. No other player in history has been able to match his success winning the French and Wimbledon, which are barely two weeks apart.
Billy Jean Forges Gender Equity
While Billy Jean King's dominance of competitive women's tennis may have been in its twilight in 1977, her leadership role in advocating for women's equality was peaking. King won the U.S. Open in 1972, receiving $15,000 less than her male counterpart and was determined to rectify the injustice. The next year, she threatened to lead a women's boycott of the event and as the top female star in the sport, the United States Tennis Association buckled. The tournament became the first major championship to grant equal pay for women.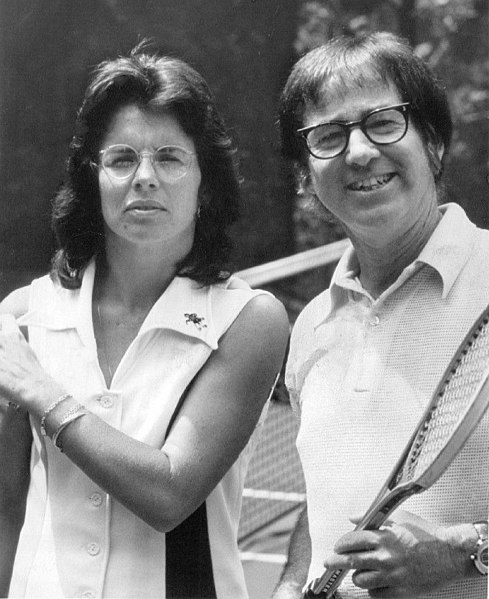 In 1973, Billie Jean faced off against Bobby Riggs in the "Battle of the Sexes." She was carried into the Houston Astrodome on a regal sofa supported by shirtless men. Televised before a massive audience of 48 million viewers, King easily dispatched Riggs in straight sets. With the win, King solidified the prestige and merits of the women's tour — but she was clearly not finished. Soon she unleashed her leadership abilities as the first President of the Women's Tennis Association and then cofounded World Team Tennis (WTT) with her husband Larry. WTT aimed to bring coed pro tennis teams to major cities across the country and the Minnesota Buckskins were one of the eight charter members. My buddy Dean Pospesel was a ball boy for the Buckskins when they played at the old Met Sports Center.
King and her partners lured the top tennis players in the world to their venture. When they signed Bjorn Borg and his girlfriend Mariana Simionescu to the Cleveland Nets tennis team, my friend Dan R. (a 6'5" strapping Dane aptly nicknamed "Big Ole") and I were immediately on star watch. Dan bought a slew of Donnay racquets just like Borg and even carried piles of Borg's signature sawdust in his pockets to keep his hands dry -much to the chagrin of park keepers forced to clean it off the courts. When the Nets were scheduled to play at the Rochester (Minnesota) Civic Auditorium in the spring of 1977, our mission was clear. We had to be there.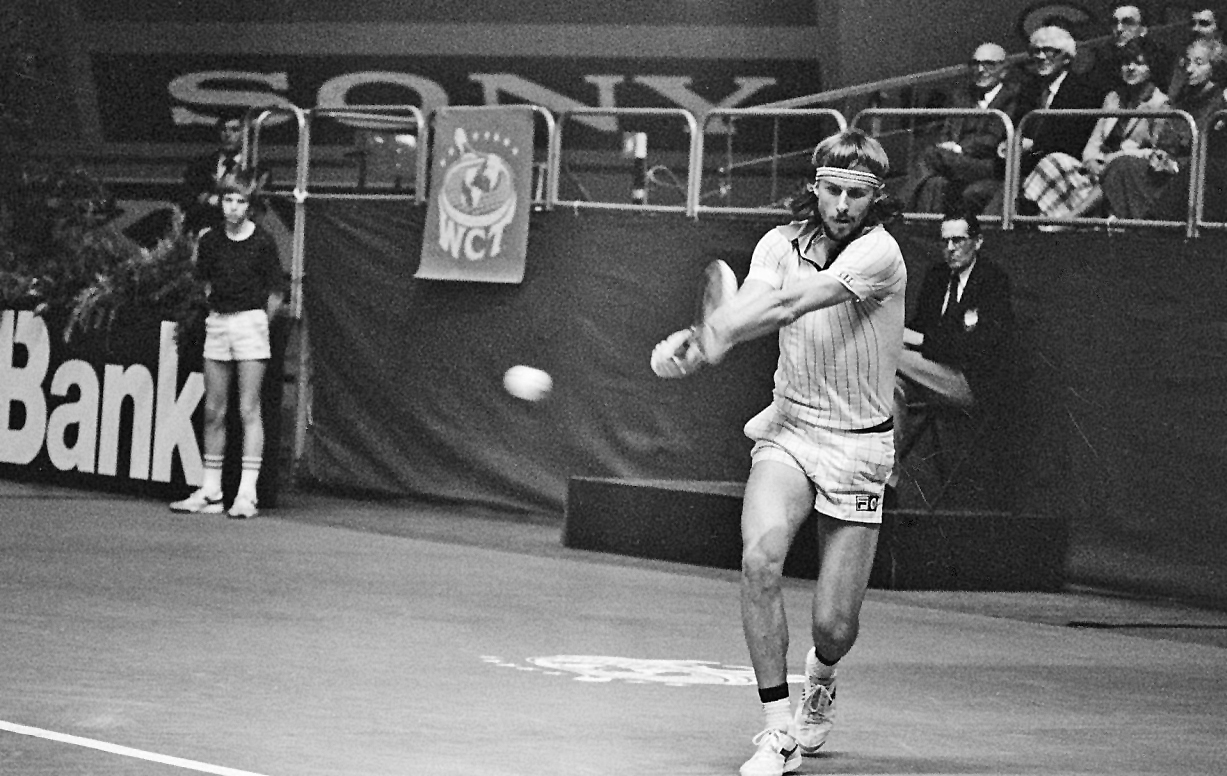 As soon as we cruised into downtown Rochester near Center Street, we could not believe our eyes or our good fortune! Borg and his girlfriend were crossing the street right in front of us. Dan floored his Dodge Charger to the curb and dispatched me with an arm load of equipment to secure autographs. Borg displayed his regular grace and signed the paraphernalia stating softly: 'no problum'. Until I met Rod Laver years later, it was the only athlete's autograph I ever pursued.
After the team tennis match at the Civic Auditorium, Dan's connections to Minneapolis socialites Bill and Georgia Kaiser gained us elite access to the private player's party. We were not surprised that Borg did not attend, but that did not deter Big Ole. He was enthralled by a cadre of tall Russian women players who had excelled during the match. We drew a beeline their way. The key snag was that this was still the Cold War and Russian athletes were defecting in droves. Dan was afforded only a few sentences and an offer to buy drinks-- before he was walled off by several Russian security agents. By his account, they were KGB agents. In any case, I can attest there was to be no collusion between the Russian Tennis Federation and Minnesota tennis that night.
A Royal Romance
Within a matter of months, King's mixed doubles match for the ages was eclipsed by a royal romance of epic proportions. Chris Evert was just 17 years old with a girl-next-door beauty that enchanted the tabloids — when she won the Queens Club singles title in July of 1972. At the time, she was still in high school in Fort Lauderdale and shared a room with her sister.
Sporting sexy frilly bloomers, daring mascara and designer Puritan dresses, "Chrissie" had the boys climbing the fences to catch a glimpse. On the other side of the draw, the bad boy of the tennis world, Jimmy Connors had also conquered his competition. At an intimate lunch at the Queen's Club, the brash Connors plopped himself down next to Evert and her mother Collette. His banter was effective enough that he pried Chrissie out on a dinner date and the pair rollicked around London until the wee hours of the morning. Their obvious chemistry didn't stop there; they dated wherever they could, across the tennis circuits.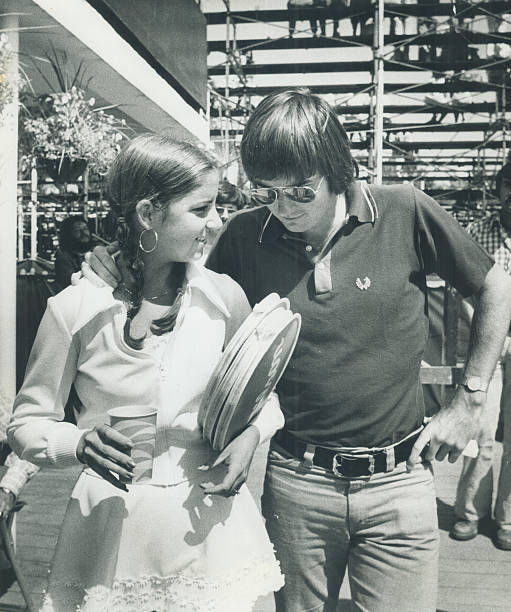 People Magazine stated that their romance held a "touching, old-fashioned 1950s innocence." The magazine stated their dates were characterized by listening to records, trips to McDonalds, the movies and church. What teenage boy wouldn't dream about being on those dates? As the number 1 or 2 ranked players in the sport, their courtship captivated America too. Less than two years later, they were engaged at the same time that each won the Wimbledon singles crown. (see photo) In fairy tale fashion, Chrissie and Jimmy danced the Wimbledon Ball opening ballad together.
While Evert would go on to win 18 major titles and post the highest winning percentage in women's tennis history, her idyllic engagement with Connors turned into a pumpkin in a matter of months. Connors personal memoir The Outsider claimed that both he and Evert were cheating in the months leading up to the wedding. He went on to make the salacious claim that Evert was pregnant with his baby and decided to have an abortion without his consent. And that the dispute ended the relationship. It can be easy to dismiss the remarks of a villain like Connors but the Daily Mail jolted many when they called Chrissie a 'man-eater' in a 2013 article. They pointed out that Chrissie had romanced and then divorced tennis player John Lloyd. In her next marriage to skier Andy Mill, she was courted and lured out of the 18 year relationship by Hall of Fame golfer Greg Norman. Talk about throwing cold water on those boyhood dreams! It seems likely that both Chrissie and Jimmy had People Magazine bamboozled in the reporting of their age of innocence.
A 70 Year Run in the Cities
Back in the Twin Cities, we sat down with Kevin MacDonald to get his insight about the rise and fall of tennis in America. Kevin and his late father Norm ran Twin Cities Tennis Supply in south Minneapolis for more than 70 years. While Kevin was growing up it was not uncommon for world tennis stars such as Jack Kramer or Lew Hoad to visit their quaint shop on Bloomington Avenue South. Norm was a top professional player sponsored by Wilson Sporting Goods, who played a key role in drawing the Davis Cup (think World Cup of tennis) to Nicollet Tennis Center in 1964. It is hard to imagine that such an elite global competition was held right in our own back yard.
By 1979, Norm MacDonald was honored as one of the inaugural inductees into the Minnesota Tennis Hall of Fame. For Kevin's part, he maintained the tennis shop as the go-to supplier for serious tennis players until 2013. He continued to mix with tennis celebrities, hitting tennis balls with Andre Agassi and stringing racquets for John McEnroe during one of his exhibitions in the Cities.
Today in the Twin Cities, a diehard tennis player never needs to make a reservation for a court. A paltry 2 million viewers watched the last U.S. Open Tennis Tournament, down more than 15 million people from the boom years.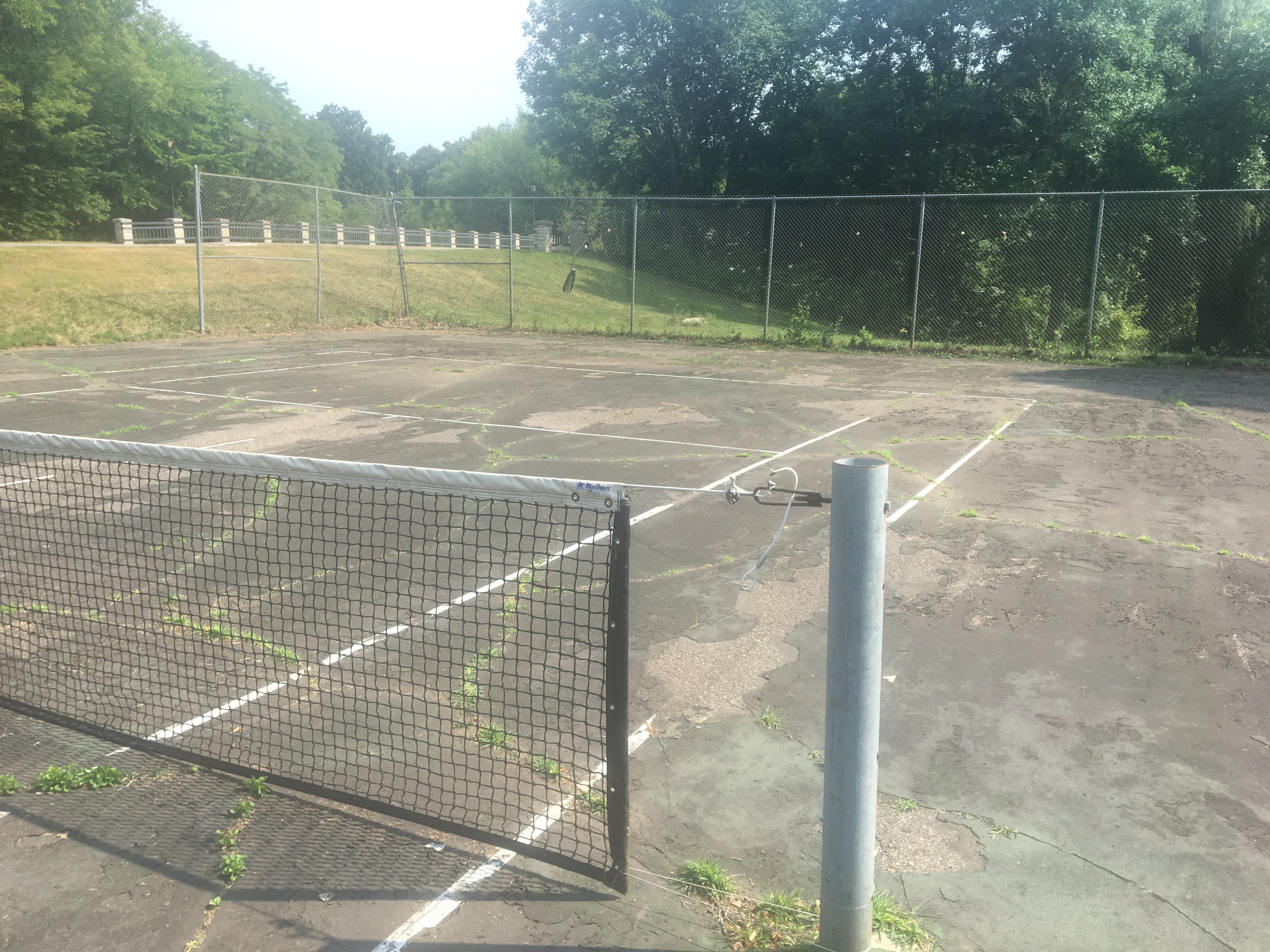 Kevin noted that one of the key drivers for tennis in the Seventies was that the sport was very affordable. Top-of-the-line equipment was less than $50 and there was "a tennis court in every park".
MacDonald pointed to a decades-long void in male U.S tennis stars as a factor in the sport's decline. The New Republic stated that more than 80 percent of U.S. male collegiate scholarships are being awarded to players from Europe and Latin America. MacDonald recalled that Andre Agassi dropped out of school in the 8th grade to pursue professional tennis while McEnroe made it through one year of college. Today he said American parents are not willing to forego an education to raise a tennis star and frankly have many more major sports to choose from than their counterparts in Spain, Argentina, Switzerland and France. (At the same time, it is important to note that Serena and Venus Williams have sparked U.S. women's tennis and energized participation into this century.)
Garnish That Tennis Court With Pickleball
Across the Twin Cities today, the new rage is pickleball. Cities are rushing to build new courts or revamp older tennis courts with pickleball markings. According to the Star and Tribune, Bloomington, Minnetonka and Eden Prairie recently approved construction of eight new pickleball courts at local parks while Hopkins is adding five courts at Central Park. The Minneapolis Park Board boasts 12 pickle ball locations and plans to refurbish eight tennis courts next year, striping four of those for pickleball.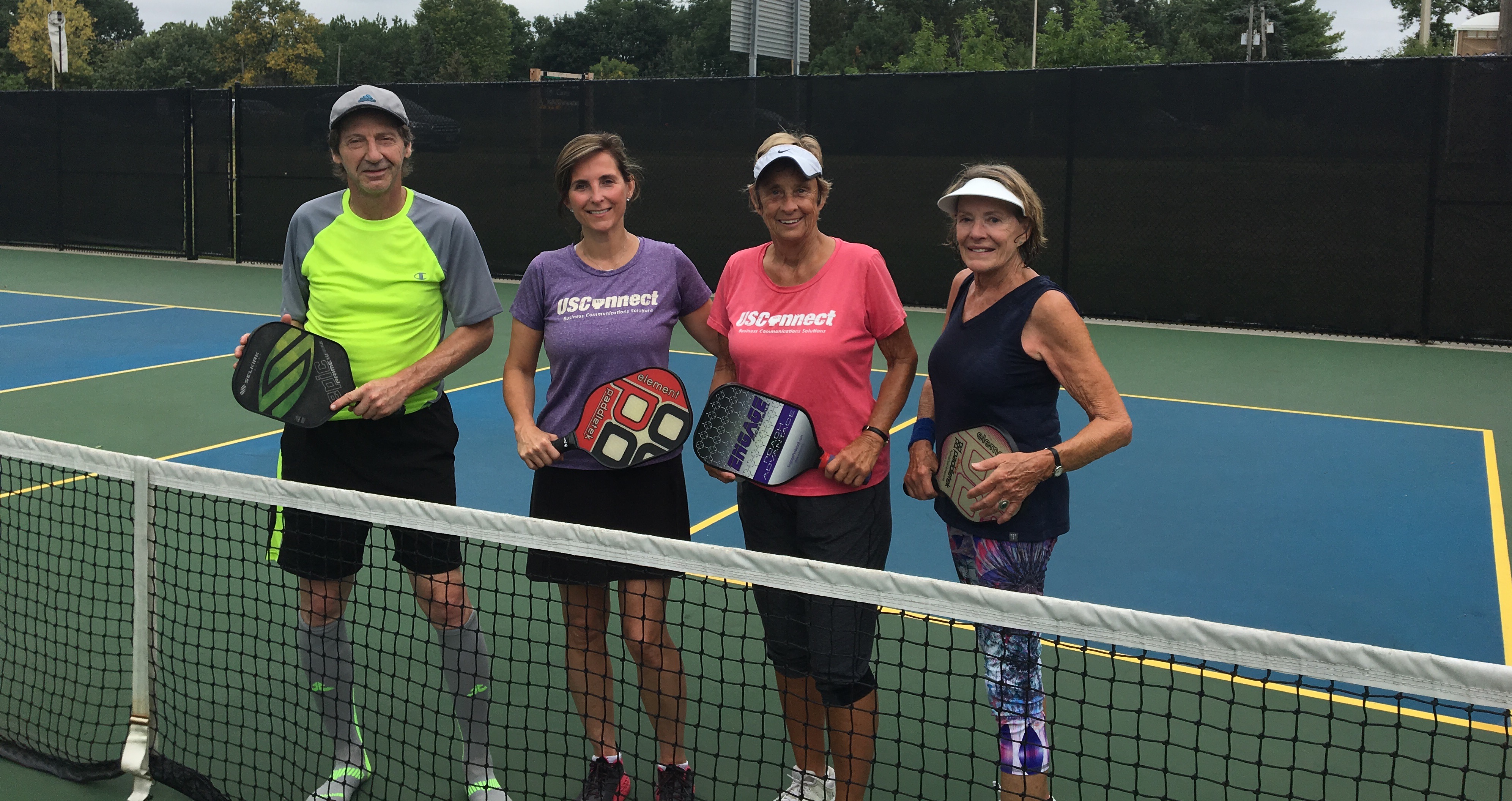 While the Minneapolis inventory of tennis courts is down a meager 10 percent from the glory days, the valued skill now may be to know which of the 125 courts are in satisfactory playing condition. An informal driving tour found that as many as 20 percent of listed courts are in disrepair (see photo).
While pickleball traffic is surging, what is missing is the sex appeal of the tennis halcyon days. On a hot August day, the dust and tumbleweeds rustling across Metro tennis courts evoke the fading sadness of the
Last Picture Show
. The chic designer tennis dresses, frilly Evert bloomers and excited chatter of couples waiting to square off in the sensual ballet of mixed doubles- are but a distant memory. But then again, maybe I need to stop feeling sorry for myself and go shopping for a pickleball racquet? Images via: Wikipedia -- Getty Images -- Tony Randgaard