Why the Gophers NIT Championship Matters
Posted by Brent Lee on Friday, April 4, 2014 at 12:00 AM
By Brent Lee / April 4, 2014
Comment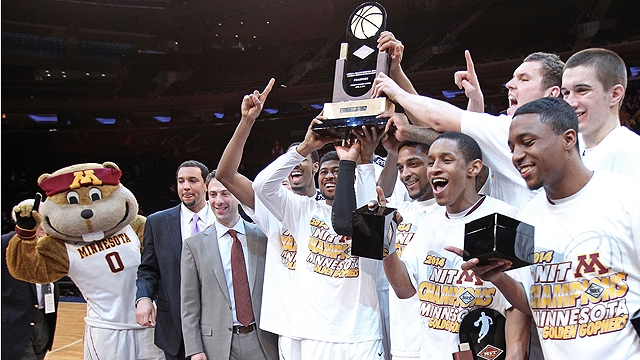 In case you missed it, on Thursday the Minnesota Golden Gophers
beat
the SMU Mustangs 65-63 to win the NIT Championship. First off, let me
boldly
clarify my position right up front lest there be any confusion: Ultimately, the NIT "matters" hardly one iota in any pure competitive sense. If you are a major school (like Minnesota) playing in a major conference (like the Big Ten), success in the NCAA Tournament is the
only
goal you should have in mind at the beginning of each season.
Period.
The NIT is basketball's collegiate equivalent of rounding up all the teams who didn't make the playoffs in the NBA and having a 'B-Team NBA Playoffs' for those not good enough to qualify for the real deal so nobody's feelings get hurt. It's
almost
meaningless
as a sporting event. Therefore, any talk of optimism about the Gophers' win at Madison Square Garden on Thursday (including this article) should be tempered with the cold reality — they won the "leftovers" bracket, the consolation prize, the tournament of misfit teams. The Gophers are the #69 ranked team in the country as far as I'm concerned. All that said, I believe winning the NIT
matters
to the University of Minnesota Men's Basketball program for three reasons:
Reason #1 - Potential Recruiting Boost
Richard Pitino is a young coach trying to establish himself in the Big Ten and winning an NIT Championship will be somewhat helpful to that end — a big part of that boost has to do with its potential positive effect on his influence as a recruiter. As competitive as the games on the court can get between November and April, much of the power struggle in college basketball hinges on a programs' ability to land top high school recruits — especially the elite prospects from their home states and regions. Neighboring rival Division I programs to our east (Wisconsin, Michigan, Michigan St.) and our west (North Dakota State Bisons) had (or are still having) notable NCAA Tournament
runs
that are sure to aid their respective recruiting efforts over the next few years. While the Gophers NIT success isn't quite comparable, ending the season on a five game winning streak capped off by a pair of victories at Madison Square Garden ain't all that bad. It's good publicity for the Gopher program and a sparkly little talking point for Pitino to bring up in his pitch to prospective preps when he hits the recruiting trail. In fact, you might even argue it was better for their recruiting stock for the Gophers to miss the Big Dance and go on to win the NIT then it would have been for them make the NCAA Tournament only to get bounced in the first round (like they
often
do).
Reason #2 - (Winning) Game Experience
While they graduate Thursday night's senior
star
Austin Hollins, the Gophers
return
four starters for the 2014-2015 season and should be poised to improve. Though it's only a poor man's version of the Big Dance, the NIT provided five more games — five more
wins
in a single elimination tournament — for the Gophers and young Pitino to get familiar with each other, as well as gaining additional confidence about their ability to be successful (i.e. win games) going into next season. Remember: These are 18-22 year old kids being lead by a slightly older 32-year kid with only two years of college head coaching experience under his belt. Every game counts toward building experience, and the Gopher's NIT run gave them five more chances to learn, grow, unite as a team and get better. 'Practice may make perfect' as the old adage says, but five full-speed, tension-filled (winning) game experiences are a far more valuable than five hundred shoot-arounds and layup drills.
Reason #3 - Culture Creation: Taking A Punch...And Staying in the Fight
This might be a bit of a stretch, but I believe the potential for a change in culture is a significant benefit of the Gophers' NIT Championship run — it might even be the
biggest
benefit. As per usual, Minnesota started strong in their (weak) non-conference schedule, but not often the case in the past, they actually carried some of that early momentum into the (beginning of the) Big Ten season. On January 22, the Gophers beat Wisconsin to climb to (4 - 3) in the Big Ten and (15 - 5) overall. Two of those wins were against the #11 Ohio State Buckeyes and the Final Four-bound Badgers; two of those losses came in close games including an overtime defeat at #5 Michigan State and a three point heartbreaker to eventual NCAA Tournament 2-seed Michigan. In short: The Gophers
started
strong against top-flight competition in the Big Ten and were in a great position to, well,
finish
the season in a great position, overachieve in Pitino's first year, and make the Big Dance come March. However, after their late January win against the Badgers, things turned sour. Coach Pitino's squad lost three straight games — two of which came against bad teams (Northwestern and Purdue) that went on to have losing records. The Golden Gophers finished out their Big Ten
schedule
losing seven of their last 11 after the promising (4 - 3) start against tough competition. In the Big Ten Tournament, Minnesota picked-off Penn State only to then get walloped by Wisconsin. As Selection Sunday came and went, Pitino's Gophers received no invite to the Big Dance, being consoled instead with only a berth in the lowly National Invitational Tournament, or NIT. Missing the NCAA Tourney after such a promising start was a big disappointment to the team, and plenty of detractors (including
me
) were quick to scoff at the second class nature of the Gopher's #1 seed in the NIT. This was, after all, typical Gopher behavior — beat up cupcakes early, struggle in the Big Ten, and end up mediocre and irrelevant.
Yawn.
But, to their credit, they didn't listen to snarky critics like me. Coach Pitino stayed positive, rallied his players, and focused on the present reality they could control instead of dwelling on the past missed opportunities they could not. The rest, as they say, is history: The Gophers won five straight games — at least two of those games against legitimate foes Florida St. and SMU — and provided some evidence they could endure past disappointment only to get back up, show some grit, and find ways to win in the present. They took a few punches in Richard Pitino's first year — the hay-maker landing the moment they were excluded from the Big Dance — but the Gophers kept fighting throughout the NIT and ended up winning the damned thing. For that, I give them credit. As cliché as it sounds, if the Gophers are going to return to being a consistently relevant team in the Big Ten, perhaps even more importantly than accumulating star recruits or game experience, Coach Pitino needs to create a culture where his players overcome obstacles, adapt to challenges, ignore critics and stay fully focused on winning each game, no matter the situation. In my view, this NIT Championship was a step in that direction. The Gophers took a punch, stayed in the fight and created as positive an outcome as was possible given the circumstances. That shows moxy. That shows pride. And that
matters
for something (Even if the NIT is still a joke). Photo via: NCAA