With Christmas Around the Corner, Even Santa Has Crazy Family Traditions
Posted by Tyler King on Monday, December 16, 2013 at 12:00 AM
By Tyler King / December 16, 2013
Comment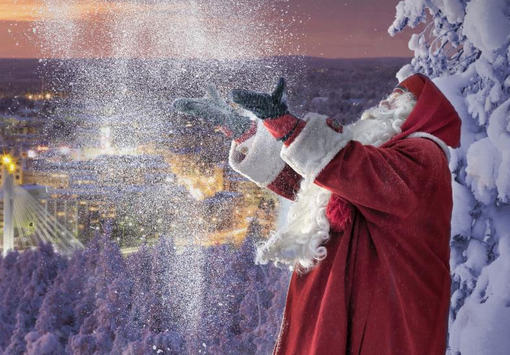 While gearing up for the Christmas season, I like watching reruns of Christmas episodes from my favorite TV shows on Netflix. This past week my wife and I went through all the Christmas episodes of NBC's 
The Office
, and probably my favorite episode was episode nine of season nine, "Dwight Christmas." In this episode, the Party Planning Committee fails to plan a Christmas office party. The office eventually, and reluctantly, agrees to let Dwight host the party in which a traditional German Christmas is the theme. Dwight even dresses up, not as Santa, but as the German version of St. Nick, Belshnikel. Dwight wears animal furs and carries a wound bundle of sticks and a bag of goodies. The bag of goodies he distributed to good children, but he beat the naughty children with the sticks including, of course, Jim. But instead of calling his coworkers the expected naughty or nice, Dwight called them, according to Belshnikel -- impish or admirable. While watching this episode I believed this to be some writer's creative genius, but after doing a quick google search, Belshnikel does actually exist -- at least in the same capacity and dimension as Santa Claus. So this got me to think, if Belshnikel went about beating naughty children and giving good children toys, how many other similarities exist amongst the Christmas variants? Below I've found some other characters who have garnered quite a following during the Christmas season over the years, even if they really shouldn't have.
Père Fouettard
: Père Fouettard is a French character who joins Saint Nick on his trip to French villages on Saint Nicholas' Day, December 6. Tradition tells of a butcher who saw three young boys out after dark. The butcher kidnapped them, killed them and ate them in a stew. Saint Nicholas heard of this, resurrected the boys and sent them home, and made the butcher follow him forever. Fouettard agreed and now, Fouettard serves his time doling out lumps of coal and whippings to the naughty kids, while Saint Nicholas gives good children treats and presents.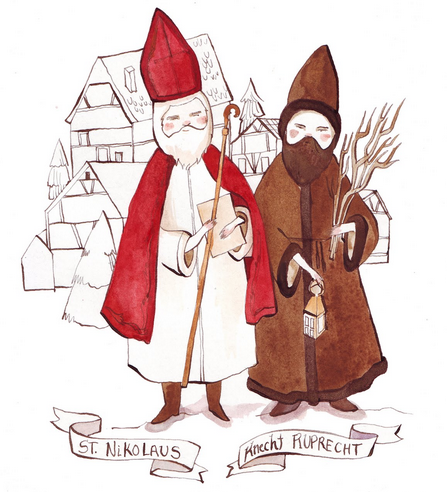 Knecht Ruprecht
: Like Belshnikel, Knecht Ruprecht gains momentum in the Germanic region of Europe. And like Père Fouettard,  Ruprecht is a companion of Santa. Ruprecht summoned children to their front door late on Christmas Eve and demanded a small performance, like a dance or a song. The thought being good children didn't have to try to be good on cue, whereas the naughty children could not fake being good. If they succeeded, Santa rewarded the children with some sweets. If they failed to appease Santa and Ruprecht the best the child could hope for on Christmas was a stick. Ruprecht may also choose to beat them or, in more frightening traditions, capture them in his sack and throw them in the river.
Joulupukki
: The Finnish hero Joulupukki is about as close to Santa as the Europeans get. Joulupukki is a jolly old man, wears red leather clothes and sports a long gray beard, and uses reindeer to pull his sleigh. But the similarities die off a bit after that. The deer don't fly like Santa's and instead of coming down the chimney Christmas Eve, Joulupukki kicks open the front door and shouts, "Are there well-behaved children in here?" Many believe Joulupukki to be the origination of the American Santa Claus since the Catholic Church sponsored the story of Saint Nicholas. The Finns believe this, so truly there's a city North of the Arctic Circle dedicated to Santa. The city of Rovaniemi, Finland, prides itself on being "the Official Hometown of Santa Claus." Seriously -- check out their website. Rovaniemi has something for the whole family, including a Santapark, arctic golfing, taking in a day at a local museum or spending time at the spa and sauna. And remember -- the Finns pronounce it "s-ow-nuh" not "saw-nuh." Whether you believe in Santa, Belshnikel, Joulupukki, or anyone in between, I hope he is able to grant you all that you ask for Christmas and that your New Year be even better than the previous. And hopefully, even if you don't get everything you want for Christmas, at least dance well enough so Knecht Ruprecht doesn't have to throw you in a river. The Mississippi is a little brisk this time of year.
Merry Christmas.
Photos via: Rovaniemi and Google