Yohan Pino Gets His Moment
Posted by Jeff Schwenn on Tuesday, June 24, 2014 at 12:00 AM
By Jeff Schwenn / June 24, 2014
Comment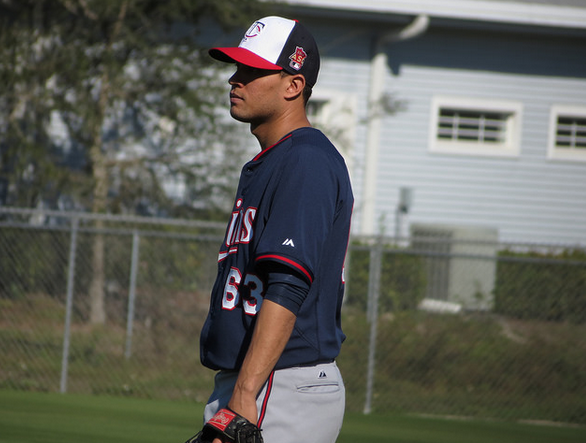 Yohan Pino waited ten years for his major league debut, ten years of bus rides, bad food, and scary hotels. Ten years of Pino pitching over 1,000 innings and facing more than 4,500 batters as he crisscrossed the United States hoping for a chance to pitch in the major leagues, but the call never came. Despite having a 3.74 ERA, 1.19 WHIP and striking out nearly a batter an inning over ten seasons, he wasn't needed by a major league club. Then on June 17th the call he had been waiting ten years for arrived. He would start for the Minnesota Twins on June 19th and finally make his major league debut.
Then it rained and it continued to rain. Yohan Pino was called up to the major leagues during the rainiest June in Minnesota history with June 19th being one of the rainiest days in the state's history. Rumors of canceling the game and sending Pino back to the minors were suggested. At 7:10 pm Pino was to take the mound, but a tarp covered the Target Field infield and the game was delayed two hours. Johan Pino has had to wait his entire career and on that night he was forced to wait some more. Finally at 9:00 pm the game and his career began. He struck out the first two batters he faced -- not a bad way to start.
Pino's fastball rarely hit 90 mph, but he used off speed pitches to successfully keep hitters off balance. The White Sox then found their balance in the 3rd inning. Two of the first three hitters singled -- then Pino walked Gordon Beckham. The bases were loaded with one out and Pino was in a tough spot. Conor Gillaspie then singled to center field scoring two runners. The throw came in from centerfield to  the second base bag, but oddly Gordon Beckham had rounded the base and was tagged out. It was an almost never seen play at the major league level. Baseball gods aren't suppose to exist, but Yohan Pino received a little boost from them there. The gods must look favorably on those who put in ten years of minor league work and are making their major league debut. After striking out the next hitter Pino had escaped the inning and would pitch seven innings that night giving up just those two runs in a game the Twins would win.
"I waited 10 years," Pino said after the game. "I was happy. I don't feel nervous. I just want to do my job. I feel great today."
Yohan Pino isn't going back to the minors. No more bus rides and bad buffets. He'll start tomorrow on the road against the Angels as a 30 year-old rookie. Yohan Pino can finally call himself a major leaguer. Photo via:
BeGreen90