Zombies are Coming to Downtown Minneapolis!
Posted by Erik Bergs on Tuesday, October 11, 2016 at 12:00 AM
By Erik Bergs / October 11, 2016
Comment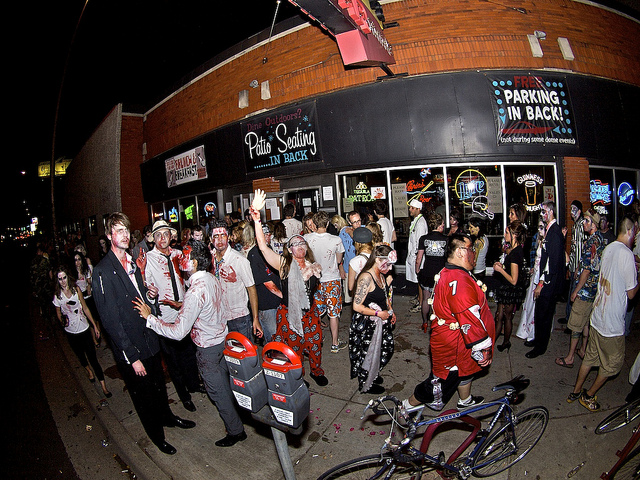 Be afraid, be very afraid!
Halloween isn't the scariest day in Minnesota, in fact, it's a candy-laden afterthought compared to the
Zombie Pub Crawl
. This weekend, mobs of the risen dead will swarm unfortunate bystanders and wrench weekend traffic into a state of fearful curiosity (or annoyance). By now most should know that this ever-changing and ever-expanding occurrence is an inevitable part of October's festivities in our fair state. These undead (or un-sober) masses will swarm to their nexus and listen to Rae Sremmurd, Zomboy, Smash Mouth, ILOVEMAKONNEN, Ja Rule, Andrew W. K., Antiserum and Bobby Raps. There will be two stages within their hazard-zone along with many bars and clubs that will be disproportionately affected due to their proximity to the outbreak. Other general recommendations on preparing for this event have been documented by Kendra Ackerman (for a past event) 
here
.
When
: Saturday October 15th, 2016 is the foretold date. The dead are to be unleashed at 5 p.m. and will be put to rest at 11:59 p.m. (we hope!)
Where
: The epicenter of the outbreak will be at 1st ave and 5th street in downtown Minneapolis, but it will inevitably spill out onto the
surrounding area
.
Who
: Ages 21 and over are at risk of becoming zombified.
How Much
: The experience will dent your wallet at a rate of
about $20-$100
, but booze money... I mean brains money will surely dent it more. Photo by: 
Marcus Metropolis